Venice is one of those places that transports you to another era, and is best experienced without any itinerary or plan. Some call it touristy, stinky, pricey, unreal – I say it is romantic and whimsical. No matter how many times we have been we always try to spend 3 days in Venice when we are in Italy. The fabulous palaces, colorful frescoes, churches, people filled piazzas are dreamlike – like you have stepped into a movie, set centuries ago. Here are some of the best things to do in Venice with kids.
Getting lost in the labyrinth of narrow alleyways is the best way to fall in love with Venice and having a gelato every time you think you are lost helps too. One of our favorite things to do in Venice is taking a morning walk when the city is barely waking up.
Follow the signs that lead you to Piazza San Marco and no matter the number of turns you take and bridges you cross, you will find yourself there eventually. And yes the lampshades in the piazza are pink, I checked! Here is our 3 day itinerary and a round-up of the best things to do in Venice with kids.
3 Days / 72 hours in Venice Itinerary
OUR PERFECT 3 DAY VENICE ITINERARY
Day 1: Piazza San Marco | Doge's Palace & Basilica | Galleria dell'Accademia.
Day 2: Rialto bridge | Basilica of Santa Maria della Saluta | Libreria Acqua Alta.
Day 3: Visit the islands of Murano and Burano
Day 1 in Venice
Have breakfast at the hotel and make your way to the Piazza San Marco, visit the Doge's Palace and the Basilica marveling at all the splendid Venetian Gothic architecture. See the Bellinis and other Venetian masterpieces at Galleria dell'Accademia. Peggy Guggenheim Collection is another great museum the kids will love.
In the afternoon take a gondola ride – start from one of the inner canals and have the gondolier take you just for a small part of the time on the Grand Canal. Or take a vaporettos one of the Venetian waterbuses.
Day 2 in Venice
Wake up early and catch the morning light, walk through the city that is just waking up. You can see the boaters cleaning their vessels, fishermen getting ready for the day, people socializing in cafes and the trash is picked up in boats. This is the best time in Venice…. Wander aimlessly till you have seen the views from the Rialto bridge, it is the oldest of the four bridges spanning the Grand Canal in Venice.
Make a quick stop at Basilica of Santa Maria della Saluta. The Basilica, next to the Dogana, stands out on the Venetian skyline with its white color and its architectural forms, closer in style to the Classical Renaissance than to the typical Venetian style. After lunch look for the bookstore, Libreria Acqua Alta. Next to the bookstore, you will see stores that sell authentic Venetian masks.
Day 3 in Venice
We started the day with a photoshoot with Flytographer before heading to the islands of Murano and Burano.  We planned for a couple of hours but ended up spending the entire day there and only came back after sunset.  What can I say, the fishing village of Burano is just so colorful and picturesque like someone went crazy with a box of crayons. 
Photoshoot or not head to the islands on your last day in Venice. Photoshoot or not head to the islands on your last day in Venice.
See for yourself here how colorful Burano really is!
Best Things to do in Venice with Kids
Catch the morning light
Wander through the many piazzas and you will discover that life in Venice is no different from ours, except being a little more photogenic.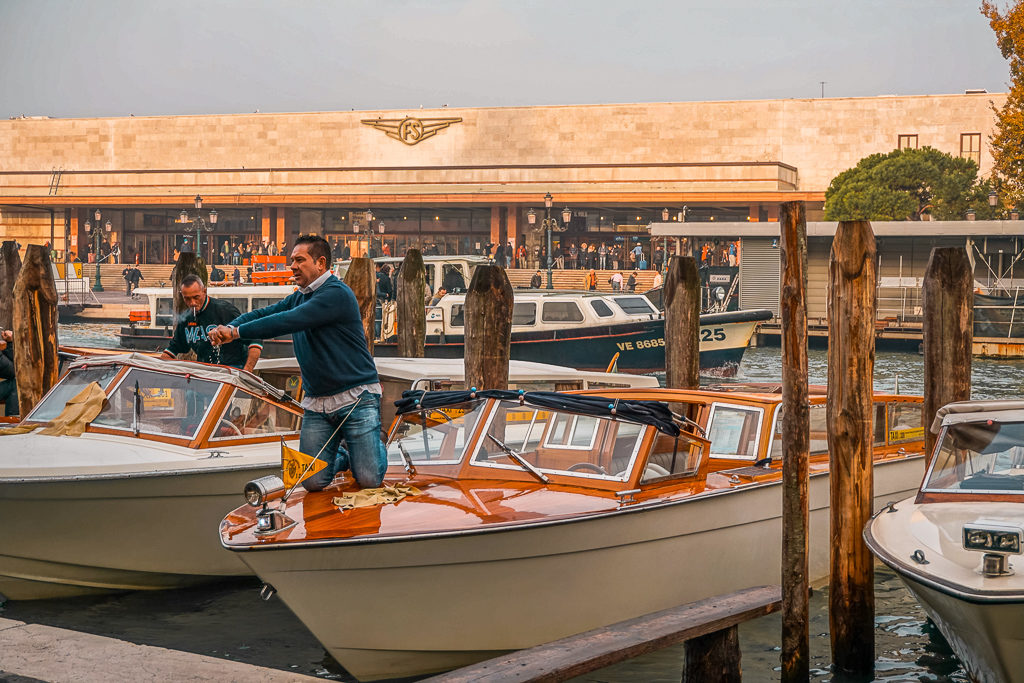 Get lost in the alleyways and bridges
Put the maps away and wander, that is how you will find the true pulse of Venice. You can see the boaters cleaning their vessels, fishermen getting ready for the day, people socializing in cafes and the trash being picked up in boats. This is the true Venice… she shows herself best in the morning before the crowds get there.
Go on a Gondola ride
Much is written and shared about a riding a Gondola when visiting Venice. But it is one of those things you have to still do – touristy as it may be. Its been a part of Venice's history since around the 1100s. Although it started out as privileged transportation means for the upper class, these unique, rowing boats were once the main forms of transportation throughout Venice's canals and waterways. It was a comfortable, silent way to travel especially under the bridges in those days.
Go ahead and pick the prettiest one, you can even bring along some wine and a small meal of bread and cheese if you wish, the ride is usually for 45 mins to an hour. Opt to ride through the inner canals where there is no traffic jam of gondolas and you have the best views of the real Venice. With the crumbling walls, colors and greenish water – the views are everything you expect Venice to be and oh have the kids sit up front for some amazing Venice photo ops. See here for a post from a previous trip to Venice when the kids were tiny.
See the bridge of Sigh
Legend says that from this bridge one could hear the sighs of the condemned as they were being led to prison. The Bridge of Sighs, that houses two overlapping corridors, was built at the beginning of the 17th century and used to serve as a link between the Old Prisons, in the Doge's Palace, and the New Prisons, situated beyond the Palazzo River. Its arched profile, suspended over the water of the Palazzo Rio, composes one of the most famous scenes of the Venice, have you gondolier go under the bridge and pause for an iconic photo.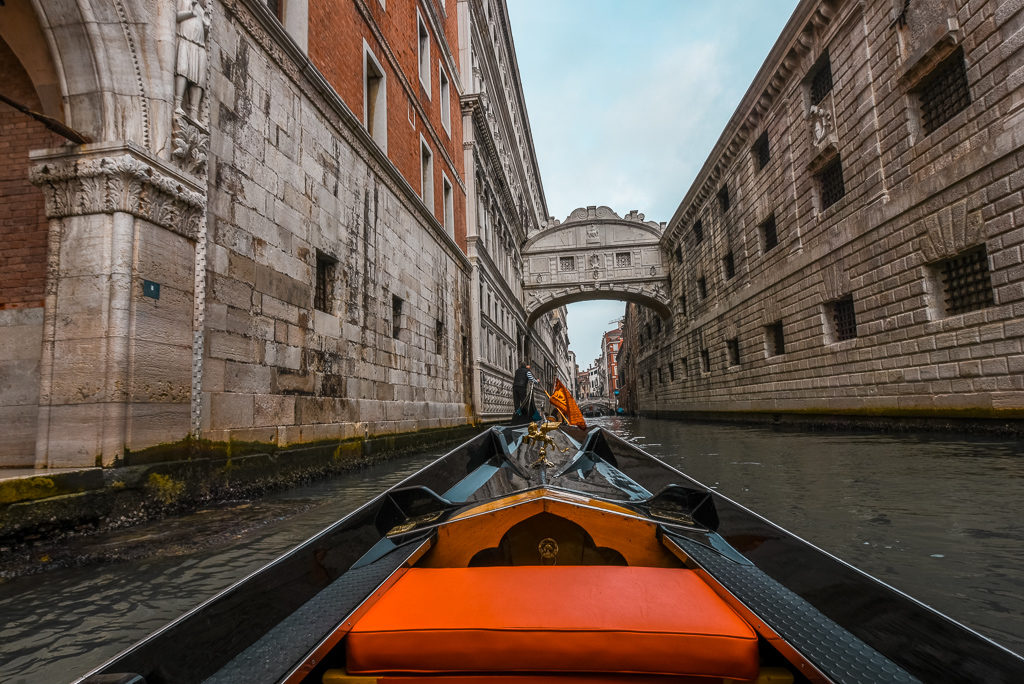 Visit St.Mark's Square
St. Marks Square is probably one of the most touristy places to visit in Venice and the most important, you just can't miss it. This is where you will find St. Mark's Basilica, Venice's most famous church, known for its artwork and history. The church overlooks St. Mark's Square on the edge of the Grand Canal and is joined to the Doge's Palace, where the Doge's (Dukes) of Venice used to live.
Pro Tip: There are many cafes around the square and it is always a higher price for table service.  A cappuccino or cafe americano that costs €1 at the bar can cost up to four times that when sitting. So, first, wander out of St. Mark's Square to find bars in about any alley leading out of it. Order your coffee at the bar standing up. You can actually get a coffee and a delicious pastry for the cost of just the coffee and sitting down for a few minutes. It adds up if you are a family of four, but if money is not an issue stay and linger and watch kids run around the piazza.  You used to be able to feed the pigeons here before but sadly they don't allow it anymore since the pigeons cause such a mess.  Our kiddos used to feed them bread and have them land on their heads and hands.
Bonus tip – Do a family photoshoot and have your memories documented with Flytographer. Another great way to make everlasting memories of your trip. These photos are some of my favorites ever!
Walk on the Rialto bridge
This stone bridge offers another postcard-perfect view of Venice – one of those quintessential Venice sights. The current Rialto Bridge, a stone arch, was constructed between 1588 and 1591 while the previous one was a wooden structure. It is said that the construction was very difficult because of the conditions of instability caused by the ever-changing height of the sea bottom. It is filled with shops on each side and covered by a portico.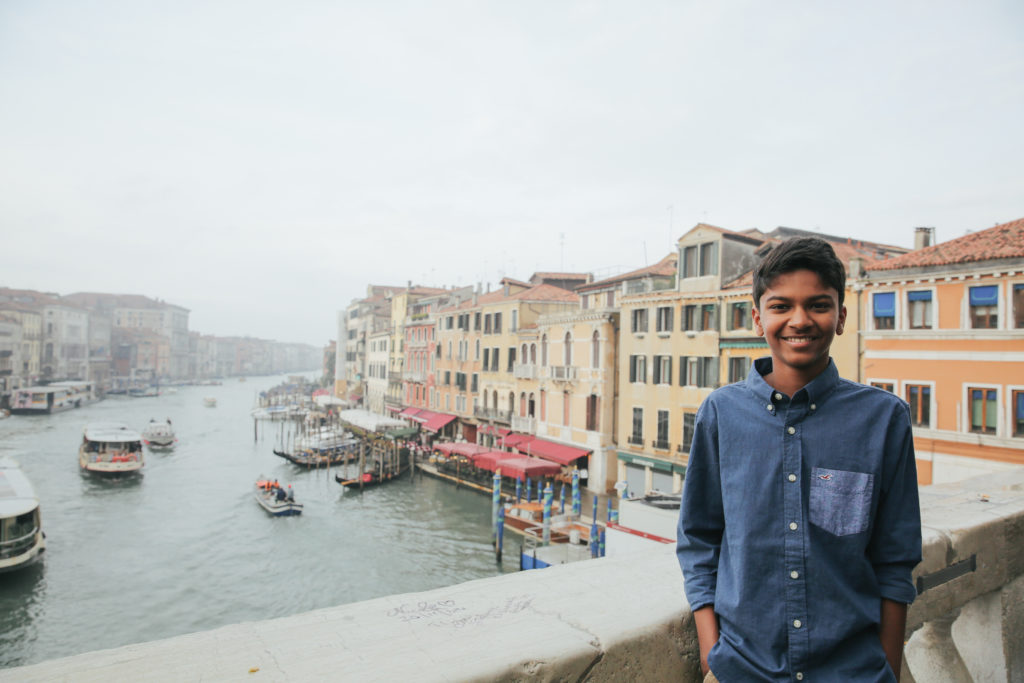 Visit a unique bookstore – Libreria Acqua Alta
This is one of the most whimsically and unique bookstores you will ever see! Proclaimed to be one of the "most beautiful bookstore in the world" the store is made up of a number of over-stuffed rooms stacked wall-to-wall with books, magazines, maps, and other artifacts – all in Italian. Due to Venice's constant flooding, these picturesque piles are all placed inside bathtubs, waterproof bins, and in one room a full-size gondola. The name of the store Libreria Acqua Alta means "Book Store of High Water." We bought some vintage prints here and the kids enjoyed climbing the book steps which leads to the canal.
Shop for locally handmade Papier Mache masks or better yet attend a workshop
Pass on the mass-produced masks and look for a real Venetian mask instead. You can find a few stores right next to the book store. Better yet visit a traditional atelier which has a mask workshop. Kids and adults will be guided step by step during the creation of your own mask. A blank real Papier Mache masks, colors, feathers, crystals, and everything you may need to create your masterpiece will be provided. They have even shipped the mask back home for you, these will make the best Venice souvenirs.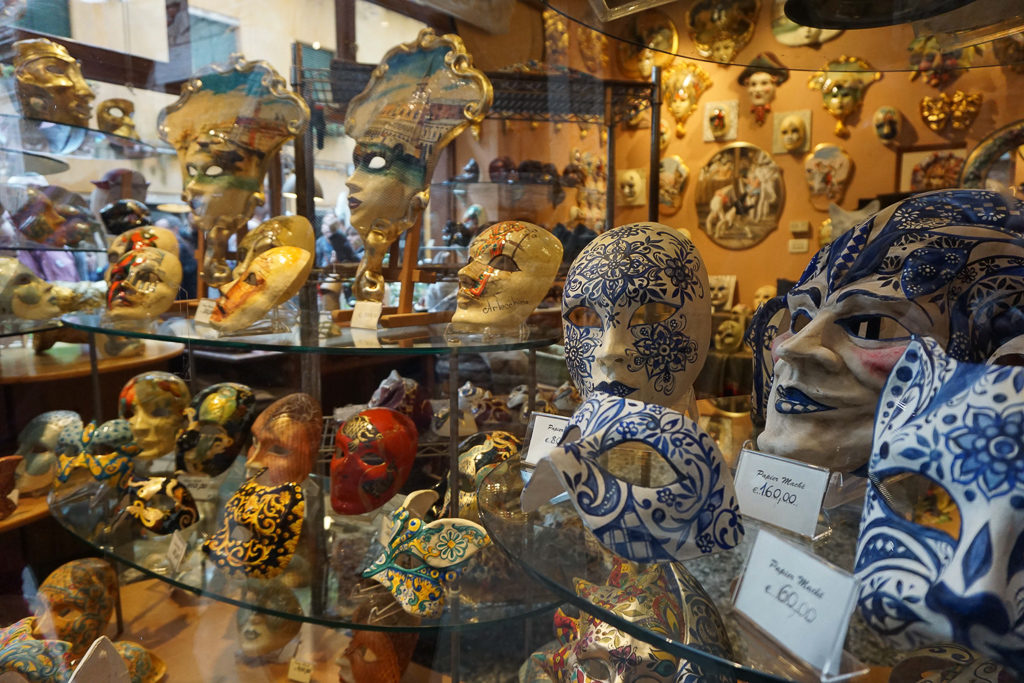 Wearing masks has always been more than just simple fun for the Venetians, it is still a strongly felt tradition with deep cultural roots. Visiting Venice during the Carnival which happens during February is high on the list for me. Have you been? It is definitely high on the wishlist for me. You can find details about the balls, festivities, and details about the Carnevale here.
Eat some Cicchetti
We have eaten some of the worst meals in Venice – only because we didn't plan for any sit-down meals upfront. There are many fancy places if you plan and book a table. We have gotten suckered into the menu toting people on the streets thinking it is authentic, only to find lackluster decor and pasta with watered down the sauce. The best thing to do is to eat some Cicchetti… Cicchetti is like Spanish tapas and costs €1 or 2 each. They are typically eaten standing up and are the most authentic Venetian cuisine you can have. Look for Cicchetti bar that is filled with locals. You won't find any menus, just point to a couple from the case of the day's freshly made Cicchetti.
Eat your weight in Gelato
All that walking is sure to get those little tummies hungry, go ahead and stop at every gelateria and sample the goods. Artisan gelato is made by hand, using the freshest ingredients. A small place with great flavors where the gelato looks like it is in natural colors of the ingredient is what you should look for not the gelato that is piled high and in shades of bright green or pink. We loved the Magnum store which was right next to our hotel and right across from the Central station. You can choose your ice cream bar. Then you pick what kind of chocolate you want it dipped in, white, milk, or dark then choose what kind of chocolate you want to be drizzled on top of it all along with some toppings. The selection of toppings and ice cream are great here catering to little taste buds. Adults can get an espresso shot with the ice cream for the added energy to keep up with the kids.
Take a trip to the islands in the Venetian Lagoon
Plan for a day trip from Venice to visit Torcello, Murano and Burano – three islands in the Venetian Lagoon. You can go on a tour from Venice by motorboat. With a guide, you'll watch glass being blown at a Murano glass factory, see historical cathedrals on Torcello and admire exquisite handmade lace on Burano. We missed out on visiting these colorful fishing towns the last time we were in Venice and wanted to make sure we visited it this time around. They are very similar to Venice but a little more quiet, quaint and so very colorful. Burano pictured above was our favorite. It was believed that the local fishermen painted their houses to distinguish it from a distance when returning home in the dark hours especially when it is foggy. We spend a good part of our day here.
Best time to go to Venice
Late April through early June is a good time to visit Venice when the weather is mild, but this is also the most popular time to visit Venice. Summers are warm and humid. This means fewer tourists (but their numbers are still substantial), it almost never rains, and the beaches of the Lido are just a boat ride away. Fall is again a great time to go to Venice. It's usually pleasant and sunny well into October, and it doesn't really begin to get cold until mid-November. We were there during November and it had rained the previous 2 days and there was Acqua alta but it subsided and all was well when we got there. Even if there is high water, most hotels have rubber boots you can borrow and it sure makes for a memorable albeit messy experience.
Best place to stay in Venice with kids
From Aman Venice to Gritti Palace, Venice has its share of grand properties if your budget allows or if you are traveling on a honeymoon trip to Venice. We stayed at a beautiful boutique property Hotel Antiche Figure right across from the train station with beautiful views of the Grand Canal. This hotel is absolutely beautiful, we had one of the two rooms that have a little balcony and great views to look out at the grand canal. Memories of having morning coffee while watching the boats from the balcony are etched in my brain… Very few hotels have quad rooms in Venice that accommodate a family of four. The hotel was able to add two-bed additional beds for the kids which worked well for us.
We stayed at the same place the last time we were in Venice and had arrived from the train station and just across from it. Cross the bridge over the canal and you have arrived at the hotel. They have a nice breakfast buffet in the morning. The staff is incredible and friendly. We loved sipping on coffee in the morning watching the gondolas getting ready for the day from our balcony. Make sure to have a few Bellini while you are in Venice, it is a mixture of prosecco sparkling wine and peach purée or nectar. This cocktail is said to have originated in Venice!
Best way to get to Venice
Flying the International Marco Polo airport is the best way to get to Venice. And you can get a private water taxi or motorboat to transfer from the airport to the city. You get a nice view of Venice when you fly in as well. Most cruises seem to start here and it is always nice to spend a few days in Venice before or after a cruise. We were doing a little Northern Italy driving trip and rented a car which was a 10-minute walk from our hotel.
You can take a train easily from different destinations in Italy. Here is a link to the efficient rail system in Italy where you can check for schedule and rates.
I hope you enjoyed this Photo blog of Venice… and these photos made you fall in love with Venice. As I said before don't worry about what to do in Venice, just plan on getting lost, making memories, drinking some prosecco and eating a lot of gelatos because that's how this Italian town will make its way into your heart! Have you been? What are some of your favorites things to do in Venice?
PIN IT FOR LATER
Note: This post may contain affiliate links, partnership or sponsored content. If you purchase an item via one of these links, we may receive a small commission at no extra charge to you. But as always images and opinions are our own. For more information on our affiliates and privacy policy at Outside Suburbia see here.
CONNECT WITH US