With medieval villages sitting pretty on top of rolling hills covered in vineyards producing some of the best wines in the world, Tuscany is certainly one of the most beautiful and our favorite region in Italy. Last time we were there we did a road trip from Florence to visit Siena and San Gimignano. We fell in love with breathtaking panoramas, excellent wine and exquisite food and been wanting to go back to visit more of the lovely towns and stay in a farmhouse or villas and drive on the cypress-lined lanes again. I dream of moving there someday and living the sweet Italian life –La Dolce Vita! Here are our top 10 places to visit in Tuscany, some we have been to and a few that are still on the wishlist.
Note: This post was created in partnership with Luxury Retreats.
If you are planning a trip to Tuscany, then it would be a good idea to be well prepared so that you are able to make the most of your trip. Take your transportation into account, where you are going to stay or the opening hours of popular museums, wineries and restaurants. There are homes for rent in Italy perfect for families and large groups where you can stay to get a wonderful and unique experience. Always book in advance to avoid last-minute disappointments. Tuscany is indeed one of the most popular tourist destinations as it offers something for everyone – foodies, families and wine lovers.
The Top 10 places to visit in Tuscany
Arezzo
Arezzo lies at the crossroads of four valleys and boasts of plenty of monuments, museums, and monuments. The once important Etruscan trading post was destroyed during World War II and offers its visitors a chance to step back into history. Arezzo is one of the most central cities in Tuscany and lies in-between the Mediterranean and Adriatic coasts equally. It is also one of the wealthiest cities in Tuscany, due to its tradition in gold-smithery. Enjoy Joust of the Saracens, its annual medieval festival, if you happen to be there. Watch the town's people dress up in medieval costumes and cheer on the competitors enthusiastically.
Siena
Siena is a must-visit because of its artistic riches. The proud medieval city-state looks like a symbolic theater because of its unique layout. Explore those winding lanes that converge on the open space of Piazza del Campo, which happens to be the center of civic life and is also the stage for the bi-annual drama of Il Palio. Enjoy exploring the museums and wine tours. Explore frescoed halls and the lofty Torre del Mangia tower of Piazza del Campo. See here for other things to see on your one day in Siena.
Fosdinovo
Fosdinovo, the small village on the top of the hill that overlooks Luni Plains and Val di Magra is well known as the gate of the old historical area of Lunigiana in northern Tuscany. You get an amazing view of the Mediterranean Sea and Apuan Alps. Fosdinovo is also famous for the beautiful 12th century Malaspina Family Castle. Enjoy tasting the delicious traditional food such as Testaroli and Sgabei as well as Vermentino wine and honey.
Montepulciano
The medieval town of Montepulciano is placed on a 600-meter high limestone ridge in southern Tuscany. This Tuscan town located close to Siena is a true hidden gem and is one of the best kept secrets in Tuscany. The city is full of hidden corners and charming squares. Enjoy exploring its renaissance palaces, ancient churches as well as vast panoramas. The town is surrounded by those wonderful Val d'Orcia and Val di Chiana valleys that are equally famous for its wine.
Pisa
Pisa ranks at the top of the list in Florence, thanks to the famous leaning tower. However, there are many other hidden treasures in Pisa. Once you cross Piazza dei Miracoli, Piazza dei Cavalieri, Borgo Largo and Borgo Stretto, you will eventually reach the Lungarno. You will simply love exploring some lovely spots such as the beautiful "Chiesa Della Spina" church and the San Matteo Museum.
Lucca
The laid-back and cultured town of Lucca is a great place to escape the crowded cities and unwind for a few days. The sturdy defensive walls of the town give it a fierce military air and enclose Pisan Romanesque churches, graceful piazzas, and alfresco restaurants. A former Roman amphitheater, Piazza Anfiteatro is must-see. The cute civic oval is lined with bars and shops. Duomo di San Martino and San Frediano are some of the town's churches. Trekkers would love to go to the green Garfagnana Valley.
San Gimignano
San Gimignano, one of the most beautiful hill towns of Tuscany is well known as the medieval Manhattan. With stone towers and narrow streets, the town is surrounded by vast green countryside, filled with vineyards that make the world-famous Vernaccia wine. Piazza del Duomo is the main square where you can explore Palazzo del Popolo, Palazzo del Podestà, and other medieval towers. Climb the Torre Grossa to get a postcard-perfect view of the Tuscan landscape. During our last trip to Italy, we did a road trip from Florence to a few places and IMO San Gimignano was one of the best places to visit in Tuscany, so make sure to add it to your itinerary!
Elba
Elba is best known as a place of exile for Napoleon. The town lies off Italy's western coast, and most tourists include the town in their list so as to go and visit the summer and winter homes of Napoleon. It is also the third-largest island of Italy that boasts of more than 150 beaches with sheltered coves and wide stretches of sand. Procchio lures everyone because of its ultra-fine sand while Fetovia is famous for its dreamy blue waters.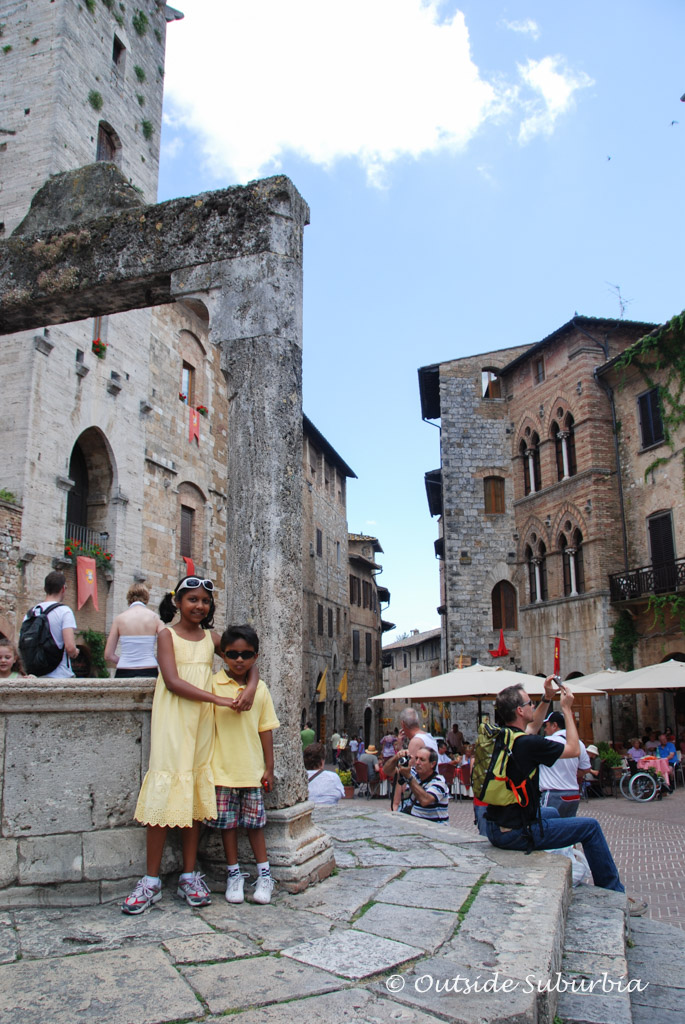 Chianti
The Chianti Classico area is a perennial summer favorite and boasts of a vineyard-strewn landscape and picturesque castles and villages. Greve, Radda, Castellina are the main towns that stand out. The city of the belle Torri lies on the east of Chianti and has its own wine-growing area. The area has some remarkable monuments like the nt'Agostin and the frescoed Collegiata. If you love wine this is one of the best places to visit in Tuscany.
Monteriggioni
Monteriggioni is another Tuscan hill town that lies in the countryside of Siena. The town deserves attention as it is mentioned in Dante Alighieri's Divine Comedy. The town is enclosed in well preserved ten-meter-high fortified walls with fourteen towers that are visible from far. It is a beloved spot for pilgrims from all over the world and celebrates a medieval festival every year in the month of July.
Have you been to Tuscany, are there other towns that need to be on this list? Hope this post inspires you to visit some of the best places to visit in Tuscany.
PIN IT FOR LATER
Note: This post may contain affiliate links, partnership or sponsored content. If you purchase an item via one of these links, we may receive a small commission at no extra charge to you. But as always images and opinions are our own. For more information on our affiliates and privacy policy at Outside Suburbia see here.
CONNECT WITH US