It all started over a dinner conversation… we were with some friends and the conversation was about summer trips. Our friends had just returned from a trip to Yellowstone National Park and remarked how it was better than or almost like Iceland. Mr. Suburbia's eyes widened… he fell in love with photography after our Iceland trip and to this day it tops his travel list. So we came home and promptly booked our trip to Wyoming to visit both Grand Teton and Yellowstone. From smelly geysers to thundering waterfalls, wildlife sightings to the prettiest hot spring I have ever seen here are the best things to do and see in Yellowstone National Park.
Yellowstone is the first National Park and is over 2.2 million acres and full of natural elements. Yellowstone National Park is actually an active supervolcano that erupted some 640,000 years ago. The Yellowstone eruption area collapsed upon itself, creating a sunken giant crater or caldera. The magmatic heat that powered the eruption (and two others that date back around 2.1 million years) still powers the park's famous geysers, hot springs, fumaroles, and mud pots.
See a short visual story of the spectacular sites in Yellowstone NP
15 Best things to do and see in Yellowstone National Park
Here are some of the best things to do and see in Yellowstone
See Old Faithful spout

The world's most renowned geyser is a must-see for every Yellowstone visitor. Although Old Faithful isn't the largest geyser in the world, it is world renowned and eruptions average around 130 feet high. Like its name suggests, Old Faithful erupting promptly every hour and a half. There even a clock at the Old Faithful Inn that predicts the time of the next eruption.

See the Grand Prismatic from above

The Midway Geyser Basin's Grand Prismatic Spring is the largest hot spring in the United States, at approximately 370 feet in size and around 121 feet deep. It's rainbow waters are fascinating with a cerulean blue center and deep reds, and fiery oranges encircling the edges. These colors are caused by pigmented thermophilic bacteria that thrive on the minerals produced by the geothermic activity.

The color of the bacteria is determined by the temperature of the water – the center is too hot to support life which is then reflected when light hits the organisms. This is one of the park's most photographed sights, IMHO one of the best things to do in Yellowstone, so expect crowds when you visit. Fog is common until late in the morning on cooler days, so it is recommended to arrive around 10 a.m. Park at the sign for Fairy Falls and hike up to the overlook point which should take about 30 minutes for the best views.

Drive through the Lower Geyser Basin

Many of the thermal features of the Lower Geyser Basin are easily accessed on the one-way 3 mile Firehole Lake Drive. You can access it off the Grand Loop between Old Faithful and Madison. Geysers and hot springs are visible from the road and boardwalk and easy to stop by a few of them.


Walk along the Yellowstone Lake or do a scenic boat ride

Yellowstone Lake is the park's largest body of water and the largest freshwater lake above 7,000 feet in North America.  While most of the lake freezes over by early December and stays that way until end of May, summer is a great time for scenic walks, picnics along the shore and boat rides on the lake. Spend at least one night at Lake Yellowstone Hotel for brilliant sunset colors over the lake!


Learn about the Giant geysers in Norris Geyser

Although the Norris basin's geysers don't erupt like Old Faithful, the geothermal area is one of the best places in Yellowstone to see geysers. The tallest active geyser in the world, Steamboat Geyser is here. It does not erupt often but when it does erupt, it puts on a huge show, shooting 300 feet into the air! Learn about the Giant geysers in Norris Geyser

See the Gibbon waterfalls and the river

There are many waterfalls in Yellowstone, Tower Falls and Gibbons are our favorite. Located on the Gibbon River, the Gibbons falls drop roughly 84 feet in a gradual descent. It is located between Norris Geyser Basin and Madison Junction. You can park in the designated area near the top of the falls for a great view of the falls and the river.

Marvel at the Mammoth Hot Spring Terrace

Mammoth Hot Springs is one of the best things to see in Yellowstone Park. These unique travertine terraces were formed over centuries of hot water bubbling up from the ground through a fault line, cooling and depositing calcium carbonate. Mammoth Hot Springs has two terrace boardwalks, the Upper and Lower.

There are about 50 hot springs within the area. You can hike from the Lower Terrace or you can access the upper boardwalk from the one-way Upper Terrace Drive and parking lot. This is an easier hike where you walk on boardwalks for 1.5 miles taking you through some picturesque parts.

See Bison in Hayden Valley

The lush green valley north of Yellowstone Lake is a place to spot bison, elk, coyotes and even bears. Go early in the morning to see them in the rivers taking a dip. Make sure to stop to see some geothermic activities at the Mud Geyser or Sulphur Spring. Don't miss Dragon's Mouth, a turbulent hot spring where the water sloshes rhythmically in and out of the cavern's mouth giving the impression of an irritated dragon!

Saddle up and see the backcountry

Ride a horse through the backcountry You hardly see about 2% of the 2.2 million acres that make up Yellowstone park when you drive along the Grand loop stopping at all the attractions in Yellowstone. One of the best ways to see the backcountry is to saddle up and go on a trail ride. You can catch a horse ride from the stables near Roosevelt or Canyon village. We took the one from corrals in Canyon that took us through an open meadow and along Cascade Creek through wooded areas and pine forests.

See the Grand Canyon of Yellowstone from Artists Point

Formed over thousands of years of erosion and other natural forces, the Grand Canyon of the Yellowstone is an easy 15 minute drive from Canyon Village area and is also one of the park's most popular hiking spots. The canyon stretches approximately 20 miles long and nearly a mile wide. Stop at Artists Point on the South Rim and Inspiration Point on the North Rim for the best views of the canyon's terracotta and oxidized cliff walls. Between the V-shaped valley runs the longest undammed river in the country, meandering for more than 600 miles through Wyoming, Montana and North Dakota.

Look for Wildlife in the Lamar Valley

Lamar Valley is often referred to as "America's Serengeti" because you can see an abundance of animals here. Bison are most commonly spotted here and know to cause traffic jams! Bring binoculars and keep your eyes peeled for bears, wolves and foxes. We spotted a few bison and a fox snacking on a rabbit here at Lamar Valley. Stop and stretch your legs at the Roosevelt lodge before or after your safari.

Hike Mount Washburn

Tower Falls is located in the northeastern part of Yellowstone near Tower Junction. To see the Tower falls that sits in the middle of some hoodoos and plunges a stunning 132 feet, drive about 2 miles south of Tower-Roosevelt Junction between Tower-Roosevelt Junction and Canyon Village. The viewpoint is roughly 100 yards from the parking area. After that drive up the Dunraven Pass, park at Dunraven Pass Trailhead and hike the 3.1 mile (each way) trail to Mt. Washburn's 10,243 foot summit. (This is on the wish list for next trip)

Have a western cookout

If you are staying near Roosevelt, you can ride on a horse or in a covered wagon for some real cowboy grub in a Western-style Dinner Cookout. The Ride takes 30 to 45 minutes and takes you through sagebrush flats, following the same road used for the stagecoach rides to the cookout site. The wagons are canvas-covered with padded bench seats. Each wagon is drawn by two horses. Vegetarian meals can be accommodated with advance notice and it would be one of the best things to do in Yellowstone with the kids.

Stop for a sunset

There are several lookout points you can stop at on the way back from Lamar valley to see a sunset. The sky turns into brilliant shades of yellows, golds and oranges and then into purples as the sunsets.

Scan the sky for stars at night

With so little light pollution, you can see the stars in the night sky at Yellowstone. If you are staying in a lodge, drive five to ten minutes away from the parking lots to get a better view.
Our 3 Day Yellowstone Itinerary
You can easily spend weeks exploring Yellowstone National Park, we stayed inside the park for 3 nights and spent 3 days (not counting the day we arrived from Grant Teton for the purposes of this itinerary, we spend the afternoon just enjoying the lake and views). Here is what our Yellowstone Itinerary that covers the highlights looked like.
Day 1 – Lake Yellowstone, Old Faithful, Midway Geyser hike to Grand Prismatic Spring viewpoint, Drive Fire hole drive (Lower Geyser)
Day 2 – Hayden Valley, Horse ride, Norris Geyser, Gibbons Falls, Mammoth Terrace Hikes
Day 3 – Grand Canyon of Yellowstone, Tower Falls, Lamar Valley
If you have just one day in Yellowstone or doing a day trip from Jackson Hole to Yellowstone you can still cover all the major attractions in Yellowstone but you will miss out on enjoying the outdoors at a slow pace! Just focus on one area. Either visit Old Faithful, Grand Prismatic Spring and Mammoth or visit Grand Canyon of Yellowstone and then Lamar Valley for seeing the wildlife. The hike up to the Grand Prismatic Spring is one of the Top Things to do in Yellowstone – its like you get a view into earth's beating heart!
Some tips when visiting Yellowstone
Hot Spring are geysers are hot! Some steam temperatures are about 200 to 300 degrees, so stay away.
Bring a Binoculars and a nice camera and lens if you want to see or photograph wildlife.
Maintain a healthy distance from wildlife, at least 100 yards away from bears and wolves and 25 yards away from other wildlife.
Rent a bear spray if you are going on hikes or venturing alone
Bring a reusable water bottle, you will not find plastic water bottles inside the park.
Print maps or download them before entering the park. Basically plan ahead, cell service is spotty and nonexistent in some parts.
Slow down and smell the sagebrush
While you might be tempted to find all the geysers and waterfalls – there is so much to do and see in Yellowstone, do take time to slow down! Bring a hammock, have lunch in one of the many picnic areas…. just enjoy your time in nature, afterall that is what you are here for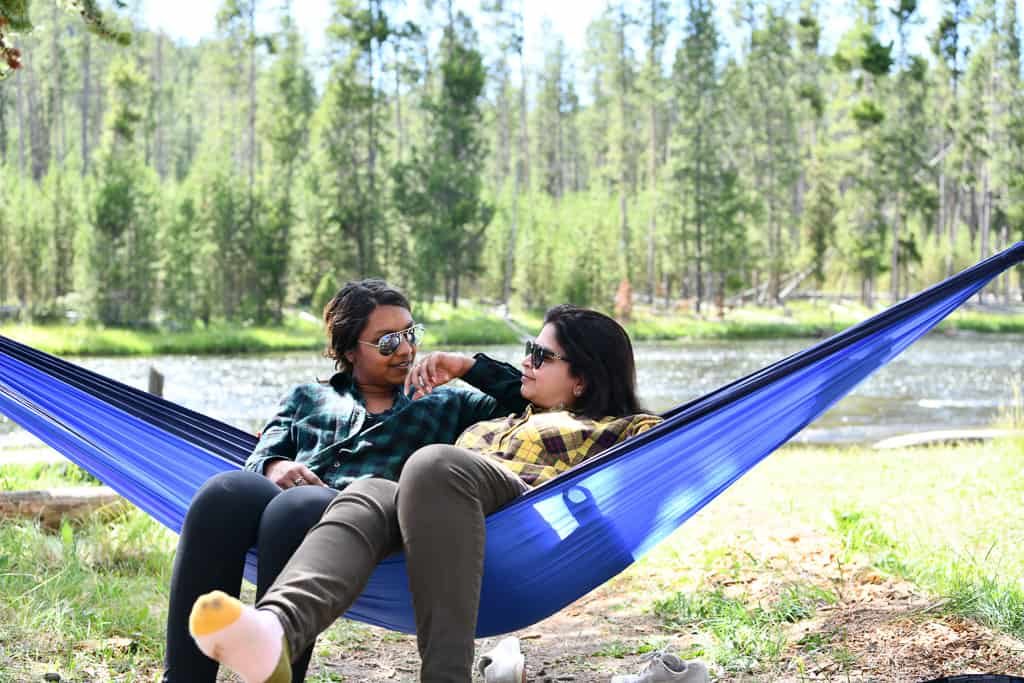 Here are a few other places to visit in Montana that aren't Yellowstone or Glacier National Park.
A few more photos from Yellowstone
Yellowstone isn't all just geysers and bison. The world's first national park has a rich history full of stories that date back to 11,000 years. Some most recently during the Old West time period. You can relive the cowboys, outlaws, and pioneers days with some fun Yellowstone activities like Stagecoach and wagon rides. Go on a wildlife safari in one of the iconic Yellow buses… kayak in the lake, go flyfishing, wishing you happy trails!
I hope you found this guide to the best things to do and see in Yellowstone useful in planning your visit!
PIN IT FOR LATER
Note: This post may contain affiliate links, partnership or sponsored content. If you purchase an item via one of these links, we may receive a small commission at no extra charge to you. But as always images and opinions are our own. For more information on our affiliates and privacy policy at Outside Suburbia see here.
Follow Outside Suburbia on
Instagram | Facebook | Twitter | Pinterest | Tripadvisor