Barcelona is a city that is known for its art and culture, if you are an art lover, you will be spoiled for choice when it comes to galleries and museums. In this blog post, we will take a look at some of the best modern and contemporary art galleries in Barcelona. We will also explore some of the city's most renowned museums, which are home to some of the world's most famous artwork. So if you're planning a trip to Barcelona, make sure you add these galleries and museums to your itinerary!
Best Modern & Contemporary Art Galleries and Museums in Barcelona
MACBA – Museu d'Art Contemporani Barcelona
MACBA is a contemporary art museum in Barcelona that is highly regarded for its exhibitions and education programs. The building was designed by the American artist and architect Richard Meier.
It is home to works by some of the most famous contemporary artists, including Marcel Duchamp, Keith Haring, Roy Lichtenstein, Joan Miró, Rineke Dijkstra, Pablo Picasso, and Andy Warhol. The museum organizes a new exhibition every three to four months.
MACBA also offers a variety of educational programs for all ages. These include workshops, tours, lectures, and films. The museum is a great place to learn about contemporary art and to see some of the most famous works up close.
Picasso Museum
The Museu Picasso is a must-see for any art lover visiting Barcelona. It houses the largest collection of works by the 20th-century Spanish artist Pablo Picasso, with a total of 4,251 of his works on display.
The museum is located in five adjoining medieval palaces on Montcada Street in the La Ribera neighborhood of the Old City of Barcelona. It opened to the public on 9 March 1963, making it the first museum dedicated to Picasso's work and the only one created during his lifetime.
The Museu Picasso is an excellent way to spend an afternoon exploring the work of one of the most influential artists of the last century.
Nogueras Blanchard
Nogueras Blanchard is a contemporary art gallery that was founded in Raval, Barcelona. In 2004, the gallery moved to an industrial building in L'Hospitalet de Llobregat, a working-class neighborhood on the southern edge of the city.
The gallery is known for its support of emerging artists, and its commitment to interdisciplinary art. Works by Wilfredo Prieto, Mercedes Azpilicueta, Ignacio Uriarte, Enric Farrés Duran, and many others can be found in the gallery's collection. In addition to exhibitions, the gallery also has an annual open call for new curators.
Galería Senda
Galería Senda is a Barcelona-based art gallery that specializes in contemporary art. Founded in 1991, the gallery has played an important role in promoting the work of young artists, both Spanish and international.
Over the years, Senda has participated in prestigious international art fairs and mounted exhibitions of painting, sculpture, photography, installation, and video.
In 1999, the gallery opened a second location (Espai 2NOU2) in the city's artistic and cultural district. While that location is now closed, Senda continues to be an important showcase for emerging talent in Barcelona.
Galeria Marlborough
Frank Lloyd and Harry Fisher founded the Marlborough Gallery in London in 1946. The pioneering gallery soon started to represent artists such as Henry Moore, Francis Bacon, and Lucian Freud and began its expansion all over the world.
It opened venues in New York, Tokyo, and Madrid to create a wider international presence, and in 2006 it founded Marlborough Barcelona. Add this to your Art Museums & Galleries Barcelona Itinerary!
The gallery presents a solid program of monographic, collective, and permanent exhibitions, as well as collaborative shows in other cultural institutions across Spain. Marlborough represents a roster of widely respected contemporary artists from Europe, the USA, South America, and Asia.
Thanks to its innovative program and global reach, the Marlborough Gallery has become one of the leading galleries for contemporary art.
Fundació Joan Miro
Fundació Joan Miró is a world-renowned museum of modern art, located in Barcelona, Spain. The museum was originally built according to the plans of architect Josep Lluís Sert and was expanded in 1988 by Jaume Freixa.
The collection comprises the most complete graphic works of the Spanish artist Joan Miró, as well as works of other modern artists, such as Alexander Calder, Mark Rothko, and Marcel Duchamp.
In addition to the permanent collection, the museum also hosts a variety of temporary exhibitions throughout the year, making it a must-see destination for any art lover.
See this Miró Tour which takes you on a trip around BCN, from the mosaic at Pla de l'Os on the Rambla to the magnificent collection of his works at the Fundació Joan Miró. You can discover the links between the artist and the city of his birth, and his wish to see art become a natural part of people's everyday lives.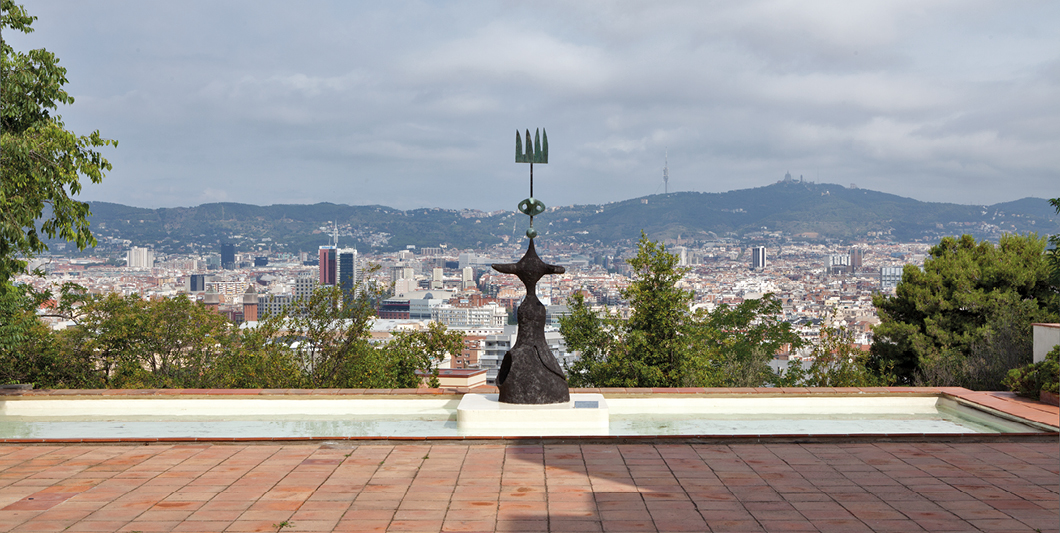 Fundació Antoni Tàpies
The Fundació Antoni Tàpies is a must-see for any art lover visiting Barcelona. The foundation is dedicated to the life and work of Catalan painter Antoni Tàpies, one of the most significant artists of the 20th century.
The museum houses a comprehensive collection of Tàpies' work, as well as temporary exhibitions featuring other modern and contemporary artists. In addition to its visual arts program, the foundation also hosts a variety of cultural events, such as concerts, lectures, and film screenings.
Whether you're a fan of Tàpies' work or simply looking to enjoy some of Barcelona's best art, the Fundació Antoni Tàpies is well worth a visit.
CCCB: Centre de Cultura Contemporània de Barcelona
The CCCB is a world-renowned contemporary art museum located in Barcelona, Spain. Its central theme is "the city and its culture", and it showcases works from artists all over the world that explore this theme.
The museum has an extensive permanent collection of works from renowned artists such as Rudolf Steiner, Stanley Kubrick, Agnes Martin, Barnett Newman, and Antoni Tàpies, as well as temporary exhibitions that rotate throughout the year.
Whether you're a fan of contemporary art or just looking for a unique place to visit, the CCCB is definitely worth a visit.
Joan Prats Art Gallery
Barcelona has long been known as a city of art and culture, and the Joan Prats Art Gallery has been at the forefront of the city's art scene since it opened in 1976.
The gallery takes part in some of the world's most prestigious contemporary art fairs, such as ARCO in Madrid, Art Basel, and Art Basel Miami. Albert Ràfols-Casamada, Carles Congost, and Perejaume are just a few of the artists who have exhibited their latest works in this space, where all kinds of artistic disciplines are represented.
Sometimes the gallery also hosts guided visits, as part of its commitment to the dissemination of art knowledge. If you're interested in seeing some of the best contemporary art that Barcelona has to offer, be sure to check out the Joan Prats Art Gallery.
MOCO Museum
The Moco Museum is spread across two sites in Barcelona and Amsterdam. The museum is perfect for modern and contemporary art fans as it offers collections from Andy Warhol to Yayoi Kusuma.
The museum is located next to the Picasso Museum in a former private home of the noble Cervello family. The focus on contemporary and street art provides a venue for new artists to showcase their work alongside the greats.
Gaudi's Masterpieces
You can't go to Barcelona and not visit a few of Gaudi's Masterpieces! La Sagrada Família is not only considered to be Gaudí's most recognized work, but also his best. La Sagrada Família, The Church of the Sacred Family), a Gothic style tower with a modern twist has an undeniable place in the Barcelona art scene.
Get the tickets online and make sure you show up on time. Get the audio guides and have the kids read up a little about Gaudi and his vision before you go. This church leaves such an everlasting impression and you don't want to wander aimlessly inside.
Antoni Gaudí's Parc Güell is a whimsical park with colorful mosaic tiles works and interesting looking columns, a fun place for adults and kids to explore. While no art museums or galleries in Barcelona are dedicated to Gaudi, you can visit the Gaudí House Museum, where the architect lived from 1906 to 1925.
Better known as La Pedrera ("the quarry") for its elaborate stonework, Casa Milà was the last civil project Gaudí completed before his death and represents the pinnacle of his career. The building, designed as a residence for Barcelona's elite, was a radical departure from anything the city had ever seen, with its wavy interior patios, curved walls, and slanting columns.
The Salvador Dalí Museum (Figueres)
The Dalí Museum in Figueres, Catalonia (around 140km north of Barcelona) is dedicated to the artist Salvador Dalí and displays the largest collection of his works in the world.
The museum is located in Dalí's hometown, and he is buried in a crypt below the stage. The collection includes paintings from all decades of Dalí's career, as well as sculptures, three-dimensional collages, mechanical devices, and other curiosities from Dalí's imagination.
The museum is a must-see for anyone interested in the work of this fascinating artist. You can book a tour from Barcelona to visit the village of Cadaqués and the museum.
Map of Barcelona Museums & Galleries
I hope this post inspired you to explore the Barcelona art scene and visit some of these world class museums and galleries.
PIN IT FOR LATER
Note: This post may contain affiliate links, partnership or sponsored content. If you purchase an item via one of these links, we may receive a small commission at no extra charge to you. But as always images and opinions are our own. For more information on our affiliates and privacy policy at Outside Suburbia see here.
CONNECT WITH US