Los Angeles has always had a vibrant art scene but the city has been growing a lot, in terms of contemporary art, over the past few years. From modern art museums to independent contemporary art galleries, here are some art destinations in LA to add to your art itinerary when visiting Los Angeles.
I love visiting LA for a quick weekend jaunt, checking out the art scene before driving to nearby towns. There is something about California that always tugs at my heart, from art to nature, and of course delicious wine, there is always something new to discover every time!
Modern Art Museums, Immersive Experiences & Galleries in Los Angeles
The Broad Museum
Founded in 2015 by philanthropists Eli and Edythe Broad, The Broad Museum is located on Grand Avenue, just opposite the Walt Disney Concert Hall, the home of the Los Angeles Philharmonic.
Designed by architects Diller Scofidio + Renfro in collaboration with Gensler, the building features a honeycomb-like facade, light filled galleries and a minimalistic lobby.
This Los Angeles's art museum's collection includes over 2.000 works, and most are on display along with rotating temporary exhibitions. The collection features 200 artists, ranging from the 1950s to the present day and includes works by Jeff Koons, Andy Warhol, Basquiat, Ed Ruscha, Roy Lichtenstein, Yayoi Kusama, Ragnar Kjartansson, and the largest collection of Cindy Sherman works. There are 127 Cindy Sherman photographs in the Broad collection, the largest holding of her work in the world mentions the museum.
The Broad museum also has two of Yayoi Kusama's immersive works: Infinity Mirrored Room – The Souls of Millions of Light Years Away (advance reservations required) and Longing for Eternity, on the third floor that you can just peek into!
Reserve your timed tickets in advance but visiting the museum is free.
LACMA – Los Angeles County Museum of Art
LACMA has a collection of over 150.000 works, spanning the history of art from ancient times to the present. Located on Museum Row on Wilshire Boulevard, the museum was first opened in 1961 and it is now one of the largest art museums in the western United States, with nearly a million visitors annually.
The museum building was initially supposed to be demolished in 2004 to be replaced by a larger new building designed by Dutch architect Rem Koolhaas, but the project was never funded and it was later replaced by a new renovation project by Renzo Piano.
While the museum's collection is not specifically focused on contemporary artists, but modern and contemporary art have two entire buildings of their own. In the Ahmanson Building, you will find the Modern Art collection, which comprises works from 1900 to the 1970s. The Contemporary Art collection is displayed in the Broad Contemporary Art Museum (BCAM). The museum is huge, so plan ahead and give yourself enough time to visit it. Admission is always free for the general collection.
At the LACMA is one of the most instagrammable spots in all of Los Angeles: called the Urban Light. A forest of 202 antique cast iron lamps that once lit the streets of Los Angeles was installed in a not-so-perfect grid by artist Chris Burden. Depending on where the viewer stands, the lamps arrange themselves in different angles and arrays.
Pro Tip: Go during the blue hour when the lights are about to be turned on to capture the Palm trees along with the lights.
Getty Center
The Getty Center is well known for its architecture, gardens, and views overlooking Los Angeles. Go for the art but stay for the sunset. Seriously, one of the best spots in LA for sunsets, you can enjoy a beautiful California sunset without the crowds.
The collection at the Getty includes art from the Middle Ages to today set amid modern architecture and gardens. Admission is free, and temporarily requires a timed-entry reservation.
Don't confuse the Getty Center with the Getty Villa, which is on the Malibu coast in the Pacific Palisades neighborhood of Los Angeles, California and has Greek and Roman art.
MOCA – Museum of Contemporary Art Los Angeles
With a collection of over 6000 pieces, mostly donated by board members, artists, and Hollywood personalities, MOCA Los Angeles is the number one museum you want to visit in LA if you love contemporary art.
It has two branches not too far away from one another. The main branch is located in Downtown Los Angeles, the second one known as the Geffen Contemporary is in Little Tokyo. It also has a third location in the Nevada desert, where you can visit Michael Heizer's earthwork or land art Double Negative.
The museum's massive collections exhibits both American and International contemporary art, created after the 1940s. Any big artist from the past sixty to eighty years is part of the collection, whether you are looking for paintings, sculptures, video art, performances, land art, minimal, pop art. The collection is on view year-round and the museum hosts temporary exhibition featuring contemporary artists.
They also have a rich program of events, lectures, artist talks, tours, and activities, for families, kids, teens, and adults. And while you are at The Geffen Contemporary branch, stop at the WAREHOUSE, MOCA's bookstore and cafe. The general admission to the museum is always free.
Petersen Automotive Museum
Not exactly an art museum but rated by CNN, Octane, and Top Gear as "the world's greatest automotive museum" the Petersen Automotive Museum deserves to be on your Los Angeles Itinerary if you love cars. Their collection of hypercars, car from movies and Televsion and a great collection of Formula 1 cars. The four fours of this cool museum in LA will have you entertained for at least a couple of hours. It is also an amazing setting for glamorous celebrations in Los Angelas. How cool is that building!
Hammer Museum
You won't miss the striped building of the Hammer Museum when driving down Wilshire Boulevard.
The museum was founded by Armand Hammer to exhibit his extensive art collection. After a failed attempt to donate it to the LACMA, Hammer decided to open his own museum. Hammer disagreed with the museum on how his collection would be displayed and decided to open his own museum instead.
It is yet another free contemporary art museum in Los Angeles you really don't want to miss. The museum opened in 1990 and ever since its opening it has become one of the leading art institutions in Los Angeles. Hammer Museum is now affiliated with the University of California Los Angeles, and together with its permanent collection and temporary exhibitions, it also hosts a rich program of events, lectures, activities, and also artist residencies.
The museum has an amazing collection and launched an initiative to build a collection of contemporary art. This growing collection is led by works on paper–particularly drawings and photographs, sculpture, and media arts by emerging contemporary artists. Since 2010 the museum cemented itself in the local art scene of Log Angeles by hosting its biennale, named Made in L.A. The event shines the spotlight on emerging and under-recognized L.A. and California artists.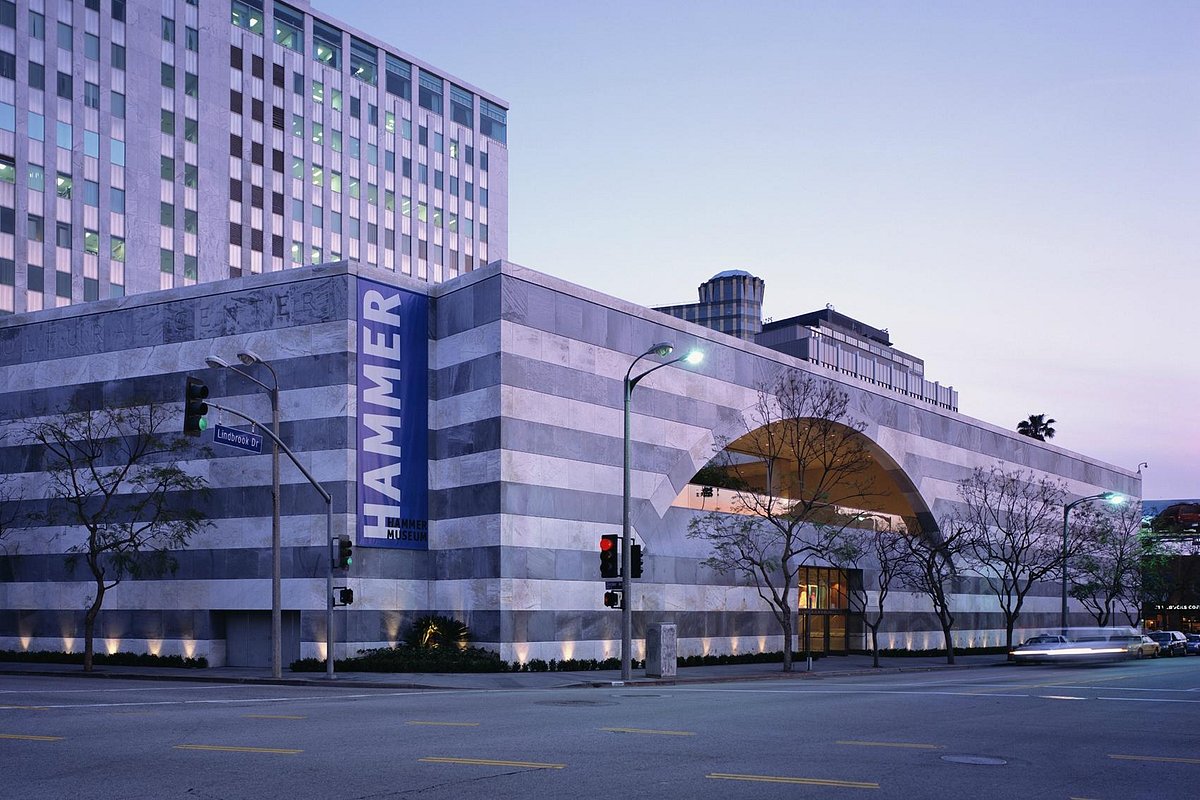 Street Art Murals in LA
Looking for street art murals in Los Angeles, the walls of the Downtown L.A. Arts District are where you will find them. They are constantly changing so check to see what is new next time you are in the area.
You can see Banksy's sole surviving piece of L.A. street art, "PARK," in an alleyway near Broadway and 9th, DTLA. If you're at the Ace Hotel, it's across the street.
Till 14th August you can visit Street Art Alive at The LUME, a multi-sensory journey that brings to life the world and story of street art. It features the work of over 200 street artists and takes visitors on a journey through laneways and streets of more than 20 cities that are famous for street art, including New York, London, São Paulo, Melbourne, and Berlin.
Map of Los Angeles Art Museums, Galleries & More
Immersive Art Experiences in LA
Housed in Hollywood's Lighthouse ArtSpace, Immersive Frida Kahlo is an enveloping journey into both 500,000 cubic feet of the Mexican painter's art and her sometimes tumultuous life.
Created by the team behind Paris's hugely popular Van Gogh, Starry Night (digital artist Massimiliano Siccardi) the Immersive Van Gogh Exhibit transforms the old Records Building in Hollywood projections that magically manifest the scenes painted by the artist. This exploration of Van Gogh's best-known landscapes, night scenes, portraits, and still life works would surely boggle even his imagination.
18th Street Arts Center
While there are many contemporary art galleries in LA, this is one of my favorites, an independent art space in Los Angeles by the beach in Santa Monica: 18th Street Arts Center. The center currently has two locations, one in Santa Monica, and the second one at Santa Monica Airport. It offers exhibitions, focusing on feminist artists, performance art, and activism. It features both local and international artists from different communities, 18th Street Arts Center also runs a residency program for Los Angeles–based and international artists.
Where to Stay
You are spoilt with many choices when it comes to luxury hotels. Stay at the 1 Hotel West Hollywood, a mission-driven luxury hotel brand. Inspired by nature, combining sustainable design with extraordinary comfort the hotel sits at the base of the Hollywood Hills, with sweeping views from Downtown LA to Santa Monica.
We also love the artsy Santa Monica Proper Hotel and the iconic Beverly Willshire or this very fashionable Hilton once the hotspot for Hollywood celebrities.
The city is a major art hub and it is not just a destination for star-spotting and beach vacations, Los Angeles is famous for its modern and contemporary galleries, museums, and art scene as well. I hope you get to experience LA's art scene when you visit the city of angels.
PIN IT FOR LATER
Note: This post may contain affiliate links, partnership or sponsored content. If you purchase an item via one of these links, we may receive a small commission at no extra charge to you. But as always images and opinions are our own. For more information on our affiliates and privacy policy at Outside Suburbia see here.
CONNECT WITH US