When it comes to art museums, New York City boasts some of the greatest institutions in the world: from The Metropolitan Museum Of Art, the Museum of Modern Art (MoMA), and the Solomon R. Guggenheim Museum, to smaller galleries in Chelsea, NYC is truly the cultural capital of America.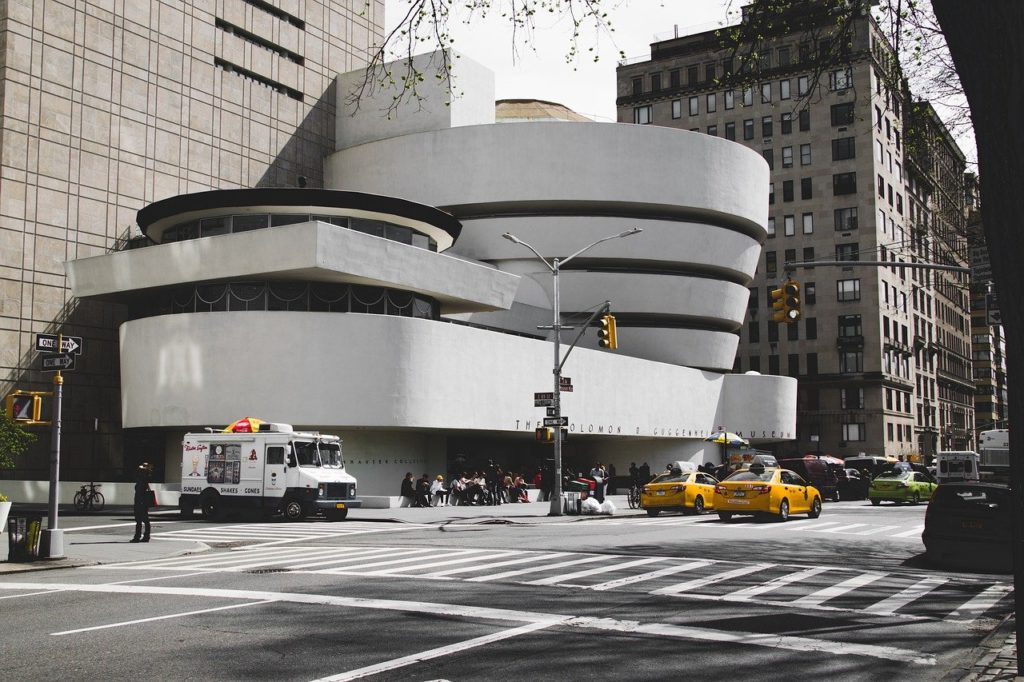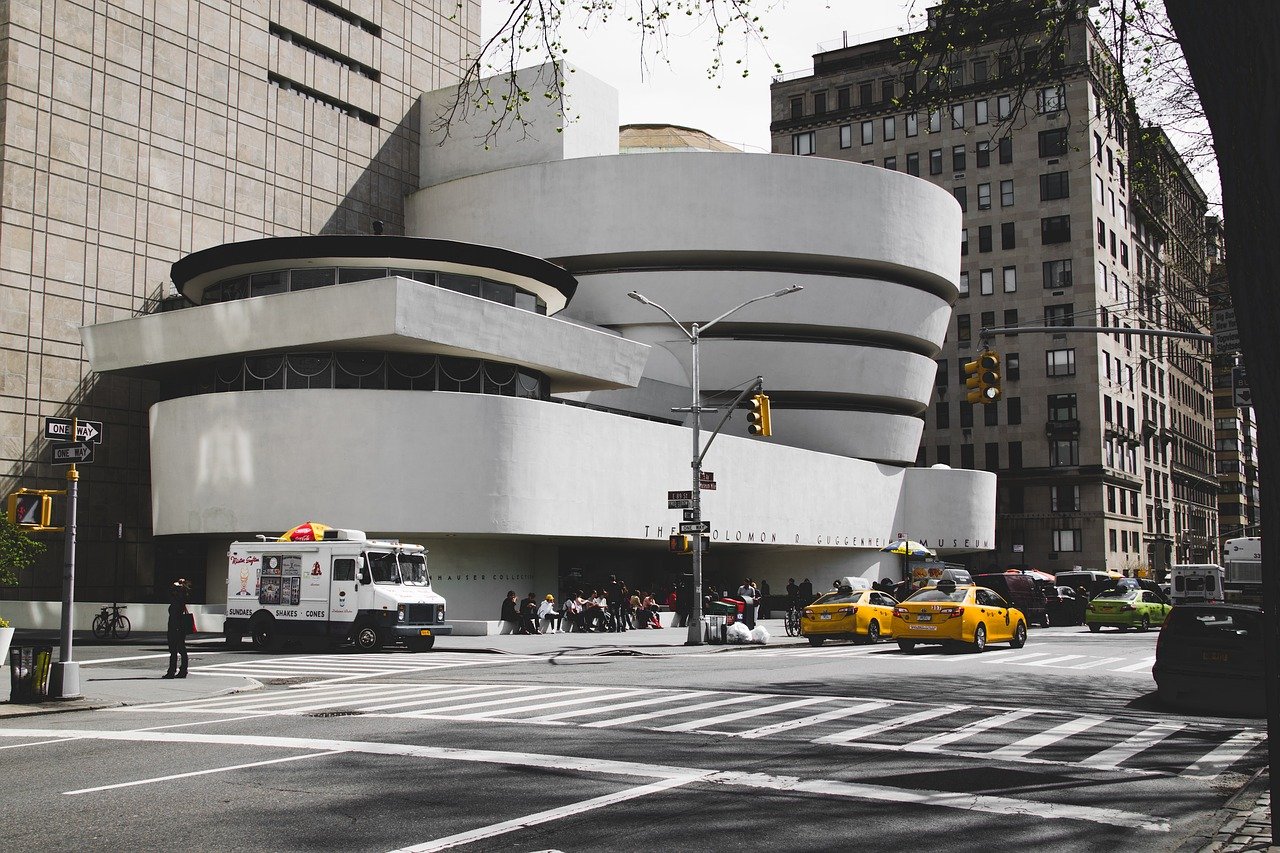 NYC art museums draw millions of visitors from all over the globe, here are a few of our favorite museums in New York City. Let's start with the three big New York museums: The Metropolitan Museum Of Art, the Museum of Modern Art (MoMA), and the Solomon R. Guggenheim Museum.
Art Museums and Galleries in New York City
The Metropolitan Museum Of Art
The Metropolitan Museum houses 5,000 years of art that ranges from Ancient Egyptian and Greco-Roman treasures to Renaissance and Impressionist masterpieces. The MET has an incredible collection of modern and contemporary objects, though, admittedly, you will need to make multiple visits to see all that the museum has to offer.
You will be amazed by the Temple of Dendur, an Egyptian temple from 10 B.C. that was transposed from its Nile-side location to the sprawling 13-acre New York Museum location near Central Park.
If you are here for Modern Art, don't miss the Dance Class by Edgar Degas; Cow's Skull: Red, White and Blue by Georgia O'Keeffe; A Self Portrait by Van Gogh; Bridge over a Pond of Water Lilies by Monet.
Currently on display is The Costume Institute's In America: A Lexicon of Fashion, where approximately 100 men's and women's ensembles by a diverse range of designers from the 1940s to the present are featured. The exhibition also includes many ball gowns and a coat that was originally worn by George Washington, possibly at his presidential inauguration on April 30, 1789.
MoMA NYC
MoMA – The Museum of Modern Art in New York, holds the most comprehensive collection of 20th- and 21st-century art in the world.
Some of the best-known works in the MoMA are Van Gogh's The Starry Night; Picasso's Les Demoiselles d'Avignon; Warhol's Campbell's Soup Cans; Paul Cezanne's The Bather; Henri Matisse's Dance (I); Jackson Pollock's One, Number 31, 1950; Salvador Dali's The Persistence of Memory; Monet's Water Lilies.
Housed in a Romanesque Revival building (a former public school), MoMA PS1 hosts cutting-edge collaborative shows and hosts an acclaimed international studio program. Artwork can be seen in every corner, from the stairwells to the roof in this Long Island City building located in Queens.
The collection at MoMA PS1 includes over 200,000 pieces of art from the likes of James Turrell and Ai Weiwei.
Guggenheim
While Guggenheim's collection of modern artworks is impressive, architect Frank Lloyd Wright's brilliant and controversial design is a showstopper. Opened in 1959 on Fifth Ave across from Central Park, just months after Wright's death, the concrete structure looks like an inverted step pyramid. So different from the Upper East Side museums, like the nearby Metropolitan Museum, Guggenheim is Wright's only major building in New York City. The architect combined geometric shapes and nature, to create a unique gallery space that presented art along a winding spiral that is lit by a glass dome. A monument to modernism!
The Guggenheim has an extensive collection of abstract paintings by Wassily Kandinsky, works of Pablo Picasso, Paul Klee, Paul Cezanne, Paul Gauguin, and Joan Miró.
Brooklyn Museum
Brooklyn Museum is among the largest and most famous art museums in the US and its collections range from African art and ancient Egyptian masterpieces to contemporary art representing almost every world culture.
Don't miss the collection of paintings from the 17th to the 20th century, famous artists on display include Norman Rockwell, Edgar Degas, Georgia O'Keeffe, and Mark Rothko to name a few.
Currently on display is fashion icon Virgil Abloh: "Figures of Speech" which was developed by the Museum of Contemporary Art Chicago. It is the first museum exhibition devoted to Abloh's work and spans two decades of his practice, including material from his fashion label Off-White; and items from Louis Vuitton, where he served as the first Black menswear artistic director.
Whitney Museum of American Art, NYC
Located in Lower Manhattan's Meatpacking District, the Whitney Museum of American Art was conceived by international starchitect Renzo Piano. Founded in 1931 by sculptor and art patron Gertrude Vanderbilt, the Whitney is dedicated to presenting the work of American artists. The museum has 50,000 square feet of both indoor exhibition space, and the collection holds about 15,000 pieces by nearly 2,000 artists, including Alexander Calder, Willem de Kooning, and Jean Michel Basquiat.
It also has four outdoor exhibition spaces and terraces, and a ground-floor restaurant and top-floor bar, both by Danny Meyer, one of New York's best-known restaurateurs. 
The New Museum of Contemporary Art
The bold seven-story building designed by the cutting-edge Tokyo architectural firm Sejima + Nishizawa/SANAA houses The New Museum of Contemporary Art. It serves as a non-collecting institution for today's art and ideas and serves as a catalyst for dialogue between contemporary artists and the public.
The museum holds exhibitions that feature contemporary art from around the world. The museum has three main gallery levels, a theater, and a café.
Immersive & Interactive Art Experience at Artechouse
Taking over a 100-year-old boiler room space beneath the iconic Chelsea Market, ARTECHOUSE NYC is one of the most unique art destinations and things to do in New York City. It is fun to visit where you can interact with pieces of the digital art gallery. Immersive experiences at Artechouse deliver quality art that goes beyond just capturing just a couple of social media or Instagram posts. Technology-driven art has become so innovative, experiential and so much fun!
Map of New York City Art Museums, Galleries, and More
Public Art & Murals in New York City
If you love art, New York City is the place for you, from street art murals to sculpture and public, there is so much to take in even if you didn't make it to any of the museums mentioned above. Here are just a few to look out for when you are out and about exploring NYC:
XO WORLD created by Daniel Anderson sits just outside One World Trade Center at West Plaza (for 18 months). features a 12-foot "Jack" from the game of Jacks with an "X" representing "love" in universal sign language and "O" representing the world. "XO PLAY" is on display inside the Oculus through late October, it depicts children playing a game of jacks, symbolizing childhood innocence and harmony with the world.
Fearless Girl, a bronze that stands on Broad Street across from the New York Stock Exchange Building in the Financial District.
The Immigrants sculpture in Battery Park depicts figures of various ethnic groups and eras, including an Eastern European Jew, a freed African slave, a priest, and a worker).
The Atlas sculpture at the Rockefeller Center and the world-famous Bull of Wall Street, a bronze sculpture that stands on Broadway just north of Bowling Green in the Financial District of Manhattan in New York City.
Murals in New York City deserve their own post, after all, Street Art Murals was born back in 1970 and many are considered a symbol of the city. From Banksy to Keith Haring, many have left their mark here. See the map above for some of our favorite NYC Murals and this post for an extensive list of the city's murals.
PIN IT FOR LATER
Note: This post may contain affiliate links, partnership or sponsored content. If you purchase an item via one of these links, we may receive a small commission at no extra charge to you. But as always images and opinions are our own. For more information on our affiliates and privacy policy at Outside Suburbia see here.
CONNECT WITH US