When it comes to art, Scotland is a force to be reckoned with. Edinburgh and Glasgow are two of the best cities in the country for art lovers, thanks to their thriving gallery scenes. If you're looking for a cultural experience that will leave you feeling inspired, then be sure to check out some of these amazing modern and contemporary art galleries in Edinburgh and Glasgow, Scotland.
Modern and Contemporary Art Galleries & Museums in Edinburgh
Scottish National Gallery of Modern Art (Edinburgh)
The Scottish National Gallery of Modern Art is the biggest and best-known modern art gallery in the city. It's spread over two imposing Neoclassical buildings, Modern One and Modern Two, surrounded by arty landscaped grounds and a mini lake. Each comprises a mix of permanent and pop-up exhibitions.
Modern One is home to a world-renowned collection of art, ranging from the early 1900s to the present day. The museum's sculptures are particularly noteworthy, with works by Joan Miró, Henry Moore, Rachel Whiteread, and Barbara Hepworth on display.
In addition, the museum's front lawn is a dramatic work of art in itself, designed by renowned landscape architect Charles Jencks.
Modern Two is home to a number of internationally renowned artists. The Stairwell Project, by 2009 Turner Prize-winner Richard Wright, is a large-scale, permanent work comprising several thousand individually hand-painted forms. It is one of Wright's most complex and ambitious works to date in the world.
Modern Two is also home to a detailed recreation of Eduard Paolozzi's studio on permanent display. Paolozzi's towering sculpture, Vulcan, dominates Paolozzi's Kitchen, the cafe named after the artist.
Entry is free, although some of the temporary exhibitions require visitors to buy a ticket. A shuttle bus runs between all of the Scottish National Gallery sites.
If you want to see some of the works by old masters, The Scottish National Gallery (located in National Gallery Building and the Royal Scottish Academy Building) displays some of the best art, including masterpieces by Botticelli, Raphael, Titian, El Greco, Velázquez, Rembrandt, Vermeer, van Dyck, Constable, Turner amongst many others. The comprehensive collection covers the history of Scottish painting – including works by Ramsay, Raeburn and Wilkie.
City Art Centre (Edinburgh, Scotland)
The City Art Centre is a large gallery with six floors of space dedicated to promoting Scottish art. There is always a variety of free exhibitions on display, featuring different mediums such as design, craft, photography, and applied art.
The City Art Centre is part of Edinburgh's Museums & Galleries network, which means that admission is always free. It is a great place to check out the Edinburgh modern art scene.
On the ground floor of the City Art Centre, you'll find Mimi's Bakehouse, a popular spot for delicious baked goods.
Urbane Art Gallery (Edinburgh)
If you're looking for a break from the hustle and bustle of the Royal Mile, why not head to Urbane? This international art gallery is relatively new to Edinburgh, having opened in 2014, but it's quickly gaining traction as a must-visit destination.
Whether you're a collector or just enjoy browsing, you'll find something to appreciate here. In addition to its mixed and solo exhibitions, Urbane also offers screenings, artist talks, and lectures. And with its diverse range of art on display, there's something to appeal to everyone.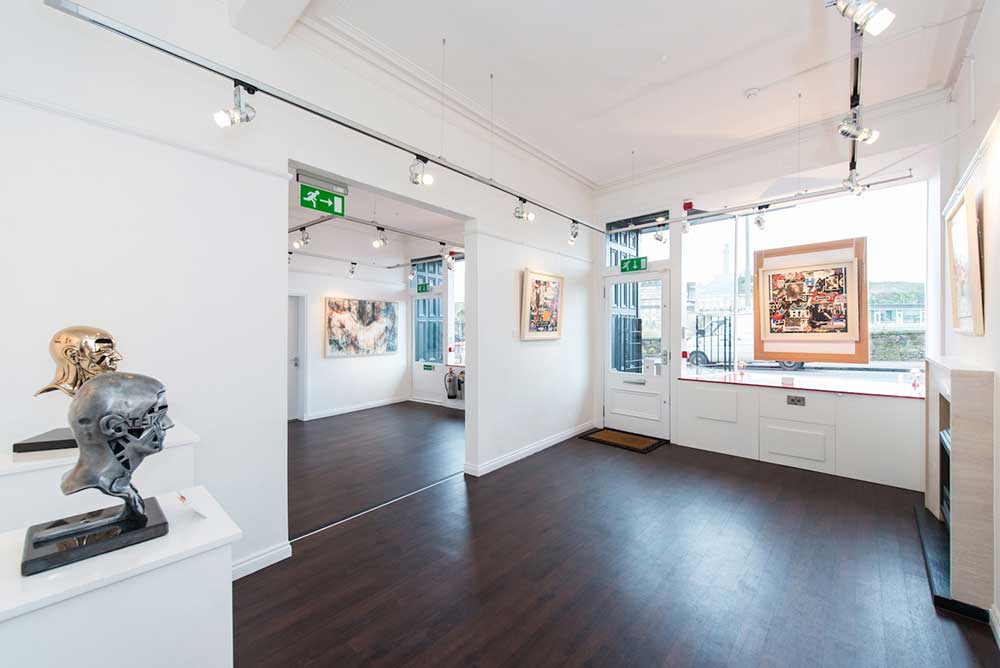 Talbot Rice Gallery (part of University of Edinburgh, ECA)
The Talbot Rice Gallery is the public art gallery of the University of Edinburgh, and one of the most respected galleries in Scotland. With a 19th-century former natural history museum and a contemporary white cube gallery, the Talbot Rice Gallery is one of the most versatile art spaces in the country.
The Gallery fundraises for its artistic program, and has to date received support from Creative Scotland, as well as international and grant support including Mondriaan Fonds, Culture Ireland, and the Freelands Foundation.
The Talbot Rice Gallery is open to the public and admission free, making it one of the most accessible art galleries in Edinburgh. Whether you're a fan of contemporary art or interested in learning more about the University's rich history, the Talbot Rice Gallery is definitely worth a visit.
See: Best spots to find street art murals in Scotland
Map of Art Galleries in Edinburgh and Glasgow
Modern and Contemporary Art Galleries & Museums in Glasgow
Kelvingrove Art Gallery and Museum (Glasgow, Scotland)
Kelvingrove Museum is a stunning building that houses an impressive collection of art, artifacts, and natural history specimens. The museum has 22 galleries covering a wide range of topics, from ancient Egypt to Charles Rennie Mackintosh.
The museum is one Scotland's most popular attractions and art lovers come to see 'Christ of St John of the Cross' the Salvador Dali masterpiece on display at Kelvingrove. Much like the at the Natural History Museum in Washington DC, there is a stuffed elephant, Sir Roger an Asian elephant ( with bullet holes visible on his forehead) welcoming guests to the museum.
Visitors can also enjoy a changing program of temporary exhibitions and displays. The family-friendly atmosphere and accessible location make Kelvingrove Museum a firm favorite with locals and tourists alike. Whether you're looking to learn more about the world around you or simply to appreciate some beautiful objects, Kelvingrove Museum is sure to delight.
Gallery of Modern Art (Glasgow)
Glasgow's Gallery of Modern Art, or GoMA, has been the city's foremost center for modern and contemporary art since 1996. Not only does it house extensive gallery space, but also educational facilities.
GoMA exists to showcase not just the work of the city's greatest artistic talents (including several Turner Prize success stories), but also to highlight what those artists share in common with others around the world in terms of influences and practices.
In doing so, GoMA has become an essential part of Glasgow's cultural scene, and an important destination for visitors from all over the world.
The Modern Institute (Glasgow)
The Modern Institute is one of Glasgow's most iconic contemporary art galleries and has been at the forefront of the city's vibrant art scene for over 25 years.
The gallery has played a pivotal role in launching the careers of many of Glasgow's most celebrated artists, including Turner Prize nominees Jim Lambie, Cathy Wilkes, and Luke Fowler, as well as Turner Prize winners Richard Wright, Simon Starling, and Martin Boyce.
The Modern Institute has also been instrumental in bringing some of the world's most exciting contemporary artists to Glasgow, such as Yoshitomo Nara, Takashi Murakami, and Ragnar Kjartansson. With its commitment to championing new talent and its unwavering dedication to presenting cutting-edge contemporary art, The Modern Institute is a true Glasgow institution.
Tramway (Glasgow)
Glasgow is well known for its modern and contemporary art scene, and the Southside's Tramway is one of the city's most important art venues. Tramway has hosted loads of major international exhibitions over the years, including the 2015 Turner Prize.
Recent exhibitions have included visceral, surreal sculptures by Estonian artist Kris Lemsalu, which blur the lines between human, creature, and object. She exhibited her new works here in early 2019 before taking them to the Venice Biennale.
With its cavernous spaces and central location, Tramway is a key venue for modern and contemporary art in Glasgow.
Where to Stay
Stay in one of the hotels in Edinburgh like Waldorf Astoria Edinburgh – The Caledonian, Radisson Blu Hotel, or Hilton Edinburgh Carlton. We loved our stay at the luxury serviced apartment at Old Town Chamber.
Hope this post inspired you to explore the modern and contemporary art scene in Scotland when visiting.
PIN IT FOR LATER
Note: This post may contain affiliate links, partnership or sponsored content. If you purchase an item via one of these links, we may receive a small commission at no extra charge to you. But as always images and opinions are our own. For more information on our affiliates and privacy policy at Outside Suburbia see here.
CONNECT WITH US