If you are looking to find Street Art in Europe, you have come to the right place. From London to Paris to Timisoara, see where you can find some amazing street – photos taken by travel bloggers during their travels, along with tips on where to find this wonderful and sometimes whimsical street art.
Where to Find Street Art in Europe
Street Art in Gent, Belgium
Contributed by Chantal from Alleenopreis
Gent is the third biggest city of Belgium. It's a great city with a lot of beautiful, medieval architecture less than an hour away from Brussels. It's much less well-known and therefore less crowded than its famous neighbor Bruges, but definitely at least as picturesque.
The charming old center makes a great décor for the street art in this city. At the Tourist Information Center you can pick up a free 'Sorry, Not Sorry Street Art' plan or you can download it from their website. It will lead you to all the beautiful murals around the city. If you want to see some more examples of streetart in Gent search for #sorrynotsorrygent or #streetartgent on Instagram.
Street Art in Paphos, Cyprus
Contributed by Elena Tchijov from Traveling Bytes
Just a few years ago, Paphos was a quiet sleepy town on the southwest coast of the Mediterranean island of Cyprus. For years, whitewashed buildings' walls were perfect canvas-in-waiting. I was surprised that they managed to remain untouched for so long. I guess old-fashioned Paphos couldn't compete with lively Nicosia or up-and-coming Limassol that welcomed street artists years ago.
All had changed by 2017. During that year, Paphos was designated as the European Capital of Culture (ECoC). For 3 years in a row, Paphos hosted Street Art Square Festival in preparation and, in 2017, as a part of the ECoC program. Both, local artists and renowned street artists from around the world joined forces to beautify the old town.
The result? The monotonous and somewhat rundown blocks were reborn thanks to vibrant, whimsical murals. The local artists transformed an ordinary concrete wall across from Starbucks on Poseidonos Avenue into an open-air gallery. Murals by Millo, Pest, BillyGee and many famous street artists can be found along Kosta Georgiou and Constantinou Kanari streets. My favorite masterpiece though is Waveform by Bane&Pest. It is located on Evagora Pallikaridi St. next to Barista Gelateria. See here for more Paphos Street Art.
Street Art in Copenhagen, Denmark
Contributed by Jacky from NomadEpicureans
Although Copenhagen isn't known for its street art scene as London, Berlin, or NYC, it is an emerging trend throughout the city. While the walls in the historic city center remain graffiti-free, the walls in the outer districts are becoming more and more colorful. Street art lovers should head to the bohemian district of Vesterbro for a quick glimpse into Copenhagen's street art scene.
However, some of the finest murals can be found in the cultural melting pot that is Nørrebro. Here, street artworks as a catalyst for economic growth in areas that are commonly referred to as "ghettos". The most impressive collection of murals can be found in Bispejerg, on Rentemestervej.
Here, several walls have been decorated artistically and several paintings are still to follow. In fact, it is now the city's longest outdoor gallery and some of the paintings were created by the biggest names of Denmark's street art scene.
Street Art in Shoreditch in London, England
Contributed by Alison Roberts-Tse from Up&AtEm Travel
Although most foreigners don't think about London's street art scene, it is such a prominent feature of the London culture that the Greenwich Fan Museum displayed a street art exhibit. Many Instagram pictures within the UK's capital display ornate buildings or pretty pastel homes in the city, but Shoreditch is famous for its street art. Head to the Shoreditch High Street station on the Overground and wander around in pretty much any direction. You will find huge murals, thoughtful political posters and tons of stickers – all with something to say.
In addition to bright coloured graffiti tags, some London street art looks remarkably realistic – like art you would expect to find on a canvas instead of sprayed over a brick wall. Some street art is cartoonish, while others are more abstract. The variety of street art in Shoreditch is what makes wandering around the trendy, artsy neighbourhood so interesting. I swear I even passed a planted pink-painted brunch of broccoli while I was there… You're sure to find interesting, thought-provoking art while in London, like the green-tinged mutant mural of Donald Trump or the x-ray 'scans' by SHOK-1.
50 icons on the north in Gateshead, England
Contributed by Stuart Forster from Go Eat Do

You can view 50 murals depicting icons of the north outside of the Northern Design College in Gateshead, England. The town of Gateshead lies on the south bank of the River Tyne in the country's northeast. It's easily accessible from Newcastle: the Gateshead Millennium Bridge and Swing Bridge are two of the bridges you can stroll across from Newcastle's Quayside. The work, logically entitled Fifty Northern Icons, stretches for 150 metres. It was painted by Frank Styles, an artist from the north-east of England.
Each of the murals is approximately three metres wide and depicts an image of something with cultural or historical links to northern England. You'll see murals relating to The Beatles, the Coronation Street television show, and Meccano, the popular construction toy that was designed in Liverpool. You can also see a depiction of Turbinia, the world's first turbine propelled steam ship (the original is in Newcastle's Discovery Museum). My favourite mural from among the 50 depicts Peter Rabbit and Jemima Puddleduck, characters from the books of Beatrix Potter, who lived and worked in the English Lake District.
Street Art in Tallinn, Estonia
Contributed by Allison Green from EternalArrival
Not many people know it but Tallinn, Estonia has some amazing street art! While the city is more famous for its gorgeously preserved medieval architecture, there is a thriving street art scene just outside the Old Town in a district called Kalamaja.
Kalamaja has been the epicenter of urban revival in Tallinn and it is now one of the hippest areas in the city with tons of street art. The murals of Kalamaja are really beautiful. Many of them originate from the festival "Mextonia" in 2017, which featured artists from Estonia, Mexico, and other places all over the world. The festival gave Tallinn 25 new murals, covering over 5,000 square meters of wall.
Some of the works of art are more than 4 stories tall, wrapping around the sides of apartment complexes or hidden in parking lots. You can find the majority of the street art in Kalamaja around Telliskivi Creative City, including some murals on the main "City" building itself. Other pieces can be found in the area around the Balti Jaam market, an old Soviet market that has since been hipster-fied. Walking around Kalamaja's street art is a can't-miss when in Tallinn.
Street Art in Paris, France
Contributed by Elisa from World in Paris
Paris is the City of Light, romance, and fashion but it also a very interesting city in terms of Street Art. The Arrondissement of Paris with more concentration of urban art is Paris 13, especially along Boulevard Vincent Auriol. This big avenue, nicknamed "the Champs Elysées of Street Art", and its surrounding streets are the object since a few years of a fantastic mural program, with contributions by the most important street artists in the world. The cool thing about Boulevard Vincent Auriol is that it is covered by the Parisian metro bridge (line 6), which goes on the surface in this area. A ride on line 6 gives the visitor the opportunity to admire these giant murals from another point of view.
The picture shows a mural made by Seth (France) but there are other interesting murals by Sainer and M City (Poland), Vhils (Portugal), Kislow (Ukrania) OBEY (US), Inti, Maher, and Aner, (Chile), Ethos (Brazil), ZED (Tunisia + Morocco) and Jana & JS (France-Germany).
Banksy Street Art in Paris, France
Contributed by Lena from SalutFromParis
Banksy started his graffiti art in the early 90's in the Bristol underground scene and is today one of the most famous and recognized street art artists of the world. His works are usually satiric comments on political and social events and even though his success, he remained anonymous to this day.
In June 2018, Banksy paid Paris a visit and left traces all over town. At least 8 street art pieces can be attributed to him and it's possible that there are even more hiding on Paris' walls! However, Banksy himself confirmed 8 of them on his instagram account.
You can find one of the biggest Banksy graffitis from his Paris visit close to the Sorbonne university in the 5th arrondissement. On Rue Victor Cousin, close to the corner Rue Cujas he placed a man tall piece featuring a businessman offering a bone to a three legged dog – hiding a saw behind his back.
Street Art in Marseille, France
Contributed by Paroma from Year of the Monkey
I am a sucker for street art and found a bushel worth of dazzling murals when I visited Marseille, the port city in southern France. Le Panier (2nd Arrondissement) is the old town of Marseille and is bustling with visitors. Here you will see lots of colorful murals on the walls, store shutters, and even in the narrowest lanes!
Cours Julien is another neighborhood to catch rows and rows of street art. This is a residential neighborhood and has several local boutiques as well. Street art in Marseille covers various topics ranging from the immigration issue in Europe to sports to cartoons to nature and daily life. One of my favorites was that of this fisherman with a bounty of fresh catch (in Le Panier), that embodies the spirit of this port town.
Street Art in Montpellier, France
Contributed by Mayi from SecretMoona
Montpellier might not be the first city that comes to mind when people think about street art in France. However, you will be surprised by the number of amazing murals adorning the building facades of this Mediterranean city. Street art is everywhere, and artists use all the method to express creativity or make a bold statement.
A moment away from the city centre, you can find the favourite spot of street artists. Quai de Verdanson, a small stream that crosses the town has been ever since the beginning of the movement the place of initiation. Most of the famous artists like Space Invaders, Mr BMX and Zest, have worked in the streets of Montpellier, making the city a fascinating open-air museum.
My prefered place to see street art in Montpellier is in the centre of Ecusson – the old quarter. As you walk along the picturesque streets, you just have to open your eyes to spot the colourful urban art. I was able to locate some of the most remarkable pieces like this stencil piece by French artist Guate Mao. Her ethnic stencil work is fantastic. As well as stencil creations, you can discover other unusual forms like stickers, mosaics, street installations and tags.
Street Art in Berlin, Germany
Lesley Connor from Empty-nesters Travel Insights
Berlin is synonymous with street art. From politically-charged cold war messages, to the creative expression of the artistic community who flocked to Berlin post re-unification, the city became one large blank canvas. Most famous is The East Side Gallery near Fredrichshain. Over 100 artists began work on the 1.3 kilometre stretch of the Wall in 1989 while it was still coming down, expressing visions of future hope.
Surrounding Frederichshain itself is well known for its prolific street art, while a walk down Mariannestrasse in nearby Kreuzberg will provide examples of work by artists Roa and Victor Ash. Haus Schwarzberg alley off Rosenthaler Strasse in Mitte provides a creative space for up and coming street artists. Here you will find changing exhibitions, museums and a cafe where you can relax and enjoy the latest murals.
However you will find some of the best Street Art in Berlin, at Teufelsberg, the abandoned US spystation in the Grunewald Forest. At the end of the cold war, the derelict buildings became a blank canvas for graffiti artists. It has now been transformed into a natural cultural space for both artists and artlovers to enjoy. A half hour walk from the S Bahn at Grunewald is well worth the effort. Climbing the stairwells to the radar domes on the roof, you are greeted with a continual display of murals. The exhibition is not unlike a traditional art gallery, except until recently the display was neither sanctioned nor curated.
Since 2016 the site has undergone sensitive redevelopment. Artists can book a space to come along and add their creativity to the exhibition. For a nominal fee, visitors can browse through several floors of artwork, as well as relaxing on the rooftop to enjoy the spectacular views.
Street Art in Kiefernsyrasse, in Dusseldorf, Germany
Contributed by Roxanna from Gypsy With a Day Job
One of the things I loved most about Düsseldorf was the street art, and in particular the neighborhood of Kiefernstraße. I loved the story of the neighborhood, the nature of the community, and especially the art. At one time, Kiefernstraße was known as the world's first graffiti neighborhood, a concept designed to save the neighborhood from demolition, and to help it's very diverse community stay in their homes.
The Graffiti Youth Project brought authors from around the world, including Os Gemeos, Arie Dyanto, and Klaus Klinger, to redesign the exterior of the apartments. Over a period of two weeks, individual artists put their own designs on each of the apartment building lining the street. The project garnered the support of the entire community.
The result was an eclectic mix of art pieces that somehow vibe together to create an intriguing whole. They neighborhood suddenly became both a curiosity, and a tourist attraction. The world's first graffiti neighborhood drew worldwide attention. And, ultimately, it was this that changed the perception of city officials, saving the street from demolition. City residents from across Düsseldorf are proud of the Kiefernstraße art, and knowing that coming together in support was able to save the community.
Street Art in Tbilisi, Georgia
Contributed by Emily Lush from Wander-Lush
A city with a longstanding reputation for its musicians and fashion designers, Tbilisi, capital of Georgia, now has a burgeoning street art scene to match. Street art started gaining popularity in the former Soviet Republic in the early 2000s. Despite being punishable by law (graffiti artists face ever-increasing fines), a growing number of murals can be found across the city, especially in the dark and dank metro underpasses.
Georgian street artists had a real boon in 2016 with the opening of Fabrika, an old Soviet sewing factory transformed into a hostel and multipurpose creative space. Fabrika housed the city's first supply store for street artists and now hosts Fabrikaffiti, Tbilisi's inaugural street art festival.
The façade of the factory and some of the surrounding buildings are plastered with murals. Popular local street artists to look out for include Dr. Love (known for his monochrome murals that critique social and environmental issues), Lamb (recognisable by his signature lamb motif, a reference to his homeland in rural Georgia), and Musya Qeburia (an accomplished graphic designer who makes vividly coloured abstract and realist paintings).​
Street Art in Budapest, Hungary
Contributed by Kate from OurEscapeClause
Budapest's District 7 neighborhood (also known as the Jewish Quarter) is one of the most vibrant in the city: packed with ruin bars, all kinds of cafes, vintage clothing shops, and more, it should come as no surprise that this neighborhood is also overflowing with beautiful street art.
The murals, which range from merely pretty to celebrating Hungarian heritage (the inventor of the Rubik's Cube is Hungarian, and there is a giant mural in the district dedicated to him), cover entire buildings in some cases and only small corners in others.
It's a delightful mix: it's entirely possible to glance around one corner and see stately 19th-century buildings, and the next and be face-to-face with an incredible mural.
Though District 7 is bursting with street art in all directions, if you're looking for some locations, try the streets of Gozsdu Udvar (home to one of my favorite murals, pictured below), Kiraly Utca, and Rumbach Sebestyen Utca to get you started–and then enjoy wandering aimlessly from there! See here for
unusual things to do in Budapest.
Street Art in Belfast, Northern Ireland
Contributed by Gemma Armit from Two Scots Abroad
When you think of street art in Belfast, your initial thought probably goes to the political murals in the Unionist and Nationalist neighbourhoods and while they are a very worthwhile Belfast tour (the Black Cab Tours are very popular) there is other notable street art to see in Northern Ireland's capital city. Head to the Cathedral Quarter to see street art murals on every corner. This area is bustling with bars and and restaurants and most have adopted some kind of art on the walls of their establishment.
The Duke of York is one of the most popular bars in Belfast for its trinkets and artwork. Don't miss the lane to the outside courtyard to see some of Northern Ireland's celebrities plastered on the walls underneath the hanging umbrellas. In the courtyard itself there is a giant house mural and each window tells a different NI story!
My favourite Belfast bar is Sunflower (the last caged pub in Belfast) and although their street art does take on a political stance, it is aimed at gender and human rights. The city really is a walking museum for those who love modern street art.
Street Art de Kenny Random in Padua, Italy
Contributed by Gábor Kovács from Surfing the Planet
Padua has always been a city of art and culture, famous amongst other things for one the most ancient and prestigious university in the world. In the latest decades the murals painted by Kenny Random have extended the list of the cultural highlights in Padua. Kenny Random is the pseudo name of Andrea Coppo's, a talented Italian artist who created several interesting graffiti in the city.
Amongst the diferent street art you can find in Padova it's quite easy to distinguish the work created by Kenny Random. Her style is unique and the constant presence of a cat, a small bird and a boy with a black hat is characteristic of her work. These works are not only pleasant to see, but they also bring a positive message that is easily understandable for the viewers. The murals are distributed not only in the city center, but also in the suburbs. It's a lot of fun searching for these artworks, some of them quite hidden at first sight.
Street Art in Rotterdam, Netherlands
Contributed by Suzanne Wolko from PhilaTravelGirl
In Rotterdam, you can happen upon the street art throughout the city, especially on Witte de Withstraat, not far from the Cube Houses or Markthal. Rather than take chances and discover the art, I chose to download (for a fee) the ReWriter app and have a guided walking tour which provided me real time directions as well as background information on the artwork I was looking for and the artist(s).
Given that I had a short time to explore the city, I focused on the street art around Witte de Withstraat so I could also enjoy the cafes and bars along the way. I was impressed by the Dutch street artists who I hadn't heard of before, especially Tymon. His work "Mr. Merida" has South American influences and is located slightly off the main street.
Tymon has other works in the area such as his "Will You Marry Me" piece outside of the frites shop. Since street art is a living art museum, the works on the walls are fleeting unless commissioned by the wall owner. "Will You Marry Me" should still be in Rotterdam on your next visit but "Mr. Merida" may be gone. Click here to see more of Rotterdam Street Art.
Street Art in Lisbon, Portugal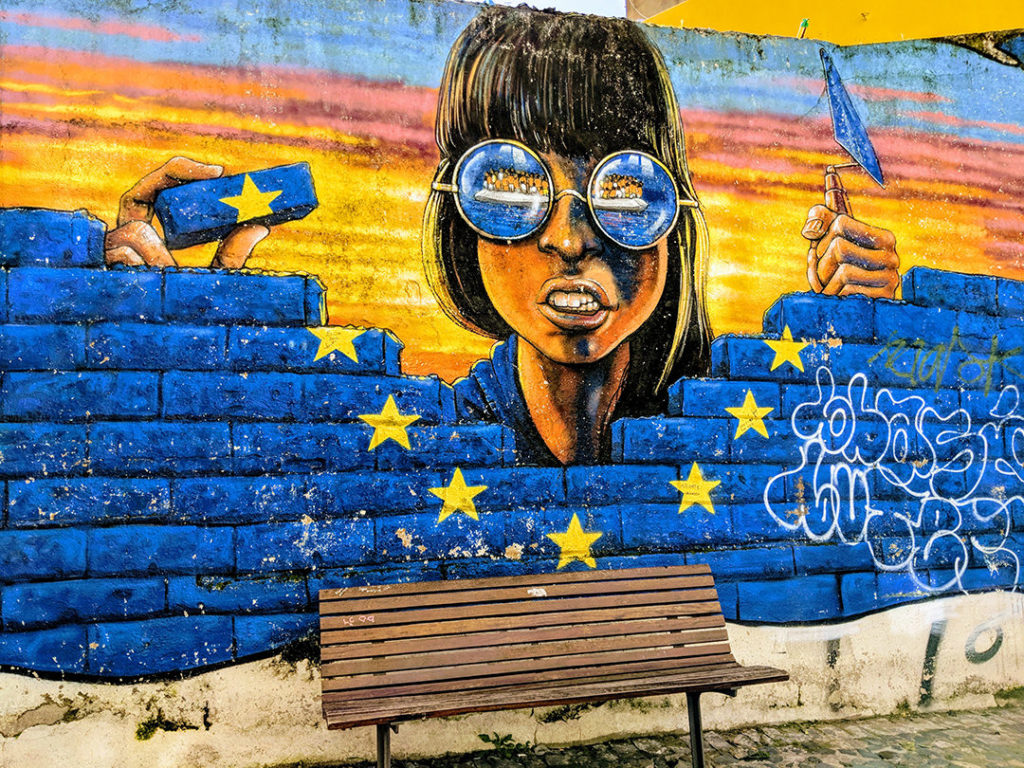 Contributed by James from Portigalist
For lovers of street art, it doesn't get any better than hipster Lisbon. There is street art in pretty much every neighbourhood across the city, so much so that the street art is truly an organic part of the city. Street art is loved so much in Lisbon that it's even encouraged and sponsored by Lisbon City Council. Look out for Portuguese graffiti artists like Vhils (Alexandre Manuel Dias Farto) and Bordalo II (Artur Bordalo), both of whom are revered within the Portuguese capital. Bordalo II is known as the man who creates animals from bits of rubbish, while Vhils is known for his depictions of faces.
Vhils, in particular, has gone on to international fame and has had his work appear alongside Banksy. One of the best places to see Bordalo II's work is in Belem, while there is a joint work from Vhils and David Walker from London on Rua Fernandes Tomás. The epicentre of street art in Lisbon, however, is the Calçada da Glória.
Street Art in Azores, Portugal
Contributed by Denise van Rijswijk from Inhetvliegtuig
The Azores is a group of 9 beautiful islands off the coast of Portugal known for it's stunning nature, wildlife (whales!) and outdoor activities. What you may not expect, is that the locals really love street art. Every year the city of Ponta Delgada (on Sao Miguel Island) organizes an urban art festival, where artists from all over the world come to show there creativity. The festival became so popular, that nowadays it's spread over Terceira Island as well. Art critics even call it "Portugal's most ambitious residency programs and public art projects". The Walk and Talk Urban Art festival takes place in June and July and the festival transforms over more than 100 buildings, houses, public spaces and even factories into art pieces. With a special map you can visit all the different highlights by yourself, or with a guided tour.
Street Art in Timisoara, Romania
Contributed by Megan Starr from MeganStarr
Timisoara, Romania is, to most people's surprise, one of the best cities for street art in Eastern Europe. In an otherwise sleepy area of Romania sits Timisoara, a university city of around 300,000 people. The first thing I noticed when I moved there for a couple of months was that the city was unusually colorful. Street art and murals were everpresent throughout the city and it matched the vibrant colors of the buildings and gave the city a really cool and hip feel, something I was definitely not expecting. You can't go a couple of feet in Timisoara without seeing a mural.
The city even hosts a street art festival every year called 'Fisart' and artists from all over the world congregate in the Romanian city to celebrate making the cities a little bit brighter with murals. This particular mural was one of my favorites and it is by American street artist, Henry Lipkis, from Venice Beach, California. It can be found at the University in Timisoara. Timisoara is a city just waiting to be explored- from its lively cafe culture to its street art to the burgeoning craft beer scene, creative people will definitely find a city they connect with in Timisoara.
Street Art in Aberdeen, Scotland
Contributed by Susanne Arbuckle at Adventures around Scotland
Aberdeen in Scotland has long been regarded as a 'grey city' due to the high number of granite buildings. However, over the last couple of years it has been undergoing a vibrant makeover thanks to creative local art projects. Nuart Aberdeen is a street art festival which has been running for 2 years and has resulted in over 20 colourful murals being painted on buildings and walls in the city centre. The festival attracts local and international artists and is supplemented by a program of talks, presentations, film screenings, walking tours and workshops.
Each Saturday from April until September there are free walking tours around many of the street art locations. If you prefer to walk around the artwork at your own leisure there is also a map of the locations on the Nuart Aberdeen website. Along with a growing mural scene, Aberdeen's Painted Doors project had helped transform 24 doorways in to bright works of art and the city is no longer looking quite so grey.
Street Art in Glasgow, Scotland
Contributed by Sonja from MigratingMiss
It's almost impossible to walk around the city centre of Glasgow and not stumble across some amazing street art. As part of a regeneration program, the Glasgow City Council embraced the idea of creating eye-catching murals across the city. Glaswegian Billy Connolly is featured, as well as a modern day version of St Mungo, the patron site of Glasgow, amongst other beautiful splashes of colour from wildlife to puppet rappers and a black cab tied up with balloons.
Many of the locations of the street art are detailed online, including on a map from the council itself, but you can also take a guided tour to learn more about the artists, images, and story of Glasgow.
Glasgow is an often overlooked city to visit in Scotland, as most travellers favour Edinburgh, but the thriving music scene, markets and gastronomy, the architecture of Charles Rennie Mackintosh, not to mention the amazing Kelvin Grove Museum are all bringing people to the streets of Glasgow, and the street art is just another great addition! When you're walking around the city, keep an eye out for huge street art murals, and hidden small ones too.
Street Art in Valencia, Spain
Contributed by Teresa from BroganAbroad
Valencia is, in my opinion, the most exciting city in Spain. Some people call it the new Barcelona but without the crowds, where there's been a lot of regeneration, hipster areas are popping up everywhere, and the cultural scene is thriving.
This also includes the rise in popularity of street art in Valencia. The neighborhoods of El Carmen and Cabanyal have become a bit of a mecca for street art lovers visiting the city. There is a very active community of local street artists, and as you explore the pieces of art through the often narrow streets, you will start recognizing some their styles.
You will find the ubiquitous and cheeky David de Limón popping up where you least expect him, and the creativity and talent of artists such as Deih, Escif and La Nena Wapa Wapa are simply stunning. But it's not just local artists who are active in this community – you will also find great pieces by international artists such as Tona, Disneylexya and Atila_the1. A feast for the eyes of street art lovers!
Street Art in Stockholm, Sweden
Contributed by Taryn from Happiest Outdoors
On my visit to Stockholm I discovered that art is really important in Swedish culture. The winters are long and dark so they really appreciate being surrounded by art to brighten up their day. Their love of art even extends into their public transit system: Stockholm's subway has been called the world's longest art gallery. Called the Tunnelbana or T-bana in Swedish, it has over 90 art-filled stations over 3 separate train lines! There's a wide variety of art from painted murals to tile-installations to sculptures.
Visiting Stockholm's subway art is as easy as buying a subway ticket. It's just 31SEK (about 3 Euro or $3.50 USD) for a 75 minute ticket. Stop for a photo at a few stations on your way somewhere else or make a tour of the subway stops your outing for the day. With so many stations to see, you'll want to focus on the highlights.
My must-see picks are the rainbow-themed Stadion station and the science-focused Tekniska Högskolan station on the red line. On the green line, check out the 8-bit video game-inspired tile art at Thorildsplan. In the city center head to Kungsträdgården on the blue line to see the sculptures and mosaic ceiling. No matter where you stop, make sure to explore the whole station as there are so many great art pieces to discover.
Street Art in Madrid, Spain
Contributed by Javier Garcia, CEO Cooltourspain
Madrid has some pretty cool murals and Calle Embajadores, 21 has the best one. UK's number 1 street art artist painted the façade of a building located in one of most gentrified areas in town, called Lavapies. British artist D* designed his typical pop art decorations with the figure of a couple. The district is not only well known by its multicultural community but it is also known for its street art in Spain – so much so that Time Out Magazine considered it as the coolest neighborhood to visit around the world!
See this post for other cool street art and murals in Madrid.
Where to Find the Best Street Art in South America
Where to Find the Best Street Art in Europe
PIN IT FOR LATER
CONNECT WITH US