The much awaited Eataly Dallas opened its doors in December and I can't be more excited – so many foods to buy and pasta to try! The Italian marketplace located inside North Park Mall is a haven for Italophiles and Dallas foodies. Featuring over 10000 high-quality Italian products, a culinary school, and three restaurants, you don't need tickets for a mini escape to Italy!
Eataly stands for "Eating Italian" and brings to us the history and food culture of Italy. Inspired chefs and cooks at home know that it is all about having access to the right ingredients when cooking. Having access to these quality Italian food items makes preparing Italian dishes that much more exciting.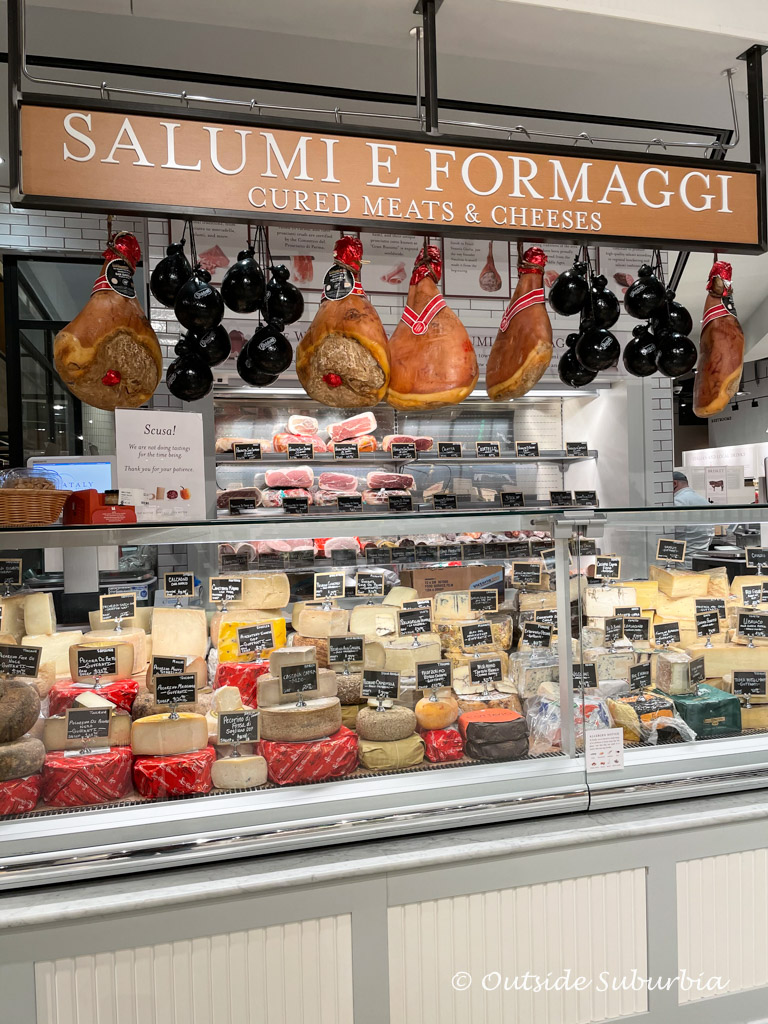 Established in 2010, Eataly has 40 locations around the world with a few in the United States – New York, Los Angeles, Chicago, Boston and Las Vegas. The Dallas location marks the eighth North American location and the first of its kind in Texas.
At Eataly, you can eat, shop and learn, while dreaming of your next trip to Italy or reminiscing about past trips.
Here are 12 foods to buy during your trip to Eataly:
Fresh Pasta from Il Pastaio
You can some see some of the talented pasta makers at work at Il Pastaio di Eataly. Meaning "pasta maker," Il Pastaio offers fresh, housemade pasta, prepared daily by Eataly's very own pastai who knead, roll, cut and form each shape from scratch!

Fettuccine, Linguine, Pappardelle, Cavatappi, Fusilli, Bucatini, Penne… you can buy so many shapes of both short and long pasta at Eataly.
Did you know there is a national shortage of Bucatini pasta? Not to be confused for plain old spaghetti, Bucatini is a long, hollow pasta that is perfect for soaking up thin, tomato-based sauces. But people are using them as straws and hence the shortage! No shortage here though, you can buy both dry and freshly made Bucatini at Eataly!
Olive Oil & Wine
Just like wine, the taste of olive oil varies depending on the farm's soil, climate, native varietals, and local traditions. Eataly carries a wide variety of extra virgin olive oils. Many are single-estate olive oils, harvested in Italy.
Buy your Italian wines at Eataly, the staff will walk you through the different varietals and food pairings. I love that I can finally find some Barolo wines (Varietal: Nebbiolo from the Piedmont region) that pair well with the truffle dishes and chips.
Scented Soap Bars
I have a stash of french soaps from our trip to Provence but didn't know about these sweet smelling soaps from Italy, till I found them at Eataly. They have quite a collection and come in such pretty packaging!
Fresh cheese from the Formagerria
Fresh cheese and some Salami, or as the Italian's say "salumi," is a must buy item in Eataly. The cheese counter offers an insane number of cheeses that will make your head spin. I have never seen this many wedges of Parmigiano cheese.

Truffle Chips
Fresh Italian truffles are available for only a few months each year typically from October through December. Eataly carries truffles in many products like risotto, bottled sauces, and the best of all – truffle potato chips. At $12 a bag, it might sound ridiculous but once you try one, you will be hooked.

Pistachio Pesto
You can get different pesto and pasta sauces, but my favorite food item to buy at Eataly is Pistachio Pesto Sauce. Reminds me of the pistachio pesto pizza I had in Navigli near Milan a few years ago. Made from Sicilian pistachios, you can use it just like any regular pesto. It is great in Pizza, as a bruschetta topping, with some Penne Pasta and also good with meat or fish.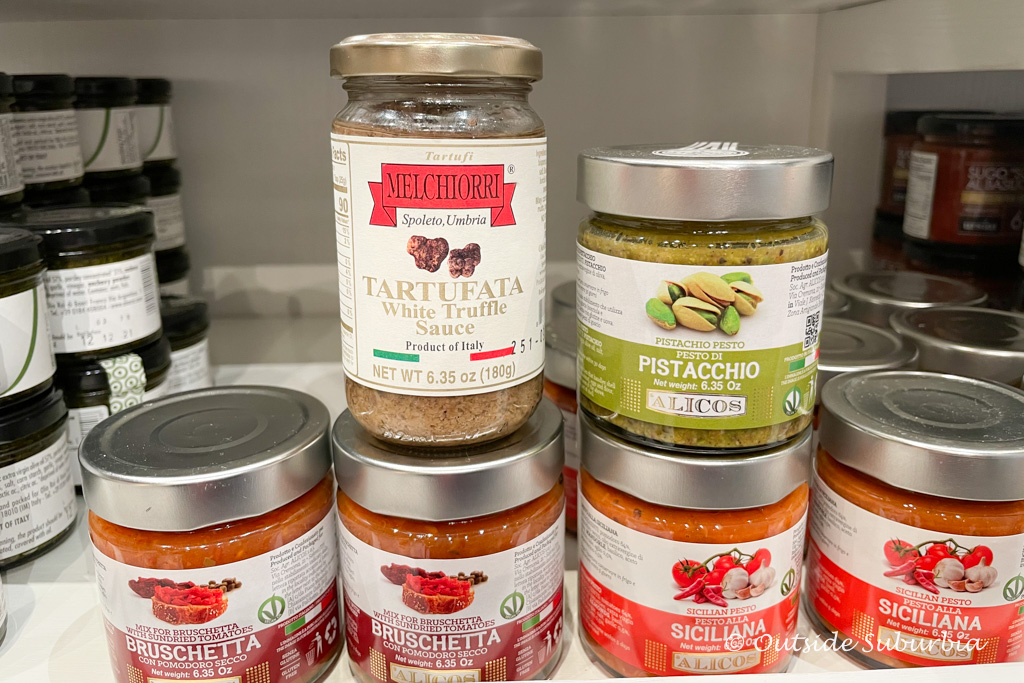 Meat and Fish from La Marcelleria & La Pescheria
The butchers at Eataly can find you the finest cuts of the meat. The meat you buy at Eataly has no antibiotics ever and no added hormones. They feature meats from local Texas farms as well. You can find fresh fish sourced from sustainable fishermen at La Pescheria inside Eataly.

Ragu Bolognese and Other sauces
If you like the meaty ragù sauce then you must have had pasta with Bolognese sauce. Popular in Bologna, Ragù alla Bolognese is an Italian dish that always eludes me. I'm no chef and can never get the right consistency of Ragu Bolognese. The small jar of the Bolognese sauce I bought from Eataly did the trick.
Try other sauces like walnut sauce, Pomodoro (tomato and vegetable sauce by Niasca), Cacio e Pepe, Genoese Pesto sauce and more… choices are endless!
Vine ripe tomatoes, herbs, and other fresh produce
Don't miss the fresh produce section inside Eataly where you can buy some of the reddest tomates, garlic, peppers, herbs and other fresh produce.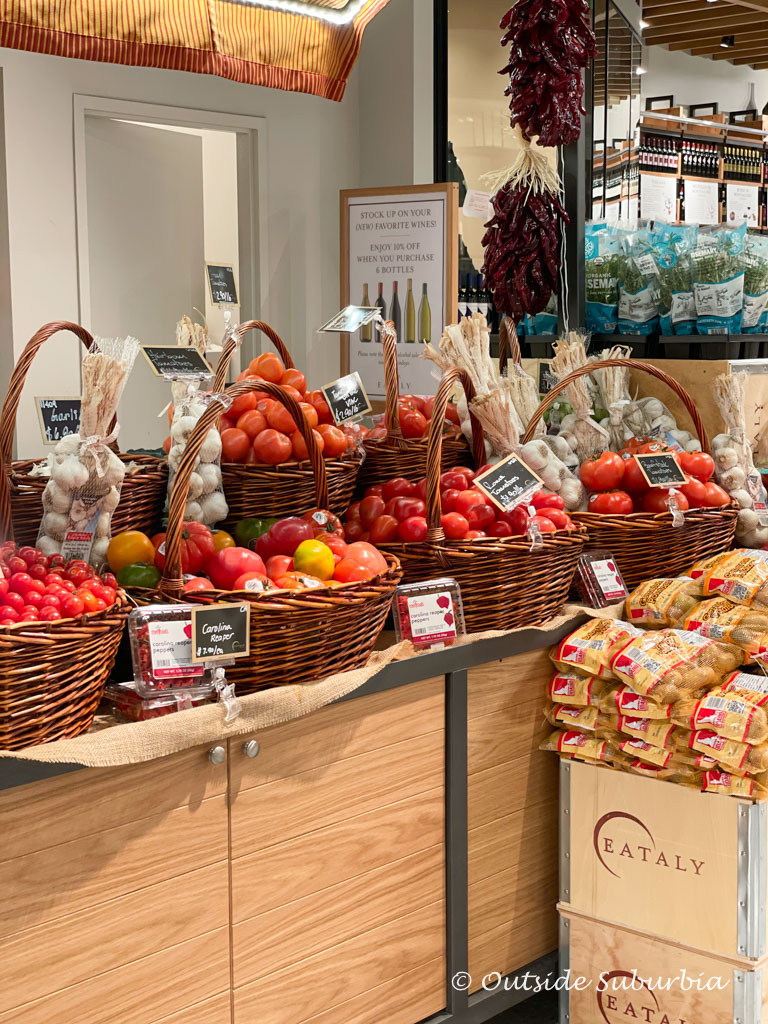 Italian Cookies & Cantucci
The perfect accompaniment to Italian coffees is some buttery biscotti or bite-size crunchy cantucci. Stock up some Italian cookies and buy some pistachio biscotti at Eataly. (Pistachio fan here!) While you can find almond biscotti at most stores, you can buy pistachio cantucci only at Eataly.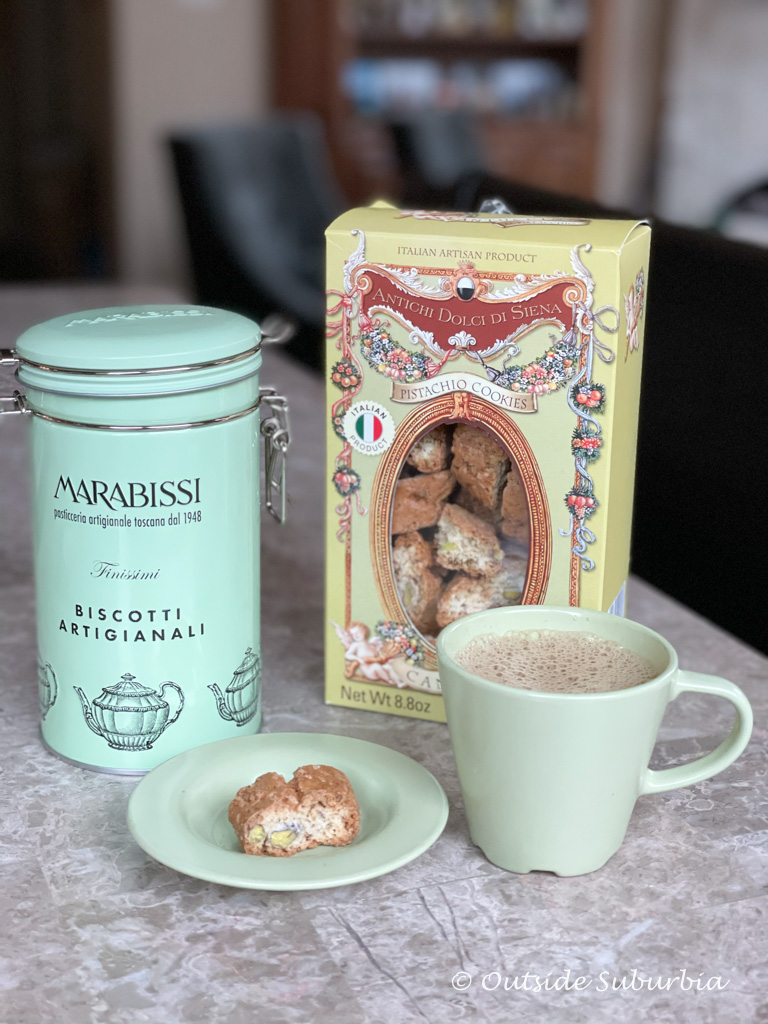 Cannoli from the Pasticceria
Cannolis are crunchy little tubes of deep-fried pastry filled with a cream made from ricotta, sugar, and chocolate. The authentic Sicilian version (where this Italian dessert originated from) has a filling made from citrus zest along with ricotta, sugar, chocolate and finished with chopped pistachios on top. We can't wait to try them in Sicily someday, till then we will have to buy some cannoli from the Eataly pastry shop every time we visit North Park Center!
The Tiramisu at the to-go counter at Eataly is another must buy/try foods!
Italian Coffee
Italy has a strong coffee culture and the Italians are very passionate about their coffee. While I personally favor the Cappuccino, it is all about the espresso in Italy! You can buy some of the best Italian coffee at Eataly from brands like Illy and Lavazza – rich, full-bodied, yet velvety smooth coffee!
Did you know? Italians typically don't do drip coffee like in the United States, if you order an americano in Italy, what you get is espresso diluted with hot water!
Restaurants at Eataly, Dallas
Terra Restaurant
Located on the third floor with an open terrace, Eataly's Terra Restaurant is inspired by earth and fire. The dining room centers around a wood-burning Italian grill. You can watch the chefs cook over open flames.
La Pizza & La Pasta
You can enjoy our seasonal selections prepared by expert pasta chefs and dough-slinging pizzaioli (pizza makers) at the La Pizza & La Pasta restaurants inside Eataly. You can also get them to go.
Pizzeria at Eatlay
Our favorite thing to do at Eataly is getting a few slices of Roman-style pizza. The pizza has a thin crust and just the slightest crunch. It's sold by the slice just like in Rome.
Hope you found this list of foods to buy at Eataly useful. If we run into each other on the aisles at Eataly, do say hello!
Ciao!
CONNECT WITH US