Vacations can be educational and fun at the same time. Visiting historical countries can help you understand more about the world you live in and the lands near you or across the globe. Strive to combine a mixture of historical attractions with modern-day events and shops to help you feel truly at ease on your vacation. If you want to learn as much as possible on your trip, visit one of these countries.
1. Egypt
If you're looking for history, look no further than the Middle East, where ancient civilizations can give clues about how people lived in the past millennia. Egypt has several well-preserved historical attractions that can teach you about cultures' past. For example, the Bibliotheca Alexandrina opened in 2001 and is now the biggest research institution in the Middle East.
Another great attraction to see is the Giza pyramids. Giza offers insight into the lives of Egyptians long ago. It also memorializes the beliefs of ancient Egyptians in this unique cemetery — with tourism allowed, you can walk the same paths that long-gone humans once did. On a similar note, Abu Simbel — an archeological site hosting several monuments and temples — might be worth visiting. It includes the two Temples of Ramesses II, one of the most famous Egyptian pharaohs.
2. Italy
Often thought of as a country of romance, Italy would be an excellent destination to visit with your sweetheart. Many people are attracted to this country for its architecture alone. Italy has some of the most impressive architecture that has evolved over the centuries, so much so that it has influenced architectural work in other countries.
One of the most famous structures in Italy is the Leaning Tower of Pisa, a bell tower that began to lean due to the shifty foundation it was built on. These days, visitors can climb to the top of the tower for a small ticket price.
Italy also has several cities that are unique and worth looking into for a good time. The city of Verona is well-known as the home of Romeo & Juliet. It also holds the Roman Arena, an amphitheater built around 2,000 years ago. The amphitheater is still used to this day, though it is a bit damaged from an earthquake in the past.
3. China
One of the most well-known historical attractions — the Great Wall of China — is located here. The wall is over 2,000 years old and initially served to protect territorial borders. You can hike the northern mountain paths in the most protected sections, like the parts of Mutianyu and Jinshanling. Witnessing breathtaking views and feeling immersed in history are some of the best features of visiting the Great Wall.
Other attractions might include a visit to the Forbidden City. The Forbidden City is an imperial palace from the Ming and Qing dynasties that subscribed to the practice of Fengshui. The Fengshui movement is about creating balance in your space, such as balancing your yin and yang energies and keeping things in alignment with the elements. This design style is thought to bring you peace and contentment. The Forbidden City is the world's largest ancient palace.
You can make an entire trip out of finding and visiting the Confucius sites. The Kong Family Mansion is where Confucius's family and descendants lived. Then, you can see the Cemetery of Confucius, where over 100,000 of his family members are buried. Lastly, take a trip to the Qufu Confucius Temple near the Forbidden City to see the largest ancient temple structure. Originally Confucius's house, it now serves as a temple for his worship.
4. The U.S.
While the United States is a younger country than the others on this list, there are many incredible historical sites to visit. Even if you live in the U.S. already, you can never run out of places to see.
On the East Coast, you can visit colonial towns in New England, battlegrounds in Gettysburg, Amish country in Pennsylvania, the nation's capital and more. Between Philadelphia and Washington, D.C., you can learn so much about the nation's founding. Moving West, you can see some of the most incredible state parks and imagine the journey of the first Western settlers.
Every state has its own rich history, so you can't go wrong no matter which one you pick.
5. England
England has plenty of attractions and areas shrouded in mystery – Stonehenge being one of them. It was created in phases, being abandoned by one generation and revived by another until the final product became what people see today. Still, nobody knows how the ancient groups of people could move these heavy stones into these positions. Because of the uncertainty surrounding its creation, Stonehenge is a popular tourist destination.
This country is also where you'll find Windsor Castle, the oldest inhabited castle in the world. It's been the living space of kings and queens for around 1,000 years. Currently, it's open to visitors and is often used for ceremonial purposes or to host dignitaries from other countries. You might also stop in England to visit Shakespeare's birthplace. This restored 16th-century house is a must-see for anyone who loves literature. Art enthusiasts will also enjoy the Victoria and Albert Museum in London, full of centuries-old art and textiles.
6. Puerto Rico
Citizens of the United States should try to visit Puerto Rico when they can to learn about this country's rich history. If old buildings are your favorite type of sight, you'll love La Fortaleza, the governor's mansion. It's been home to over 170 leaders and is the oldest executive mansion still in use on this side of the world.
You may also enjoy visiting the Capitolio de Puerto Rico, the country's capitol building that hosts Senators and Representatives. It also houses the Constitution of the Commonwealth of Puerto Rico and has several mosaics on the walls. These works of art depict famous historical events throughout the country's history.
You'll enjoy the several castles Puerto Rico boasts if you love more ancient structures. Castillo San Cristóbal is on the Eastern side of Puerto Rico and its original purpose was to defend against attacks on the land. Other interesting castles include the Castillo San Felipe del Morro and Castillo de Morovis.
7. Austria
Austria is worth a visit if you love learning about arts and culture. The Schönbrunn Palace is a rococo structure that once was the primary summer residence of the Habsburg rulers. It's a cultural and architectural hub with vast gardens for tourists to walk around. You can easily make a whole day of venturing around the palace grounds.
You might also consider visiting a few other attractions, like the Vienna Operahouse. While visiting the palace in Vienna, stop by this opera house built in the 1860s. To this day, it hosts several events — like the Vienna State Ballet and the Vienna Opera Ball — during carnival season.
Another place you should stop during your travels in Austria is St. Stephen's Cathedral, also located in Vienna. This medieval place of worship is the seat of the Archbishop of Vienna and is one of Austria's most important religious buildings. Thanks to its role in important events and a brightly-colored roof, it has become an instantly-recognizable symbol of the country.
8. France
France is a beautiful destination everyone should visit at least once in their lifetime, especially if they love all kinds of history. One of France's most well-known attractions is the Eiffel Tower. It was originally a centerpiece of the 1889 World's Fair and is now the most-visited monument with an entrance fee. This tower is around the same height as an 80-story building and was the tallest human-made structure in the world until the Chrysler building in New York, New York, was built.
If you appreciate art more than anything else, visit the Louvre Museum. This famous collection sees about eight million visitors a year, making it a highly-visited destination and a must-see for art lovers worldwide. It's the forever home of the most famous works of art, like the Mona Lisa. Attendance took a hit from the COVID-19 pandemic, but it's still the most-visited art museum in the world.
9. Peru
Peru is a must-visit on your travels through South America. Perhaps its most notable attraction is Machu Picchu, a citadel dating back to the 15th century. As old as it is, it was only visited by Europeans in the 19th century — long after its use — and there aren't any records of what people used the site for. Expert archeologists can make assumptions based on their expertise, but the mystery still exists and is a significant draw for tourists.
If you want a more natural attraction, visit the Sacred Valley, which dates back to the Inca period. The Incan Empire is significant due to its quick rise to power and its defeat largely by internal reasons. The valley is a big tourist site now with some modern towns within it. This area was used as far back as 800 BCE and was home to different civilizations over the years. After the Incan Empire took control of it, they ruled until the Spanish arrived.
10. Spain
Spain is an excellent and unique European destination. It's popular for several events throughout the year and enjoys many tourists. Spain is also one of the safest places for solo travel, especially if you're a woman.
One fantastic attraction would be the Royal Palace of Madrid, which is still used for state functions and residence of the Spanish royal family. As a result, it's only open to tourists at certain times. The tourist route changes monthly, so you'll have to return frequently to see every path and room you can.
Another major site you'll want to see is La Sagrada Familia, the largest unfinished Catholic Church in the world. Less than a quarter of the project was finished when the architect behind the lovely design — Antoni Gaudi — passed away. La Sagrada Familia is anticipated to be complete in 2026, around 100 years after the architect's death.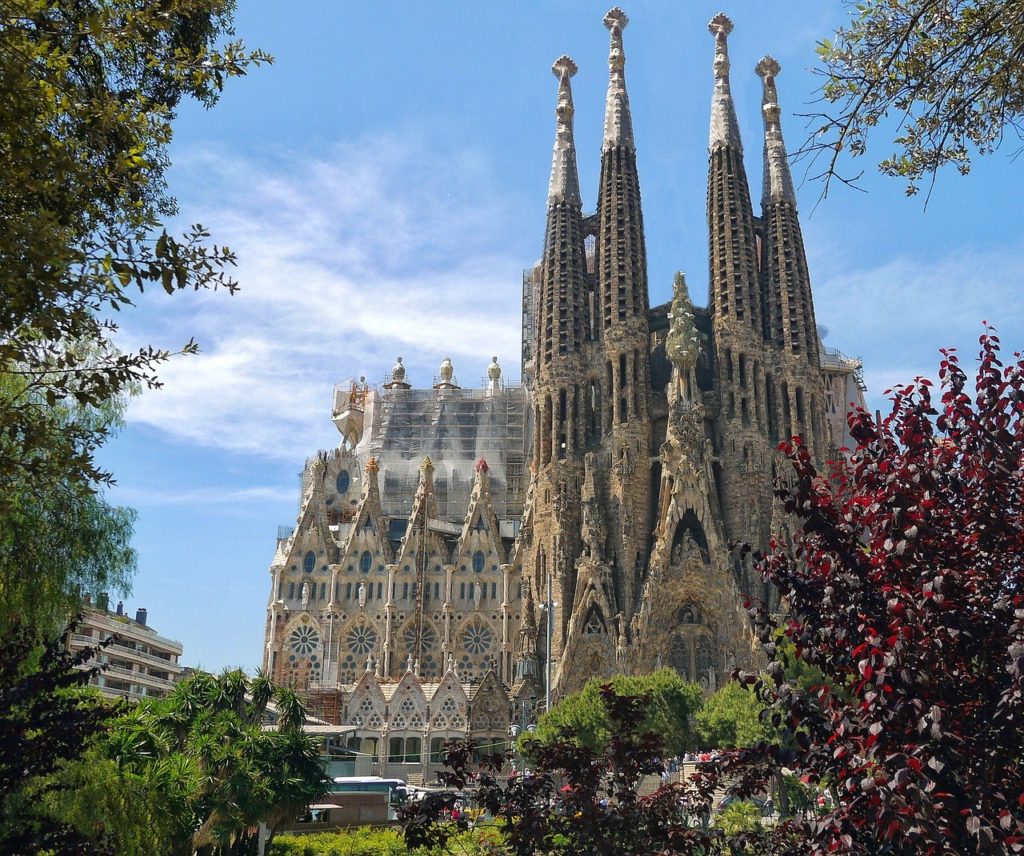 11. India
No trip to India feels complete without seeing the Taj Mahal. This structure is a mausoleum, but it's much more than a tomb. It also has a guest house, a mosque and formal gardens, making it a significant world wonder. It was completed in the 1600s and still stands today — a testament to its excellent builders.
Consider also visiting the Red Fort, which was once a bright red and white before fading due to age. It was created by the same architect who designed the Taj Mahal, Ustad Ahmad Lahori. A wall surrounds the Red Fort, but its interior is so expansive that you may not even see the wall in some areas once you enter. It's a significant location that the prime minister visits on India's Independence Day.
12. Germany
Germany has quite a few sites you can visit to learn more about its history. A favorite of the people is Neuschwanstein Castle.
In the 19th century, King Ludwig II of Bavaria built this castle out of his funds and borrowed loans to serve as a private residence. Workers didn't complete it before his death and it became a tourist attraction shortly after he passed. Thought of as a fairytale castle, over a million people visit the palace every year and it's one of the most famous castles in all of Europe.
Another great place to visit is the Berlin Wall Memorial commemorating Berlin's division. Though this memorial isn't as old as many others, it honors a certain part of history and the unity of present-day Germany.
13. Greece
If anyone in your group wants to learn more about ancient history, take them to Greece. One of the best sights to see is the Temple of Olympian Zeus. This temple was formerly grand and the largest of its kind in Greece, housing some of the biggest statues in the world. In 267 BCE, a barbarian invasion pillaged the temple about a century after its creation. Now, it's just ruins — but those ruins are as breathtaking as ever.
Another stunning sight is the Acropolis in Athens. It sits atop a rock that allows you to look down on the rest of the city. This building — and others like it — dates back thousands of years. Pericles worked with others in the fifth century BC to construct these buildings, most notably the Parthenon. In 1687, many of these buildings were damaged, but they're still worth a visit. However, recent renovations may have affected the history of this famous site.
Take a Trip Somewhere Meaningful
Not knowing where to go is one of the best parts of travel. When you have a world with so much history and mystery at your fingertips, you have unlimited options and may want to see them all. These 12 countries can help you learn more about the past and make theories regarding occurrences humanity may never solve. Whether you choose to travel alone or with others, you're sure to have an excellent time vacationing in these spots.
PIN IT FOR LATER
Note: This post may contain affiliate links, partnership or sponsored content. If you purchase an item via one of these links, we may receive a small commission at no extra charge to you. But as always images and opinions are our own. For more information on our affiliates and privacy policy at Outside Suburbia see here.
CONNECT WITH US