No Indian girl can ever say no to the magic of saree! The quintessential and sometimes a steep investment, sarees have remained one of the favorite outfits for Indian women for centuries. Sarees, especially the handspun, handloom, and woven sarees are not just investment pieces but are investments in the artisans and their craft and help in sustaining the culture and livelihood of the weavers in India.
Whether you call it a saree or sari, it is Six yards of pure grace! Elegant and Ethnic! An Indian woman can wrap the six yards of fabric in a way that covers enough to make her look modest yet bare enough to make her look sexy! Pair it with the right blouse, a saree feels right at home at a wedding, Diwali celebrations, temple visit, or a summer soiree.
My friends at Luvvih asked me to share about my saree collection and I hope to introduce you to a few handwoven sarees through this post, a few favorites from my collection of investment woven silk sarees… a mere introduction to the vast world and craft of sarees.
BEST Investment Sarees: My Saree Collection
While I'm the happiest wandering in wildflower meadows, hiking and enjoying the crisp mountain air or watching sunsets from a beach, draping a saree is one of those things that feels like home. It brings back memories of my college days when I first learned to drape a saree and walked around (with much difficulty and no poise) with jasmine strands in my hair. Back then I favored half-sarees more than sarees. Now I see these woven sarees for what they are — ART!
My first saree was a bright yellow (my favorite color) Mysore soft silk with a fuchsia border. I wore it to my cousin's wedding. Once I got married, I somehow gravitated towards contemporary sarees – statement making prints like SatyaPaul. It took me a few years to find my way to woven textiles, handspun, and handloom sarees. Now that I have, I love learning about them and supporting the artisans that make these beautiful pieces. Glorious examples of Indian craftsmanship. Each, a work of art!
I won't say I have a huge saree collection but I'm choosy about what I buy and what I wear and drape these days. My first investment saree was a Sabyasachi saree in red with heavy zardozi embroidery in tulle fabric. And the second one was a Khadi saree (again by Sabyasachi) with a navy and red border with hammered sequins. In many ways, it was those 2 sarees that made me fall in love with handmade saris.
What is Khadi
Khadi is an artisanal heritage handloom textile that is made entirely from a hand-crafted processes. The threads are spun on a charkha (spinning wheel) to weave them — hence they are a handloom.
Traditionally, khadi cloth is that fabric that makes use of no external power for the machinery. Right from the harvest of the cotton cloth to the removal of seeds, separating the fibers to spinning, dyeing, and weaving, everything is done manually. Mahatma Gandhi was a big proponent of handicrafts, in particular the handloom Khadi. They are usually woven from cotton and may also include silk, or wool.
While Khadi is both handspun and handwoven, a handloom cloth can be a fabric created either manually or with a machine with the use of either electricity, battery or fuel. It can thus be handspun and mill-woven or mill-spun and handwoven. These are heirloom pieces made by hand that need to be cherished.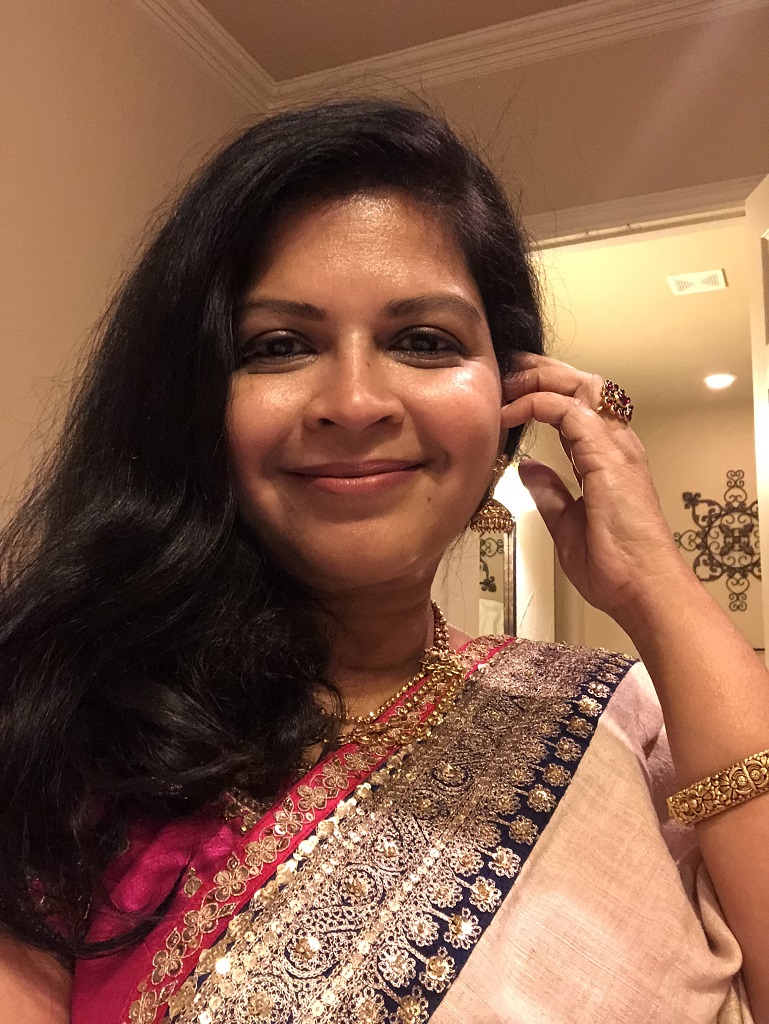 How many weaves are there in India?
Did you know India is home to more than 136 unique weaves, mostly in the form of sarees? From vibrant colors of Kanjivaram from Tamilnadu to white and gold Kasavu from Kerala to peacock motifs of Paithni, the range of weaves is vast and varied.
Sarees usually carry the name of the place of their origin, and the places where silk sarees are woven. Each state in India has its own time-tested traditions of sarees, carrying names in the vernacular, sometimes varying from village to village.
Some additions to my collection last year were a Patola saree, a Kalamkari Saree, and vibrant Kashmiri Kani silk. I'm hoping to get a Jamdani saree this year. My mom wore them a lot. I didn't get to keep many of her sarees. I just saved one Indigo saree that she wore all the time.
Kanchivaram Silk Saree (Tamil Nadu)
A dominant player in the world of silk sarees, the Kanchivaram sarees have roots in Hindu mythology as it is stated to have been worn by Gods. Under King Krishna Devaraya, master weavers crafted saris from mulberry silk adorned with zari work.
I'm from Chennai, so obviously, my wedding saree (and probably for most women in South India) was a Kanchivaram. It is one of the most popular weaves of saree and comes in vibrant hues. It has demand across national and international markets. Thanks to my mother-in-law, I have quite a lovely collection of these Kancheepuram silk sarees.
Banarasi Weave (Uttar Pradesh)
Banarasi features heavy zari work on silk. It emerged in Benaras from Tibet showcasing the influence of techniques and patterns from the Chinese jacquard and Buddhist-inspired designs. Another popular choice for wedding sarees, Banarasi weave is an excellent investment choice. The extensive weaving process requires high dexterity and is divided into Tashi Kimkhwab (only silver and gold threads) and those made from colored silk threads.
I do love the Banarasi sarees with colored silk thread instead of the heavier ones with silver/gold threads.
Photo coming soon!
Jamdani Weave (West Bengal)
Jamdani fabric is woven on a loom using hand-spun khadi cotton. The jamdani weavers take pride in the skill as both occupational and cultural identity. They are a close knit community and pass on the technique to disciples and family members.
What sets Jamdani apart from other Indian textiles and weaves is that the expertise focuses on the texture of the fabric rather than color variations. The fabric usually presents a balance of both transparency and opacity as the undyed and unbleached material is embroidered or printed with monochromatic designs using bleached cotton yarns. This saree is high on my wishlist!
Ajrak Prints (Gujarat)
The technique uses a wooden hand block that has been intricately carved and dipped in dye to be printed on cotton and silk fabrics. Printed within a grid, the repetitive design creates a web-like pattern. The dyes are resourced from natural pigments like indigo, madder, camel dung, lime, and iron deposits, and the cloth used is either handwoven or handspun. The motifs carved also symbolize nature and the elements.
The ajrak technique finds roots dating back to the Indus Valley Civilisation (2500 BCE). These days it can be found in western outfits like dresses, blouses, scarfs, in addition to sarees. Ajrak printed on silk is one of my favorite sarees that I currently own. It has a beautiful shine to it and has a nice drape.
Gorad (West Bengal)
"Gorad" (or Gaurad) means white. Also called Puja sarees as they are used on ceremonious occasions. These are mostly woven from undyed white Tussar or twisted spun mulberry silk with a simple single color block border. Small geometric or paisley motifs in the same border color can sometimes be found throughout the body of the saree. The pallu reflects this simplicity and is made up of lines and a few motifs.
While I don't own a traditional woven Gorad saree (which is on my wishlist), this red and white Sabyasachi H&M saree follows the color scheme. But it is a machine-made Gorgette.
Dolabedi Silk ( Orissa / Odisha )
Another timeless and traditional weave that I love is from Orissa or Odisha called Dolabedi. The name comes from a special festivity celebrated around Holi at the Puri Temple. The Dolabedi sarees with their house-like patterns on the pallu and multicolored buttas in the body have captured the imaginations of worldwide handloom saree lovers for their exquisite work.
A 'Dolabedi' is the raised platform with an arch located outside the outer compound wall of the main Temple, to which the deities Dologobinda (Lord Jagannath), Bhudevi and Sreedevi are taken in a 'Dola Jatra' procession during festivities at Puri called 'Dola Purnima' or 'Holi'. Dolabedi is a regal saree, a statement saree, and one of the most expensive and exquisite Odisha weaves. Another investment weave from Odisha is Berhampuri Patta (Phoda Kumbha).
Kani Pashmina Silk (Kashmir)
The designs of a Kani saree are traditionally inspired by the natural beauty of Kashmir. But you can also find weaver with a variety of designs inspired by paisley, calligraphy, poems, etc. Traditional Kani weaving (done by hand) is a careful process wherein it takes from a few months to years in completing a piece, depending upon the intricacy and finesse of the design.
Not ready to buy a saree yet? Kani shawl is made from fine Pashmina wool that makes it quite soft, light-weight, and warm. The craft is practiced over the entire Kashmir for many generations. You can also find power-loomed Kani silk sarees with traditional patterns and motifs like the one pictured here.
Paithani Weave (Maharashtra)
Though these sarees are woven elsewhere, Paithan in Maharashtra has been immortalized in the saree which bears its name. It is a rich tapestry weave with a brilliant sheen of zari on the borders and pallu. Motifs of peacocks and parrots, lotuses and flowers are woven in multicolored silk yarn, creating brilliant enamel-like effects. It is considered an investment saree as this silk saree will never lose its luster.
The beauty of this saree is that the weft shuttle is not thrown across the warp as in conventional weave. On a zari warp, many colors of silk thread are used in an interlocking method, like a tapestry. The whole effect is a dazzling combination of shimmering gold with geometrical, oblique motifs of swans and birds, peacocks and trees, flowers and vines in colored threads.
How To Identify A Real Paithani Saree? The saree (an original handloom paithani) appears exactly the same on both sides, including the border and pallu. A power loom paithani saree will have threads appearing on the reverse side.
This Paithani saree has maintained the traditional weave in pallu while opting for a rich silk body with butis strewn throughout the saree.
Patola Saree (Gujarat)
Patolas are woven in Patan in Gujarat. Hence its name. These are "Double Ikat" sarees where both warp and weft yams are tie-and-dyed first before weaving. crafting a Patola requires great skill, first in the dyeing to match up warp and weft to create the design and secondly in the weaving to produce the pattern meticulously.
The Patola was prized as gold. It was exported to Indonesia where it was thought to have magical qualities, and it was offered to the gods. Warriors wore a bit of it to battle as a protective talisman. Amongst the ancient people of Bali it lives on in their double-ikat called gerinsing to this day.
Popular Patola designs are paan bhat (pipal leaf design), chhabad (basket), kunjar bhat (parrot design), narikunjar bhat (girl and parrot design), papat kunjar bhat (elephant and parrot design), ratan chok bhat (jewel square design).
Bandhani (Rajasthan)
The art of Bandhani is a highly skilled process. The technique involves dyeing a fabric that is tied tightly with a thread at several points, thus producing a variety of patterns depending on the manner in which the cloth is tied. The main colors used in Bandhana are yellow, red, blue, green, and black.
Bandhani making centers are situated in Rajasthan, Gujarat, Punjab regions, and in Tamil Nadu where it is known as Sungudi.
This is just a sampling of the sarees and weaves from India. Then there are Tussar silk Sarees, Assam Muga (Moonga) silk sarees, Chanderi silks from Madhya Pradesh, sarees that are handpainted or drawn with special pens like the Kalamkari saree and Madhubani work. Don't even get me started on the embroidered Gota Patti Sarees, Kota Doria, Lucknow Chikankari, Phulkari…
When shopping for sarees, look for the handspun, handloom, or woven sarees, these will be investment saris that you can hand down to daughters and daughters-in-law. Just like art! They are also investments in the Indian artisans and help sustain the culture and livelihood of the many weavers in India.
I'm learning about the different saree weaves of India as I go. Let me know some of your favorite heritage & investment sarees that you inherited, bought for yourself, or are lusting after in the comments below.
Until next time,
Priya
References:
https://textilesofindia.in/
https://www.instagram.com/textilesofindia/
CONNECT WITH US