Sparkly outfits, twinkling diya lights, warm wishes, Diwali dinner party and full tummies are what is in store for the festival of lights, the Indian festival that is celebrated by Indians all around the world. A celebration of Love, Light, and Happiness!
There are many stories about how the festival of lights came about. Whether you call it Diwali, Dipalikaya or Deepavali, as it is called in the southern parts of India (where I am from), the festival celebrates a new year and the triumph of good over evil, light over darkness. Isn't that something not just Indians but the whole world is looking forward to?
While Diwali signifies peace, prosperity and positivity, it is also synonymous with plenty of food, feasting, fireworks!
2021 is a year of all kinds of parties. We hosted a small intimate party for Diwali this year for our close friends. Celebrations were extra special, a little brighter, a lot sweeter this year given all that we have been through in the past 18 months. I enjoyed prepping the house with all the Diwali decorations, planning an elaborate Diwali dinner menu, and indulging more than I should have on laddus and thatais.
Diwali Rituals & Traditions
Diwali is a five-day Festival of Lights, celebrated by millions of Hindus, Jains and Sikhs around the world. The story behind Diwali is rooted in Indian mythology. Diwali is the day Lord Rama, his wife Sita Devi and brother Lakshmana return to their homeland after 14 years in exile. The villagers lit a path for Rama, who had defeated the demon king Ravana.
For Jains, Diwali marks the nirvana or spiritual awakening of Lord Mahavira( the 24th Jain Tirthankara). Jain scriptures refer to Diwali as Dipalikaya which means light leaving the body. The earth and heavens were illuminated with lamps to mark the significance of Lord Mahavira's enlightenment,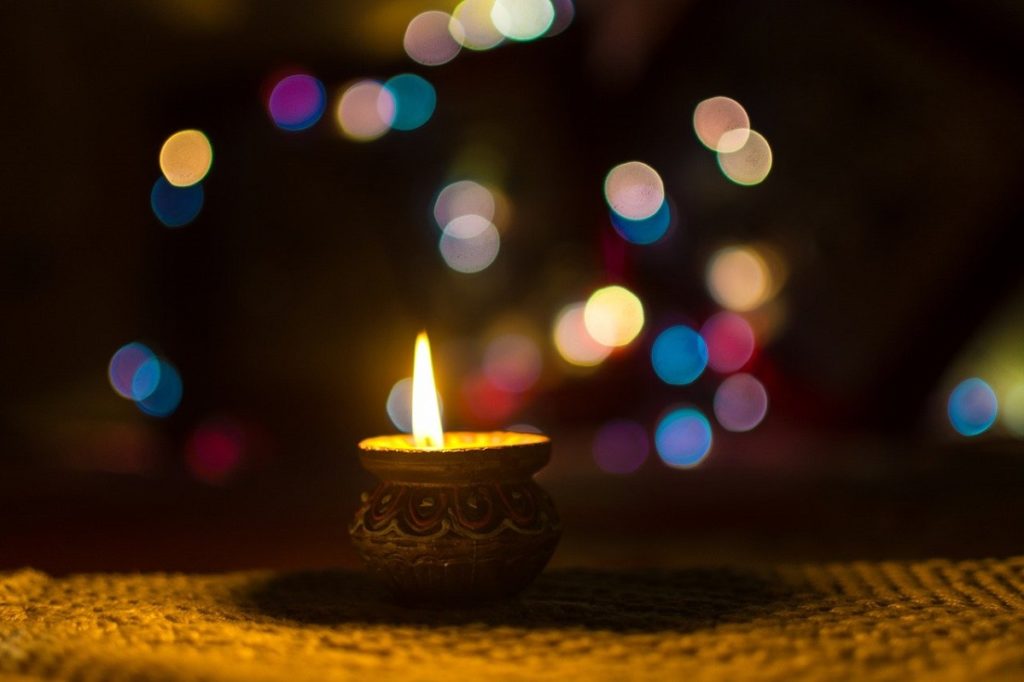 Diwali is celebrated over five days, the first day being Dhanteras the beginning of the five days of festivities. Honestly, growing up all I knew about was the one BIG day, Diwali day. It was a school holiday and there would be a festival fever that builds up, staring days ahead.
We would go shopping to buy new outfits (shopping for new clothes happened twice a year, once for birthdays and once for Diwali, not on a whim or when seasons change). The house was busy with cooks, helpers, relatives, and neighbors preparing or talking about Deepavali preparations. The sweet smell of cardamon and sugar wafted from every house in the neighborhood.
Another significant ritual of this Diwali is the Lakshmi Puja. Hindus pray to the Lakshmi, Goddess of Wealth on this day for blessing them with health, wealth, and prosperity. People worship Goddess Lakshmi and buy something new on this day. It is considered very auspicious, to purchase gold, silver, clothes, even gadgets as a sign of good fortune. It is also a Diwali tradition to visit families, relatives, and friends on this day to offer gifts and sweets.
Homes were decorated with colorful rangolis, small earthen diyas filled with oil. Balancing them carefully to place them in a perfect spot on the rangoli was an art form itself.
The five-day of Diwali is as follows:
Dhanteras (Day of fortune)
Choti Diwali (Naraka Chaturdasi)
Diwali (Lakshmi Puja)
Goverdhan Puja (New Year)
Bhai Duj (Day of love between siblings)
Multicolor candles and led lights have replaced the humble diyas made of clay that line the homes in India. Today Diwali parties and decorations are lavish with fresh flowers, floating candles in urlis (big brass pots), and fancy backdrops for social media photos. But the essence of Diwali is still the same –– sharing the happiness and light with people you love!
Diwali Decoration Ideas
For Diwali decorations, I got a combination of fresh flowers and some fake marigold garlands. Sweets and savories were plated and presented to make for easy sharing. Instead of using traditional rangoli colors, I arranged the flowers in brass pots filled with water. Some aromatherapy candles mixed in with floating LED candles completed the look. Diwali decorating, simplified 🙂
The third day is the main day of Diwali. It is the day when feasts are cooked, houses are decorated with rangolis at the entrance, garlands on the doorway and homes and pathways are lit aglow with earthen oil lamps (diyas), truly making it a festival of lights.
Another unique tradition on Diwali night is the game of cards. It is probably the only time in the year when this vice is accepted in homes. It stems from the idea that symbolizes the fluid nature of wealth in our lives and our acceptance of this truth.
I got a few acrylic rangoli designs and added them around the house along with candles and small earthen diyas. My sparkly Happy Diwali banner is from Teal Firefly. See a few other Diwali decor and gift ideas here.
If you are looking for Bollywood-style Diwali party decor ideas, take a look at the Diwali party hosted by Mindy Kailing or Priyanka Chopra's Diwali bash for inspiration. I loved the wall of marigolds and table decor at Mindy's party and her Falguni Shane Peacock lehenga was stunning!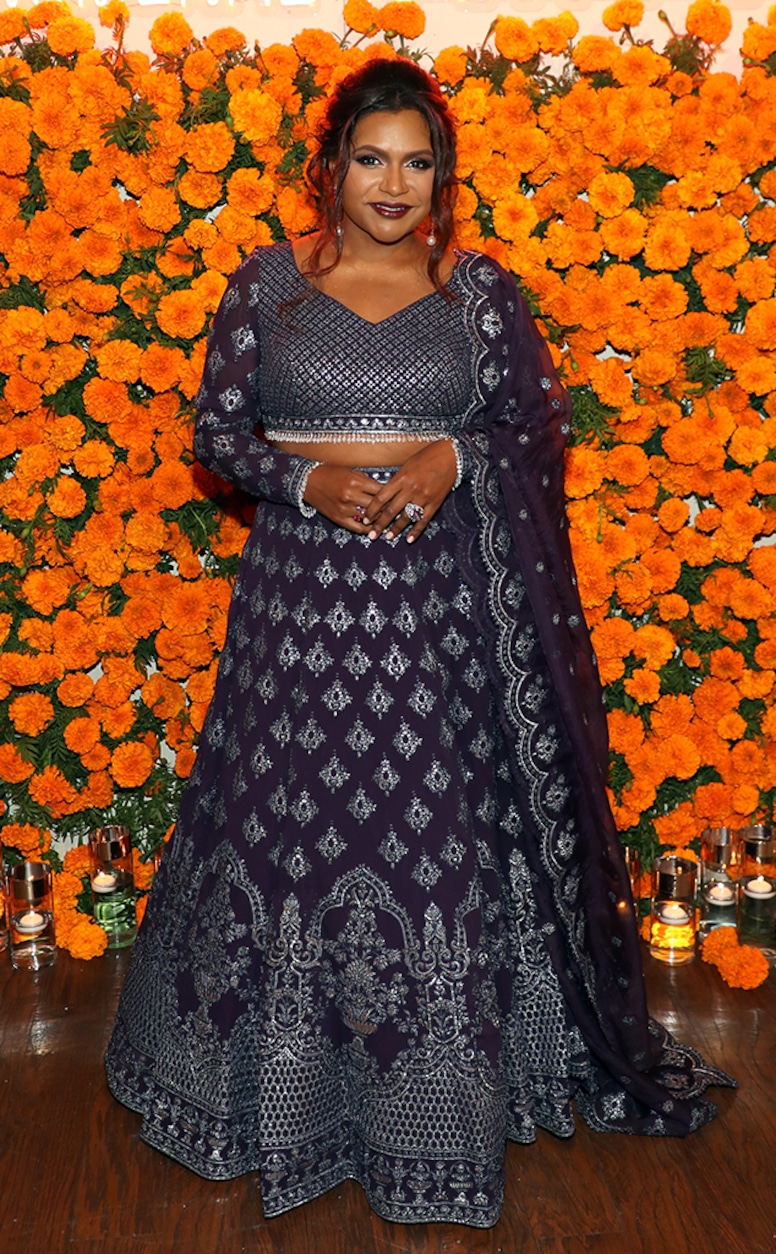 How to light Diya Lamps
You can find diyas at any Indian store during the Diwali season. Just like in Asian temples, use ghee or oil to burn the lamps. Ghee and Gingelly oil will burn without fumes. You will also need special wicks. The wick can be made out of cotton balls if you can't find the wicks readily. Make sure the wick lies freely in the neck of the diya lamp, and is soaked in the oil(or ghee) so it ignites easily.
Always be mindful of little kids and place candles and diyas away from their reach.
The day after Diwali is celebrated as Goverdhan Puja by some communities to honor Krishna who lifted the Goverdhan mountain to save the cowherd and farming communities from rains and floods triggered by Lord Indra's anger. Annakut, a special dish is made with all the available vegetables and spices on this day and served to friends and family.
The last or the 5th day of the Diwali festival is marked by celebrating Bhai Duj (brother's day). It is also known as Bhau Beej, Bhai Tilak or Bhai Phonta. It celebrates the bond between a brother and sister. The sister puts a tilak on her brother's forehead and the brother gives her a gift to show his love.
After snacking on Murukkus and sweets, it is time for fireworks and sparklers! Back in India, firecrackers come in so many shapes like chakras that spin on the ground, anar or flower pots, and other aerial ones that spout colors in the sky, but now we just are happy with a few symbolic sparklers to mark the festival. It is a good idea to have a bucket of water ready to put those hot sparkler sticks when they are done.
My mom used to make us have Diwali legiyam (medicine) to detox after all the gorging of sweets and snacks, I will need to track down the recipe! It was made with jaggery, ajwain and other medicinal foods, and made our tummies feel better. While I don't know how to make it (do share if you know), I make this detox herbal tea instead.
Diwali Dinner Party
Diwali dinners are usually a homely affair. Sweets and savories are prepared by friends to share and served buffet style. It is not usually a formal sit-down type of dinner, more of a casual, make a plate and mingle type deal.
You don't have to make traditional Diwali sweets if you don't have the time or energy. You can find many recipes for semi-homemade Diwali desserts! See this great recipe for Gulab Jamun Cake Truffles made with box cake mix by Milk and Cardamom. She shares other great Diwali dessert recipes too.
I LOVE Indian street food and sometimes feature a DIY Chaat Bar for Diwali dinner. The best part is you can prep everything – from tangy sauces to easy homemade papdi, ahead of time and store it in separate serving bowls. It is a breeze to then set everything out so people can make their own bowl of chaat. And spice it to their liking. Always a hit!
This year, we ordered some biryani, and also had idli, sambar, chutney(s), and other south Indian food on the menu for Diwali. Lucky for me, my friends are amazing cooks! From perfectly rolled laddus, loopy jalebis, to safron laced rasamalai, they each make a sweet and savory to bring to share with the rest of us.
It was a fun, memorable, and happy Diwali 🙂
Wishing you a year filled with love, light, and happiness!
Note: This post may contain affiliate links, partnership or sponsored content. If you purchase an item via one of these links, we may receive a small commission at no extra charge to you. But as always images and opinions are our own. For more information on our affiliates and privacy policy at Outside Suburbia see here.
CONNECT WITH US