Our spring break week got hijacked by Netflix – House of Cards being released earlier this month didn't help the cause. After evenings and nights taken over by Frank and Claire Underwood, we were free at last to set foot outside suburbia for the weekend! I had a 5 things on my list (goals, dreams whatever you call them… how my family loves my lists!!) for Spring break. Going to see the Dallas Blooms being top on that list. Given that baseball season is coming upon us, it's now or never. Saturday had rain on the forecast so we stayed home, hit the gym for some yoga and went out for some awesome Chinese food at Howard Wang's a China Brasserie in uptown. The food was delicious. The décor cozy with paper lanterns and a wall of Chinese opera masks. The Lover's shrimp was the best we have ever had vouched D and hubby. Miss Teen and I stuck to Ma-La chicken a spicy chicken stir-fry and Singapore noodles. We had some dumplings for appetizers. I saw quite a few vegetarian options on the menu even a Jade dumpling – a vegetarian dumpling with greens!
Back to my mission – Picnic packed and all we set out Sunday, we stopped at Breadwinner's for some breakfast. It is hubby's favorite place around, have to bribe him a little before dragging him around flowers and pollen given the man has severe allergies. The theme for the Dallas Blooms this year is 'Deep in the heart of Texans'. Going to the Dallas Blooms has become a tradition, where else in Dallas can you escape the concrete jungle and be surrounded by hundreds of Tulips, Hyacinths, Camellias, Narcissus. Since we were just coming out of a cold spell of snow and ice, the cherry blossoms and azaleas where not ready to put on a show yet. But it was a beautiful day, the sun decided to come out and show her face a little… we walked around the gardens took some pics. After a few hours, exhausted but didn't want to leave yet we sat on a bench watching the kids in their wagons, Easter pics and Quinceanera pics being taken around the gardens. We never got to the picnic portion of the day since we were so stuffed from the Egg Benedict, Banana Foster waffles and Texas Tacos we had for breakfast.
We came back mulling – Why can't our backyard be a fraction of this.. I just need to borrow a gardener or two from the Arboretum!
Dallas' 66-acre floral paradise has been mentioned in multiple other magazines and websites. TripAdvisor chose the botanical garden as the number one entertainment spot in the city, and USA Today named the Dallas Arboretum one of the top ten best botanical gardens in the United States. "This Dallas landmark is being admired internationally for its breathtaking views and displays. According to Architectural Digest, the Dallas Arboretum and Botanical Garden has been named the second most-breathtaking garden in the world, ranking high among the likes of gardens in Versailles and Rio de Janeiro." claims NBC!!
Here are a few pics.. Hope you like them!!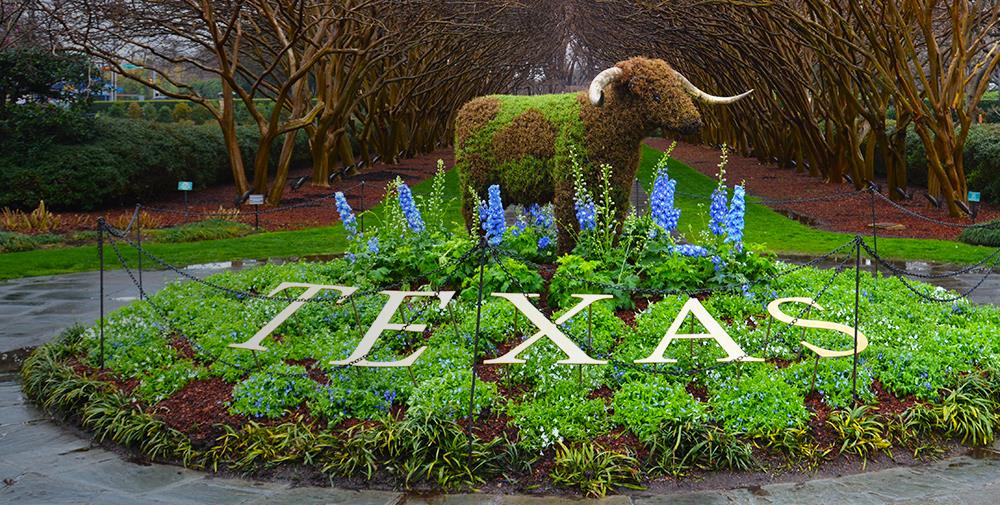 Additional information
There is always some thing blooming at the Dallas Arboretum, check their website for what is in season.  A fun thing to do at Arboretum is the Cool Thursday concert series at the Martin Rutchik Concert Stage & Lawn.
We usually bring a little picnic of food and drink to enjoy it in our favorite part of the garden. But a seated tea at the DeGolyer Tea Room is on our list to do sometime.
Website : www.dallasarboretum.org
Admission cost are –
Adult general garden admission (13-64): $15
Seniors general garden admission (65 & over): $12
Children general garden admission (3-12): $10
Children general garden admission (2 & under): Free
Have you been to the Arboretum or other Botanical gardens in your town, which is your favorite time of the year to go?