Enchanted Rock in the Hill Country of Texas is about 250 miles from Dallas and perfect for a weekend road trip. If you leave early enough on a Friday, you can get to Fredericksburg in about 4 hours and hike up the Enchanted Rock State Park Saturday morning.
Enchanted Rock State Park
This massive pink granite dome has drawn hikers and rock climbers to scale it magical rock formations for years. Enchanted Rock covers approximately 640 acres and rises approximately 425 feet (130 m) above the surrounding terrain to an elevation of 1,825 feet (556 m) above sea level. It is the largest such pink granite monadnock (an isolated rock, mountain or hill) in the United States.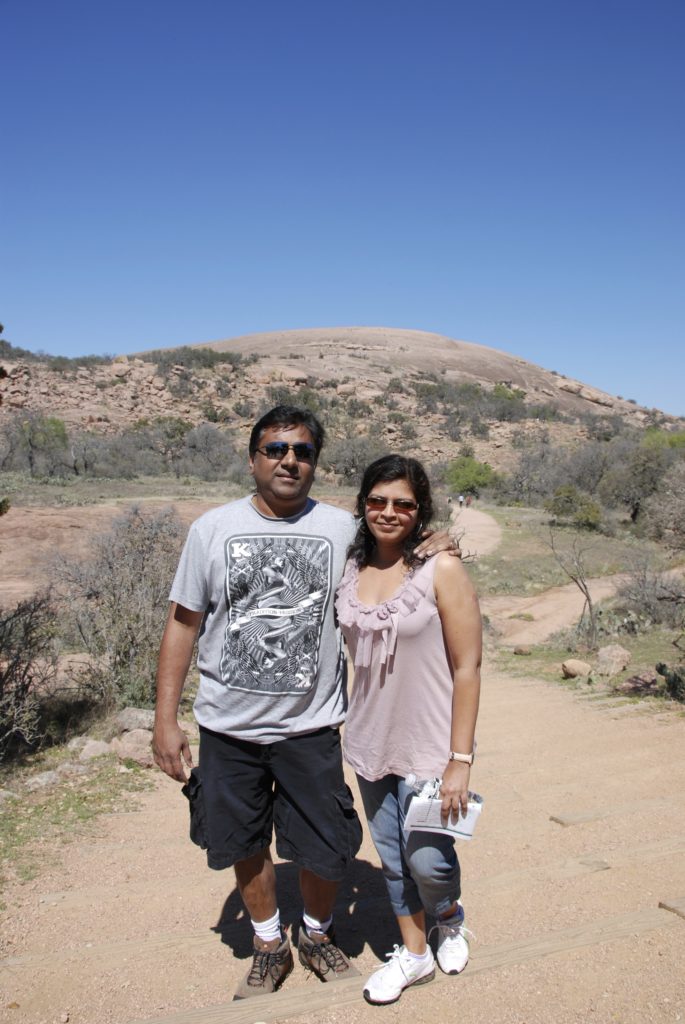 Folklore of local Tonkawa, Apache and Comanche tribes ascribes magical and spiritual powers to the rock (hence the name 'Enchanted Rock'). While attempting to hide from Anglo settlers in the area, the natives would hide on the top two tiers of the rock, where they were invisible from the ground below. They called it 'Spirit song rock' because they heard unexplained creaking and groaning, which geologists attribute to the rock's night-time contraction after being heated by the sun during the day.
The weathered dome, standing above the surrounding plain-looking pretty daunting to climb. There are actually multiple domes in the park; Enchanted is the largest, and is part of a 62 square mile area of granite that is located mostly underground.
There are several walking/hiking trails that go up and circle Enchanted Rock, as well as other longer hikes that explore more of the park. You can get a map of trails at the entrance station. We chose to just do the Summit Trail. Though some party of the hike is steep, it is really kid and family friendly. We saw quite a few families on the trail.
Where to Stay near Enchanted Rock State Park
The closest town to Enchanted Rock is Fredericksburg, which is about 18 miles to the south along Ranch Road 965 where you find many nice B&B and boutique stays. (See a few here).
Austin is 60 miles away and San Antonio is 90 miles (or an hour and half) away from Enchanted Rock State Park and doable as well.
We choose a resort day and after our successful climb to the summit, we drove to the quaint German town in Central Texas spent the afternoon walking around downtown Fredericksburg, enjoying the warm temperatures and cute shops. We stopped at Auslander Restaurant and Beirgarten for some schnitzel and beer-battered mushrooms.
We drove to La Cantera Resort near San Antonio to relax in the pool and spend the rest of the weekend.
If you want to explore Enchanted Rock, Barton Creek Resort & Spa is another great place to stay near the State Park, It is only a 40-minute drive away and you will be treated to rolling hills views of the Hill Country. Lady Bird Lawn, located at the heart of the resort, offers chairs, fire pits and lawn games where families can play, relax, make s'mores as the sun sets and enjoy live music. PLUS Barton Creek Resort & Spa is recognized as one of the best golf resorts in the Southwest!
Wild Flowers in Fredericksburg
If you are visiting during Spring make time for some wildflowers – Wild Seed Farms the nation's largest wildflower farm located just outside Fredericksburg. During the blooming season, it's a sea of red, blue or yellow along HWY 290. You can walk the pathways that wind through the magnificent fields.
Wild Seed Farms has trial Gardens and display gardens that are surrounded by a half-mile of walking trails, which in turn are surrounded by acres of production crops. Wide and wheelchair accessible, the walking trails allow you to stroll at your leisure and see some of the prettiest plants native to Texas that you may want to grow at home.
Lady Bird Municipal Park is another lovely place for a walk and to enjoy the rolling hills, live oak trees and wildflowers.
Wineries in Fredericksburg
The Texas Hill Country is home to over 45 wineries and vineyards and Fredericksburg is the epicenter of the Hill Country wine region. There are more than two dozen wineries and tasting rooms located in Fredericksburg and Gillespie County — not to mention dozens of more wineries located within an hour or two drive of Fredericksburg.  Grape Creek Vineyards, Becker Vineyards, Torre di Pietra and Duchman Family Winery are just a few that you can visit during your trip to the Hill country.
Additional Information for visiting Enchanted Rock State Park
Enchanted Rock State Park
16710 Ranch Rd. 965
Fredericksburg, TX 78624
PIN IT FOR LATER
Note: This post may contain affiliate links, partnership or sponsored content. If you purchase an item via one of these links, we may receive a small commission at no extra charge to you. But as always images and opinions are our own. For more information on our affiliates and privacy policy at Outside Suburbia see here.
CONNECT WITH US