With the impending rains and baseball game cancellation we had a free weekend for Mother's day. We decided to step Outside Suburbia to explore our Dallas downtown – specifically the Harwood district of the Uptown, Dallas' newest and fastest growing region. We love this area that is few minutes away from the Perot museum and American Airlines Center. Makes for a great stop before a concert or after a visit to the Science center at Perot Museum. You can find French inspired Saint Ann, Mercat Bistro and Magnolias: Sous Le Pont here. The charming cafés offer artisanal coffees, delectable breakfast and fresh sandwiches and salads. We love the gardens and green spaces tucked away in the area with its cute fountains, huge chess board and warm fireplaces, it is a welcoming space after a tired day of exploring the city or for brunch before starting the day.
Home to companies like Rolex, Emirates Airlines, Frost bank, residential buildings like Azure and new development Blue Ciel. It has a very chic city vibe to it unlike the old dreary Dallas, so much construction and cranes around looks like Dallas is getting a major facelift. I wish I could move and live in the city that seems to be getting walk-able -did you see the cool cars behind the sign.




We ate at Saint Ann Restaurant & Bar for an early Mothers' day brunch. Happiest Hour – a beautiful bar next door was trendy indoor and outdoor space and chic NY like scene. Their beautiful and big patio has the best views in town- next on our list to try. Back to Saint Ann, we had a table outdoor, although it was raining cats and dogs in the suburbs it was calm even a little sun peeking out every once in a while. We had the Bacon wrapped sizzlers, 'Strawberry Shortcake' French toast, Chocolate pancakes, custom omelet and of course hubby's favorite Egg Benedict. We washed it all down with some mimosa. Everything was wonderful from the beautiful outdoor covered patio with string lights to cool couches and the fireplace to the attentive service and the yummy food. The Strawberry shortcake French toast was the winner in our table, we are definitely going back to try their dinner menu and drinks!
Located within yards of the district of Harwood are several of Dallas' most popular attractions; Klyde Warren Park, American Airlines Center, The Ann & Gabriel Barbier-Mueller Museum, Woodall Rogers Deck Park, Perot Museum of Nature & Science, Design District and the Arts District. We walked around a bit did the tourist thing – took pics, gawked at the cool building shapes.




D wanted to stop and see the MAV's Ballpark, home of the Heroes Baseball in the historic Pike park which is the finest single diamond youth park around probably in the country. He was not too happy with all the rain and game cancellations, so we made a stop to admire the well maintained $1.5 million diamond at the Mav's ballpark.
We drove by Kyde Warren Park and saw the food trucks and decided to save that for another trip since our tummies were full already after the scrumptious brunch.
We did stop at Routh Street to take pics with the Angel wings by the 7-eleven office.
Slices of heaven
Lord of the pie and Smooth operator
We then drove to Emporium Pies in Bishop Arts District in Oak Cliff to get some desert for later. A quaint little pie shop with the coolest looking menu like it jumped out of an antique store. Their pies are handmade and contain no artificial preservatives, hydrogenated oils, dyes, or corn syrup. We got the Smooth operator – a French silk chocolate pie, Lord of the pie – an apple pie with caramel and cinnamon streusel and In the lime light – the best key lime pie outside of Key West. People were starting to line up, we were lucky to have gotten there before coffee time, we got ours to go and headed home.
We decided to come out to Marie Gabrielle Restaurant and ornamental rooftop Gardens for our next lunch date since they are only open Monday thru Friday and linger around the gardens and may be check out the The Ann & Gabriel Barbier-Mueller Museum: The Samurai Collection. Too bad we didn't know about the Samurai Collection before we went there!
Here are the spots around Harwood for drinks or eats…
Saint Ann
Originally built in 1927, the historic school Saint Ann has been transformed into a modern environment that boasts the largest garden patio in Dallas and is consistently voted "Best Patio in Dallas".
2501 N Harwood St., Harwood, Dallas TX
Mercat Bistro
A contemporary European-style bistro that whisks you away to Paris.  We love their brunch especially their Almond croissants.
2501 N Harwood St., Harwood, Dallas TX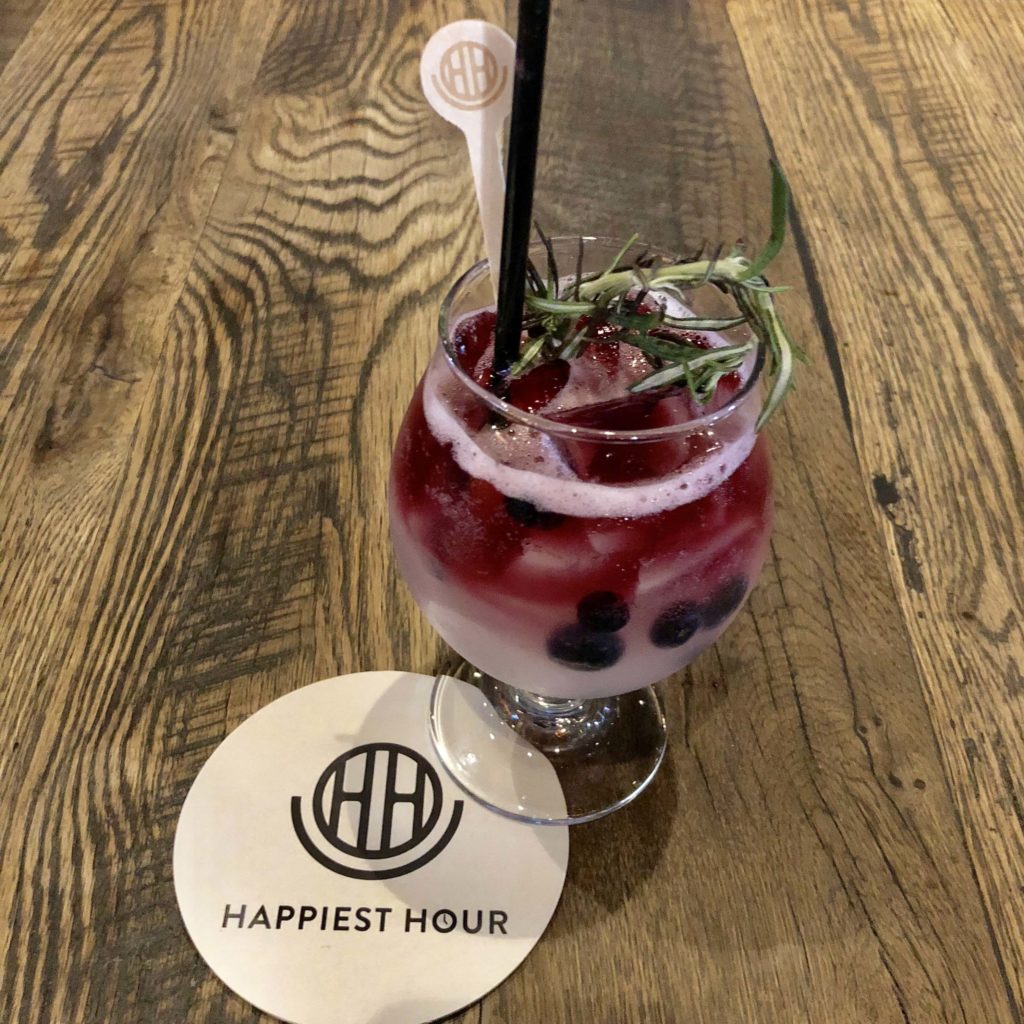 Happiest Hour
Happiest Hour is Dallas' Largest Patio Bar and Lounge. One of the best views of Dallas skyline from here.
2616 Olive St., Harwood, Dallas, TX 75201
Magnolias: Sous Le Pont
Magnolias: Sous Le Pont, meaning "Under the Bridge" in French, the café is located under the bridge of 2727 in the district of Harwood.
2727 N Harwood St, Harwood, Dallas, TX, 75201
The Grove
The Grove at Harwood is an outdoor oasis in the district of HARWOOD manifested from Dallas' love of sun, games and bevvies. Dotted with outdoor picnic tables and blankets, there is plenty of room to set up for the day to play bocce ball, volleyball or just snack and drink to your heart's content.
3019 McKinnon St, Harwood,Dallas, TX
Stampede66
Although not technically part of Harwood, this little gem is around the corner and we love the décor and modern Texan food here. It is Chef Pyles' love letter to Texan cuisine where familiar Texas dishes are re-interpreted with a contemporary twist. Texas-themed décor complete with cows, horses, rattlesnakes, horny toads and tumbleweeds adore the space and the walls.
2203 N Akard Street, Suite 100, Dallas, Texas 75201
There are lots of family friendly things to do in Dallas.  Our other favorite areas around Dallas are – the eclectic Bishop Arts, Trinity groves with the Margaret Hunt Hill Bridge in view and Design District.