Fredericksburg is known for its rich German heritage, wineries, and beautiful countryside. Here are activities you can enjoy and some of our favorite things to do in Fredericksburg, Texas during a weekend getaway in the Hill Country.
Fredericksburg was founded in 1846 by German immigrants who sought to establish a new life in Texas. The town was named after Prince Frederick of Prussia and the German influence is still evident in the town's architecture, traditions, and festivals. German-style Fachwerk architecture can be seen in many of the buildings, and there is a strong sense of German cultural pride.
We love visiting Fredericksburg in Spring when the Texas wildflowers are in bloom- the vineyards are sprouting with bright chartreuse leaves, the sky is blue and the air is crisp. Waking up to the sound of birds while a basket of breakfast was waiting outside the cottage door was one of my favorite things this Spring!
Top things to do in Fredericksburg, Texas
Visit wineries and vineyards
Fredericksburg is situated in the heart of Texas Wine Country, so exploring the local wineries and vineyards is a must. You can take tours, participate in wine tastings, and learn about the winemaking process.
Stroll and Shop on Main Street
Stroll down Fredericksburg's historic Main Street, lined with charming shops, boutiques, art galleries, and restaurants. You can browse through unique gifts, antiques, artwork, and sample some delicious German cuisine.
Climb the Enchanted Rock
Located just outside of Fredericksburg, Enchanted Rock State Park offers a stunning natural landscape to explore. Hike to the top of the massive pink granite dome for breathtaking views, go rock climbing, or enjoy a picnic in the surrounding area.
Pedernales Falls State Park
Located nearby, Pedernales Falls State Park offers outdoor enthusiasts opportunities for hiking, swimming, camping, and picnicking. Enjoy the scenic beauty of the Pedernales River and explore the park's trails.
Pioneer Museum Complex
Take a step back in time at the Pioneer Museum Complex, which showcases the history of the German settlers in the area. The complex includes historic buildings, gardens, and exhibits depicting early pioneer life.
National Museum of the Pacific War
Fredericksburg is home to the National Museum of the Pacific War, dedicated to the history of World War II in the Pacific. You can visit the museum to learn about the events, see exhibits, and explore the Admiral Nimitz Museum.
Visit the Japanese Garden of Peace
The Japanese Garden of Peace provides a moment of quiet and a counterpoint to the tragedy of war discussed in the buildings that surround it. The garden is a gift in honor of the friendship between Admiral Nimitz and Japan's Admiral Togo Heihachiro.
The garden is part of the Pacific War Museum complex, but you can also enter it separately. It's one of the free things to see in Fredericksburg.
Spend some time at the Wildseed Farms
Wildseed Farms is the largest working wildflower farm in the United States. You can wander through fields of colorful blooms, shop for seeds, and learn about native plants. They have a small vineyard and you can even enjoy some wine tasting inside the store.
The wildflower farm has walking trails and butterfly gardens. If you enjoy beautiful flowers and gardens, you can't miss this! It is one of my favorite things to do in Fredericksburg, especially during spring when the poppies are blooming in Texas.
Wildseed Farms has colorful pottery and a wide variety of plants, seeds, and food items for sale in the shops. There's so much to do here, you will find many photo opportunities, it is truly one of the prettiest places to visit in Fredericksburg!
Pick some Peaches or enjoy peach soft-serve ice cream
The area around Fredericksburg produces 40 percent of the peaches in Texas. In the spring and summer, you will find lots of roadside stands where you can buy peaches and delicious peach ice cream. Grabbing a scoop of the delicious soft-serve ice cream is one of my favorite things when visiting the Texas Hill Country town.
Plan a trip in Fall and Celebrate Oktoberfest
Fredericksburg's German heritage is celebrated throughout the year. The town is known for its traditional German cuisine, beer gardens, and Oktoberfest celebrations.
In Fredericksburg, Oktoberfest is typically celebrated on the first weekend of October. It is a popular event that attracts both locals and visitors who come to enjoy German music, food, beer, and festivities. The event usually includes live music, traditional German dances, beer gardens, arts and crafts vendors, and a variety of delicious German cuisine. It's a fun-filled celebration that showcases Fredericksburg's German heritage and provides a taste of the Oktoberfest experience.
Try some German Food
One of the things you must do when visiting Fredericksburg is try some German food. Fredericksburg is full of restaurants and brew pubs serving German and German-inspired foods ranging from traditional sausage, pretzels, and apple strudel to more Texan interpretations like schnitzel with gravy.
Visit Lyndon B. Johnson National Historical Park
Go on a short road trip and you can take a step back into presidential history with a look at the life of Lyndon B. Johnson, the 36th president of the United States. You can also visit the Lyndon B. Johnson National Historical Park.
Stonewall which is just 14 miles from Fredericksburg is home to the LBJ Ranch, which includes important places from the President's life. You can also learn about Lady Bird, who continued his legacy and built her own. She is responsible for the wildflowers we see in Texas!
Visitors can tour the Ranch at their own pace in their private vehicles with the ability to stop at sites along the way such as the President's birthplace, the Johnson family cemetery, and Johnson's ranch house known as the Texas White House. The tour through the Texas White House will transport you back to the 1960s.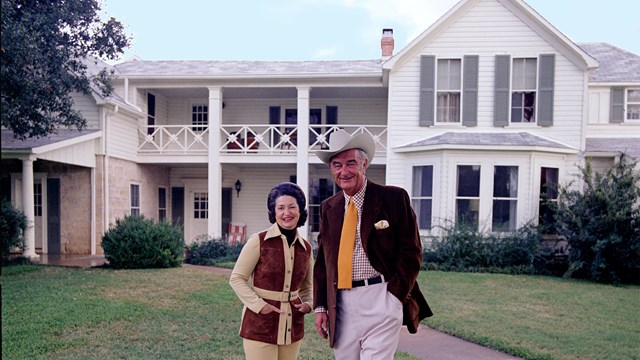 Luckenbach Texas
Just a short drive from Fredericksburg, Luckenbach is a tiny town known for its country music heritage. Enjoy live music, dance under the oak trees, and soak up the laid-back atmosphere.
Fredericksburg Trade Days: If you're visiting on the third weekend of the month, check out Fredericksburg Trade Days. This massive flea market features hundreds of vendors selling antiques, crafts, clothing, and more.
Go on a scenic drive in and around Fredericksburg
There are many scenic drives you can go in and around Fredericksburg, especially when the bluebonnets and other Texas wildflowers are in bloom. One such drive is the Willow City Loop. It is a lovely country road with beautiful blooms in Spring!
Here are a few scenic drives around Fredericksburg and how to get there, Enjoy!
Take 16N (Llano Street) out of Fredericksburg. Proceed 13.3 miles, turn right on RR1323 – continue 2.79 miles to Willow City, and turn left onto Willow City Loop. This is a private ranch road that winds for 13 miles through rugged roads, but it takes you through we inspiring scenery. It reconnects with 16. Turn right back to Fredericksburg.
Take 965 (Milam Street) out of Fredericksburg, just past Enchanted Rock. 965 connects with 16. Take a left to Llano. Just before 71 turn left on 2323 and follow it back to 87. Take a left back to Fredericksburg.

Take 87 from Fredericksburg to Mason swing around the courthouse square and return to Fredericksburg! This is a beautiful drive… you can see some of the best wildflowers!

Take 87 from Fredericksburg toward Mason, and turn right on 152. In Castell veer right and follow 152 along the river back to 16. Turn right back to Fredericksburg.

Take 87 to 648 (Hilltop Cafe is on the corner), turn left and continue into Doss, Texas. In Doss take a right on to 783 and continue to 87 take a right back to Fredericksburg.
Brewery and distillery tours
Fredericksburg has a growing craft beer and spirits scene. Take a tour of the local breweries and distilleries to sample their products and learn about the brewing and distilling processes.
Just on the edge of town is Altstadt Brewery which specializes in authentic German-style craft beers like pils and dunkel. Altstadt offers regular tours and tastings, and they also have an on-site restaurant.
Wineries in Fredericksburg
The Texas Hill Country is home to over 45 wineries and vineyards and Fredericksburg is the epicenter of the Hill Country wine region. There are more than a dozen wineries and tasting rooms located right on Highway 290 in Fredericksburg, here are a few that you can visit during your weekend: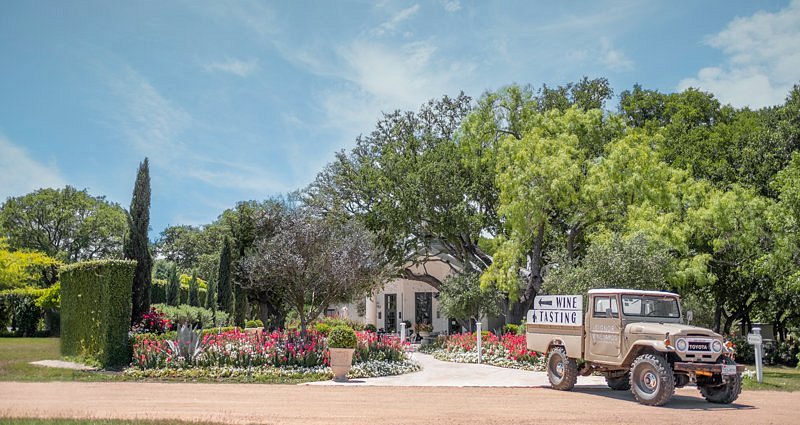 Grape Creek Vineyards
Known for its award-winning wines, Grape Creek Vineyards offers tastings, tours, and a beautiful Tuscan-inspired tasting room. They also have a restaurant on-site, making it a great place to enjoy both wine and food.
Becker Vineyards
Becker Vineyards is one of the most renowned wineries in the area. They specialize in Bordeaux, Burgundian, and Rhône-style wines. Visitors can enjoy tastings, tour the winery, and explore the lavender fields on the property.
Signor Vineyards
We love this win is a boutique family vineyard on a 200-acre estate where the Pedernales River meets Grape Creek just East of Fredericksburg. They have a nice tasting room featuring award-winning wine, and French country gardens.
You can pick up some snacks, or sandwiches from Joanna's Market to enjoy on the white picnic tables under a canopy of pecan trees.
Messina Hof Hill Country Winery
Opened in 2011, and located on nearly 10 acres in the heart of Texas wine country along Highway 290, this winery also has its own vineyard. The Lenoir grapes grown at this location go into the making of traditional-style ports.
Pedernales Cellars
Pedernales Cellars focuses on producing Spanish and Rhône-style wines. Their tasting room offers a scenic view of the Texas Hill Country, and you can also take a tour to learn more about their winemaking process.
William Chris Vineyards
This family-owned winery is committed to producing high-quality, handcrafted wines using only Texas-grown grapes. Their tasting room offers a cozy and rustic atmosphere where you can sample their wines and learn about their unique winemaking philosophy.
4.0 Cellars
4.0 Cellars is a collaboration between three Texas wineries: Brennan Vineyards, Lost Oak Winery, and McPherson Cellars. At their tasting room, you can taste wines from all three wineries and discover a wide range of varietals and styles.
Fat Ass Ranch & Winery
With a fun and lively atmosphere, Fat Ass Ranch & Winery is known for its unique wine selection and creative labels. Their tasting room features a casual, laid-back setting where you can enjoy their wines and relax.
Torre di Pietra Vineyards
Located in a beautiful setting, Torre di Pietra Vineyards offers a variety of Texas wines, including Italian varietals. Their tasting room has a charming ambiance, and they often host events and live music.
Hilmy Cellars
Hilmy Cellars specializes in producing small-lot, handcrafted wines. They focus on Rhône and Mediterranean varietals, and their tasting room provides a comfortable and relaxed setting to sample their wines.
These are just a few of the many wineries in Fredericksburg. Each winery has its own unique charm, so you can choose based on your personal preferences and wine preferences. There are many more in the area.
Another great winery to check out is Duchman Family Winery located near Driftwood. Vermentino, Sangiovese, and Dolcetto are some of the wines they make. The winery continues to source the majority of its fruit from the Texas High Plains AVA, where cooler temperatures and a more "continental" climate are ideal for the production of fine wine made from Italian grape varieties. Duchmans remain committed to producing food-friendly fine wine in Central Texas using Texas-grown fruit exclusively.
We visited this winery during our trip to Wimberley, in the Texas Hill country. You can sample some of the wines in the tasting room located in Tuscan-style chateaux or enjoy their wines with a picnic lunch or pizza, their pecan fried brie served with strawberry jam is delicious. It is one of the picturesque wineries in the Texas Hill Country.
Where to stay in Fredericksburg, Texas
Just a few blocks off Main Street, Hill Country Herb Garden is a chic, rustic complex transformed out of 1800s Sunday house cottages. German settlers would build these small "City Houses" to use on weekends when they came to town to buy provisions for the week and to also attend Sunday Church services.
Each cottage is unique inside and has all the comforts of home including a king bed, bathroom with shower, granite vanity with sink, flat screen HD video, high-speed internet, and ceiling fans. We loved the rocking chairs on a porch bordered with native plants, herbs and flowers.
The farm also has a 5000-square foot day spa and a fabulous bistro set among winding gardens and walking paths. If you don't stay on the property in one of the cottages, you can still stop in for brunch or lunch and check out the beds of rosemary, roses, and other herbs and plants. They even have some for sale.
Where & What to Eat in Fredericksburg, Texas
Influenced by the town's heritage, you will find many German and German-inspired food options abound in Fredericksburg. The Spicy Jalapeño Pimento Cheese, Beer Battered Mushrooms and Bratwurst are some of the things you can't miss at Auslander. We also love their Hähnchen-schnitzel (Chickenschnitzel), a chicken breast breaded, fried, and topped with gravy. Reminds us of our trip to Austria!
Don't miss the apple strudel.
We also loved our dinner at Sage, albeit a bit pricey, the ambiance and food here were amazing. They have a very good wine and cocktail list. I tried a Tasmanian Rose, some yummy Corn Brûlée and the Risotto made with coconut milk, beets and carrot salad for dinner while Mr. Suburbia had the
Fredericksburg offers a unique blend of history, culture, natural beauty, and warm Texan hospitality. It attracts visitors with its small-town charm, outdoor activities, and a thriving arts scene. Whether you're interested in history, wine, outdoor adventures, or simply exploring a picturesque town, Fredericksburg has something to offer.
I hope this post helps you plan your trip to the Texas Hill Country and try out some things to do in Fredericksburg!
PIN IT FOR LATER
Note: This post may contain affiliate links, partnership or sponsored content. If you purchase an item via one of these links, we may receive a small commission at no extra charge to you. But as always images and opinions are our own. For more information on our affiliates and privacy policy at Outside Suburbia see here.
CONNECT WITH US