So you have eaten your share of paneer tikka masala, tandoori chicken, and naan but have you tried Indian Street food called Chaat? It is tangy, spicy and best of all light and easy on the stomach. It is my favorite kind of Indian snack. Best washed down with some sugar cane juice or fresh sweet lime juice.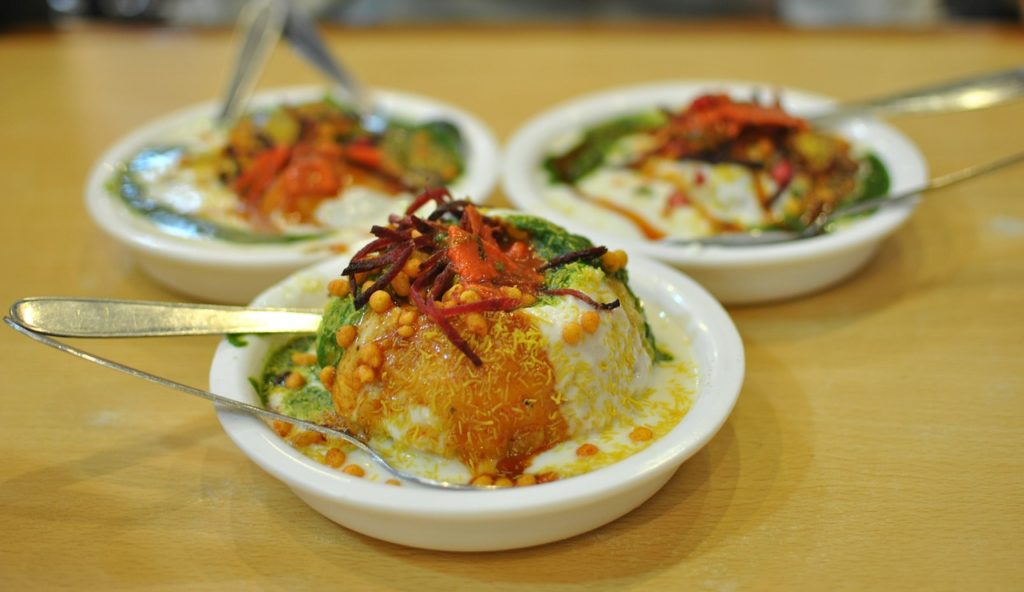 Growing up in India, Chaat was my go-to meal when catching up with friends or a snack between shopping sprees. Ajnabi in Chennai was my favorite spot for loaded bowls of Bhel Puri, spicy and crunchy Aloo Tikki Chaat, or Pav Bhaaji. That perfect tingle from the sweet tangy chutney and heat from the green coriander mint chutney is something I miss as much I miss my family.
Initially served only on the streets, these days you can find Chaat stations at weddings, and events and Chaat items making appearances on many high-end restaurant menus. I love putting together a DIY Chaat Bar for weekends, Diwali dinner parties, or any get-togethers. You can prep everything ahead of time and store it in serving bowls, and then set everything out at once so people can make their own bowl of chaat.
Easy DIY Indian Chaat Bar
Here is how to make an easy do-it-your-own Indian Chaat Bar in 3 easy steps. It works as an appetizer course or main course. I included the chaat chutney recipes I use. Simple versions of traditional recipes. Chaat Simplified!
Make the chutney(s)
Boil the beans & Chop the veggies
Fry the Papdi, Somasa or source the savories from the Indian Store
Set up the table with the chutneys, veggies and savories. Let your family or guests layer up their Chaat to their taste, spice level and liking. From Samosa Chaat, Bhel Puri, Aloo Tikki, Dahi Puri to Sev Puri you can make several different combinations of Indian snacks & appetizers, chaat dishes from these few items.
I prefer to cook in big batches and refrigerate or freeze chutneys for later use. Makes it easier when that Chaat craving hits you. Boiled beans can be saved in the freezer or fridge for later use. The chutneys keep well in the fridge for a week. Or you can freeze them.
The Base for most chaat dishes is usually a carb: samosa (filled with potatoes and peas), papdi (fried flour crackers), or puffed rice. From here you build with sauces, chutneys, veggies, and spices.
Chaat dishes will have other crunchy ingredients like thin sev, masala chana, peanuts, you can find these bags of mixtures in ready to go bags.
The Chutneys: Besides the base, the flavor of the chaat dishes comes from the chutneys. Tamarind Date Jaggery chutney and Coriander Mint Green Chutney are the two you will see. I sometimes substitute a peach chutney or plum chutney and thin it with a little tamarind water.
The Vegetables: Boiled potatoes, diced onions, tomatoes, are the main vegetables used in chaat dishes. The potatoes are usually simply boiled, and the tomatoes and onions are raw. You can also add green mango bits or pomegranate. My mom used to add in some finely chopped cucumber and grated carrots to make the chaat healthier —sneaky!
The Finishing Touch: Almost all chaat dishes includes a sprinkling of chaat masala, a funky and unique Indian spice blend that is made from Amchoor (dried mango), black salt, cumin, coriander, black pepper, ginger, ajwain, and more. Wakes up any dish!
Sev is another must for making chaat. Sev consisting of small pieces of crunchy noodles made from chickpea flour paste, turmeric, a little spice and salt. Both sev and chaat masala can be bought at any Indian store.
Coriander Mint Chutney Recipe
1 cup Cilantro, firmly packed
¼ cup Mint
2 cloves garlic
½ inch ginger
½ tsp sugar
½ tsp Roasted Cumin powder
½ tsp chaat masala
½ lemon (Juice from half lemon)
1 green chili (add more if you can handle the heat)
Pinch of hing
Salt to taste
Grind to a paste with 1/2 cup of water to make the Green Chaat Chutney. Make this Coriander Mint Chutney thicker if you want to use it for sandwiches.
Sweet Tamarind Date Chutney Recipe
Small lemon size Tamarind, deseeded or 1/2 Tbsp Tamarind Pulp
1/2 cup grated Jaggery, tightly packed
6 to 8 Dates soaked in water
1 teaspoon Ginger paste
¼ teaspoon Asafoetida (Hing)
½ teaspoon Chaat masala
1 teaspoon Roasted Cumin powder
½ teaspoon Red Chilli powder
½ teaspoon Black Salt
Grind to a paste with 1/2 cup of water to make the Sweet Date Chaat Chutney. Boil the chutney on low heat for a couple of minutes to bring the flavors together.
Both these sweet chutneys, (Khajur Imli Gur chutney) and Coriander Mint Green Chutney (Dhaniya Pudina chutney) freeze well.
Ragda Recipe (Optional)
Instead of using boiled garbanzo bean, you can use this slightly spice ragda made from white peas in your chaat for some additional flavor. I love my Chaat dishes made with ragda instead of plain bean. But totally optional.
Make sure to soak the white pea (also called vatana) for 8 hours at least. Pressure cook them (for 4 whistles) or cook them in an Instapot just like any other beans.
Cook 1 cup soaked white peas, 1 potato with ¼ tsp turmeric and ½ tsp salt in about 3 to 4 cups of water.
In a large pan heat 3 tsp oil and saute 1 onion, 1 tsp ginger garlic paste.
Saute 1 tomato until it turns soft.
Add ¼ tsp turmeric, ½ tsp chilli powder, ½ tsp coriander powder, ¼ tsp cumin powder, ¼ tsp garam masala and ¼ tsp salt.
Saute on low flame and smash the peas to make Ragda.
Use it for samosa chaat and other Chaat recipies
If you are looking for ideas for some unique drinks to serve with you DIY Chaat Bar, check out these Watermelon Chaat Masala Margarita and Lemony Nimbu Pani Margarita shared by the Spicewalla team (a spice company founded by a 5x James Beard-nominated chef who is also behind Chai Pani Restaurants). Both are made with Chaat Masala, which you will notice is a must for making chat dishes.
Indian Street Food, aka Chaat Dishes
Bhel Puri
Made with puffed rice and all sorts of fixings including onions, tomatoes, sometimes mangoes if they are in season, pomegranate and topped with a generous helping of thin sev. Chutneys are thoroughly tossed together to make this popular Chaat dish. It gets soggy soon, eat it up fast!
In a large mixing bowl take 2 cups of puffed rice
Add some onion, tomatoes, potato, a few crushed papdi, 3 tbsp mixture and some fried peanuts.
Add 1/4 spoon of chaat masala, and salt.
Add 2 tbsp tamarind chutney, 1 tbsp green chutney.
Mix well to make sure everything is combined well.
Aloo Tikki Chaat
Aloo tikki, a potato cutlet is served with chutneys, beans (or ragda) and yogurt. I have seen this made with hash browns patties instead of the spicy potato cutlet. Tastes just as good.
Papri Chaat or Papdi Chaat
Papdi chaat or Papri chat is an amalgamation of crispy Papdis, boiled Potatoes, Onion, Pomegranate, some sweet, tangy chutney and minty coriander chutney. You then add in a sprinkling of chaat masala, chopped coriander, sev, and yogurt.
Easy Papdi you can make at home: Cut up thin squares of Flour Tortillas and deep fry in oil. You can use this as a base for making chaat if you don't want to buy them from the Indian store and can't find them in stores near you. You can store them in air-tight containers for a month or two.
Samosa Chaat
The base for this Chaat dish is chopped up samosas (a savory fried pastry filled with spicy potatoes and peas), and topped with chutney, yogurt, and sev. You can add some ragda (recipe above) before adding in the sauces.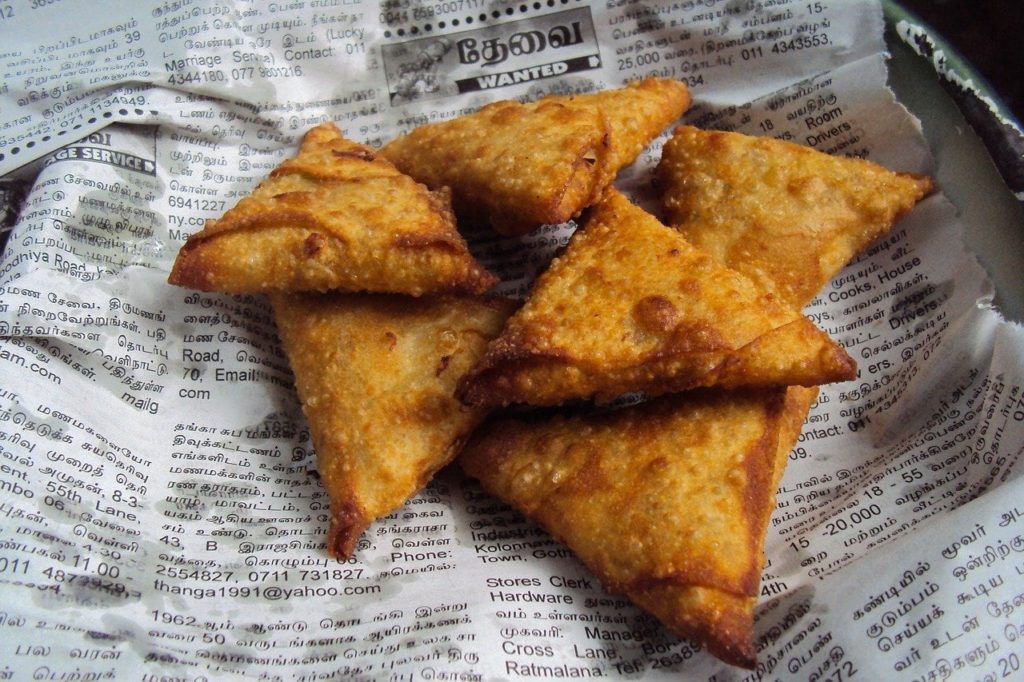 Sev Puri
Much like the Samosa Chaat, but with samosas subbed out for small fried puri. It is all in the assembly for this Chaat dish!
First, make a hole in the centre of puri
Place small pieces of boiled potato into puri
Add a tbsp of ragda (optional) into each puri. You can use boiled Garbanzo beans instead
Spoon a little green chutney and tamarind chutney
Top with some chopped onions and tomato
Sprinkle chilli powder, cumin powder and chaat masala
Garnish with a generous amount of sev and chopped coriander leaves
Enjoy your plate of sev puri immediately!
Dahi Puri
Much like the Sev Puri but served with some whipped yogurt and a sprinkling of chaat masala. This is a great chaat dish to start with if you can't handle the heat from the spices. Follow the same steps as above and add yogurt before sprinkling the masala powders.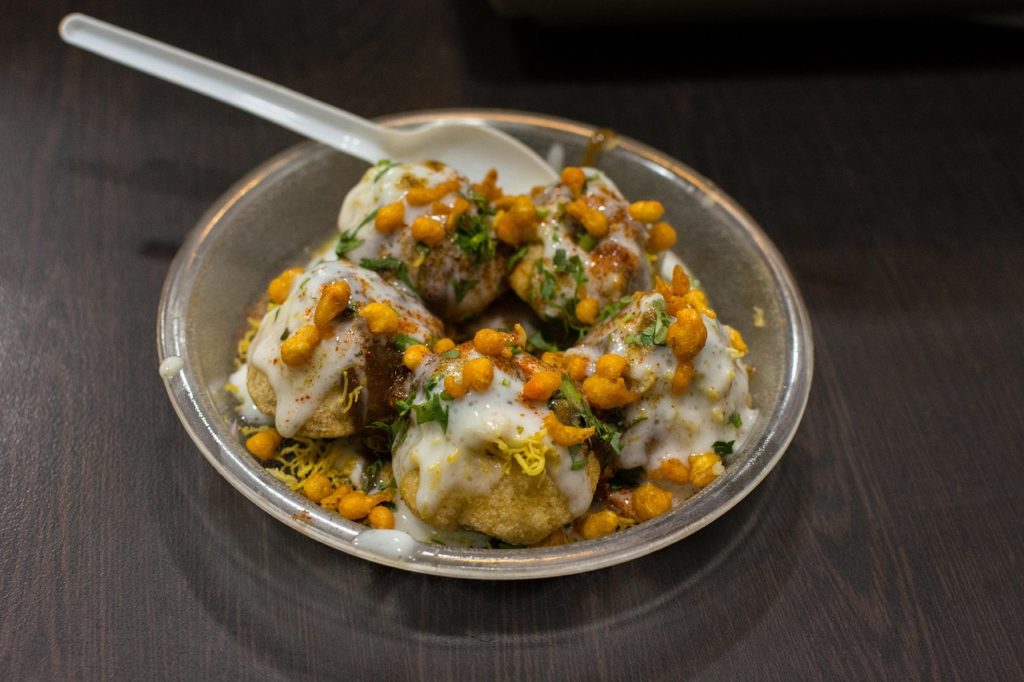 Panipuri or Gol Gappa
Also known as panipuri—"panipuri" literally translates to "water bread" in Hindi is another super popular Indian Street food or Chaat dish.
Small puri that is fried to a crisp is filled with potatoes, chickpeas, onions, and chutneys served with some kind of flavored water (usually tamarind or cilantro-mint). To eat a gol gappa or pani puri, you spoon a little bit of the pani water into the center of the crisp and pop the entire thing in your mouth.
The small puris or gol gappas are readily available in big boxes but if you want to make them at home, try this recipe for homemade gol gappas.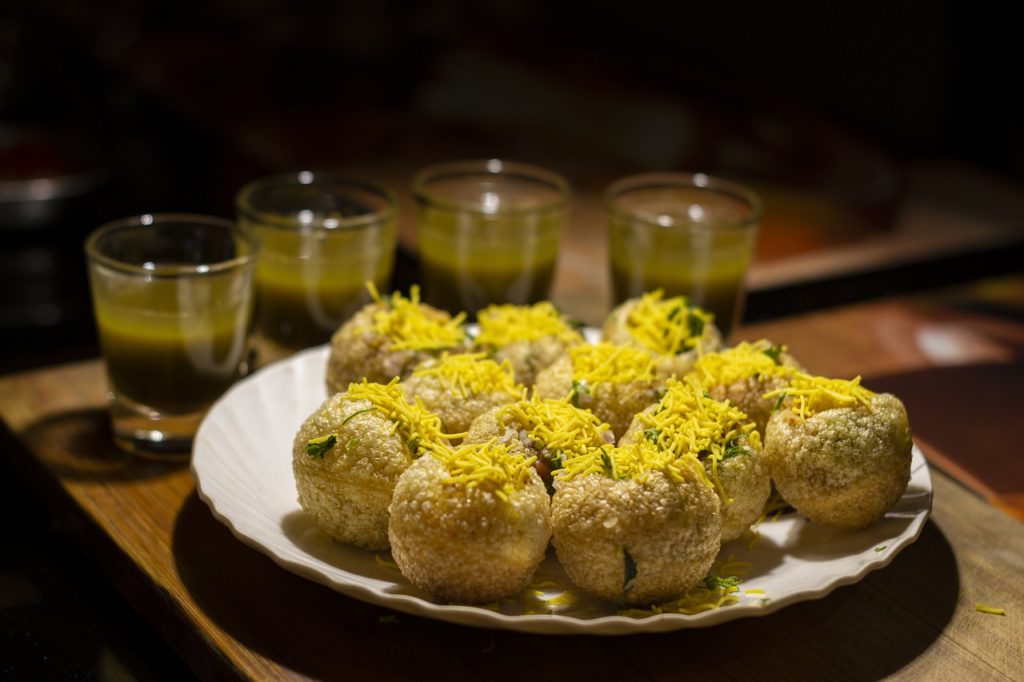 Gol Gappa shots made with Vodka are a thing these days, look them up 🙂
You can make all of the above chaat recipes from the chutneys, chopped veggies, baked beans and crunchy savories. But the list of Indian street food does not stop there. You will find hundreds of different variations of chaat dishes — like Kachori Chaat (made from flaky katoris), Aloo Chaat (substitute white potatoes for sweet potatoes for a healthier version), sprouted mung bean chaat… the list goes on!
Dahi Vada
This is another snack food that you will see at street vendors and in fancy restaurants. Fried vada, balls made from urad dhal are soaked in yogurt and topped with a heavy dusting of black pepper, chili powder, and chaat masala—the combo cools you down after a meal of spicy Indian food!
Note: This post may contain affiliate links, partnership or sponsored content. If you purchase an item via one of these links, we may receive a small commission at no extra charge to you. But as always images and opinions are our own. For more information on our affiliates and privacy policy at Outside Suburbia see here.
CONNECT WITH US