Have you tasted Argentina food, desserts, or drinks? I have only sampled some Malbec and Chimichurri sauce so far. I wanted to be familiar with the foods in Argentina and Argentine cuisine since we are planning a trip to South America soon. They love their Yerba Mate and Asado (aka barbecue), but is vegetarian food easy to find in Argentina? Let's find out!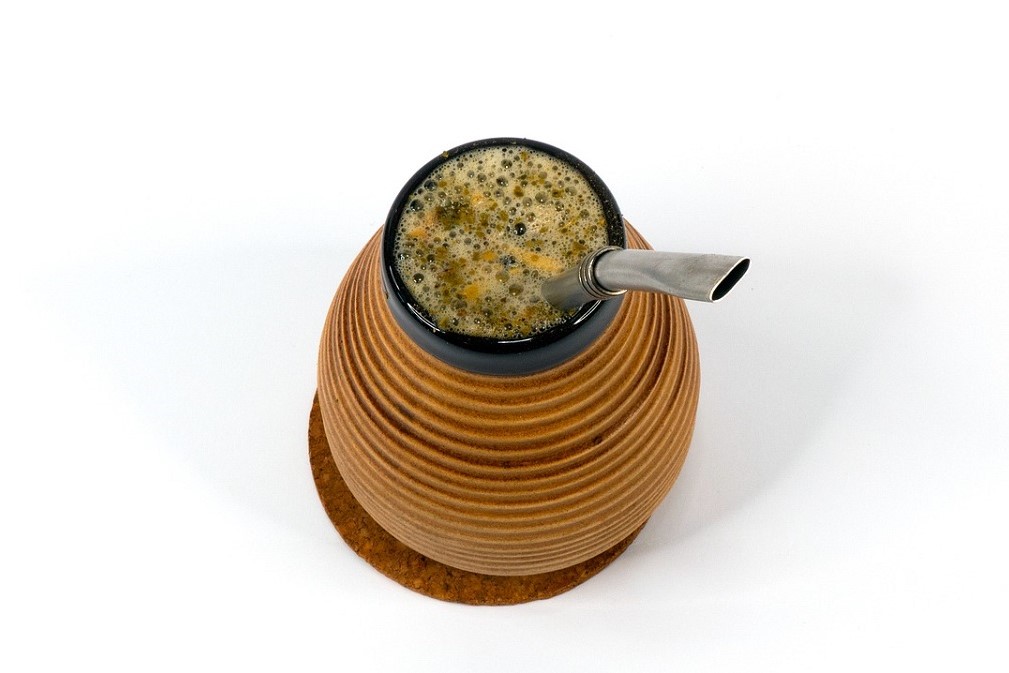 Argentina is popping up on travel bucket lists for post-pandemic travel. Whether you are looking for the legendary steak, sinful chocolates, lured by the mountain adventures or charmed by the cosmopolitan cities like Buenos Aires, and other places to visit in Argentina… you will not go hungry.
Argentina Food to try on your next trip
Here are some of the best foods to try in Argentina, including a few vegetarian options, pastries, desserts, famous wines, and a beverage known as "the drink of Gods."
Locro is the national dish of Argentina and is usually served on May 25 to celebrate Argentina's May Revolution. This stew is made from corn, tripe, red chorizo as well as beef or pork. Other vegetables are tossed in as well.
1. Asado
Asado, better known to us as barbecue, is Argentina's famous food. It is also known in South American cuisine as parrillada. It may involve many kinds of meats including beef, pork, Patagonian lamb, and chicken, but the most popular is churrasco (center-cut sirloin), picaña (culotte), short ribs, sausage, blood sausage, and sweetbreads. Needless to say, Argentina is a meat loving country, their Chimichurri steak is legendary!
If you don't eat meat, ask for some Argentinian side dishes like Stuffed Grilled Peppers, Grilled Portobellos, or some grilled veggies and smother it with some chimichurri and enjoy.
Vegetales Grillados are a popular option for vegetarians and typical food in Argentina. Or you can get some salad or chard vegetable platter. The assortment will usually include, eggplant, peppers, onion rounds, carrots, potatoes, or sweet potatoes.
Imagine a baked potato, or sweet potato, squashed with a cast iron skillet and grilled until crispy – you have Papas or Batatas al Plomo. Typically eaten with butter, salt, and light herbs.
2. Choripán: Argentina's most favorite Food
Choripan is the Argentine street food of choice and is sold everywhere. Typically enjoyed at Football games and as Argentinian appetizers.
Chorizo is a classic Spanish food that has been adopted by Argentinian cuisine and made especially popular in the form of choripán. The signature sandwich features grilled Argentinian chorizo, whole or cut lengthwise down the middle (called a mariposa), served on a baguette or roll, and topped with a sauce like chimichurri.
3. Empanadas
Argentina's most famous pastry, the empanada is a classic. Its name is derived from the verb empanar, which translates as "to wrap in bread." The lightly crusty turnover may be filled with any number of fillings, usually with chicken, beef, spinach, corn, and/or cheese.
Queso y cebolla (onion and cheese) or humita (corn) are rumored to be especially good. Argentinians will almost anything into an empanada, including some sweet options like the country's favorite Dulce De Leche.
4. Milanesa
As its name suggests, this Argentinian favorite dish has origins in Italian food. Fileted meat is dipped in egg batter, then breaded and fried. Just like the Milanese. Served in sandwiches, or on its own with a side dish, milanesa usually features thin cuts of chicken or beef.
5. Matambre Arrollado (Argentinan Stuffed Flank Steak)
Also called matambre arrollado, this Argentinian meat dish differs from the thick cuts of grilled Asado. The word matambre means "hunger killer", and arrollado means "rolled up." Thin slices of beef like flank steak is rolled around mixed vegetables, hard-boiled eggs, herbs, or olives before cooking to make these hunger killers.
6. Ravioli
Argentina is famous for its pasta, especially the ravioli. Bursting with more filling you could possibly imagine squeezed into this paper-thin envelope, Argentinian ravioli dishes are popular in Buenos Aires. Whether you go for verdura (vegetables), calabaza (squash), or hongos (mushroom), ravioli, they will be delicious.
7. Chimichurri: Tastes great on everything and synonymous with Argentinian Cuisine
Perhaps the most versatile sauce in all of South America, chimichurri is practically synonymous with Argentinian cuisine. A green salsa made of finely chopped parsley, oregano, onion, garlic, chili flakes, olive oil and a touch of acid, such as lemon or vinegar. Chimichurri is Argentina's go-to condiment.
1 cup flat-leaf parsley, firmly packed
1/2 cup finely chopped cilantro
3 cloves garlic
1 shallot
2 tbsp. fresh oregano
1/3 cup extra-virgin olive oil
1/4 cup red wine vinegar
2 tsp. lemon zest (optional)
Pinch red pepper flakes and salt
Chimichurri Sauce Recipe
Pulse the parsley, cilantro, oregano and garlic in a food processor and add in the olive oil and vinegar. Add salt and red chili pepper to taste. Store it in a container, keeps well for a couple of weeks and tastes great on everything.
This salsa or Argentinian Pesto sauce is sometimes used as a marinade, and most often it's found slathered on grilled meats, shrimp, fried eggs, veggies and other savory foods throughout the country.
8. Provoleta
Italian influence may also be felt in this grilled cheese dish. Don't expect any bread – the provolone is seasoned with fresh herbs, then cooked on the grill so that the outside caramelizes, while the inside gets melted and gooey. The best vegetarian main dish to order in an Argentinian steakhouse is the provoleta.
9. Tartas Saladas
What sounds like 'salad cake' is actually the Argentinian name for pies with savory fillings. These include everything from hard boiled eggs, spinach, cebolla y humita (onion and corn), or calabaza (pumpkin). Each restaurant makes theirs a little differently. Try as many as possible!
10. Humita
Humita is both a snack food and main course dish for vegetarians in Argentina. Made with fresh corn and milk, humita also has onions, spices, and goat cheese. Folded into corn leaf, the whole humita is steamed or boiled. How can you resist?
Argentina Desserts & Pastries
Media Luna
Medialuna is an Argentinian take on France's famous croissant. Translating as "half-moon" a media luna closer resembles a crescent moon. This puff pastry tends to be smaller and sweeter than a croissant, typically enjoyed at breakfast in Argentina with a cup of café con leche (pronounced caffay-con-lechay).
Made in the same way as the traditional croissant, the medialunas and are egg-washed and brushed with a sugar glaze after cooking.
Alfajor
Argentina's favorite cookie is the alfajor, which traveled to South America from Morocco via Spain. Like French macarons, the small sandwich cookies are filled with some sort of jam or mousse. Unlike the macarons that are made with almond flour, alfajores are more of crumbly shortbread in taste and texture. It is one of the most popular desserts in Argentina.
Chocotorta
Made of soaked cookies and layers of dulce de leche, Argentinian icebox cake is another impressive dessert. It's incredibly rich and delicious.
Chocolates
Chocolates in Argentina are not to be missed. Surrounded by beautiful landscapes and located just a few hours from the border of Chile, Bariloche went from being an agricultural colony to a tourist and a chocoholic destination in just a few decades.
Bariloche sits at the heart of Argentina's Lake District. It is an alpine-style town reminiscent of Swiss towns. Something like Patagonia-meets-Switzerland. You will find lakeside log chalets a stone's throw away from Nahuel Huapi National Park – where adventures in the Andes mountains await. A place that is high on my wishlist!
Dulce De Leche
Literally translated to "candy of milk," Dulce De Leche is a must-try Argentinian treat. Condensed milk, slowly reduced into a sweet, sticky caramelized pudding-like consistency. Have it smothered on crepes, ice creams, or rolled into "jelly-roll" like Pionono Relleno con Dulce de Leche. Delicious!
If you see Dessert Empanadas (stuffed with Chocolate & Dulce de Leche), don't say no.
Flan is another traditional dessert in Argentina. This caramel custard is served at most, celebrations and dinners in Argentina. Enjoy it with a dollop of dulce de leche.
Argentinian Drinks
Yerba Mate: Argentinian Favorite Drink
Yerba Mate is a popular drink throughout Argentina. It's made by infusing the yerba plant into hot water, then shared from one cup with others around you. The brew is drunk using a metal straw called a bombilla. It is very much part of the culture and tradition.
The leaves of Ilex paraguariensis plant are dried over a fire, then steeped in hot water to make this herbal wellness tea. Mate is a favorite drink in Argentina and is consumed frequently at home, in restaurants and called it "the drink of the gods." Mate is more than just a drink. It is shared in a spirit of celebration or friendship.
Malbec and other Argentina Wines
Argentina is a country made up of many immigrants, and they have left their influence on its grapes and viniculture. The history of wines in Argentina goes as far back as the 16th Century. From Patagonia to Salta, wines are produced across the country with Malbec and Torrontes being the most revered.
Argentina is the largest producer of Malbec wines with the majority of vineyards located around Mendoza. This grape was introduced to the country by the French immigrants back in the 19th Century. It wasn't until the 1990s that Argentinian Malbec gained worldwide recognition.
In Mendoza, Malbec wine can be found in three different wine regions: Lujan de Cuyo, Uco Valley and Maipú Valley.
Much like the wine regions in France, you will find different regions in Argentina producing a variety of wines. Besides the full-bodied and fruity Malbec red wine, Argentina produces wines like Cab Franc (Cabernet Sauvignon's lighter, brighter sibling), Italy's Pinot Grigio, Spain's Tempranillo, or Germany's Riesling.
Another famous wine from Argentina is Torrontes, an aromatic dry white wine. Goes great with the provoleta and all the other food in Argentina!
I hear that: Spring in Argentina (October to mid-December) and autumn (April to mid-June) to be the best times to visit Argentina, especially if you want to avoid the tourist crowds and peak season prices.
Have you been to Argentina? What have I missed in this Guide to Argentina Food and Argentine cuisine?
Photos by Los Muertos Crew and Pexels. More photos coming soon 😉
Note: This post may contain affiliate links, partnership or sponsored content. If you purchase an item via one of these links, we may receive a small commission at no extra charge to you. But as always images and opinions are our own. For more information on our affiliates and privacy policy at Outside Suburbia see here.
CONNECT WITH US