Hydrangeas are treasured for their big and beautiful blooms that go on all summer. Most gardeners consider it a must-have shrub, but they can be a little tricky; here are a few tips (that I have learned over the years) for pruning, changing colors, and keeping cuts stems of hydrangea from wilting.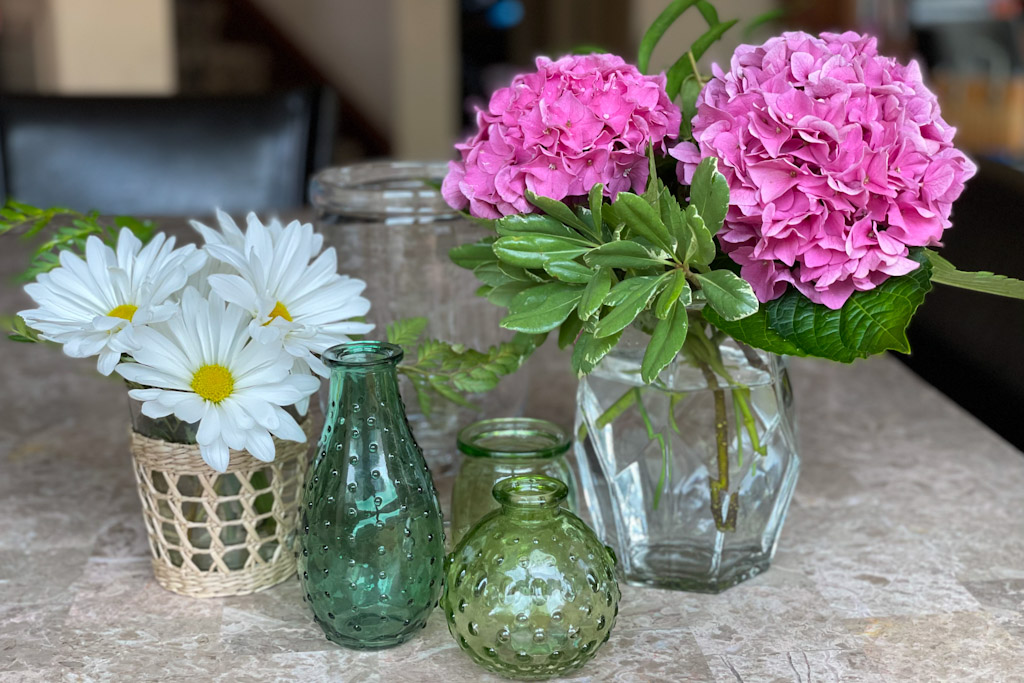 Read on to learn about the different kinds of hydrangea, when to prune them, where to see them when you travel and how to keep your hydrangea bouquets looking fresh.
While the mophead is the best-known variety of Hydrangea, there are a couple of other popular hydrangea plants: the lovely lacecap and oakleaf that are native to the United States.
What is a Lacecap hydrangea? It is very similar to the mophead hydrangea plant. The only difference is that instead of growing round clusters of blossoms, this hydrangea grows flowers that resemble laces with flat caps with a frilly edge of petals.
What are oakleaf hydrangea? You can recognize this hydrangea by its foliage. The leaves are lobed and resemble those of oak trees. Oakleafs are native to the United States and grow to about 10 feet and are tough, cold hardy, and drought resistant. They do well in a spot that gets morning sun and afternoon shade.
Oakleaf hydrangea shrubs bloom in spring and early summer. The flowers are greenish white when they are young that turns into subtle shades of pink and finally brown as they age. They look lovely even as they mature.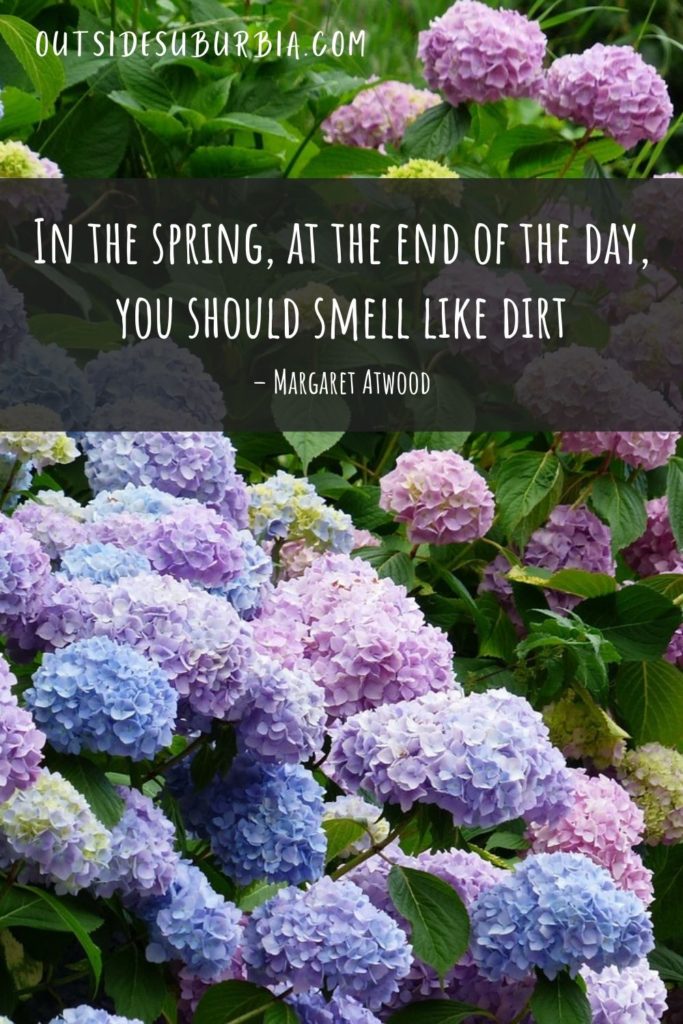 If you like this quote, you might want to see this collection of Flower Quotes and Spring Captions
Changing Hydrangea Flower Bloom Color
I bought 3 beautiful BLUE big leaf hydrangea plants (Endless Summer) a few years ago and planted them in my Texas garden. Lo and behold, a couple of years later, I had bright fuchsia blooms. I had no clue that the soil affects the hydrangea bloom color.
Here is how the soil affects the Hydrangea color
Soil pH 5.0 to 5.5 = Blue
Soil pH 6.0 to 6.5 = Pink/purple
Soil pH 5.5 to 6.5 = Purple, or both blue & pink
To make hydrangea blooms blue, add aluminum sulfate to the soil. The soil should have low levels of phosphorous, moderate levels of nitrogen, and high levels of potassium.
To make hydrangea blooms blue pinker, add garden lime to soil plus maintain high levels of nitrogen and low levels of phosphorous.
Adding either garden lime to aluminum sulfate should be done well in advance of flowering, in late autumn or early spring. Alternatively, you can leave the plants in big pots (I love these garden bags to grow jasmines and hydrangea) instead of planting them on the ground.
Can coffee grounds change color of Hydrangeas?
Some gardeners report success in turning their hydrangeas blue by applying coffee grounds to the soil. I have had no such luck! The coffee grounds make the soil more acidic, thereby allowing the hydrangea to more easily absorb aluminum. I have been adding my coffee grounds for 3 years now and it has not made any difference.
In addition to coffee/tea grounds, you can also add fruit peels, egg shells, lawn clippings, peat moss and pine needles. They are said to have a similar effect and change the color of the hydrangea blooms.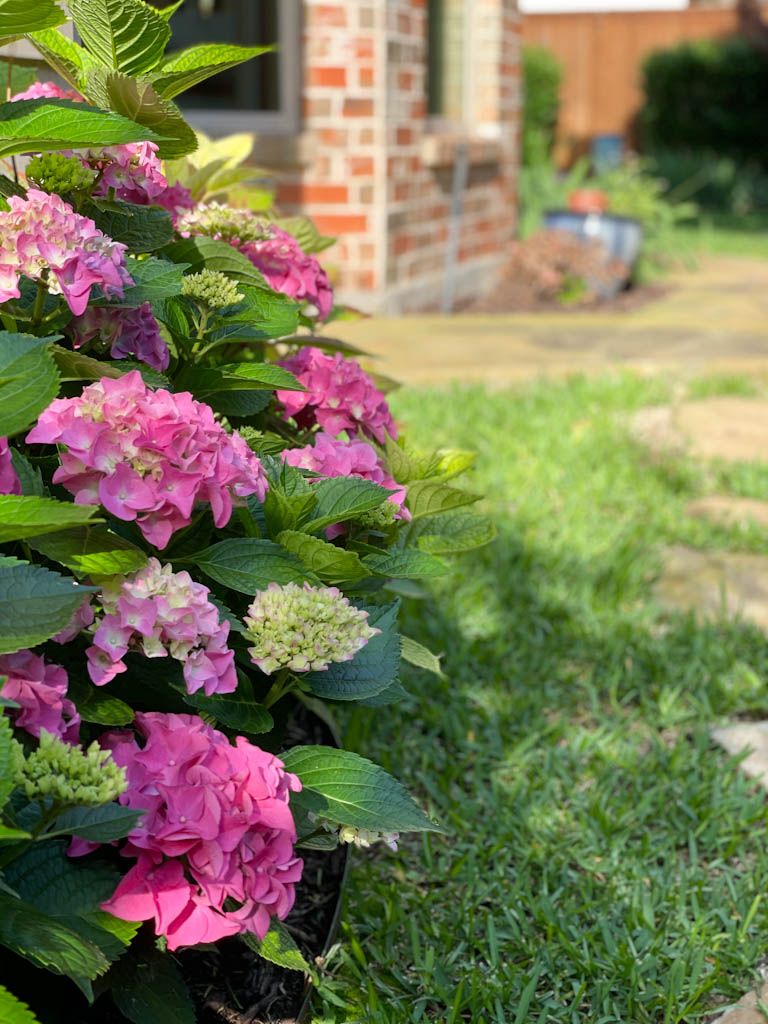 How to keep cut Hydrangeas from wilting
Do you buy hydrangeas or cut for your flower arrangements and find that they start drooping in a day or two? Hydrangeas are humidity loving plants, so are the blooms! Here is how to keep hydrangeas looking fresh whether you buy them from your florist or cut them from your garden:
Water the plant well, the previous day and cut the stems in the morning.
Cut stems at an angle.
Put cut stems in the water right away.
Mash the stems a little. Or put them in Alum for a few minutes.
Once a day, gently mist petals with water (I use a simple plastic spray bottle buy eyeing this glass one with rose gold pump)
If the blooms start to wilt, shock them back by dunking the whole flower head in warm water for a few minutes.
Hydrangeas take in water from their petals, the misting will keep them fresh for days! Mine last for a whole week to 10 days!
Another Secret to keep cut stems of Hydrangeas from drooping
The secret to keeping hydrangeas fresh is changing the water every couple of days and misting them regularly. Another secret to keeping cut hydrangeas from drooping is adding a floral preservative to the vase water.
Here are two simple formulas you can make yourself:
1 Tbsp sugar + ½ tsp bleach + 2 Tbsp lemon juice + 24 oz. of water
½ tsp bleach + 24 oz. 7UP or Sprite (not the diet version) + 24 oz. water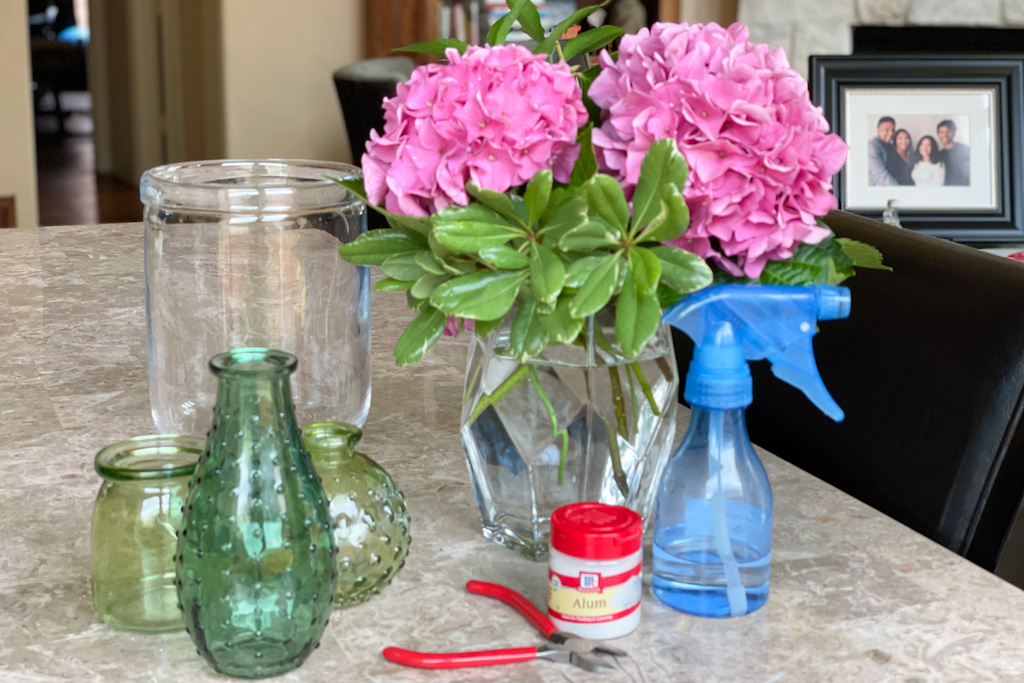 When to prune these pretty Bigleaf Hydrangeas
When you prune hydrangeas is just important in keeping them healthy and blooming. The first step of pruning hydrangeas is to identify the variety, as this determines how, when, and even if it needs pruning. There are 2 main groups of hydrangeas:
Those that bloom on last year's growth, or old wood, (they should be pruned in late summer) and those that bloom on new growth (prune in early spring)
Oakleaf hydrangeas and Bigleaf hydrangeas fall in the first group and should be pruned in late summer.
Tip-pruning the branches when leaves form in spring can encourage multiple, smaller flower heads rather than fewer larger hydrangea heads.
Buds for next year's flowers form as days grow shorter and temperatures cooler during late summer and fall.
Typically, only a gentle trimming is needed to maintain shape, size, and a healthy plant by cutting out dead, or broken branches. Otherwise, harsh pruning should be avoided. Use good garden trimmers like these.
Trimming should be done immediately after flowering stops in summer, but no later than August beginning. Do not prune your Bigleaf or Oakleaf hydrangea in fall, winter, or spring or you could be cutting off new buds and you will not see any pretty blooms!
How adorable are these Hydrangea Hideaway PJs, a perfect gift for hydrangea lovers in your life!
Best Places Around the World to see Hydrangeas
Faial Island, part of Portugal's Azores Islands in the Atlantic Ocean, bursts into bloom every summer with thousands of beautiful blue hydrangea flowers. Though the other eight islands in the chain are also famous for hydrangeas in all shades, Faial is one of the best destinations in the world for brilliant blue hydrangea flowers.
Sometimes called the Blue Island, Faial's streets and hillsides are lined with wild hydrangeas. Peak bloom time for these plants are in late July and early August
Another place to enjoy hydrangea is Japan! These flower has always been treasured in Japanese culture and during the rainy season, hydrangeas are in full bloom in many locations around the country!
If ume (or plum blossom) is the sign of early spring then ajisai (hydrangea viewing) is the symbol of summer. Early June to mid July is the typical hydrangea blooming season in Japan.
Some of the best spots for hydrangea viewing located in the Tokyo area include Kamakura, Mito, Hakone, and Enoshima. Hydrangea plants usually can be seen in the Japanese temples & shrine's grounds, gardens, parks, and riverbanks. Some spots for seeing Hydrangea are:
Meigetsuin Temple, Hasedera Temple and Jojuin Shrine in Kamakura
The Eastern Imperial Palace Garden in Chiyoda Ward
Hakusan Shrine and Hakusan Park in Bunkyo Ward
Kamakura in Kanagawa Prefecture is perhaps most well-known as one of the best places to see hydrangeas in Japan. In particular, Meigetsuin Temple, Hasedera Temple, and Jojuin Shrine are the three great Kamakura hydrangea viewing spots, and famous for their blankets of hydrangeas.
Hope this post got you to fall in love with hydrangeas (if you didn't already LOVE them) and you also discovered different kinds of hydrangea, learned about when to prune them, and how to keep cut hydrangea flowers looking fresh.
CONNECT WITH US