Be it a reunion, to celebrate a birthday, wedding, or a girls' weekend getaway for no reason at all to get away from it all – taking a trip with your girlfriends puts a little joy in our lives and gets us recharged and leaves us rejuvenated.
When it comes to fun girls' weekends, the possibilities are endless. You can relax at the beach, visit an exciting city, get outdoors and explore mountain towns or anything between. But the key is you want to get far away from daily chores and responsibilities, if only for a couple of days. Here are a few ideas for cool girls' trip(s) (including mother daughter trips), that make you feel you are far far away without going too far.
Some things I like to look for when planning a girls trip: It should be safe, easy to get around (either by public transportation or uber), have nice gardens or outdoor spaces, nice cafes (bonus points if it has rooftop bars) to catch up friends, good art scene and some shopping.
Here are a few girls trip getaways and mother-daughter trips I have managed to get to and a few that are in the works 🙂
12 Ideas for Girls Weekend Getaway Trips
Bermuda, one of my Favorite Girls Trip so far
Bermuda beaches are like no other, dotted with black rocks against an aquamarine ocean and soft pink – Horseshoe Bay is Bermuda's most popular beach. Located in Southampton parish, this beach has been consistently ranked among the top beaches of the world!
Tobacco Bay is another popular public beach located in the far north of Bermuda. It is also one of Bermuda's best beaches for snorkeling, owing to its crystal clear, shallow waters.
Bermuda's scenery doesn't stop at the beaches, they have caves and nature reserves. You can go on an underground guided tour to discover their beauty. Ride bikes along old railway tracks, enjoy a picnic by a colorful village and see the smallest bridges in the world, drink a few rum swizzles and collect sea glass, there are so many fun things to do in Bermuda on your Girls getaway trip! It almost feels like you are in the United Kingdom!
Montreal, Canada
If you want to feel like you're in France without going all the way to Europe, plan a girls' weekend getaway trip to Montreal. Montreal is the second-largest primarily French-speaking city in the world. You can enjoy European Girls Getaway without having to travel for hours across the pond.
Montreal set on an island in the Saint Lawrence River and is both a modern city and has a historic district. It is one of the beautiful places to visit in Canada! Notre Dame Cathedral is the central point of Old Montreal and from here you can get lost among the cobblestone streets and historic monuments and buildings and be transported back in time.
One of the world's great Catholic basilicas whose dome is the third-largest of its kind in the world after the Basilica of Our Lady of Peace of Yamoussoukro in Côte d'Ivoire and Saint Peter's Basilica in Rome is also here. Montreal Botanical Garden is a green island in the center of Montreal. It is very popular among both locals and tourists and it is considered one of the most beautiful gardens in the world.
Mexico City, Mexico
Mexico City is a popular place to be for just about every type of traveler — girl groups included. My girlfriends went on a weekend trip last year there (without me) and have only great things to say. The city is filled with things that will entertain everyone in the group. Some of Mexico City's activities include parks, galleries, landmarks, museums, and cantinas to name a few.
Once gritty, the Juarez neighborhood now has evolved and has great boutiques, bars, parks, and restaurants like Masala y Maiz, which blend Mexican, East African, and Indian cuisines. Niddo, a sunny corner spot serves a divine brunch. Visit some of the best restaurants on Earth (like Pujol, Quintonil, and Biko). Early evening in Mexico City when everyone goes out to churreria for some churros, taste of sweet fried dough and chocolate.
If you are an art lover, you will want to visit the museum, also known as "Casa Azul" where Frida Kahlo was born, raised, lived, and died. Visitors can take in a few paintings by Kahlo and her husband, Diego Rivera, in addition to other contemporary artists of their era. Visit Museo Jumex which houses one of Latin America's largest private contemporary art collections, which includes works by Andy Warhol,
Cabo, Mexico
San José del Cabo and Cabo San Lucas is perhaps the easiest place to have either a luxurious girls getaway or a budget-friendly trip and still have the same amount of fun. You can choose to either sit on the beach in Cabo enjoying the gorgeous ocean views and cocktails or get out and enjoy some adventures. It is easy to get to and a popular place for bachelorette party trips and more.
We were in Cabo for a family trip but you can easily steal some ideas for things to do in Cabo during your girls' weekend trip. Don't miss a boat ride over to see the famous rugged rock formation El Arco, which is a popular tourist attraction.
Gather your girlfriends and stroll the streets of San Jose del Cabo on a free cultural Art Walk, which happens each Thursday evening between November and June. You will find all the top-tier resorts in the Hotel Corridor closer to San Jose del Cabo and more budget friendly ones on the Cabo San Lucas.
See: The BEST all-inclusive resorts in Mexico
Austin, Texas
When it comes to destinations that cater to all kinds of groups, Austin is high up on the list. The city has more than enough activities to keep you busy — activities include looking for all the cool murals in Austin (including a cool Banksy reproduction), or a boat ride in the river, plan for a sunset cruise if you want to see the famous colony of bats that live under a bridge. Austin is built on the banks of the Colorado River and offers many water activities and hiking trails. The city feels more European than Texan.
I recommend staying near South Congress in Austin for your girls trip, which will have plenty of coffee shops, boutiques, and restaurants within walking distance. We usually stay at the Fairmont Austin. For a Luxe girls weekend getaway, stay at the stunning (newly renovated) historic property, Commodore Perry Estate.
If your friends like fast cars, check out the Formula One track, the only F1 Grand Prix venue in the United States. Bar hopping in Sixth Street or Rainey street is another must. Don't miss Austin's food at either — start with breakfast tacos, which the city is famous for, try a few food trucks, or dine at Uchi (fish for the sushi is flown in from Tokyo every day!)
Brooklyn, New York
Yes, New York City appears on many USA Travel bucket lists, thankfully, its neighboring borough of Brooklyn (which is conveniently just a short walk over the bridge) is quieter and hotter than ever for girls trips. You can walk over to one of Brooklyn's famed farmer's markets or flea markets to pick up one-of-a-kind goodies from local vendors. Then, grab a slice of New York pizza at a spot like Brado, before heading out to some of the best bars in Brooklyn.
A walk across the Brooklyn Bridge or a subway ride from Manhattan will bring you to happening neighborhoods and attractions like museums, gardens, parks, food markets, and more. For a cool (Instagram) photo to commemorate your girls' trip to NYC get to Dumbo, a neighborhood whose name is an acronym for Down Under the Manhattan Bridge Overpass — it is one of the most-visited spots in Brooklyn.
On your weekend getaway to Brooklyn, have a picnic in Prospect Park, wander the gardens at Brooklyn Botanic Garden, and admire masterpieces at the Brooklyn Museum. Top it all off with a stop at an outdoor food market to taste diverse foods and mingle with New Yorkers. The open-air food market, is the largest weekly food market in the country, attracting 20,000 to 30,000 people each weekend, most of them local to the area.
Chicago, Illinois
Chicago is another ideally located destination for any friend groups spread around the country. With convenient flights to and from major cities in the U.S., it's an easy place to plan a cool girls trip. While the city feels old compared to Seattle or Denver, the midwesterners are friendly. And they have great public transportation.
Chicago has a thriving music/theatre scene and is the originator of many big theatre and music trends over the past 75 years. It is one of my favorite places and loved our mother daughter trip to Chicago a couple of years ago.
Chicago has some world-class museums all located in and around the Museum Campus. If you and your friends love art, spent some spent at the Art Institute of Chicago. (See this post for my version of a virtual museum walk at the Art Institute) Book the Heart Our Art package at this hotel on the cultural mile.It includes In-Room Canvas with Paints, and Coloring Book with Colored Pencils. Perfect amenity for a Girls' trip if you ask me!
Key West, Florida
Tropical seas, sunny days, and beautiful sunsets, what more does your girlfriend trip really need? Key West is a great destination for a fun girls trip, you get all the island vibes without going too far. The Florida Keys feels like a world away from Miami, it almost feels like you are somewhere in the Caribbean. Plus you can drive to Key West from Miami.
Located at the southernmost tip of Florida, Key West is one of those places that can make you feel like you are far away — if only for a few days. The fresh air and "Conch Republic" attitude are enough to make forget all about your long to-do lists and enjoy a true ladies getaway weekend.
While on the island, book a private boat charter for just a few hundred bucks, to enjoy the views with your gal pals. Stay at a lovely Waterfront Resort or on one of the charming side streets just off Mallory Square, in a rental. Walk down Duval Street and peruse the shops, then take a photo at the colorful concrete buoy which marks the furthest south in the Continental United States.
New Orleans, Louisiana
With a cool jazz scene and a European vibe, nothing compares to the magic of a girls trip to New Orleans. New Orleans has a spirit unlike any other. Start the day with some beignets and then take a walking tour of the Garden District which is located a little less than 3 miles southwest of the French Quarter for a peek at some of the city's most beautiful homes.
Even if you're not in town with your friends for the actual festival, you can go behind the scenes at Mardi Gras World, which offers a close-up look at some of the flamboyant floats and costumes used during New Orleans' famous party.
Stay at the Ritz Carlton that sits on the edge of the French Quarters, the decor is reflective of antebellum mansions with all the modern amenities. Gather your girls for a trip to the Big Easy, and plot out your perfect bar crawl. Any girl's trip to New Orleans wouldn't be complete without a night out on the town – New Orleans nightlife is world-famous.
San Francisco, California
There are thousands of places to plan your girls' getaway in California – San Diego, Palm Spring, Los Angeles, you can't go wrong with any city in sunny Southern California, but I just love San Francisco for a quick girls trip.
The city has so many layers and you will find many fun things to do in San Franciso on your girls weekend. From the Golden Gate Bridge to riding in historic cable cars, picnics in the park, cruising on the bay, stroll along Pier 39, surfing in the Pacific Ocean, hiking in the nearby mountains and redwood forests – San Francisco has something for everyone.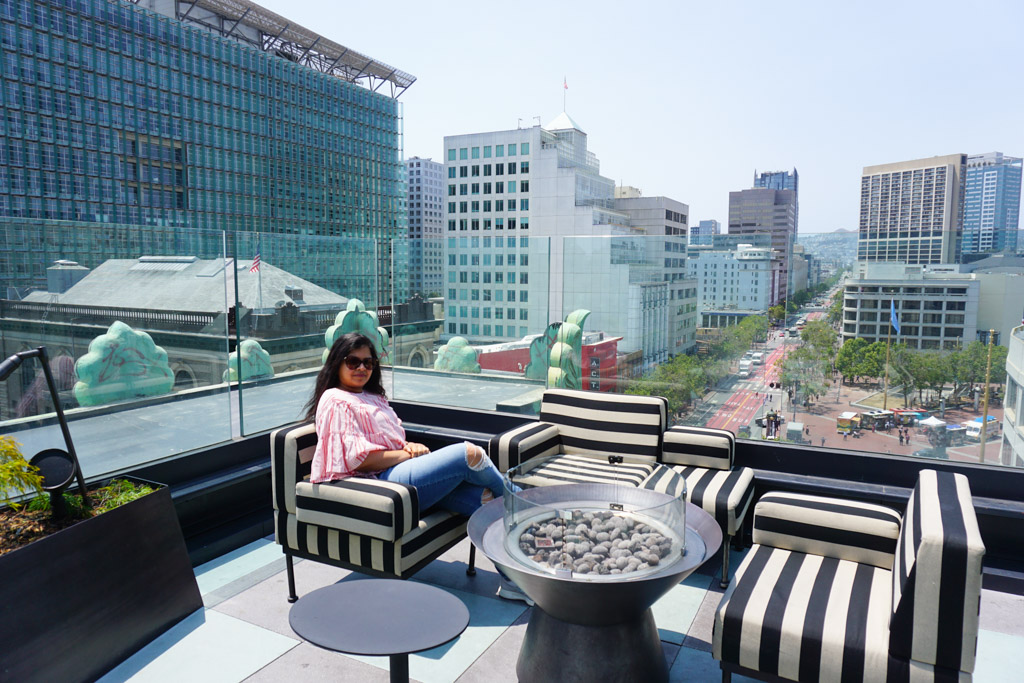 San Francisco has some world-class museums. For seeing some cool graffiti and street art murals, head to Clarion Alley which runs one block (560 ft long and 15 ft. wide) in San Francisco's inner Mission District. For a fun photo with your girls, climb up a colorful staircase hidden in the quiet Sunset district of San Francisco. The 16th Avenue Staircase is 163 steps of mosaic tiles, with the sun at the top and at a seascape at the bottom.
Santa Fe, New Mexico
Filled with so much culture, and history, Santa Fe is perfect for a ladies trip, especially if your girlfriends love art. Visit museums, shop for gorgeous gemstone jewels and try some amazing New Mexican cuisine. Go on a Women of the West Historical Walking Tour ($45 per person), where you can hear all about the women who changed history and find some inspiration for your own revolution. It will be a unique girls weekend getaway trip.
Stay at the fabulous Loretto Inn in Santa Fe or the Rosewood Inn of the Anasazi which is located closer to the city center.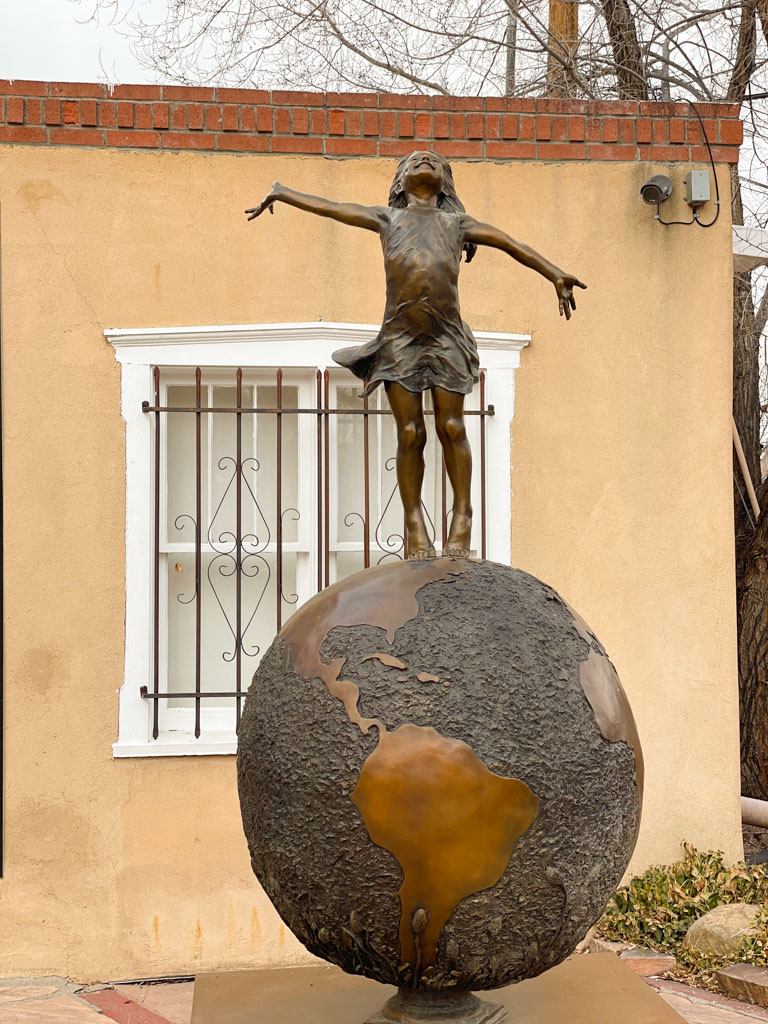 Santa Fe has historic adobe buildings, a plaza filled with art museums, and the snow-capped Sangre de Cristo Mountains offer many adventures. Santa Fe is famous for its museums and galleries, These world-class museums are a must-see for arts and culture lovers visiting New Mexico. Canyon Road is home to many art galleries selling artwork created by famous artists, hand-woven Navajo rugs and Southwestern wood carvings.
Okanagan Valley, Canada
Choosing to visit a wine region for a women's getaway is a no-brainer. However, rather than heading to popular spots like Napa Valley, book it a little bit further north and explore the Okanagan Valley in Canada. The Okanagan Valley is home to some of the most stunning vineyards on Earth, each offering delicious tastings of their varietals. Head there in mid to late summer for the latest crop, or, if you are adventurous enough, go during the winter months to catch the ice wine harvest.
Mission Hill isn't the only vineyard in town, but according to its many awards, it is the best. The von Mandl family also owns Martin's Lane, a vineyard just across the lake with a modern elegance that can only be experienced by appointment. So plan ahead and make your girls' getaway a special trip to remember.
Stay at Sparkling Hill Resort which had 3.5 million Swarovski crystals embedded in the walls of the luxury property and views of the Monashee Mountains. Experience KurSpa, which is the largest luxury spa in Canada and the first North American spa to offer a Cyro Cold Chamber, popular with those suffering from inflammation. It offers over 100 treatments. Perfect for a weekend of rest and rejuvenation with your best friends.
I hope this post gave you some cool ideas to plan your next girls' getaway trip with your gals for a weekend away, away from all the chores and to-do lists!
PIN IT FOR LATER
Note: This post may contain affiliate links, partnership or sponsored content. If you purchase an item via one of these links, we may receive a small commission at no extra charge to you. But as always images and opinions are our own. For more information on our affiliates and privacy policy at Outside Suburbia see here.
CONNECT WITH US