While many countries in Europe are opening for vaccinated Americans to visit, not many of us will make that trip over the pond this summer. If you are like us and miss traveling to Europe this summer, these American towns will give you a glimpse and make you feel like you are in Europe. You don't need a passport or COVID tests to experience a little European culture and ambiance right here in the United States. Here are fifteen American towns that will transport you to Europe.
Missing Austria? Visit Helen, Georgia
It's hard to believe this quaint town is only 90 minutes from Atlanta! Located right next to the Blue Ridge Mountains, Helen was transformed into an Alpine village in the 1960s to attract more visitors. Spend the day wandering the quaint town's half-timbered storefronts and restaurants. Sample some authentic German food like schnitzel, and apple strudel at the pet-friendly patio of Hofbrauhaus Restaurant.
River tubing is a very popular summertime activity in Helen. Just like in the Alps, you will also find a fun alpine coaster to zoom through, j Don't miss the short hike to the lovely Ana Ruby waterfall, nearby!
See more about Helen, GA
Missing the French Riviera? Visit Santa Barbara
Perched on the coast between the mountains and the Pacific ocean, Santa Barbara is a breathtaking place that feels just like the French Riviera. If you like the finer things in life, you enjoy upscale shopping, fine dining experiences, and indulgent lodging (including one that the Kennedy's honeymooned).
From the city's Spanish colonial heritage to its signature Spanish architecture, white stucco buildings, and red-tile roofs, Santa Barbara ooze European charm! Stay in the only beachfront property in Montecito which is just 15 minutes away from Santa Barbara for a luxe holiday. They even have Capri style cabs to shuttle you around.
See more about Santa Barbara
Missing the Czech Republic? Visit West, Texas
Located between Dallas-Fort Worth and Austin sits West, often referred to as the "Czech Heritage Capital of Texas." This small American town is home to the largest population of Czech immigrants in the state. What many drivers driving along Interstate 35 may not know is that it is kolache heaven — even the state government designates West as "home of the official kolache of the Texas Legislature."
There are numerous bakeries selling these sweet treats, a staple of Czech cuisine. Made of pastry dough stuffed with cheese or fruit fillings like cherries, blueberries or apricots, they are delicious. Located right next to the gas station, one of the most popular spots in West, is the Czech Stop and Little Czech Bakery.
Missing Italy? Visit Napa, California
The rolling acres of vineyards, charming rural towns, and the many wine tasting rooms in Napa Valley will remind you of Tuscany, Italy. Like its Italian counterpart, Napa is known for its wineries. You will find more than 500 of them here, some of them styled after castles and chateaux one might find in the Italian countryside.
The best part — not only do you get to drink like an Italian in Napa Valley, but you can also eat well here. Napa Valley region has the highest concentration of Michelin Star restaurants in all of American. Stop at Yountville to try pastries at Bouchon or have a meal at Bottega Napa Valley. They serve micro-regional Italian cuisine, with dishes drawn from every region of the country in a rustic setting complete with Venetian-plaster walls and Murano glass chandeliers. If it is the view you are after, you can't go wrong with Auberge Du Soleil.
See more about Napa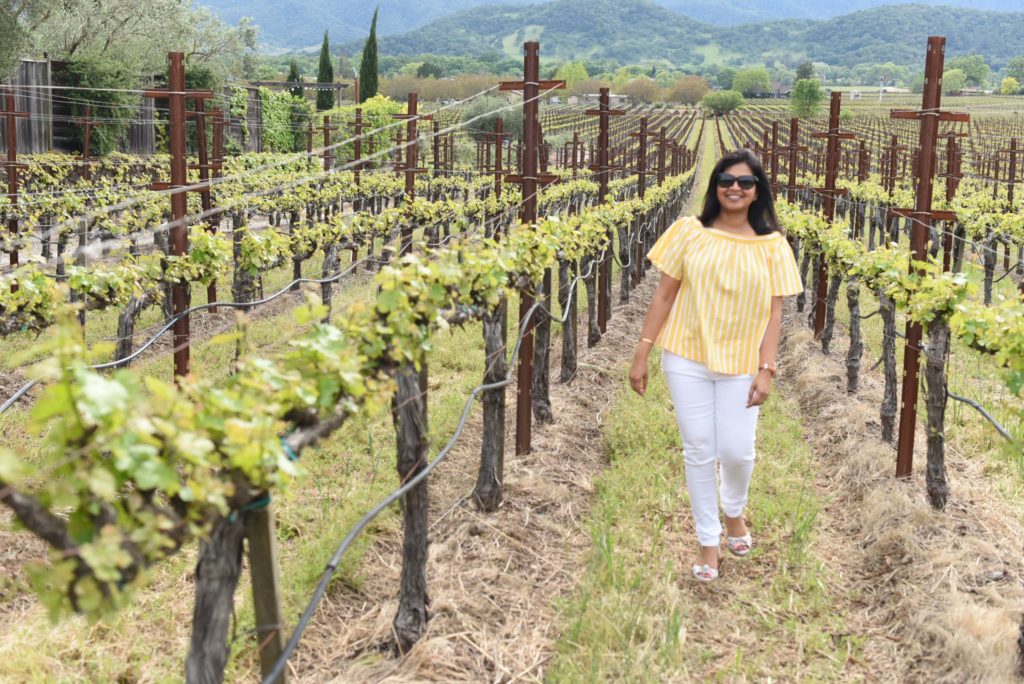 Missing France? Visit New Orleans, Louisiana
The French founded New Orleans, and you can still feel the influence on the city's culture, cuisine, and architecture. Visiting this American town feels a lot like you are in Europe, (not sure if it looks like Toulouse or Paris but has a French vibe). It is felt the strongest in the Vieux Carre (French Quarter), where the vibrant streets are lined with elegant French colonial-style townhouses and candy-colored buildings all decked out with cast-iron balconies.
Stop by famous Jackson Square and the European-style, open-air French Market, packed with fresh produce, gourmet foods, and local arts and crafts. Try the beignets and café au lait at the famed Café du Monde, or some authentic French fare at Galatoire's and Antoine's.
While many people might consider New Orleans as the country's capital for French culture, 300 miles northwest of the city sits another American town that feels like Europe. Founded by French explorer Louis Juchereau de St. Denis in 1714, Natchitoches became the oldest permanent European settlement of the Louisiana Purchase territory.
See more New Orleans, Louisiana
Missing the Netherlands? Visit Holland, Michigan
The name of this town says it all — Holland, Michigan gives you a glimpse of the Netherlands! Founded by Dutch settlers back in 1847, this American town hosts a lovely tulip festival and is also home to the DeZwaan Windmill, which is the only authentic working Dutch windmill in the United States!
Holland is a good day trip from Chicago, and can also be easily reachable from nearby Grand Rapids. Start in town around Centennial Park and then explore the campus at Hope College. Check out the Kruizenga Art Museum before heading downtown. Central Holland is made of three streets where you will find all the shops, cafes, and restaurants. Walk the town and stop for a meal at Butch's Dry Dock or the Alpenrose Restaurant.
The best time to visit Holland, of course, when the tulips are in bloom. The annual Tulip Time Festival (considered one of the best small town festivals in America) normally runs during first weeks in May.
Missing Denmark? Visit Solvang, California
If you're looking for an authentic European experience without traveling too far consider visiting this small American town. Solvang is California's most Danish-looking region. Settled in 1911 by a group of Dutch, the town has a number of windmills that seem like it belongs in Amsterdam or Kinderdijk. Don't miss spending some time shopping — there are over 150 one-of-a-kind shops offering all manner of goods.
Start at the Hans Christian Andersen Museum, a small exhibition that details the famous author's life and works. You can even see a small replica of The Little Mermaid statue (from Copenhagen) in Denmark Square. To learn more about Danish culture and Solvang's history, visit the Elverhøj Museum of History & Art. Make some time to visit the numerous vineyards and wineries in the area. Solvang is one of those places in North America with a distinctly European feel!
See more about Solvang, CA
Missing Germany? Visit Leavenworth, Washington
A Bavarian-themed village hiding in the Cascades, Leavenworth is worth the 2 hour drive from Seattle! The village is a gateway to nearby ski areas and wineries and very picturesque thanks to the surrounding mountain peaks, rivers, and lakes. You can even spot ospreys and eagles at the Wenatchee River Waterfront Park.
The Nutcracker Museum displays thousands of nutcrackers, some dating back centuries. Front Street buzzes with people all day enjoying authentic German fare and the town hosts many festivals.
Missing Switzerland? Visit Vail, Colorado
You are probably most familiar with this town in Colorado for its amazing ski resorts, what you might not know is it was inspired by the alpine town Austria and Switzerland, particularly Zermatt. Don't miss visiting the Betty Ford Alpine Gardens, or taking a ride on the Forest Flyer, where you get to fly through the forest on a raised alpine coaster.
Summer adventures in Vail are epic! Vail village is bright and cheery with hanging flower baskets, the rivers are teeming with fishes, the hiking is good and from Ziplines to Adventure Courses to Mountain Coaster, options for adventures are endless on the Vail Mountain!
See more about Vail
Missing Spain? Visit St. Augustine, Florida
St. Augustine is known for its stunning beauty, Southern charm, and, its storied history. This American city was founded back in 1565 by Spanish settlers, and the Spanish colonial architecture, cobblestone streets and balconies — make you feel like you are somewhere in Europe.
St. Augustine is in fact the oldest city in the U.S. If you're looking for a truly authentic experience, be sure to swing by Flagger College (pictured below, doesn't it look like Seville), a coastal campus steeped in history, Castillo de San Marcos and the Colonial Quarter.
Missing Greece? Visit Alys or Tarpon Springs, Florida
While Alys Beach in South Walton looks a lot like Mykonos, Tarpon Springs takes the cake as the Greekest place in North America. A century-plus continuous Greek presence, and quaint fishing boats dotting the harbor with names like "Anastasia" and "Agios Nikolaos" make this Florida fishing village an easy escape to Greece when you can't visit the real thing. There's no shortage of amazing Greek Food in the area, including places like Hellas Restaurant, Mykonos, and Mr. Souvlaki.
While there is nothing Greek about Alys other than the whitewashed buildings — the emerald-colored waters, impeccable seafood, and luxuriously laid-back vibe make up for it. Enjoy glamorous oceanside seafood at George's or Caliza Restaurant, and head to nearby Rosemary Beach to enjoy shopping, farmers market, and local restaurants.
See more about Alys and Rosemary Beach
Missing Sweden? Visit Lindsborg, Kansas
Founded by Swedish immigrants in 1868, Lindsborg, Kansas is an unusual blend of cultural heritage, education, visual arts, agriculture, music, theater and more than its share of independent thinkers. In Lindsborg, you will find the nation's only herd of Wild Dala horses.
One of Sweden's best-known icon, a bluntly rounded, tail-free horse that is thought to have been first whittled out of wood by the fire during long cold
Scandinavian nights. Lindsborg adopted the Swedish Dala as their symbol of identity. You'll see traditional Dala horses on front porches, on coffee mugs and even on the side of police cruisers in Lindsborg.
Much like the boot in Wimberley, TX, each wild Dala is sponsored by local people and folks from Lindsborg and is decorated by the town's local artists. Each new horse is celebrated and welcomed to the herd with flair and style. Pick up a map at the Lindsborg Convention and Visitors Bureau or download a copy of the map to track down these Wild Dalas of Lindsborg.
Three other American Towns that feel like Europe
Charleston, South Carolina
Even though this American town is the definition of Southern, it's also filled with many similarities to European cities, like grand churches, cobblestone streets and colorful rainbow-colored buildings. Not to mention this coastal town was named after King Charles II of England.
Boston, Massachusetts
While Boston fought hard to separate itself from British rule in the 18th century, the city still reflects the charm and culture of London. Brick colonial homes along cobblestone streets, unique cuisine, and home to some of the world's greatest educational institutions, Boston has a distinctly European flair. The Boston Public Garden was the first public botanical garden in the U.S. and is full of Victorian influences.
Fredericksburg, Texas
Known for having "German heritage with Texan hospitality," Fredericksburg, Texas, feels a lot like Germany. Beyond the architecture, you will also find many beerhalls like Altdorf Biergarten and Auslander Restaurant and the town is the epicenter of the Hill Country wine region. There are more than two dozen wineries and tasting rooms located in Fredericksburg and Gillespie County. Lady Bird Municipal Park is a lovely place for a walk and to enjoy the rolling hills, live oak trees and wildflowers.
See a visual story here
Note: This post may contain affiliate links, partnership or sponsored content. If you purchase an item via one of these links, we may receive a small commission at no extra charge to you. But as always images and opinions are our own. For more information on our affiliates and privacy policy at Outside Suburbia see here.
CONNECT WITH US