3 Days in Toronto: An Itinerary for First Time Visitors—things to do and attractions to check out during a long weekend. We visited this Canadian city a few years ago but this post is written with the help of my dear friends who grew up in Toronto and moved to Dallas and still visit their hometown every winter.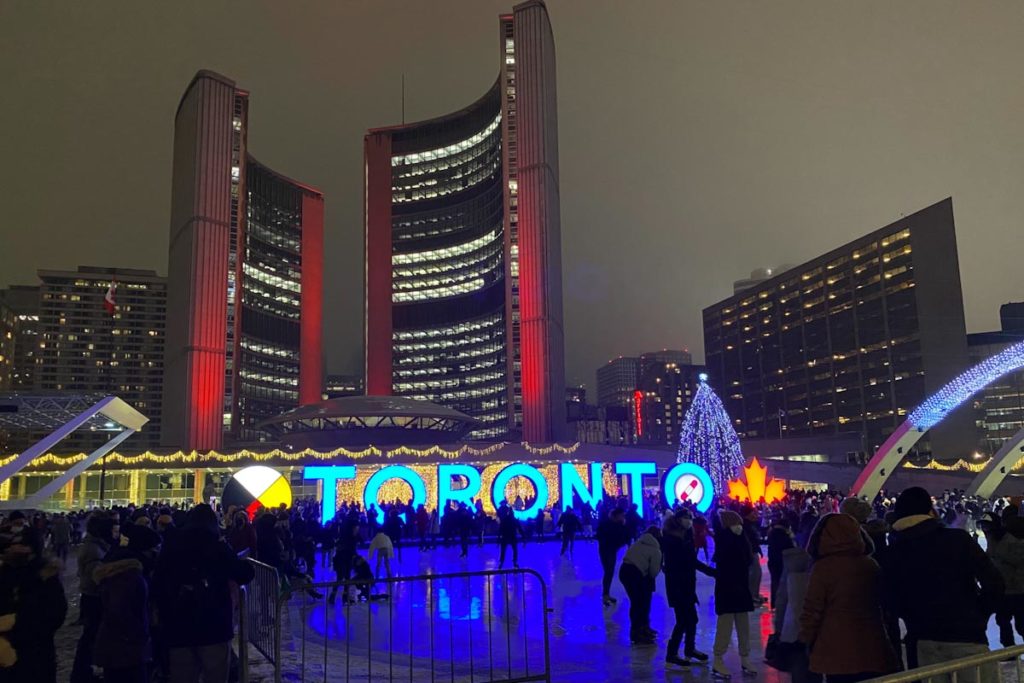 The Toronto sign now has a Medicine Wheel symbol. It was added in consultation with Toronto Council Fire Native Cultural Centre, as it is an emblem of North American Indigenous cultural values, tradition and spirituality. Its four directions (East, South, West and North) symbolize completeness, wholeness, connectedness, and strength. Amazing right?
Officially known as the 3D TORONTO sign and more commonly known as the Toronto sign, is an illuminated three-dimensional sign and can be found in Nathan Phillips Square in Toronto, Ontario.
100 Queen St W, Toronto, ON M5H 2N2, Canada
Did you know, Toronto is the 5th largest city in North America after Mexico City, New York City, Los Angeles and Chicago? There are lots of things to do across all 6 boroughs and there's always something going on, events, hockey games, and new restaurant openings. You could easily spend a week in Toronto without running out of things to do but this 3 day itinerary gives you a great taste of what the city has to offer in terms of food and sights (highlights) and some of the main Toronto attractions.
3 Days Toronto Itinerary: Highlights
DAY 1 in Toronto
Start your morning by grabbing some donuts and coffee on the go from Tim Hortons, Canada's favorite coffee shop. St. Lawrence Market is a great place to start your first day in Toronto. In 2012 it was voted the best market in the world by National Geographic and is one of the must-visit markets. You can get some things for breakfast or have an early lunch.
From St. Lawrence Market you can walk to Ripley's Aquarium & CN Tower which will take about 25-30minutes. While walking from St. Lawrence Market you will pass the Gooderham Building which is Toronto's flat-iron building and then you'll pass the adorable dog fountain in Berczy Park, a two-tier fountain with cast-iron statues of 27 dogs and a cat. Then you will be near the Hockey Hall of Fame and Union Station. Sports fans will want to stop at the Hockey Hall of Fame.
Next on your list is the iconic CN Tower and Ripley's Aquarium. Both are located right next to each other and next to the Rogers Centre, where the Blue Jays play baseball. Tours here are a must for baseball fans.
First time visitors to Toronto would want to visit the CN Tower and take some photos from Canada's most recognizable and celebrated icon. Daredevils would want to try the EdgeWalk, CN Tower's most thrilling attraction. It is the world's highest full circle hands-free walk on a 5 ft (1.5 m) wide ledge encircling the top of the Tower's main pod. You will be at 356m/1168ft (116 stories) above the ground! Yikes!!
From there make your way to Toronto's Harbourfront neighborhood. This urban area is very accessible to tourists walking around downtown and it has great views of the CN Tower. Harbourfront Centre is vibrant and hosts several events each year, from summer writing festivals to the performing arts to art and architecture exhibitions. In the winter, skating at ice skating rink is one of the best things to do in Toronto.
TIP: You can get the Toronto CityPASS for discounts and also try this walking tour.
Things to do on DAY 2 in Toronto
On your 2nd day in Toronto head out to some popular spots in Toronto like museums or a gallery. Depending on your family's interest pick either the Art Gallery of Ontario or the Royal Ontario Museum. ROM as it is locally known, Royal Ontario Museum is home to a world-class collection of 13 million artworks, cultural objects, and natural history specimens.
Then head on over to Queen's Park to explore the University of Toronto St. George Campus. The architecture looks very much like it belongs in a Harry Potter movie and it's great to walk around.
Stop at Kensington Market for lunch. You can get everything from Caribbean Jerk, Indian curry, Mexican Tacos, Swedish Pastries and Japanese Pancakes, and much more.
After lunch head towards Queen Street West. It is one of the hippest areas in Toronto and one that reflects the culture of Toronto. The area is full of restaurants, unique stores, and a great collection of murals. Queen Street West has some of the best murals in Toronto. Don't miss Graffiti Alley.
Graffiti Alley is located all along Rush Lane between Portland Street and Spadina Avenue. It may be difficult to spot if you don't know what you're looking for but the people walking through a random alley will definitely let you know you're in the right spot! The alley continues for half a kilometer and some of the side alleys also have pieces so there's definitely plenty to see.
The Eaton Centre is one of the biggest malls in the city with a number of great stores. Add this to your 3 day Toronto Itinerary — the interior architecture of the mall and the statues within it are worth checking out even if you don't want to do any shopping. On either corner of the Eaton Centre, you will find Nathan Phillips Square and Yonge-Dundas Square.
Yonge-Dundas Square is Toronto's version of Times Square. This Toronto square often has events and many things to do during the summer. And remember that first photo from Nathan Phillips Square, where you can find the Toronto sign — you have to take a photo there to remember your Toronto Trip!
DAY 3 Itinerary takes us a little outside Toronto
On the east side of Toronto along Lake Ontario is a nine-mile stretch of cliffs known as the Scarborough Bluffs, home to a series of 11 different parks. With views from the top of the bluffs over the lake, this area is scenic. Hiking is the number one activity. If you don't want to hike the 300-foot cliffs you can just drive up. There is also a sandy beach with picnic areas at Bluffer's Park. Spend the morning here.
Spend a little more time exploring Old Town Toronto in the afternoon. You will find several heritage buildings including the photogenic Gooderham Flatiron Building that have been restored to their former glory. The Distillery District is a pedestrian-only area of Toronto that retains a lot of what Old Toronto used to be like. It is full of beautiful brick buildings, lots of public art installations and theatre performances. The area has a number of restaurants and independent shops to stroll along cobble-stoned alleyways.
This is one of Toronto's top attractions and is open year-round. During winter you will find Toronto's Christmas Market here. You will find the Canadian brand ROOTs here along with other boutique stores and restaurants. Our friends suggest these:
Other Attractions & Things to do in Toronto
Art Gallery of Ontario
Established in 1900, the Art Gallery of Ontario has more than 90,000 items in its collection, which spans the last 2,000 years. Of particular note are its collections of Canadian and Indigenous art, though it also has notable works by European masters like Rembrandt, Auguste Rodin, and Pablo Picasso. In 2008, the museum underwent a $276 million renovation by Toronto-born architect Frank Gehry in 2008, his first work in his native city.
MOCA Toronto isn't a collecting museum but it hosts temporary exhibitions representing all mediums, primarily featuring Canadian artists and sometimes international ones.
Aga Khan Museum
Set in a 17-acre park, the Aga Khan Museum, designed by architect Fumihiko Maki is stunning. And it is the first museum in North America dedicated to Islamic art. The Aga Khan Museum is named after the spiritual leader of Shia Ismaili Muslims, who funded the project with the mission to share the artistic and scientific contributions of global Muslim communities with the world. The museum has a 1,000-piece permanent collection, it also hosts rotating exhibitions and special events.
You can also make a reservation to have lunch at Diwan which serves special dishes inspired by the culinary traditions of cultures featured in Aga Khan Museum exhibitions. You will find many Middle Eastern, North African, and South Asian cuisines dishes on the menu.
High Park
Toronto's largest public park is High Park. It features 400 acres that range from manicured lawns to themed gardens to raw nature. In addition, there are a number of other activities here: including a zoo, an outdoor swimming pool, tennis courts, ice skating rinks (or frozen ponds in winter), a dog run, and playgrounds. It's a park frequented by Torontonians and visitors.
Casa Loma
Canada might not be known for its castles, but Toronto is home to an unusual one that has become a tourist attraction. Casa Loma is a 98-room château built by Canadian businessman Sir Henry Mill Pellatt in 1914, who went bankrupt shortly after completing his beloved home. Casa Loma now serves as a museum and is also a popular filming location.
Do the self-guided tour. Must-sees include secret passageways, gardens, and an underground pool.
Toronto International Film Festival
The annual Toronto International Film Festival, a 10-day festival in September is held at TIFF Bell Lightbox. If you can score some tickets, Fall is a great time to visit Toronto! It is also the city's premier movie theater and entertainment complex and is open to the public. It has modern facilities including five state-of-the-art cinemas, a restaurant, a film reference library, gallery space, classrooms, and a members' lounge. TIFF Bell Lightbox screens new releases and runs thematic film programming year-round, focusing on anything from classic blockbusters to indie films.
Few other suggestions from our friends from Toronto:
Yorkville: an uppity area by Bay & Bloor (Downtown Toronto). Toronto film festival after parties happen there, lots of high end shops, restaurants etc
Yonge St: longest running street in the world
Raptors game or Leafs game are always fun to check out. Sports fans will have plenty to do in Toronto
Check out the Indigo bookstore at Eaton Center (photo above)
Some neat restaurants to try: Cactus Club, Drake Hotel
Where To Stay in Toronto
The best place to stay in Toronto would be in the downtown area. We highly recommend this Fairmont Hotel (located right by Union Station). IF you have been following us, you know how much we love Fairmont properties! Plus this location is unbeatable, you have quick access to all the Toronto attractions.
Toronto Discount tickets and other Tips for you Holiday
If you've got more than 3 days in Toronto then you will want to visit more than just the highlights mentioned in this itinerary. Get the City Pass, you can spend less and experience more attractions, including the Toronto Zoo (or Ontario Science Centre), the ROM, the CN Tower, Ripley's Aquarium, and Casa Loma.
CITYPASS INCLUDES ADMISSION TO 5 ATTRACTIONS
CN Tower
Ripley's Aquarium of Canada
Casa Loma
Royal Ontario Museum
Toronto Zoo OR Ontario Science Centre
Toronto can be quite an expensive city to visit but you can find a ton of free things to do in Toronto. Some museums offer free admission (typically Wednesday evenings). Check it out when before you go.
While locals like my friends love winter in the city, Toronto is gorgeous in the summer and offers many things to do. The warmer months are when you will be able to truly enjoy everything the city has to offer.
You might also like:
30 Beautiful Places you MUST visit in Canada
Top things to do in Vancouver
Whistler Summer Activities
3 stops on the Sea to Sky Highway
Riding Seaplanes and visiting gardens in Victoria
PIN IT FOR LATER
Note: This post may contain affiliate links, partnership or sponsored content. If you purchase an item via one of these links, we may receive a small commission at no extra charge to you. But as always images and opinions are our own. For more information on our affiliates and privacy policy at Outside Suburbia see here.
CONNECT WITH US