Banff had been sitting on the top of my travel wishlist for the longest time and I finally got to check it off this summer. Here are some things we got to do in beautiful Banff and our summer itinerary! In case, you are wondering, YES BANFF WAS EVERYTHING I EXPECTED it to be, turquoise lakes, jagged peaks dusted with snow, crisp mountain air, and unparalleled scenery!
We love spending summer in the mountains and have holidayed in Vail, Breckenridge and other places in Colorado, and some spots in Switzerland but the nice thing about Banff is that Canada is easy to get to for us and the elevation (Banff is about 4500 ft) is easy to manage, especially if you have altitude sickness.
Our Banff Summer Itinerary
We only had 4 days but covered a lot of Banff, here is a day-by-day breakdown of our Banff itinerary -national park(s) and viewpoints we visited, hikes we did, and how much time we spent. We went with another family and rented this lovely 4 Bedroom house that had stunning mountain views. The floor plan was bright and open, the bedrooms had luxe linens and it felt so homey that we didn't want to leave. See the host's other Airbnb listings in the area.
Our preferred hotel is usually Fairmont and they have beautiful properties in Banff, Lake Louise, and a lodge inside Jasper National Park that is on my wishlist for next time.
Don't miss our web story: Summer Activities in Banff
Banff 4 day Itinerary
4 DAY BANFF ITINERARY
Day 1 – Fly to Calgary. Rent the car. Drive to Canmore or Banff
Day 2 – Banff National Park – Johnston Canyon
Day 3 – Banff National Park – Lake Louise – Moraine Lake
Day 4 – Jasper National Park – Columbia Icefield – via Icefield Parkway
Day 5 – Return to Calgary. Flight back to Home
Day 1 – Explore Banff Town & Ride the Gondola
Depending on when you arrive and where you are staying, you might start your Banff vacation the day you arrive. We flew into Calgary, rented a car, and drove to Canmore where our vacation rental was. But before we checked in, we had a few hours so we spent the time exploring Banff.
The Banff townsite sits at an elevation of 1,383 meters (4,537 feet) making it the highest town in Canada. If you are coming from flatland, you won't need any time to get acclimated. You can plan for some activities in Banff on Day 1!
We went on a canoe tour on the Bow River. It was refreshing after that long flight and drive. We didn't see any black bears or grizzly bears but saw a few ospreys and squirrels.
Rowing the canoe upstream was harder than it looked even with all 8 of us rowing. Our tour was by Banff Canoe Club. You can rent canoes, kayaks, and Standup Paddleboards from their docks.
Alternatively, you can rent a cruiser bike and ride the easy flat trail out to Vermillion Lakes. Or walk the trail while watching out for wildlife along the way and enjoy the changing evening colors on Mt Rundle. It makes for a postcard-worthy photo.
Enjoy an 8-minute Gondola ride to the summit of Sulphur Mountain. You can see the view the town of Banff from 7,486 feet (2281 meters) above and learn about the local area in the Above Banff Interpretive Center. Enjoy 360-degree views from the mountain.
The views from the four-passenger Banff gondola cars are spectacular going to and from the top of Sulphur Mountain. And the views of six mountain ranges from the observation deck are even more stunning. Once at the top, visitors can take the skywalk to get to a historic site and meteorological station. There are also interpretive hiking trails. The gondola is closed in winter.
Pick up maps, and brochures, and get some idea on what to do and top attractions at the Discover Banff office. There are many things to do in Banff. Shop and meander the many stores, art galleries, and museums, along Banff Ave. Enjoy some ice cream or have dinner at one of the many restaurants in town.
Day 2 – Hike Johnston Canyon
Spend the first half-day hiking in the Johnston Canyon area and the rest of the day exploring the sights in and around the Banff townsite like Bow Falls, Surprise Corner, the Hoodoos, and Lake Minnewanka.
Movie buffs may recognize Bow Falls as the falls Marilyn Monroe and Robert Mitchum went over while escaping from Indians in 1953's River of No Return. The 9-meter (30-foot) high falls is a major waterfall on the scenic Bow River that joins with the Spray River just outside of Banff.
You can get a better view of the roaring rapids by taking a ¾-mile trail along the river to the falls. There are separate trails for pedestrians and bikers. Bicycles are not allowed on the cliff top section since it requires climbing some steps.
Day 3 – Lake Louise & Moraine Lake
A must-do for anyone traveling to the Canadian Rockies, whether it is your first time or you are a repeat visitor is a trip to Lake Louise and Morane Lake. Explore Lake Louise, Castle Mountain, hike up the Rockpile trail at Moraine Lake, enjoy the views or hike along the shoreline, paddle yourself in a canoe on the lake, or sip high tea inside Fairmont Chateau Lake Louise enjoying the view.
If you are looking for a challenging day, hike to the Agnes Tea House or Plain of Six Glaciers at Lake Louise trail at the back of the lake to the Plain of 6 Glaciers teahouse.
During summer, you can book a tour in a vintage-inspired Open Top Touring car to visit Banff or Jasper
National Park. The vehicle is similar to the ones you might have seen in Glacier or Yellowstone National Park.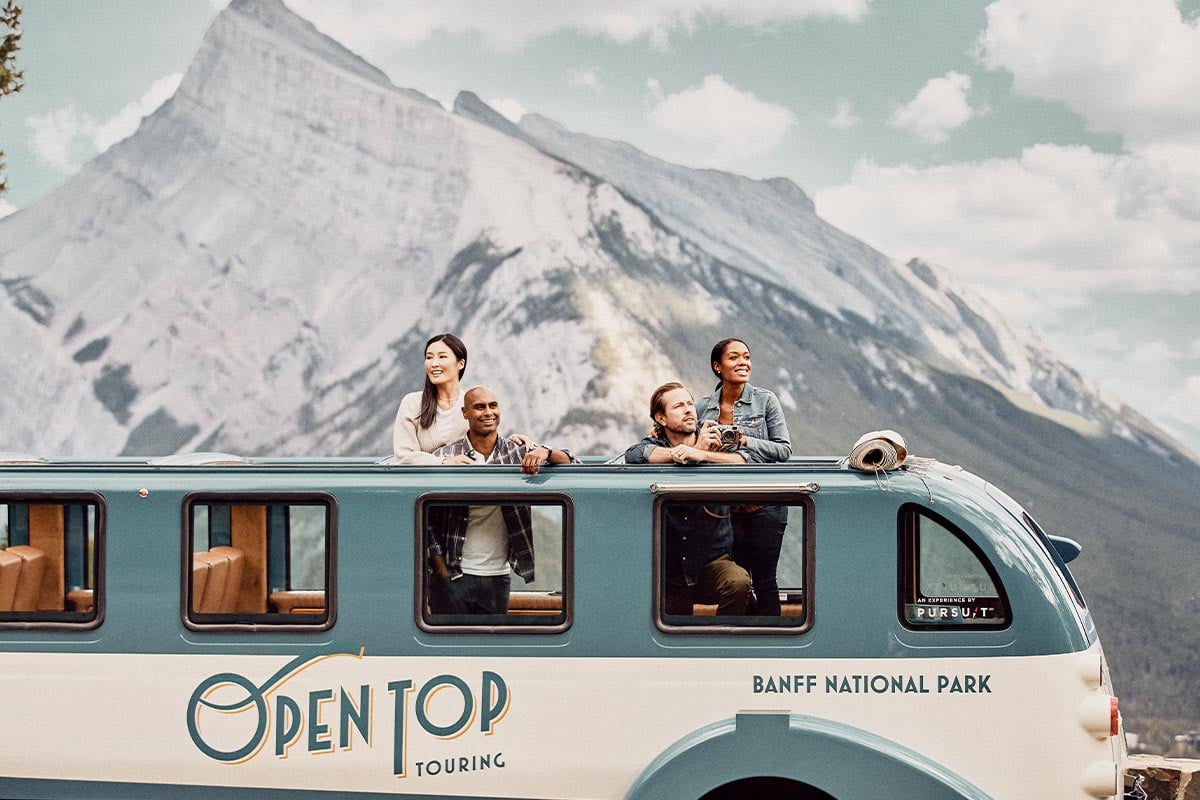 Day 4 – Banff – Icefields Parkway
Over 100 Glaciers line the spectacular Icefield Parkway, making it one of the most scenic drives in Canada, possibly the world. You will see glaciers, mountains, turquoise lakes, and stunning views along the way. The many viewpoints to stop at including Crowfoot Glacier, Bow Lake, and Peyto Lake, but for most the highlight is the IceExplorer tour up onto the Athabasca Glacier. Dress warm and bring a water bottle to capture some of that pristine glacial ice melt.
10 Day Banff Itinerary
Wondering what to do in Banff if you have 10 days? lucky you!! Here is what I would do if we had 10 days in Banff. Add Jasper National Park, making it a 10 day Banff Itinerary!
10 DAY BANFF ITINERARY
Day 1 – Fly to Calgary. Rent the car. Drive to Canmore or Banff
Day 2 – Banff National Park – Johnston Canyon
Day 3 – Banff National Park – Lake Louise – Moraine Lake
Day 4 – Banff National Park – Kootney National Park
Day 5 – Yoho National Park
Day 6 – Icefield Parkway to Jasper National Park
Day 7 – Jasper National Park
Day 8 – Jasper National Park
Day 9 – Return to Calgary via Icefield Parkway.
Day 10 – Flight back to Home
6 Things to do in Banff you shouldn't miss
Banff National Park is Canada's first national park and the flagship of the nation's park system. Over three million visitors a year make it to the park for activities like hiking, biking in summer and skiing and snowshoeing in winter. Banff is part of the Canadian Rocky Mountain Parks UNESCO World Heritage Site.
Here are a few things to do in Banff if you are visiting in the summer months of June, July or August:
Johnston Canyon & Bow Falls
Johnston Canyon was caused by erosion of limestone rock as Johnston Creek empties into the Bow River. At Johnston Canyon, you can hike to the Lower Falls, Upper Falls, and Ink Pots. Getting to the Upper Falls involves a 2.7 km (1.7 miles) hike and this trail is considered one of the busiest in the Canadian Rockies. The parking lots are pretty busy.
We hiked to the Lower Falls, stopped at a cave to get a closer look, and then hiked up to the 30-meter (98-foot) high falls. After viewing the falls, you can also take the less crowded two-mile trail to the Ink Pots, which are mineral springs bubbling along Johnston Creek. There is a secret cave you can get to but off trail hiking, it is closed to protect the black swifts, an endangered bird species nesting in the area.
Lake Louise
Named for British Queen Victoria's fourth daughter, Princess Louise Caroline Alberta, Lake Louise is just stunning. The location, the emerald green waters, the surrounding mountains, everything about it is dreamy and why I LOVE summer in the mountains.
Fairmont's Chateau Lake Louise, a luxury resort hotel built by the Canadian Pacific Railway, is located on Lake Louise's eastern shore. Kayaking on canoeing here is an activity you can't miss when visiting Banff in summer. The hike to Agnes Tea House is another must-do. Plan for spending 4 hours on this hike which is 7 km (4.5 miles) return or 3.5 km from Lake Louise.
We spent our day enjoying a nice lunch, canoeing in Lake Louise and enjoying a sunset from the docks.
Lake Louise is also a winter sports paradise, home to one of the largest ski resorts in North America. The best way to get there is by following the Bow Valley Parkway, a 48-kilometer (30-mile), scenic, the secondary highway that runs parallel to the Trans-Canada Highway between the town of Banff and the village of Lake Louise.
Moraine Lake
Fed by glaciers, Moraine Lake is known for its stunning blue waters. Thanks to light refracting off the glacier flour, the water is a pretty shade of turquoise blue. Located just 12.5 km 7.5 miles) from Lake Louise, Moraine Lake is surrounded by impressive Canadian Rocky Mountains peaks. There are a number of hiking trails around Moraine Lake. Just be sure to check the trail conditions with a park ranger before you set out to go as they are sometimes restricted because of grizzly bear activity.
One of the most popular trails is the Rockpile trail, a short path with little gain in elevation. While it involves a little bit of scrambling, it rewards visitors with one of the most beautiful views in Banff National Park. From the top of Rockpile, you'll see the Valley of the Ten Peaks, the ten glacier-cut peaks that surround Moraine Lake. This view also includes Mt. Temple, the third highest peak in Banff National Park, at 3549 meters (11,636 feet).
Peyto Lake
Considered one of the prettiest lakes in the world, Peyto Lake is a must-see while visiting Banff National Park. Melting glaciers are responsible for the gorgeous turquoise waters of Peyto Lake, making this super popular with photographers. The lake, which sits at an elevation of 1,900 meters (6,100 feet), is accessible from the Columbia Icefields Parkway. It is about 39 km or 24 miles from Lake Louise.
Peyto Lake is best seen from Bow Summit, takes about 15 minutes to walk a paved trail from the parking lot to an observation deck overlooking the lake. The lake is so popular with tourists that it can sometimes be challenging to find parking or a good photo.
To see Peyto lake in all its beauty, go later in the day, you will get a better spot on the viewing platform.
Drive the Icefields Parkway
The Icefields Parkway connects Lake Louise and Jasper, parallelling the Continental Divide through some of the wildest and remote parts of Banff and Jasper national parks. The drive is scenic and winds through glaciers, turquoise lakes, and sweeping valleys. Snow may be present at any time of the year and be prepared for no cell service.
Drive down the Icefields parkway to the Glacier Skywalk and Columbia Icefield Adventure. If your Banff Itinerary permits spend some time in Jasper National Park for more adventures in the Canadian Rockies.
Columbia Icefield & Glacier Skywalk
Columbia Icefield Adventure is another must-do experience in the Canadian Rockies. Located in Jasper National Park, the tour takes you on a journey where you will be able to step out onto the ancient ice of the Athabasca Glacier.
The Athabasca Glacier is formed because of snow and ice accumulation and is estimated to be at least 12,000 years old. It started forming at the end of the last Ice Age but because of global warming and temperature increase has lost more than half of its total volume over the past 125 years. The Athabasca Glacier loses its depth at a rate of 16 ft (5 m) each year, losing almost 60% of its total surface area.
You will take a bus and then a special vehicle to get to the Glacier and will stay within a clearly-marked area of the ice that is safe and regularly maintained. Wear warm layers and waterproof shoes.
Another great experience is Jasper National Park's newest attraction, the Glacier Skywalk. The fully-accessible cliff edge walkway leads to a glass floored observation platform that hangs 280 meters (918 ft) above the Sunwapta Valley. You will experience beautiful views of the Canadian rocky mountains, Sunwapta Valley, and rushing waterfalls. Keep your eyes open for wildlife.
The Jasper Skywalk and Glacier Adventure are run by Pursuit, who also manage properties in Glacier National Park, Alaska, and Whitefish. Make sure to get tickets ahead and show up at the allotted time.
Banff Activities & Other things to do in the Canadian Rocky Mountains
Along with Banff, Jasper, Yoho, and Kootenay national parks and three adjacent provincial parks, all part of the magnificent Canadian Rocky Mountain Parks UNESCO World Heritage Site, the area offer many other activities and adventures. Extending over 11,000 square kilometers, Jasper is the largest national park in the Canadian Rockies.
Millions of people have explored these valleys and mountain passes, from Indigenous peoples and early fur traders to railway workers laying ties for two transcontinental routes. You can visit the Whyte Museum, dedicated to preserving the history of Banff and the culture of the Canadian Rockies. Besides the gallery and thousands of photographs of life in the Rockies, the museum complex includes four log cabins and two heritage homes, one of which belonged to the Whytes.
Find the Red Chairs
Parks Canada has placed over 200 red Adirondack chairs in scenic locations throughout many of the country's most unique and treasured places, including the 11 Red chairs at Banff National Park. Turn it into a fun scavenger hunt and try to find as many as you can.
Spot Wildlife
If you are lucky, you can spot wildlife while visiting the parks. One of the best times to spot wildlife is in the evenings as animals become more active after resting during the heat of the day. You can see elk, deer, big horn sheep, and osprey and a lucky few can even spot bears, wolves, or moose. Go on an Evening Wildlife Safari and learn about the local wildlife, their habitat and needs.
See Our Wildlife Safari in Wyoming, Grand Teton and Yellowstone
Yoho National Park & Grizzly Bear Refuge
Take in a variety of landscapes and wildlife as you head out towards Yoho National Park on the full day Grizzly Bear Refuge Tour. Along the drive stop at the Spiral Tunnels, one of the engineering wonders of the day and watch for trains as they loop in and out of the tunnels, gaining elevation.
Visit Takakkaw Falls, one of the highest waterfalls in Canada. Heading through the Kicking Horse Canyon towards Golden and Kicking Horse Mountain Resort, home to the world's largest enclosed and protected grizzly bear refuge. Take their interpretive tour, and learn about their efforts in establishing a protocol to rehabilitate future orphaned grizzlies.
Kootenay National Park
Kootenay National Park is a place of unique contrasts, from icy mountain rivers to steamy hot springs. Take a 60-minute scenic drive to discover a new surprise around every bend. Spend the day exploring deep canyons and tumbling waterfalls just a short stroll from the road. Or, traverse the park's backcountry trails and stay in the campgrounds enjoying some of the world's most breathtaking mountain scenery.
Rafting Adventures
Glacial melt from the snow in the mountains makes whitewater rafting on the Kananaskis and Horseshoe Canyon rivers close to Canmore a fun activity. The gentle Kananaskis River is perfect for first timers and families with young children, and Horseshoe Canyon rafting tour is for the more adventurous.
Raft through the picturesque landscape of Kananaskis Country in the foothills of the Canadian Rockies, a perfect whitewater rafting excursion for beginners and families.
Raft on the Kicking Horse River for continuous, non-stop big whitewater action. Experience the biggest whitewater in the Rockies with Class 2 to Class 4/4+ waves and rapids. Enjoy hot beverages and tasty snacks back at the base afterward.
Learn about Triple Divide & Hydrological Apex of North America
The Snow Dome mountain is one of two hydrological apexes of North America. Learn about this unique phenomenon of how the water flows into three basins at the major triple divide when you visit the Jasper Glacier Skywalk.
Water falling on Snow Dome's summit can flow into streams that drain into the Pacific Ocean (via the Bush River and the Columbia River), the Arctic Ocean (via the Athabasca River), and Hudson Bay (via the North Saskatchewan River). The Dome Glacier flows to the north-east, the Stutfield Glacier to the north-west, the Columbia Glacier to the west, and Athabasca Glacier flows to the east of the mountain.
The other apex is Triple Divide Peak in Glacier National Park, Montana, United States.
Cookout & Horseback Ride
Take an Evening Cookout Horseback Ride in Banff along the Bow River to a backcountry cabin and have cowboys serve up a BBQ dinner, complete with beans, baked potatoes and salad. Practice your roping and horseshoe techniques. On the ride back, climb the Windy Knoll for picturesque views of the mountains that surround Banff National Park.
Enjoy the many Lakes: Minnewanka & Vermilion
Explore beyond the popular Lake Louise and Moraine. The scenic blue Lake Minnewanka in Banff has much to offer the outdoors lovers, especially during summer with activities like hiking, picnicking, mountain biking, and rock climbing. Winter activities include cross-country skiing and snowshoeing.
Located just 13 km (8 miles) from the town of Banff it is a popular escape from Banff downtown. The easy trail around the lake is a good option for a walk. Take the Minnewanka Lake Cruises which offers a 60-minute informative cruise on the lake.
Stop at the Vermilion Lakes during sunset and experience some of the best views of the mountains in Banff. Bike or walk Vermilion Lakes Drive, relax on the docks and benches. Enjoys view of Mount Rundle.
Banff Upper Hot Springs is the perfect place to relax after a day on hiking or after spending some time on ski trails.
No matter what your level of adventure, there is an activity perfect for you to experience the outdoors in Banff National Park. The gorgeous scenery in the Banff National Park is a nature photographer's dream. If you are lucky you might some wildlife. The area has an abundance of wildlife, including deer, bears, mountain sheep, and elk, so much so that there are wildlife crossing bridges built across the highways 🙂
I hope this post inspired you and helped you to plan a trip to Banff, Canada.
PIN IT FOR LATER
CONNECT WITH US