Did you know Riviera is an Italian word that means the coastline?  While it is often used to refer to the Italian Riviera or French Rivieria, really any sunny coastline with balmy temperatures is considered a Riviera.  Who doesn't love a place like that?!  It is perfect for a family weekend getaway!
Over the years we have been to the Mayan Riviera on the Yucatan Penisula, spend a short time on the Spanish Riviera and a few days on the French Riviera.  In the US, we are lucky to have two Rivieras – the young party crowd flock to Miami Beach, the Florida Riviera, while Santa Barbara in California, draws the sophisticated crowd.
We spent a family weekend in the American Riviera at Santa Barbara California – enjoying a few leisurely days of the soothing California Sun, cloud-covered mountain views, sparkling Pacific shorelines, Spanish architecture, exotic gardens, and farm-fresh food & local wine. Went on some scenic drives through sunny fields to check out a European town.
Most of our time was spent at the resort at Rosewood Miramar Beach in Montecito and explored a little bit of both Santa Barbara and the coastal town of Montecito which many celebrities like Oprah, Ellen Degeneres and Portia de Rossi, Tom Cruise call home.
A Guide to Family Weekend in Santa Barbara, California
Here is a little guide I put together based on our favorite things to do in Santa Barbara and Montecito.  We spent almost a week there but you can spend as little as a weekend recharging your batteries or spend a week for the full effect.  I fell in love with the region, the flowers, the food… and seriously thinking about moving there sometime!
What to do in Santa Barbara, California
Santa Barbara has such a laid-back vibe, all you want to do is just relax and watch the waves. While hard as it may be to leave the comforts of the resort, plan for a couple of evenings out of the resort to check out some fun things to do in Santa Barbara. Here are a few ideas…
Check out the Wharf
Stearns Wharf at the Santa Barbara Harbor is the West Coast's oldest operating wharf and one of Santa Barbara's iconic landmarks.  You can drive on the wooden wharf and parks for some nice photo ops of Santa Barbara including a view of the Santa Barbara coastline and the Santa Ynez Mountains during sunset. 
There are a few quaint and eclectic collection of shops and dining establishments on the wharf.  Don't miss the dolphin fountain at the entrance.
Ride bikes on the Harbor
You can rent bikes, segways or surreys to ride on Santa Barbara Harbor but we didn't get around to it, we enjoyed our ways along the palm tree lined beach though.  You can pick up a bike or Segway at one of the rental shops off lower State Street on the waterfront, or have bikes delivered to your hotel via Wheel Fun Rentals.
Then cruise along the 3-mile Cabrillo Bike Path in either direction, passing attractions like East Beach, West Beach, Leadbetter Beach, Skater's Point, Stearns Wharf, Santa Barbara Harbor and the Andrée Clark Bird Refuge.
Take to the sea
You can go on whale-watching or sailing excursions that depart from the Harbor's SEA Landing. Kayak and stand-up paddleboard rentals are available as well. Lil' Toot water taxi provides easy access to and from Santa Barbara Harbor and Stearns Wharf. You can even check out the haul of fresh fish on Saturday at the Fisherman's Market. 
If you have a spare day, make a trip to Channel Islands National Park, cruises are available but need to be booked in advance. You can go kayaking, see dolphins, whales and see some of the world's most noteworthy sea caves.
Visit the Old Mission Santa Barbara
Named the "Queen of the Missions" for its distinctive twin bell towers and extraordinary beauty, the Mission offers docent- and self-led tours. Don't miss the cemetery, where you'll find the grave of the young Native American woman whose life story inspired the popular novel Island of the Blue Dolphins. Founded in 1786, Mission Santa Barbara is a great place to learn about Santa Barbara's Spanish roots.
Go Wine Tasting
Did you know that Santa Barbara County has more than 220 wineries and around 170 tasting rooms? Santa Barbara is especially well-known for its chardonnay, pinot noir and syrah (shiraz) varietals. You can learn about the wines and taste the many different varietals from some of Santa Barbara County's most renowned vineyards, all within blocks of downtown and the beach.
Many of the tasting rooms are conveniently located in Santa Barbara's Funk Zone.
Shop 'Til You Drop
Spend at least one evening wandering through the amazing shops in Downtown Santa Barbara. State Street is lined with an incredibly impressive array of big-name shops and local boutiques worth exploring. Shops span about 10 walkable blocks from Sola Street down to Gutierrez Street. Set right in the heart of it is Paseo Nuevo that has a variety of upscale retail stores, boutiques in an open-air environment.
Located at the corner of State and De la Guerra streets, California's first shopping center, El Paseo, was built in the 1920s and is still home to shops and restaurants.
My favorite was the shopping we did at the Santa Barbara Farmers Market. Featuring fresh veggies from local growers, a few exotic fruits – the Farmers Market is the place to shop for fresh and local produce.  I bought enough fruits (they had some 10 varieties of plums) to last for 2 weeks and managed to finish it all.
Wander through the grand gardens in Santa Barbara
If you love visiting gardens you can't miss Ganna Walska Lotusland, the eclectic and over the top garden of Madame Ganna Walska, a well-known Polish opera singer and socialite. Casa del Herrero, the "House of the Blacksmith" is another great estate to visit.  Both require that you book the tickets in advance and are open to the public on only certain days. 
We went on a docent lend tour at Lotusland and it is one of the most unique gardens I have ever seen.  Along scenic Mission Canyon is the Santa Barbara Botanic Garden, a 65-acre wonderland of native California flora.  Another great place to see some flowers is the Rose gardens at San Ysidro Ranch.
See some Art and Architecture
Santa Barbara County Courthouse in downtown Santa Barbara is an architectural gem, with Andalusian/Spanish Colonial Revival architecture. Walk all the way to the Clock Tower for a terrific view of Santa Barbara. Santa Barbara Museum of Art is currently open while it expands into a new wing, which will open in 2020 with a van Gogh exhibition. 
Stop at Sullivan Goss which is one of the region's best galleries, with a rotating showcase of California artists, new and old.  We loved the many galleries, sculptures, fountains and tiled corners inside La Arcada Plaza (pictured below)
La Arcada Plaza is quaint and charming! La Arcada Plaza has art galleries as well as a number of retail boutiques and restaurants. Tile-lined walkways, fountains, sidewalk cafes and beautiful sculptures decorate the lush landscapes. There is a playful bronze dolphin sculpture by Santa Barbara artist Bud Bottoms, an interactive Mozart Trio by Bonifatius Stirnberg and Mission Bell that dates back to 1761!
Other things to do in Santa Barbara
Kids might like Santa Barbara Museum of Natural History and Santa Barbara Zoo which is home to more than 500 animals – this zoo is set on 30 acres not far from the waterfront. MOXI, The Wolf Museum of Exploration + Innovation is another fun place for the kids with three stories of hands-on science, technology and art exhibits.
Where to eat in Santa Barbara
One of our favorite meals was at Bouchon in Santa Barbara, at this original "Santa Barbara Wine Country" restaurant, ingredients are sourced using an "as-fresh-and-as-local-as-possible" approach.  The fish is from the Santa Barbara Channel and produce from the surrounding countryside, you can even walk with the chef as he picks ingredients from the Farmers Market on Saturdays and Tuesdays. 
We enjoy a wonderful meal, tasted some amazing local wine in a warm, inviting setting along with an engaging service.
Lunch at StoneHouse at San Ysidro Ranch was picturesque to was prepared with a palate of herbs and vegetables harvested from the on-site chef's garden.  Located in a 19th-century citrus packing house, The Stonehouse features a relaxing lounge with full bar service and a separate dining room with a crackling fireplace and creekside views. Don't miss a stroll through their gardens after lunch. 
This where Kennedy's honeymooned back and the cottage is preserved how it was then.  More about it soon!
Tre Lune Ristorante located on Coast Village Rd in Montecito transported us to Italy. Simple Italian dishes with intense flavors is a favorite among locals here. There is a wall with tiny chairs of the people who frequent the place and are never refused a seat at the table. We spotted some famous names including Oprah on the wall.
A few more places that were recommended but didn't have the time to go, we will be back in the area again for sure to try them out!
Santa Barbara Public Market: Recently recognized in the new California Michelin Guide you can find fresh seafood to microbrew beer, fair trade coffee to artisanal ice cream, the Santa Barbara Public Market is every foodie's dream come true.
Boathouse at Hendry's Beach: Heard from our uber driver that is a great place to eat with a vegetarian-friendly menu and great ocean view. Also to catch that California sunset. We didn't make it there, unfortunately.
Goat Tree: The gourmet café at the Hotel Californian offers fresh and local Mediterranean-inspired dishes.
State & Fig: Obsessed with all things fresh and local, the brilliant chefs at State & Fig offer a constantly changing menu made from seasonal, sustainable, locally-sourced products.
Los Agaves: If you love Mexican food, you must stop at Los Agaves one of the top-rated Mexican restaurants in the area.
The Nook: Housed in a blue shipping container, inside of the Waterline building this place serves globally inspired street food all seasonal and locally sourced. It has artisan vegetarian items on the menu and your usual burgers served with truffle fries!
Best Place for Photo Ops in Santa Barbara
With red roofs and Spanish styled buildings, there are plenty of photo ops in Santa Barbara. We didn't get to them all but here are three that you can check out.
Located adjacent from East Beach, the colorful Chromatic Gate is a popular landmark for photos – walk, jump and even cartwheel through.
A popular photo for fashionistas is on the tiled stairs at Paseo Nuevo Shops & Restaurants. We had dinner nearby and popped in for a quick photo, who can resist those pretty Spanish tiles!
Inspiration Point is a moderate 3.5 mile hike, that gives you the best city and coastal views and a dose of inspiration lasting all day long. Once reaching the top, hikers are known to use rocks to make words or symbols to leave as inspiration to fellow hikers. It is one of Santa Barbara's most popular trails and also the best place for catching a sunset in Santa Barbara!
Best Beaches in Santa Barbara
With a coastline that runs east to west, you are guaranteed to find some stunning beaches in Santa Barbara. We spent most days at the Miramar Beach and Butterfly Beach. Check Visit Santa Barbara's website for more details on the area beaches.
Since Santa Barbara is located along a south-facing curve of California, you can see both sunrises and sunsets over the same coastline. Butterfly Beach, which is located just in front of the Four Seasons Resort, has some beautiful views.
Best Ice cream shops in Santa Barbara
When we travel we become somewhat of an ice cream connoisseur and seek out the best places that serve homemade authentic flavors. Here are the places that we loved during our trip. Rori's Artisinal Creamery in Montecito (there is a shop in Santa Barabara near State street as well) is remarkably delicious and fresh- I had the pistachio and lavender here while the kids had chocolate which tasted like Cadburys Flake. You can also get them at the Scoop Shop inside the Rosewood Miramar Resort.
We waited in line twice for McConnells Icecream and it was definitely worth it! They have been around for 70 years and have mastered the art of making icecream. The ice creams are completely made from scratch, from pasteurizing local, grass-grazed milk & cream. The textures so smooth and velvety and flavors real, not artificial colors here! My pistachio was cream in color not green
Best time to go to Santa Barbara
There is a reason this town is called the American Riviera, anytime is a good time to visit really.  Summer season runs into September and is not too hot since the beach is perfect for walks and lounging. The water is a little cold but we saw several people swimming and playing in the water, some kids were in their wetsuits.
Winters are excellent for sightseeing and exploring the town, tasting all the wonderful wine without having to deal with crowds.
Where to stay in Santa Barbara
Opened recently in March Rosewood Miramar Beach is designed with style and sophistication! Mr Caruso pulled no stops while developing this property. It is built on the site of the former cherished retreat Miramar Beach Hotel, which was a fashionable beach getaway back in the day. It features 160 luxury guestrooms and suites, including some beachfront accommodations, a collection of signature suites and multi-bedroom bungalows perfect for families. We loved the grounds with pots brimming with flowers, easy access to the ocean, the whimsy of a railroad running through the property and the colorful Caruso custom fiats that are inspired by the taxis of Capri.
Amenities include Sense, A Rosewood Spa; a state-of-the-art fitness studio; two cabana-lined pools; bespoke beach service on exclusive Miramar Beach; goop Sundries (the retail brand's first hotel boutique, with goop products featured in hotel-room minibars), as well as a James Perse boutique.
Nearby The Biltmore, a Four Seasons Resort is an all-time favorite and the San Ysidro Ranch, a TY property is perfect for a couples getaway.
There are several other wonderful places to stay in Santa Barabara including a Hotel Santa Barbara located in the middle of downtown on State Street. We had dinner with views of the coast on Cabrillo Blvd at Convivo Restaurant and Bar at Seaside Hotel Santa Barbara Inn which looked like a lovely place and great location.
How to get to Santa Barbara
We flew from Dallas direct on American Airlines into the small airport of Municipal airport of Santa Barbara ( airport code: SBA). You can fly into Los Angeles and drive about an hour depending on traffic to get here or fly into San Luis Obispo ( airport code: SBP) and drive through the wine country. After a few days, we drove from Santa Barbara to San Jose which took about 5 hours and flew back to Dallas from there.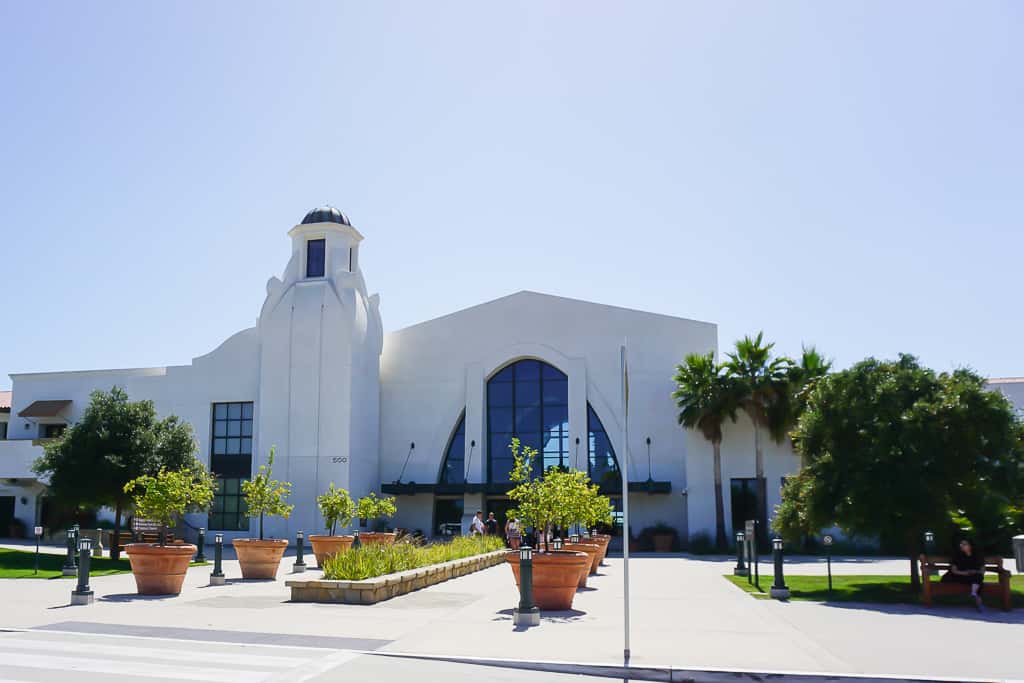 You can also take the Amtrack's Pacific Surfline or Coast Starlight trains to get to Santa Barbara, I bet it would be one scenic train ride!
Santa Barbara airport is small but charming, you can see the pretty Spanish tiles and bougainvilleas everywhere.
I hope you find this guide, ideas and travel inspiration helpful in planning your trip to Santa Barbara, one of my favorite places in the world.
PIN IT FOR LATER
Note: This post may contain affiliate links, partnership or sponsored content. If you purchase an item via one of these links, we may receive a small commission at no extra charge to you. But as always images and opinions are our own. For more information on our affiliates and privacy policy at Outside Suburbia see here.
CONNECT WITH US