Ever since mountain men and miners strapped sets of boards on their feet to travel in the deep snows of the Colorado Rockies, the area has been a winter haven for Snowboarders, skiers and snowshoeing enthusiasts. But did you know summer adventures in the mountains are just as fun, if not more! While the village is bright and cheery with hanging flower baskets, the rivers are teeming with fishes, the hiking is good and from Ziplines to Adventure Courses to Mountain Coaster, options for adventures are endless on the Vail Mountain! We loved all the summer activities in Vail… Summer in Vail is an Epic Adventure!!
Waking up in the shadows of the mountains at Manor Vail Lodge
There is something unique about waking up to views of low hanging clouds on the mountains, it is just refreshing! Coming from Flatland Texas I truly appreciate the beauty of the mountains, if the mountains are snow-capped even better. Just give yourself an extra day or so to get used to the altitude, you are 8000′ above sea level after all. Make sure to pack some good sunscreen, a hat and drink a lot of water.
It was fun to watch the gondolas go up the slopes with a coffee in hand, we truly had the best view in town. Morning in Manor Vail Lodge was extra special, there were bright blooms everywhere: large pots, window boxes, and the entire grounds were a profusion of color.
No wonder this beautiful property has been nominated for 2017 Readers' Choice Award by Condé Nast Traveler and also CNN named Manor Vail as one of America's top 20 beautiful hotels in 2016. I loved walking around the grounds in the morning photographing the flowers when the air was crisp, all the little adventures were still asleep, the bikes stowed away in the racks, the pool was still with just a random pool noodle or two floating away.
Summer activities in Vail
Letting the fish win at Fly fishing in Colorado
The waters around the Rocky Mountains are Colorado's secret treasures, hundreds of miles of rivers and streams with an abundance of trout, including Cutthroat, Rainbow, Brook and Brown trout. Fly-fishing is a beautiful way to relax, enjoy the summer weather and explore some of the most serene spots on Vail's many streams and rivers.
This was our first fly fishing experience, we had no idea what equipment we'll need or what flies to use, lucky for us Gore Creek Fly fisherman was our guide for the day. They took us to the store in Avon to get us prepared for a day of fun on the river. While we got the fishing license, they provided all the essential gear, from fishing poles to waders to wading boots. Although we felt a little clumsy walking down to the Beaver creek river in our waterproof waders we truly looked the part of an angler.
Mark and Dan our guides for the day set us up with the right poles and flies, Dan picked up a rock to show what kind of flies were in the waters there, then he picked out a bait that looked exactly the same from his box of colorful hooks and baits. With their aid and guidance, we confidently angled and even caught some decent sized trout.
When the fish start biting the first couple of times I froze up with a Colorado death hold as Dan called it and didn't know what to do. Then I learned to hook the fish and let it run, "Let the fish win" Dan exclaimed when I caught my first ever Rainbow Trout. I had to let it run a few times before we caught it and released it back in the water.
While Miss Teen and Mr Suburbia fed the fish a few times didn't catch any but D caught a Brown trout. It was a surreal experience standing in knee-deep water surrounded by mountains with only the sound of water and the busy hummingbirds flying around trying to eat the same flies that the fish were after.
See Fishing tips and styles that are great for beginners
A Picnic and hike with a Llama in the Colorado Rockies
We took a Llama to lunch one day – not one but two of them actually… Paul our guide from Paragon Guides met us at Manor Vail and introduced us to Bailey and Dwight, the friendly pack animals, our lunch buddies! We drove up to a meadow near Minturn, Paul parked the trailer and got the Llamas out and loaded them with the gear which consisted of a picnic lunch and some water bottles.
While Dwight and Bailey were busy eating the dandelions, Paul talked about the Aspen groves and how a tree grows roots near the surface of the ground from which new Aspen trees sprout. The new trees are genetically identical to the parent tree. It was fascinating to learn that this process of reproduction can grow vast forests of aspen that are all interconnected by roots and are one genetic individual and have the same DNA.
He pointed out wildflowers like mariposas, buckwheat, wild daisies, while we made our way up to a creek. We had wanted to stay near the water for this hike instead of getting up in the mountains. The hikes with the guides at Paragon can be customized, you can decide to bag a 14er or hike up to the hiking huts- yes they have them in Colorado! After some pictures at the creek, we made it up to a clearing for a picnic.
Paul had packed a nice meal of fruits, veggies, lunch meats, artisan cheese and bread, he even had some Lindt chocolates and shortbread cookies for dessert. We sat in our comfy low chairs while getting to know each other.
Paul told us he was not happy with looking at the mountains from his window, gave up his career in Finance to work as Ski patrol in the mountains, and then moved to run outdoor guided trips. He loves packing picnics which was evident from the picnic he had planned for us and enjoys hiking with his wife who loves Plein-air painting and talked about how Vail is so different each season.
Once we cleared our plates, kids had some hammock time and hubby got his waterfall shot, we were ready to make our way back. It was hard to say goodbye to the Llamas but we took enough selfies with them to last till the next trip.
Paul painted a pretty picture of how the aspens put on a golden show during Fall and in Winter the bare branches covered in snow were equally enchanting. Some day we will be back to see that!
Beethoven at the Bravo!Vail Concert
Celebrating 30 Years of Music in the Mountains, four of the world's greatest orchestras make their summer home at Bravo! Vail.
Internationally renowned musicians and acclaimed soloists perform powerful classical masterworks, soulful jazz, and electrifying pops programs in the majestic Rocky Mountain setting at the Gerald R. Ford Amphitheater. The Amphitheater is just a short walk from the parking garage in the Vail village, through the wooden bridge and a few yards from the Betty Ford Park. Manor Vail had a scrumptious picnic for us to take to the concert where we had lawn seats.
We picked up a couple of lawn chairs at the rental, some concessions with food and alcohol were available at the venue as well. While we just missed the Dallas Symphony Orchestra who were there till last week, we were lucky to hear the Philadelphia Orchestra perform Beethoven's Seventh Symphony in such a beautiful and family-friendly setting.
Twirling at Betty Ford Park
Betty Ford Alpine Gardens is the highest elevation botanical garden in the world situated at 8,200′. Gerald R. Ford the 38th President of the United States and his wife Betty developed a passion for Vail after many family visits to the area. Mrs. Ford was a key inspiration for the Gardens when she lived in the Vail Valley, and her spirit of generosity and commitment to the natural beauty of the Valley lives on in the Gardens and her love for flowers shows in the gardens.
There was a beautiful meditation spot in the Betty Ford Alpine Gardens, waterfalls and a serene Japanese garden area with water lilies. When there are meadows with flowers surrounded by mountains, you can't help but twirl because the Hills are alive with the Sound of music, right?!
Idyllic evenings in town
If one can Après Ski then why not Après hike! There is plenty to do in town after some adventures during the day. Walking into Vail village, you might think you are in Switzerland or somewhere in the Alps- that is because Pete Siebert and Earl Eaton, the founding fathers of Vail in fact modeled it after ski resorts in Austria. The cobbled stone walkways are heated so that the snow does not accumulate, pretty smart right?!
While most ski towns in the area were originally mining towns, Vail is a truly designed Ski town and it shows. If not for the American flag, you might think you are in some European town! Lionshead, and Golden Peak all within a short stroll are vibrant with a great food scene, friendly people and stellar shopping experiences.
We ate at the White Bison one evening, we had the best seat in the Patio with the views of the Gore Creek, while we loved our Bison wings, heirloom tomatoes salad, fried chicken and Moscow mule aptly named Donkey here, they are known for their Bison Burger.
Epic Summer adventures in Vail Mountain
And I saved the best for last – Adventures on the Vail mountain at Epic Discovery as the names imply was epic! We started off with a Scenic Gondola Ride up to Eagle's Nest at the top of Vail Mountain. Climbing to almost 10,000′, this ride takes you to the Epic Discovery on the tippy top of the mountain, you can see the Gore range as the gondola climbs up. Take a few minutes here and immerse in the beauty the Holy Cross mountain and Eagles Nest Wilderness areas before embarking on the adventures.
There are ziplines, alpine coasters, adventure courses and more. Game Creek Zipline Tour is an array of seven ziplines and aerial bridges, you can learn about the mountain ecosystem while working your way through each course's challenges. It is nearly 2 miles of ziplining over the course of a 3-4 hour tour.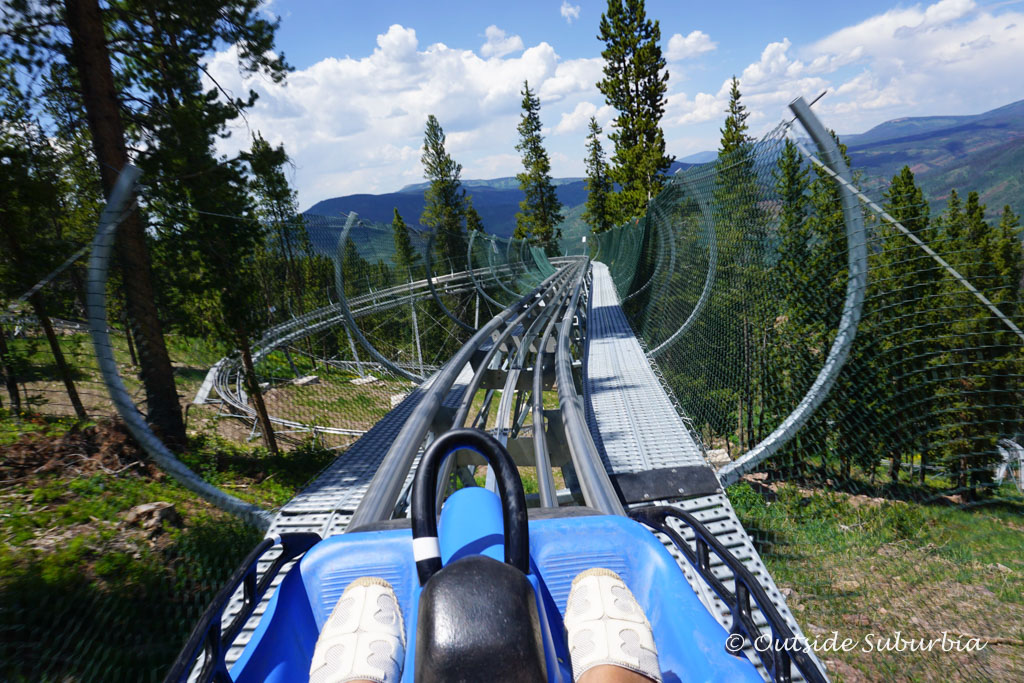 Forest Flyer was our favorite, where you get to fly through the forest on a raised alpine coaster. It winds its way 3,400 feet down the mountain, following the natural contours of the landscape. We went on this one multiple times. Then the kids wanted to harness up and climb and explore challenging obstacles, ropes, bridges, logs and balance elements, while we opted to take in the view of Vail's surrounding mountain ranges!
Both Holy Cross and Gore Range Adventure Course offer similar features and challenges where kids and adults can challenge themselves, there was a smaller version called the Pine Cone Adventure course for the little ones.
D and Miss Teen went off to check out the 550 ft-long tubing next. They reported back that there was music playing the whole way down, while the Adventure Bahn carpet ride up was just as fun. The kids went up and down on the Eagle's Nest Summer Tubing a few times.
We saw the Paramount Peak Climbing Wall but had little energy left and the altitude was getting to us. There are plenty of hikes around the are with well marked trails and maps can be picked up at the Epic Adventure Welcome center.
While we barely scratched the surface, there are plenty other summer adventures to be had in Vail – from mountain biking, backcountry hiking, rafting, mountaineering, rock climbing and getting to summit that first 14,000 foot peak.  There are a number of opportunities to unplug and immerse yourself in the beauty of Vail– as they say around here: Go for the Skiing but stay for the Summer in Vail.
Have you been to Vail for Summer fun? What are some of your favorite places that you go to escape the summer heat??
PIN IT FOR LATER
Note: This post may contain affiliate links, partnership or sponsored content. If you purchase an item via one of these links, we may receive a small commission at no extra charge to you. But as always images and opinions are our own. For more information on our affiliates and privacy policy at Outside Suburbia see here.
CONNECT WITH US