Locate in the heart of the Blue Ridge Mountains, Helen is a charming town in Georgia. We spent a day wandering the quaint town's half-timbered storefronts and restaurants and sampling a few of the things to do in Helen, GA. With a big Bavarian influence, Helen looks like a German village and easy to fall in love with whether you are here for a long weekend or just a few hours!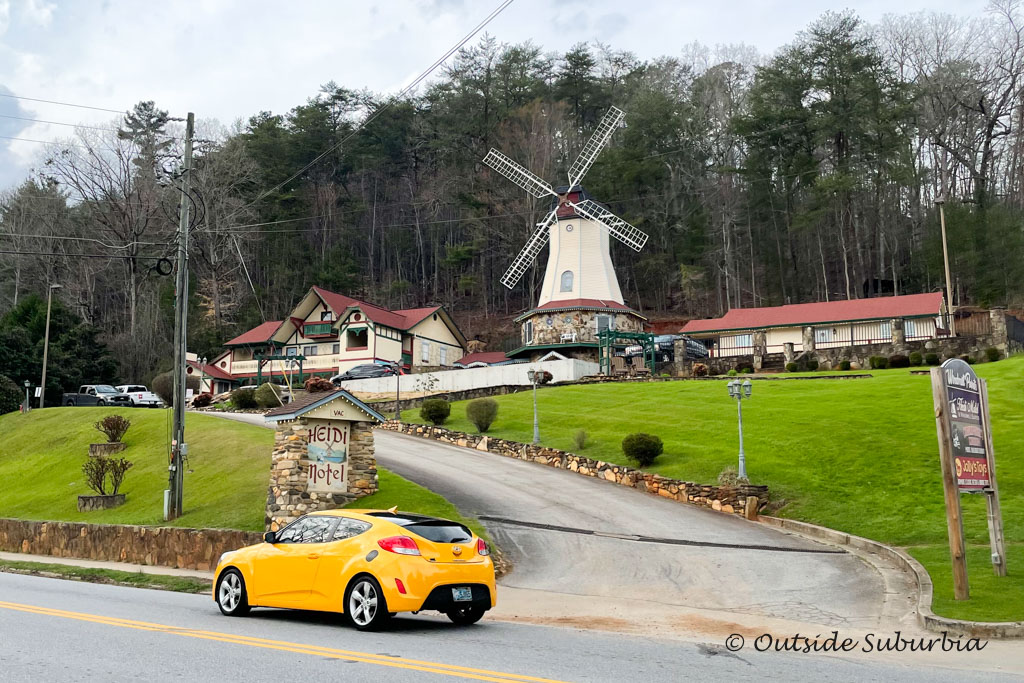 We were visiting family in Atlanta and Helen, they mentioned was one of their favorite places. So we decided on the easy drive north from Atlanta, even though it was a little early in the season. Summer is the best time if you want to go water tubing or zip through the mountains on an alpine coaster or zipline. But Helen offers plenty of things to do year round, we enjoyed strolling the downtown area, stopping at the cute shops, eating some schnitzel, and apple strudel. We even managed a short hike to a lovely waterfall, nearby!
Helen calls itself "the charm of Bavaria in the heart of Blue Ridge Mountains," town does, resemble a quaint Bavarian village. With many attractions for families that love the outdoors, you won't run out of things to do in Helen, GA. There are plenty of hiking trails to explore and waterfalls to see in the nearby Blue Ridge Mountain range.
Fun things to do in Helen GA
While Helen is a tiny little town, it is perfect for a weekend getaway from Atlanta. In fact, it ranked as one of the top-visited cities in Georgia. It has adventures for all seasons, the fall pictures of Helen I saw online were just gorgeous. While we visited on a sunny spring day and enjoyed Helen and the surrounding area, we didn't quite get to do everything in Helen, GA, I have a feeling we will be back soon, but I put together this list of top Helen GA attractions, in case you are in the area and wondering what to do in Helen, Georgia.
Helen has more than 200 specialty and import shops, dining options ranging from traditional German fare to classic Southern restaurants, here are a few that caught my eye:
Hansel and Gretel's Chocolate Shop
How cute is this chocolate place named Hansel and Gretel's Chocolate shop? You can watch them make treats like fudge, candy, fudge, and chocolate. We loved their chocolate-covered Oreos, pretzels, truffles and the brittles were yummy too!
Honey on the Hill
Honey On the Hill was built on the belief that honey should be responsibly sourced in partnership with bees. They source their honey right from the hive to craft all their small-batch products. They treat honeybees with the respect they deserve since these pollinators are the ones who keep our world green and beautiful.
Windmill Dutch Imports
Everything at Windmill Dutch Imports is from the Netherlands. They have cookies, cuckoo clocks, chocolate, and even wooden shoes. The best part is they have a whole room of authentic European foods and sweets. They also carry imported Delft porcelain, cute figurines, and tiles. One of my favorite stores in Helen, GA!
Christmas Shoppe
Located in a 100-year-old house Christmas Shoppe carries holiday themed items, handmade ornaments and lovely gift items. They are typically open from May to December.
Glassblowing Shop in Helen
A fun shop to check out is the Glassblowing Shop run by a master Glassblower, a fourth-generation "flameworker." You will find thousands of blown glass items on display each a beautiful work of art. This was one of my sister-in-law's favorite places in Helen, GA!
A few other shops in Helen, GA:
The Lavender Cottage & Garden carries an extensive selection of Lavender bath & body products made from organic and natural ingredients, and unique delicious culinary Lavender treats. You will also find specialty gift items and local area one-of-a-kind artisan goods.
Established in 1876, Nora Mill Granary is an operational grits mill sitting alongside the Chattahoochee River in the foothills of the North Georgia Mountains. Nora Mill utilizes original 1,500 pound French Burr Stones to grind and produced all kinds of corn and wheat based products such as grits, cornmeal, pancake & waffle mixes, flours, biscuit & bread mixes and pioneer's porridge.
Charlemagne's Kingdom is an Alpine Model Railroad Museum. This huge exhibit depicts the terrain and architecture of the German countryside and is a unique stop to check out when visiting Helen. Admission is just $5 for adults and $2.50 for kids.
Other things to do in Helen, Georgia
One of the main reasons for our visit to Helen was to hike the Anna Ruby Falls trail, but just two miles northeast of Alpine Helen in the gorgeous North Georgia Mountains is Unicoi, one of Georgia's most beloved state parks.
Outdoor enthusiasts can enjoy hiking and mountain biking on scenic mountain trails, including an easy lake loop, or a rugged 7.5-mile singletrack for bikers. The cool mountain lake offers a swimming beach and canoe rental during summer. You can stay overnight at the hotel-style lodge, or fully equipped cottages and modern campground (saving it for our next trip).
Back in the Bavarian town, the Chattahoochee River runs right through Helen, you can go for a stroll along the river, in some areas a paved path runs right along the river where you can enjoy scenic views.
If your family loves miniature golf, check out Pirate's Cove Adventure Golf and Bavarian Mountain Golf Course. If kids love the Pirate theme, then this 18 hole mini-golf course with waterfalls and caves in Helen, Georgia is perfect for some outdoor fun.
Bavarian Mountain Golf Course has two 18 hole courses with lovely views. They have arcade games and billiards, ski ball, air hockey, and other classic games. A family-friendly place that has somethings to keep kids of all ages busy.
What and where to eat in Helen
We stopped at Hofbrauhaus Restaurant for lunch. The huge pet-friendly patio was inviting and the riverfront location of this Bavarian-style eatery was hard to pass up. Their menu of traditional German dishes and imported beers, wines did not disappoint.
There is no shortage of German food and beer in Helen. Most places offer authentic German foods like schnitzel, brats, spaetzle, potato salad, and apple strudel. A few other popular places to eat in Helen are:
Old Heidelberg
Muller's Famous Fried Cheese Cafe
Hofer's Bakery
Helen takes Oktoberfest seriously and is one of the longest running Oktoberfest in the United States. It runs from the beginning of September through October 31 and fall is a great time to visit Helen, GA!
Another popular roadside shop to try is Fred's Famous Peanuts, the peanuts are so fresh. In fact, we saw several roadside shacks selling peanuts. Have you tried them?
Anna Ruby Falls
Anna Ruby Falls is just a short 5 to 10 minutes drive from Helen. The hike to falls from the parking spot was very short and easy to do. The trail takes you past some creeks and through a wooded area. There are a couple of viewing platforms to stop and admire the tumbling falls and take photos. It pet-friendly as well and one of the top things to do in Helen GA with kids. We spent a good 2 hours here.
Can you take dogs to Anna Ruby Falls? We certainly did, Gabby loved it. She was tired by the end of the day but enjoyed every bit of it. The trail to the beautiful double falls at the Anna Ruby Falls is paved, kid-friendly, stroller-friendly and a dog-friendly hike!
Other Helen, GA Attractions
Georgia Mountain Coaster
We love alpine coasters (we have been to the ones in Vail and Jackson) and it is super fun. I recommend going multiple times – once to enjoy the scenery and then to zoom. It is one of the new Helen GA attractions. This alpine coaster by Georgia Mountain Coaster is Georgia's first! Kids must be 38 inches to ride, and the rides are $15 the first time and half-price the second time.
Helen Tubing & Waterpark
River tubing is a very popular summertime activity in Helen. It is one of the top things to do in Helen GA. We were visiting during the offseason and they hadn't opened yet. If you are visiting in the summer, then add tubing in Helen to your itinerary! The water seemed calm and not too deep. But children must be 3 years old to tube. There are two companies that provide river tubing down the Chattahoochee River: Helen Tubing and Cool River Tubing.
Helen Tubing and Waterpark have bright pink tubes, some even have a headrest and look comfy. I hear you have to bring your own sticks or get one for $5 to push you away from the rocks 🙂 They also have a small waterpark with a pool, slides, and a lazy river ride. Plus you can go on tubing trips down the Chattahoochee River for 2.5 hours for $10 on weekdays and $16 on weekends and holidays.
Cool River Tubing is located across the street from the Helen Welcome Center. They have a small booth where you can buy the tickets on Mainstreet and you take the free shuttle to the entrance. They have some zipline and obstacle courses. The tubing tickets are for an hour trip or a two-hour trip for $10 and the season starts on Memorial Day.
Aerial Adventures & Ziplines
Nacoochee adventures offer ziplines and a giant swing that take you soaring over the Chattahoochee River. The aerial adventure courses take you on a 10-minute ride along old logging roads, then zip tree to tree. It includes a series of zip lines through the forest starting low and slow then gradually building up. You are sure to find some adventure here in Helen, GA.
Where to stay in Helen: Heidi Motel & Windmill Suites
Heidi Motel is one of the most photographed landmarks in Helen Georgia. It is a working windmill and a very popular location for photos. As we were walking by a yellow car passed us by and I had to take a photo! The motel has good ratings and positive reviews. How often can you say that you stayed in an authentic windmill suite!? Definitely a unique stay in Helen, GA.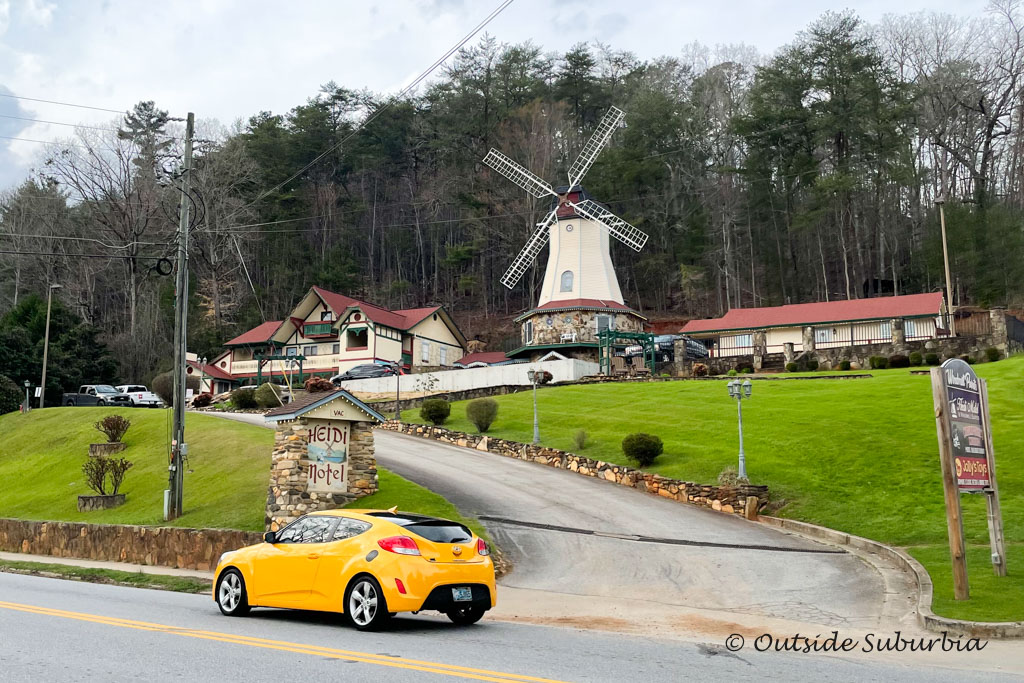 Another option for stays in Helen is to rent an Airbnb. You can stay in beautiful treehouses, A-frame cabins or chalets. Whether you are looking for rustic cabins or luxe glamping, you are sure to find something that suits your style. While we didn't spend the night in Helen, GA, I really hope to fix that, next time we visit our family in Atlanta!
I hope you find this family guide of all our favorite things to do in Helen GA helpful when planning your trip to Georgia!
PIN IT FOR LATER
Note: This post may contain affiliate links, partnership or sponsored content. If you purchase an item via one of these links, we may receive a small commission at no extra charge to you. But as always images and opinions are our own. For more information on our affiliates and privacy policy at Outside Suburbia see here.
CONNECT WITH US