Like every other trip, we planned our trip to Yellowstone and Grand Teton last-minute but were lucky to find accommodations inside the park. We have heard that places fill up fast in all the best places to stay in Yellowstone National Park and need to be booked far in advance (like almost a year ahead). While staying outside the park is an option, we wanted to stay inside the park for one or two nights. There was no wifi but killer sunsets, star-studded skies at night are guaranteed and you might hear a wolf or two howling at night. If you are planning a trip here are the best places to stay in Yellowstone National Park.
Best places to stay in Yellowstone National Park
Yellowstone, a UNESCO World Heritage Site, is the first national park in the United States of America and even believed to be the first national park in the world. Every year about 4 million people visit Yellowstone National and on average spend 4 to 7 days. The park spreads across the states of Wyoming, Idaho, and Montana and has 5 different entrances and 5 villages or areas where you can stay inside the park. You can choose to stay outside the park but that will mean you will spend some time in traffic getting in and out of the park and also miss out on the sunsets!
Yellowstone has nine wonderful lodging facilities inside the park.
Lake Yellowstone Hotel and Cabins
Canyon Lodge and Cabins
Old Faithful Inn
Old Faithful Lodge Cabins
Old Faithful Snow Lodge and Cabins
Roosevelt Lodge Cabins
Lake Lodge Cabins
Grant Village
Mammoth Hot Springs Hotel and Cabins
You can find more details and availability information for all in-park Yellowstone area lodging at the official Yellowstone National Park Lodges website. Do plan ahead and stay inside the park if at all possible.
We entered the park through the South Entrance since we were coming from Jackson Hole and left through the West Entrance. We had a meal at West Yellowstone, drove around town for a bit and left to catch a flight from Salt Lake City. It was a long drive but we had the family together, so all is good! West Yellowstone outside the park is your best alternative if all the best places to stay inside Yellowstone Park is booked up already.
Yellowstone National Park is huge, about 2.2 million acres actually! You can't do justice by visiting just for a day or even two. Plan on staying at 2 different locations so that you don't spend too much time just driving around. We spent 4 days in Yellowstone and spent 1 night at Lake Yellowstone Hotel and 2 nights at the Canyon Lodge.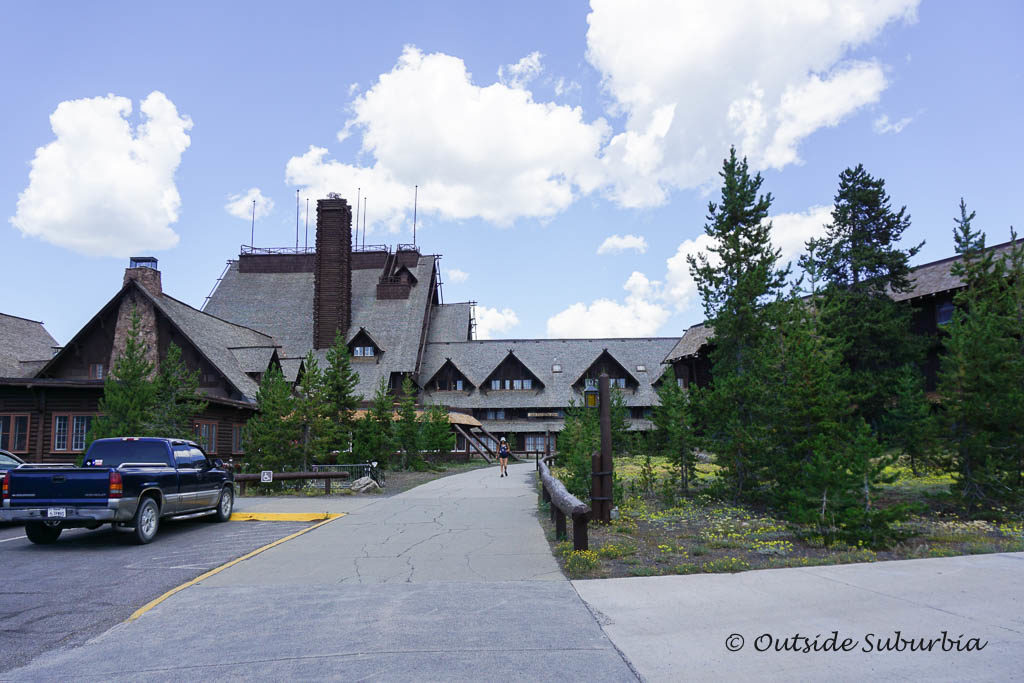 Old Faithful Inn is a popular option and many consider one of the best places to stay in Yellowstone but it does get sold out fast. We planned on a visit there and had lunch at the iconic hotel. On the day we visited Lamar Valley we stopped at Roosevelt Lodge for coffee and to stretch our legs before looking for wolves and foxes in the American Serengeti.
I'm listing below the hotels we stayed at and visited during our time at Yellowstone along with places to eat.
Yellowstone National Park Map
See all the Yellowstone attractions, sights, places to see and must-dos on this map.
How to Use This Map: Use your fingers or computer mouse to zoom in on the details. Click the tab in the top left-hand corner of the map to view the layers (places and the driving route). You can click the icons on the map to get more information about each point of interest.

If you click the star next to the title of the map, this map will be added to your Google Maps account. To view it on your phone or computer, open Google Maps, click the menu button, go to "Your Places," click Maps, and you will see this map on the list.
Lake Yellowstone Hotel
The historic Lake Yellowstone Hotel stands majestically on the shore of Yellowstone Lake. This is where we spent our first night. The classic building with white columns against the yellow exterior doesn't look like it belongs inside a National Park. So very different from the rugged surroundings, forest and meadows.
I was expecting more of the cabin look and was pleasantly surprised. Inside apart from Wifi, we had all the comforts. The beds were comfortable and the bathrooms had hot water, cute toiletries (including sunscreen and lip balm) and glasses fashioned out of old wine glasses.
We watched sunsets on the vast Yellowstone lake, went for a short walk and saw a couple of elks right outside the hotel. There was hotel staff around to make sure no one got too close to it. We drove to the Midway Geyser Basin from Lake Yellowstone the next morning stopping at Old Faithful, Grand Prismatic Spring and drove to the Firehole Lake Drive before getting to Canyon Village.
Who can resist those pretty yellow exteriors, naturally I had to match the building! It was my favorite place to stay at Yellowstone Park!
Canyon Village, BEST place to stay in Yellowstone National Park
Canyon Village features the most accommodations in Yellowstone with more than 500 rooms and cabins. Recently lodging redevelopment was completed resulting in 5 new lodges which mean more guest rooms that include 2-Bedroom Suites, Superior Lodge Rooms are available and is easier to book. All 5 new lodges are LEED Certified.
Complimentary wi-fi internet service is available in public areas like the lobby. We loved this location, it was more centrally located on the east side of the park near the Grand Canyon of the Yellowstone River and many other sites.
We had 2 rooms at the Moran Lodge in Canyon Village. It was the best location for sightseeing in Yellowstone. We woke up early to go look for wildlife in Hayden Valley. Grand Canyon of the Yellowstone is just a few minutes drive from here. Norris Basin, Mount Washburn, Tower Roosevelt area, even Lamar Valley, and Mammoth Hot Springs are all easily accessible from Canyon Village.
If you are looking for the best centrally located accommodation in Yellowstone, you cannot go wrong with a stay at the Canyon Village. We spent 2 nights and 3 days in the area. The longest drive was to Lamar Valley, we saw some wildlife, watched a sunset and drove back to the lodge by 9 pm.
Old Faithful Inn, THE most sought-after Yellowstone area lodging
Constructed in 1904 out of logs and stones, Old Faithful Inn is not just the most sought-after lodging facility within Yellowstone but also a national historic landmark. It is the largest log structure in the world. This landmark property features rooms and suites in an old-world cabin style with and an enormous fireplace in the lobby.
Th lodge looked a bit dated to me but many consider it to be an experience in itself to stay here. There was hand-crafted clock built out of copper, wrought iron, and wood that shows when Old Faithful will erupt. You can also take the historic yellow bus tours from here that take you on wildlife and photographic safaris. Plan ahead though it is another popular activity in Yellowstone.
Roosevelt Lodge
Roosevelt Lodge Cabins is near Yellowstone's Tower Falls area and a perfect stop if you are heading to the Lamar valley. It was built in 1920 near a campsite once used by President Theodore Roosevelt. We saw people in the front porch on rocking chairs waiting for dinners or maybe killing some time soaking in the scenery before their horseback trail rides or stagecoach adventures.
This Yellowstone lodging area is a favorite for families and oldtimers, who know the history of the park and have been here many times. This is also your best lodging option in Yellowstone if you are interested in a more rustic environment, want to go fishing in the rivers and seeing wildlife.
Where to eat in Yellowstone
The Lake Yellowstone Hotel Dining Room is where we ate dinner and breakfast of pancakes with huckleberry sauce. It is classy with a creative menu that is creative and upscale. It had a decent wine list. Breakfast and lunch are on a first-come but you need reservations for dinner.
We stopped at Old Faithful Inn Bear Paw Deli at the Old Faithful Inn to pick up sandwiches for lunch one day had enjoyed it by the river. You can eat inside the restaurant but it is pretty crowded and when you have so much open space and picnic spots outside in nature at Yellowstone why not make use of it?!
We found Canyon Lodge Eatery to have better vegetarian food inside Yellowstone. Customize a wok with a base of greens, rice, or noodles, add veggies, tofu, or meat, and some flavorful sauces and toppers for a hot meal. There were some pasta, Rotisserie chicken and sandwich options as well, and nice vegetarian chili. You can also buy supplies and snacks at the Yellowstone General stores.
If you are staying near Roosevelt, you can ride out to Yancy's Hole on a horse or in a covered wagon for some real cowboy grub in a Western-style Dinner Cookout. The Ride takes 30 to 45 minutes and takes you through sagebrush flats, following the same road used for the stagecoach rides to the cookout site.
The wagons are canvas-covered with padded bench seats. Each wagon is drawn by two horses. Vegetarian meals can be accommodated with advance notice and it would be something fun for the kids to do!
Keeping Yellowstone Green
While visiting Yellowstone or other national parks really, you can make a difference by traveling greener.
Most parks have recycling programs. Recycling one aluminum can save enough energy to power a computer for three hours.
Did you know that it takes 17 million barrels of oil a year to produce plastic water bottles? Instead of buying bottled water bring your own reusable water bottle.
Reuse linens, the lodge will only change out towels and linens in guest rooms after three days. You can request more towels if needed.
Shorten your showers
Don't waste food and sort your trash and put them in the correct bins.
There is so much to do Yellowstone National Park is during the summer season but the national park is also just as breathtaking when wrapped in a blanket of snow in winter. Keep in mind though that severe winter weather can occasionally cause the National Park Service to temporarily close park entrances and roads.
You might need to arrange for more tours to get you around instead of driving yourself. Old Faithful Snow Lodge & Cabins and Mammoth Hot Springs & Cabins are the only two lodging options available during the winter season and are the best places to stay in Yellowstone and experience the snow season.
PIN IT FOR LATER
Note: This post may contain affiliate links, partnership or sponsored content. If you purchase an item via one of these links, we may receive a small commission at no extra charge to you. But as always images and opinions are our own. For more information on our affiliates and privacy policy at Outside Suburbia see here.
CONNECT WITH US