Sitting pretty at 8,250 feet above sea level, Betty Ford Alpine Gardens in Vail is the highest botanical garden in the United States and possibly the world. With views of the Colorado Rocky Mountains, bright blooms, other high elevation plants, manicured flowerbeds, streams and waterfalls, it is a beautiful garden to spend a couple of hours if you are visiting Vail in summer.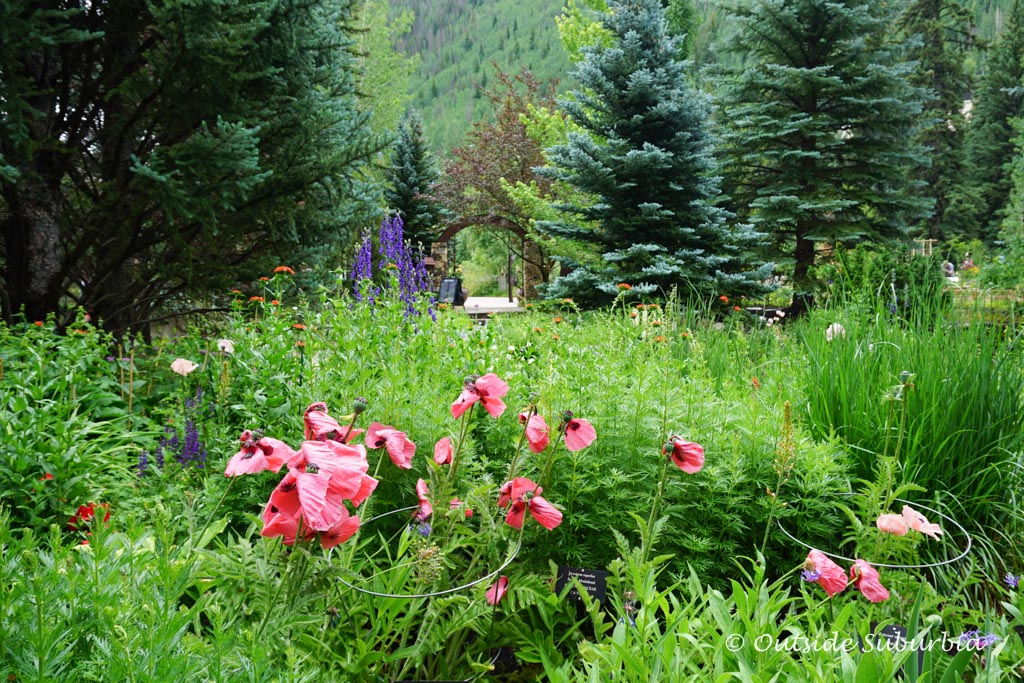 President Gerald Ford and his wife, Betty loved vacationing in Vail and Mrs. Ford became known by locals as the "First Lady of the Vail Valley". In honor of her generosity and her efforts to the town on the map, the Vail Alpine Garden Foundation created the beautiful Betty Ford Alpine Garden in Vail in her name. Today it is one of the top gardens to visit in the United States.
Mrs. Ford's love for flowers shows in the gardens. There is a beautiful meditation spot in the garden, waterfalls and a serene Japanese garden area with water lilies. When there are meadows with flowers surrounded by mountains, you just have to twirl because the Hills are alive with the Sound of Music!
The botanical gardens are open from dawn to dusk, 365 days a year. Admission is free, but you leave a donation or spend some money on souvenirs for the gift shop.
After strolling through the Betty Ford Alpine Gardens we walked over to the Gerald R. Ford Amphitheater which was nearby for a concert. We enjoyed the Philadelphia Orchestra perform Beethoven's Seventh Symphony in such a beautiful and family-friendly setting. We enjoyed our basket of goodies that Manor Vail so graciously packed for us.
There were some beautiful flowers at the Manor Vail Lodge grounds and gardens too, there were bright blooms everywhere! Big pots, window boxes, and the entire grounds were a profusion of color. This beautiful property has been nominated for several awards including a 2017 Readers' Choice Award by Condé Nast Traveler and also CNN named Manor Vail as one of America's top 20 beautiful hotels in 2016.
From ski flowers to real flowers, Vail village that sits at the foot of Vail Mountain has some pretty blooms as well. Well maintained baskets of summer flowers adorn the streets of the village. Strolling through Vail village, you might think you are in Switzerland or somewhere in the Alps- that is because Pete Siebert and Earl Eaton, the founding fathers of Vail modeled it after ski resorts in Austria. The cobbled stone walkways are heated so that the snow does not accumulate!
Betty Ford Alpine Gardens Address
522 S. Frontage Rd. E.
Vail, CO 81657
Website
I hope you enjoyed these alpine flowers 'virtually' at Betty Ford Alpine Gardens and Vail, Colorado.
PIN IT FOR LATER
CONNECT WITH US