With over 800,000-acres and diverse terrains of the river, desert, and mountains Big Bend National Park in Texas deserves a visit. Big Bend National Park encompasses the largest protected area of the Chihuahuan Desert in the United States and nestles in a curve of the Rio Grande River between the U.S. and Mexico. It is after the bend in the river that the park was named after. I'm kind of embarrassed to say that I'm yet to brave the 9 hour road trip from Dallas to visit this remote National Park. But when one of my friends recently visited the park, I asked if she could share some photos and tips – so here is a quick guide to planning an epic Texas road trip to the Big Bend National Park.
How to get to Big Bend National Park from Dallas
The fastest route from Dallas is to take I-20 about 350 miles to Odessa, then follow the directions to Big Bend from Odessa. You can visit Marfa and the Prada Installation 30 minutes outside of Marfa if you are a Prada fan. While driving be aware of wildlife as well as drivers distracted by wildlife and spectacular scenery around.
Where to Stay: St George Hotel or if you are looking for something quirky stay at the tepees, air-streams and yurts at the El Cosmico.
Stop at the Visitor Center
The Panther Junction Visitor Center in Big Bend National Park, features several interpretive exhibits, many of them interactive and exciting for kids of all ages. The existing large 3-d relief map as well as the full size model of the 18′ wing of Quetzalcoatlus northroppi, the famous Big Bend Pterosaur, remain as all-time favorites. The life-size replica of the wing bones of an enormous pterosaur, a 18-foot long specimen was discovered in Big Bend National Park and represents the second largest known flying creature ever to have existed. You can also see a video about the Big Bend National Park at the auditorium and plan your activities in the park with the help of the staff.
The Balanced Rock that sits atop two large boulders, the hike to the rock takes a little effort but the views worth it
Things to do at Big Bend National Park
Big Bend is a huge park and it is easy to see a lot of it in a short amount of time. With more than 100 miles of paved scenic roadways weaving throughout the park, anyone with a car can explore the landscape of the Chihuahuan Desert and see some of the special features that make Big Bend so special, all the fascinating geology, bird and butterfly species and of course, dark skies and starry nights.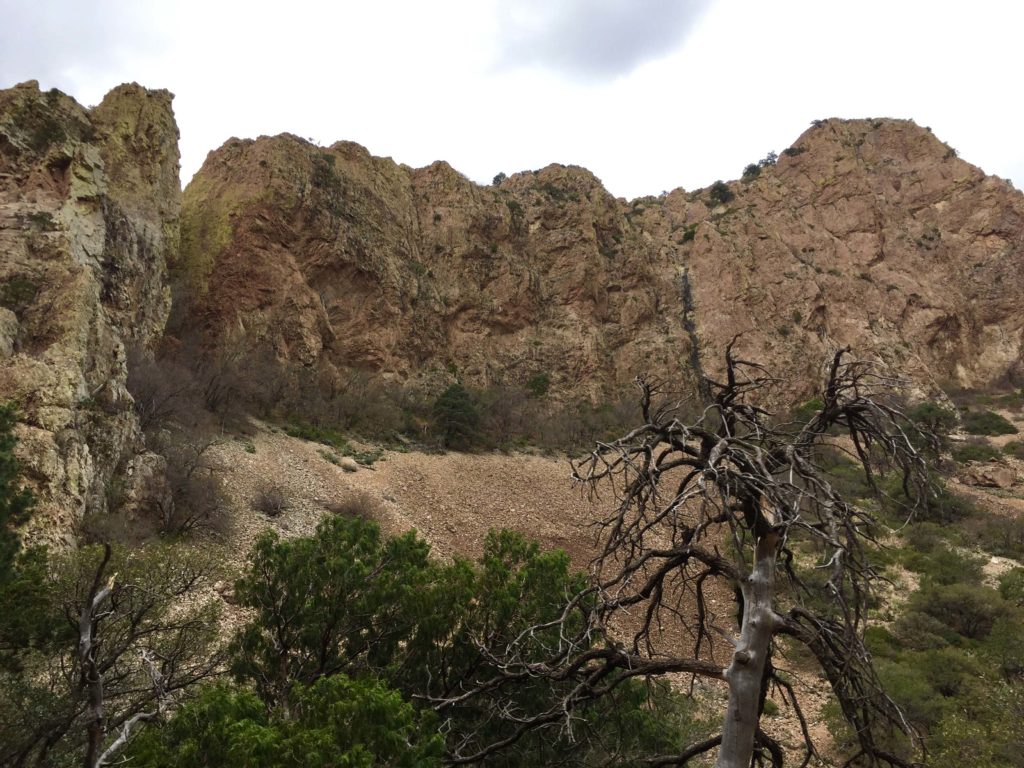 Water sports abound, you can also explore mountains, canyons and the history of several cultures. If you want to trek by bicycle, foot or boat but don't want to brave the Chihuahan Desert terrain on your own, take a trip with a guided tour company. If prehistory is your thing, go see the fossils. You can also view Native American ruins and the remains of Spanish exploration and Wild West settlement. If you like hiking activities, you'll find 200 miles of trails and 175 miles of unpaved roads in the park. Plan for at least a couple of days of hiking in trails, here are two of the best trails in Big Bend National Park you shouldn't miss.
Santa Elena Canyon – A beautiful hike into an awesome canyon. You can also enjoy views back across much of Big Bend National Park. 1.6 miles RT. Parking area is at the end of the Ross Maxwell Scenic Drive.
Grapevine Hills Trail – It's what's at the end of the trail that's what makes this one of the best trails in Big Bend. The Big Balancing Rock seems to defy gravity as it sits atop two other large boulders. The views if you climb up the surrounding hillsides are rustic and beautiful. 2.2 miles RT. Trailhead is located along the Grapevine Hills Road
Santa Elena Canyon – The Santa Elena trail is a mile round trip and easy to moderate. There are steep steps hiking up to the canyon but besides that, it is a fairly easy hike.
See here for other great things to do in Big Bend National Park with kids.
Photo credit : Mike Mezeul II
Big Bend is one of the largest, most remote and least visited parks in the lower 48 states with a low level of light pollution, resulting in remarkably brilliant stargazing.
Best time to visit Big Bend National Park
My friend visited during spring break in March which seems to be the popular time. Spring is typically warm and pleasant and is the parks busiest season so plan for accommodations early. Summers are hot, often above 100 degrees Fahrenheit, and the Chisos Mountains, ten to twenty degrees cooler. June-August are the hottest months. Fall and winter are perfect for visiting the park as well with holiday season around Thanksgiving and Christmas being popular.
Where to stay in Big Bend National Park
The park contains developed, primitive and backcountry camping. If camping isn't for you, you can stay in the Chisos Mountain Lodge, in Terlingua or in Study Butte. Just half an hour drive from the Big Bend National Park is Lajitas Golf Resort. A ranch style hotel with lot of activities like golf, horseback riding, ziplining, you can even rent a jeep for the day to explore Big Bend National park or the near by Big Bend Ranch State Park.
Thanks for the photos and contribution Viby!
PIN IT FOR LATER
Note: This post may contain affiliate links, partnership or sponsored content. If you purchase an item via one of these links, we may receive a small commission at no extra charge to you. But as always images and opinions are our own. For more information on our affiliates and privacy policy at Outside Suburbia see here.
CONNECT WITH US