Looking for winter activities in Colorado for non-skiers? Here are 10 things to do in Colorado besides skiing, which include snowshoeing, mushing, snowmobiling, and chilling in hot springs. Perfect if you are looking for easy adventures and snowy landscapes.
We are partial to summer in the mountains, but we were smitten by the crisp mountain air, wintery trail walks and wonderful winter Adventures in Colorado. It was easy to fall in love with the gorgeous white snowscapes that turn gold in the sun!
Not being skiers, we just had to come to terms that we will just watch the kids ski from a distance and enjoy other Colorado winter activities & adventures. Our long drive from Texas to Colorado drive was quite an adventure!
Snowmobiling: My favorite winter activity in Colorado
This was one of my favorite winter activities in Colorado which combines a thrilling ride with the beautiful alpine scenery. Snowmobiling is so popular in Colorado and is offered in many areas like Winter Park, Grand Lake and Buena Vista. We drove to Leadville for our Snowmobile ride.
We met our guide who went through some instructions on how to operate the snowmobile and then we took off. With miles and miles of trails, we had no trouble riding the vehicles. It was not as crazy as our snowmobile tour in Iceland. We even stopped and the guide had us racing each other on a made-up track in the snow. So much fun!
Colorado Bucket List for Winter even if You Don't Ski
Sledding & Tubing
Bundle up in hats and mittens and head for the hills, where you'll find plenty of sledding and tube-friendly terrain. It's hard not to giggle like a child as you go down the hill, catching a bit of air as you bump and roll down the gentle slopes.
The kids went up to the slopes in Keystone where lifts and tow ropes will lug your tube or sled to the top of the hills, giving you time for more runs and more fun.
Learn to Snowshoe or ride a Snowcat
You can go gliding across the snow through forests with soaring mountain views near Breckenridge where you can try Nordic skiing and snowshoeing. Or try a Snowcat ride in a heated, all glass cabin designed in Italy. Experience historic Legend forests and the wildlife habitat in comfort with a stop for s'mores and hot chocolate at one of the destination huts.
Try Cross-Country Skiing
Backcountry trails lead to snow-covered valleys and peaceful forests of evergreen and aspen trees, where the only sounds you hear are chirping birds and your own heartbeat. Rocky Mountain National Park maintains dozens of these sorts of trails. You can pick up a trail map from a ranger station or join a ranger-led group tour.
If you love spending time away from the hustle and bustle of daily life, backcountry skiing might be something you want to try. Check out one of the many 10th Mountain Division backcountry huts in Colorado.
Horse-Drawn Sleigh Rides
Snuggle up in blankets and go on a ride on horse-drawn sleighs enjoying the crisp, winter air and the gentle jingle of bells tinkling to the rhythmic stride of strapping horses. You can find a few Colorado sleigh rides tours here. Some scenic sleigh rides even have a dinner theater experience in an old west theater at an authentic mining camp.
Dog Sledding
Dog sledding is fast becoming a popular Colorado adventure in snowy mountain towns. Go with a reputable operator like Good Times Adventures. Each dog sled trip begins with a friendly, knowledgeable guide explaining how to run the sled and how to work with the beautiful Siberian Huskies.
The last time we did a Dog Sledding tour was in Tahoe. The tour can handle up to 6 people, is run as a "relay" – guests will switch off between running the dogs, riding in the dogsled. The wind whips against your face when you shout "mush!". Barking dogs eagerly speed along the trail. Make sure to bring gloves, hand warmers, sunglasses, goggles, neck warmers, etc. You will be close to the ground.
Ice Skating
Enjoy some old-fashioned ice-skating fun at one of Colorado's many outdoor rinks. For an urban setting, visit the rinks in Fort Collins or Denver. Both these rinks are located in lively pedestrian areas and are surrounded by charming shops and cafes. Denver International Airport has its own rink, which typically runs late November to early January with the nice price of free!
Ice Climbing
The mountain town of Ouray is considered by many to be the ice-climbing capital of the world. Each year, thousands of ice climbers descend on Ouray to scale the imposing Ouray Ice Park. If you plan your Colorado trip in January you can experience the world-famous Ouray Ice Festival.
Hot Springs
What better way to warm up than with a soak in an all-natural, mineral-water hot spring? Colorado has 29 Hot Springs to choose from, each with its own charm. At Ouray Hot Springs Pool, you can unwind in the soothing waters with striking views of snowcapped peaks. Iron Mountain Hot Springs in Glenwood Springs has 16 pools of steaming natural mineral waters, all of which vary in temperature.
You can read more about Colorado's 29 hot springs.
Make Snow angels and Snowman
Last but the most fun – make a snowman or snow angels in the snow. Find some fresh snow. Lie on your back and move your arms up and down, and legs from side to side, to form the shape of an angel. Great winter activity for kids of all ages 🙂
Where we Stayed and Skied
We stayed in Breckenridge's (frequent visitors and locals call it Breck). Breck is one of the premier skiing destinations in North America and has the best ski schools for beginners (both kids and adults). We were impressed with the ski instructors(we opted for the semi-private) and how comfortable D got in just a couple of days.
Plus you get a great view of much of the Tenmile Range. Breckenridge Ski Resort's five peaks are nestled right in the middle of this Tenmile Range. The chateau where we stayed had some nice views of the mountain ranges, a well-equipped chef's kitchen, big and bright living areas with huge windows that frame the vistas, and a Jacuzzi that opened up to more mountain views. We rented our gorgeous chateau from Paragon Lodging.
Pro Tip: Plan ahead and schedule your ski rentals via Black Tie Ski Rentals' delivery service. You can place your order for skis, snowboards, boots and helmets before you arrive. They will deliver the equipment and do a professional, custom fitting in your hotel room, condo, or vacation home. Another option is to use a service like this one to ship your luggage!
The third biggest resort in the United States, Vail is just a short drive away from Breck. Vail offers 195 trails and 35 lifts and Vail Winter Activities are some of the best. The resort town is the most glamorous of all ski towns in Colorado and perhaps all of the United States of America. Snow lasts longer here and might make a great spot to spend Springbreak in Colorado.
In the summer, Vail offers great hiking, biking, Llama hikes, fly fishing along with its year-round shopping and ski village amenities. We had the best time exploring all the Summer Adventures in Vail a couple of years ago.
Tips for Visiting Colorado in Winter
Colorado is always fun to visit any time of year. If you're looking to visit Colorado in winter, it's important to be prepared. Here are a few Colorado travel tips to keep in mind:
Temperatures dip pretty low during the winter months in Colorado. Be prepared and pack extra layers so you don't get too cold! Beanies, gloves, base layers and well insulated jackets.
Avalanche danger is a real threat. Understand the avalanche risks before heading out into the backcountry.
Be familiar with the traction laws in Colorado. You are required to carry chains if you don't have snow tires or a 4WD/AWD vehicle. We had some bad experience with our performance tires which were not made for the snow terrain.
It gets pretty busy, especially near ski areas. Allow enough time for winter mountain traffic when getting to activities in Colorado.
If you are flying into Denver International Airport, keep in mind it is far from the downtown area and even further from the mountains. Plan plenty of extra time to get to the airport, especially if you're driving on a Saturday, Sunday or holiday.
See this post for Essentials you must pack for a Mountain Getaway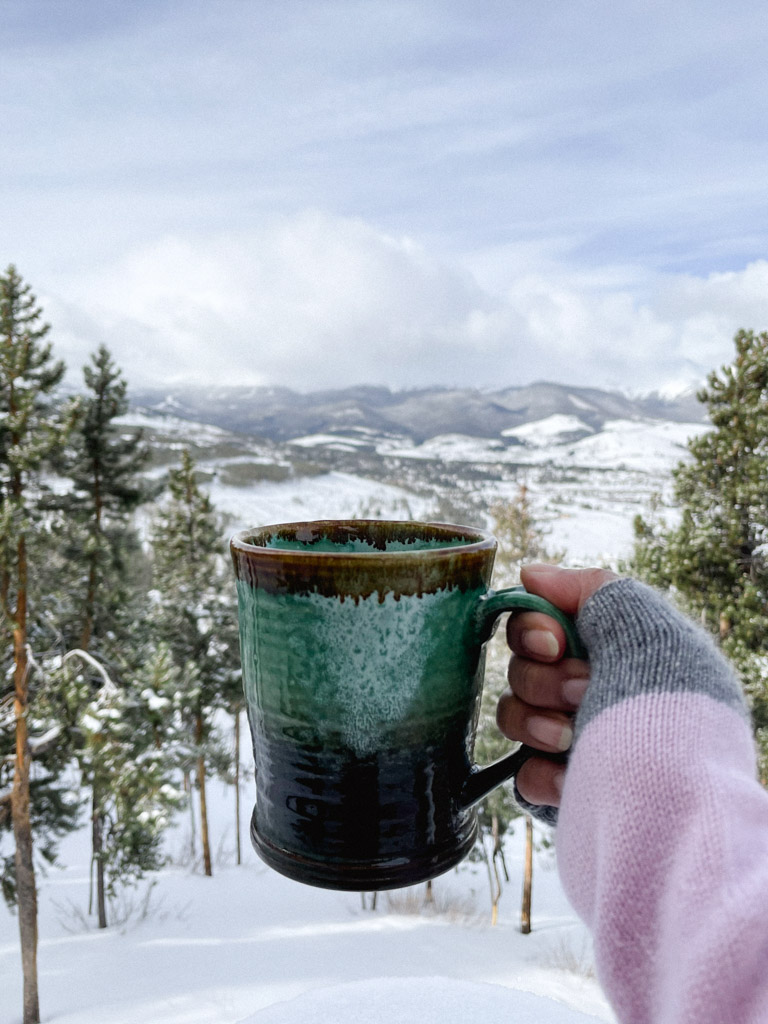 I hope this post answered your questions about what is there to do in Vail or Breckenridge, Colorado if you don't ski? And you found some adventures to try next time you are in any of the ski mountain resorts. Visual Story.
Engel & Völkers, one of the world's leading service companies specialized in the brokerage of premium residential property and commercial real estate, released their new rankings of the world's most expensive ski towns. They based it on a number of factors, like year-round usability, ease of access to location, privacy, a strong internet connection to allow for remote work, and of course, great skiing.
Top nine most expensive ski towns in the world:
Gstaad, Switzerland.
Kitzbühel, Austria.
Aspen, Colorado.
Cortina d'Ampezzo, Italy.
Davos, Switzerland.
We visited 5 places on this list during summer. We visited Maroon Bells and stopped in Aspen for lunch but I'm counting that 🙂 But hope to make it back for some winter adventures, now that we know we can go on other adventures besides skiing. Have you been to any of these Top 9 Most Expensive Ski Towns in the World? Do you have favorites??
Note: This post may contain affiliate links, partnership or sponsored content. If you purchase an item via one of these links, we may receive a small commission at no extra charge to you. But as always images and opinions are our own. For more information on our affiliates and privacy policy at Outside Suburbia see here.
CONNECT WITH US