Who doesn't like going to Miami?! With its beautiful beaches and beautiful people, a lineup of amazing eats in South beach or little Havana to the vibrant nightlife – it is a tropical paradise right here on the mainland! It is a great stopover if you are heading to the Caribbean or on a Cruise – there are plenty of activities to keep the entire crew entertained and a great family-friendly holiday destination.
We love going to Miami at the end of summer when it is not that crowded. Sometimes called the Florida Riviera, the peak season for Miami is January through April – typically, when more northerly U.S. states get cold, that's when Miami tourism heats up. While most hotels are geared towards the party crowd, we love staying at Fontainebleau located on Miami Beach in Florida for a family holiday.
A Family Guide to visiting Miami
We have been to Miami more than a few times. While there are a lot of hotels that cater to the party crowd, here are a few family friendly hotels in Miami that we liked. We stayed at Eden Roc on Collins on one trip, the resort flawlessly blends tropical Miami style with decades of timeless glamour.
On a more recent longer visit, we opted for the Junior suites in one of the towers at Fontainebleau. Situated on oceanfront Collins Avenue in the heart of Millionaire's Row, Fontainebleau Miami Beach is one of the most historically and architecturally significant hotels on Miami Beach. It is a beautiful hotel, with elaborate grounds and pools, and a vibrant, fun nightlife.
The Suite life at Fontainebleau, A Family friendly hotel in Miami
This historic oceanfront hotel Fontainebleau opened in 1954 and is set on 20 acres. It has welcomed guests like Frank Sinatra, Elvis Prestley and Lucille Ball. But yet today, this iconic hotel does a great job of making families feel like they are at a home away from home!
Tresor Tower vs Sorrento Tower
Fontainebleau has 2 towers: Tresor Tower and Sorrento Tower. The Tresor Tower is a luxurious 37-story high-rise that offers breathtaking balcony views of Biscayne Bay and Downtown Miami. While its smaller sister, Sorrento is shorter but has some of the best views of the beach.
We have stayed at both towers and slightly partial towards the Sorrento Tower. Regardless of which one you choose, each suite gives you 500 square plus feet of plush comfort, including a sitting area and an extra full-size sleeper sofa. We had a little more room than a standard hotel room.
The suite's convenient amenities include a kitchenette with a mini-refrigerator, sink, and microwave perfect for a morning breakfast or coffee while watching the sun come up. They also have babysitting where you have access to well-screened sitters available at a short notice. The program is like a day camp filled with games, sports, art, movie nights and more. There is even an adorable pastry class every Wednesday and Saturday where kids and parents get to work side by side with Fontainebleau's talented pastry chefs.
The chic pool and beach at Fontainebleau
The pool at Fountaineblue is out of this world at Fontainebleau. While it may be famous for its celebrity guests, we found a large number of families here. Of the eight hotel pools, the kid's pool is one of the largest at the resort, featuring a slide, and a maximum depth of four feet. It was closer to the Tresor Tower while the pools by the hotel are where the models and celebrities with bikini bodies hangout.
You can rent one of the chic cabanas for the afternoon and enjoy lounging while the kids frolic in the pool. The service around the pool area was top-notch, we spent many an afternoon there. We loved waking up to the sound of the ocean, going for a morning walk on the boardwalk, hanging out in the pool, people watching and dinners at South beach.
You can kick back in a shaded cabana and explore over 10 pools while ordering cool drinks and lunch from the poolside menu. Or just lounge under a beach umbrella listening to the sound of the ocean waves. The best part is spending time as a family in multiple small dipping pools or the interactive children's waterscape.
There is even a bowtie inspired free-form pool. You can rent an Island Cabana or join friends at Glow Bar poolside if you have some watching the kiddos.
Restaurants near Miami Beach that we love
All restaurants in Fontainebleau
Inside Fontainebleau, you will find Hakkasan which features Cantonese delights and Dim sum on the weekends, Scarpetta (which is my favorite, the pasta here is amazing and the service top notch) that offers a regional Italian menu, Stripsteak, a classic American Steakhouse, and a casual Pizza and Burger joint. If you are spending time by the pool or beach then you can't miss a few cocktails and snacks from La Cote, the oceanside bistro. There is always a happy vibe here with music and dancing.
Havana 1957 Cuban Cuisine
Located in South Beach, Havana 1957 offers traditional Cuban cuisine combined with the finesse of 1950s Havana. This uber-classy, throwback restaurant serves breakfast, lunch, dinner, and dessert, along with the best mojito in town. They have fresh-squeezed juices, traditional Cuban breakfasts, staple Cuban entrees like pollo a la plancha (grilled chicken with onions and parsley), vaca frita (grilled, shredded beef), plus the usual sandwiches like croqueta preparada (a ham, cheese, and pork sandwich topped with croquettes).
Mr. Chow at the W
Located inside the W hotel, Mr Chow is one of those restaurants where you might run into celebrities. It is white glove without being a pretentious, refined Chinese restaurant, it is always packed so better to make reservations. The kids enjoyed watching the noodles being made. The meal was ok but the service was excellent.
Katsuya at SLS
Master Sushi Chef Katsuya Uechi's skills and Philippe Starck's design come together at Katsuya South Beach at SLS. With unique rolls and spectacular sushi and sashimi platters, it is truly a feast for the senses. And I love that there are more than a few things on the menu for vegetarians.
Any restaurant on South Beach that has paella
We went to this one restaurant that was playing some flamenco music, sorry don't know the name and sat down for dinner. We had a wonderful evening watching the flamenco dancer over a bottle of wine and planning out a Spain trip. After the show, we talked to the artist and bought his CD. It was one of the best evenings in Miami.
Best Shopping districts in Miami
Miami has some great shopping districts and people always look very well dressed here. One of our favorite places to shop is in the ritzy Bal Harbour area and then get some lunch and people watch. From outlet shops to luxury shops here are some of the best malls in Miami.
Bal Harbour
Arguably one of the best designer shopping malls in Florida, you will often find celebrities at this glam indoor-outdoor mall. It has stores by major designers, such as Chanel, Chloe, Gucci, 100% Capri, Alexander McQueen, Zimmermann and more.
Design District
This new upscale shopping area is located between Midtown and Wynwood. The Design District neighborhood is quickly becoming one of the newest luxury designations for shopping in Miami. You will find a host of stores at this outdoor Miami mall, including Marc by Marc Jacobs, Cartier, Emilio Pucci, Celine, Louis Vuitton, Hermes, and more.
Lincoln Road Mall
Lincoln Road Mall is Miami Beach's outdoor shopping mall with great shops and dining options just north of Collins Avenue. Albeit a bit touristy, it has well-known retailers, like Kiko, Urban Outfitters, Victoria's Secret, Penguin, Gap, Banana Republic, Anthropologie, Athleta and more. After shopping until you drop, you can have dinner at one of the outdoor cafes.
Aventura Mall
Aventura Mall is not technically in Miami, it is about 15 miles north of Miami in Aventura. It is considered to be the biggest and best indoor shopping mall in South Florida, its more than 300 stores provide something for the luxury shopper and the mid-range shopper alike. You can find Burberry, Dior, Fendi, Cartier and more here.
Sawgrass Mills Outlet Mall
Sawgrass Mills is located about 30 miles north of Miami in Sunrise and is the largest outlet shopping destination in Florida. With over 350 name-brand outlets and off-price retail stores, lots of visitors to Miami make the journey up to Sawgrass Mills to do some budget shopping. With 40 to 60 percent off at stores like Jimmy Choo, Gucci, La Perla, DVF, Kate Spade New York, and more, you'll save while you stock up.
Art in Miami
I love visiting art museums and finding street art when we travel and while it was difficult to leave the beach, here are some must-see in Miami if you are an art lover.  You will find stunning contemporary art scattered inside the modern museum called by locals as PAMM. See the colorful sculpture Miami Mountain, one of the coolest pieces of public art at the Bass Museum in South Beach.
Located in the design district the Institute of Contemporary Art, Miami has a 15,000-square-foot sculpture garden and an even cooler parking garage.
See: Best Modern Art Museums in Miami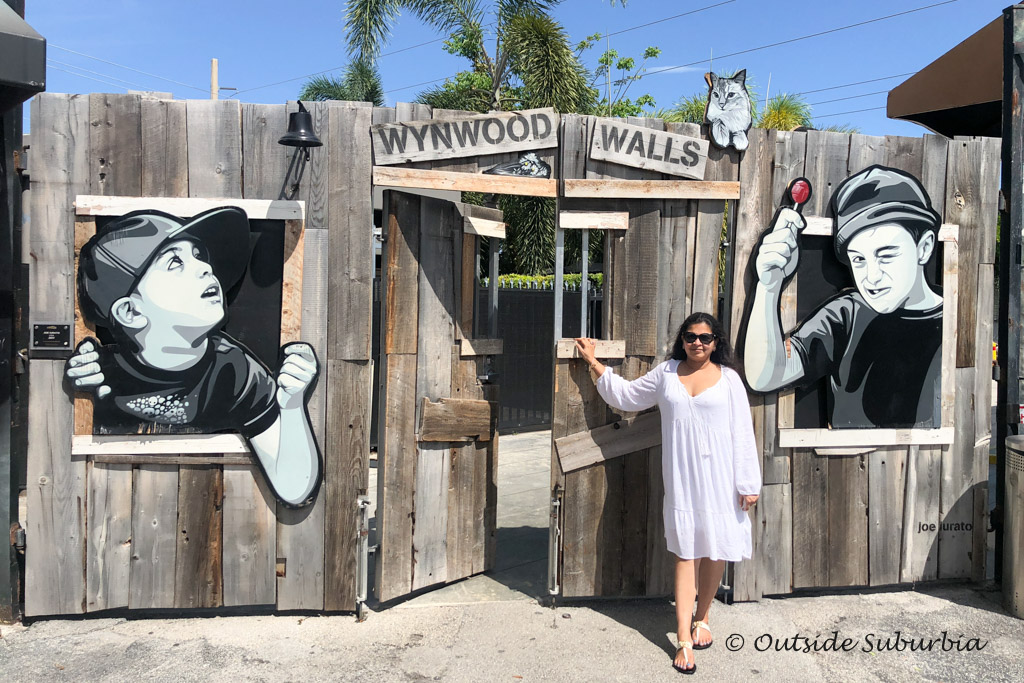 Art Basel Miami Beach is an annual art show held at Miami Beach, usually in December first week. Art Basel, stages three major fairs each year in Hong Kong, Basel, Paris, and Miami Beach focusing on modern and contemporary art and putting more than 250 galleries and 4,000 artists from across the globe in front of the art world's top curators, museums, and collectors. It is another great event to add to your list if you love modern art.
Wynwood Walls minutes from Downtown Miami, near Midtown and the Miami Design District, is a neighborhood filled with street art. The park has a huge outdoor area featuring huge, colorful street murals by artists from around the globe. You will find everything from life-sized murals of the Dalai Lama, vibrant murals and graffiti. Wynwood is pedestrian friendly and is free to visit, there are many cafes nearby and has art everywhere you turn.
Family Friendly Things to do near Miami Beach
If the kids ever get tired of the beach and hanging out in the pool, Fontainebleau Miami Beach is located close to many area attractions including Aventura Mall, Adrienne Arsht Center for the Performing Arts, Colony Theatre and Jungle Island. We did a road trip to Key West one day, went on an airboat at the Florida Everglades and on another. One evening we went to a Marlins baseball game.
You can go on board a pirate ship to gawk at celebrity houses one evening and enjoy a leisurely day visiting the Vizcaya Museum and gardens. If you want to do some shopping while visiting Miami, you can find some reasonable prices on designer labels at the Sawgrass Mills Mall which is a short drive away.
We typically rent a car and drive around but if you would rather go on a tour, then you might like this. You can book this day tour which covers most of the highlights like the Latin infusion of Little Havana to the contemporary art world of Wynwood to the iconic glam of South Beach. You can see hidden murals by world-renowned artists, and enjoy local snacks, beer, or a cocktail or cup of cortadito.
Everglades National Park
The Florida Everglades is a short drive away, you can glide across a river of grass on a small airboat and get up close to wildlife in their natural habitat. We saw many alligators and witnessed a landscape so unique and untouched for years. We even got to hold a baby gator at the conservation park.
Some Miami Tours you might like
When visiting Miami for the first time, go aboard the pirate ship to gawk at celebrity houses, you never know who you might see!
Day trip from Miami to Key West
After a few days on the beach in Miami, we had this idea of driving up to Key West for a slice of their famous Key lime pie. Our kids love the sweet and sour taste of it so much we decide to go on a road trip to get a taste of the best slice of pie at the very source!
The 150-mile drive from Miami to Key West is one of the great American road trips, that takes you off the mainland and through the Ocean Highway to the Florida Keys. The Florida Keys feels like a world away from the vibe of Miami, it almost feels like you are somewhere in the Caribbean. We stopped at a few places en route – see here for our Florida Key West road trip Itinerary.
Our first stop in Key West was at the bright concrete buoy that marks the Southernmost point of the US. As you probably know Key West, Florida is a tropical island city that lies in the southernmost point of the continental United States. Key West was home to famous Writers and Presidents like Ernest Hemingway and President Harry S Truman. We visited the Ernest Hemingway house that now is a museum.
Don't leave Miami without these…
The best part of staying in Miami Beach is having access to the Miami Beach Boardwalk. Waked up early and walk along the boardwalk or the beach and check out the different colored lifeguard stations. Don't leave without a few pictures of these colorful lifeguard stations on the beach!
So go ahead and book your stay at Fontainebleau, Miami Beach Florida for an unforgettable summer family beach vacation! In our opinion, it is one of the best Luxury Family Resorts in Miami! You might also like these family friendly hotels and resorts.
PIN IT FOR LATER
Note: This post may contain affiliate links, partnership or sponsored content. If you purchase an item via one of these links, we may receive a small commission at no extra charge to you. But as always images and opinions are our own. For more information on our affiliates and privacy policy at Outside Suburbia see here.
CONNECT WITH US