Visiting Theme Parks are not really my kind of vacation, since it involves waking up early, lots of walking, standing in line and dealing with swarms of people, coming back exhausted. And then you Sleep. Eat. Repeat! But we had a couple of little kids visiting us all the way from India and top of their wishlist was visiting the Mouse House and the Wizarding World of Harry Potter, naturally, we had to oblige. So we made sure we based ourselves in a Beautiful Resort so that we can come back to a haven of comfort after an exhausting day at the theme parks. Read our review to see how Four Seasons Resort at Orlando delivered luxury and magic making visiting the Theme Parks enjoyable!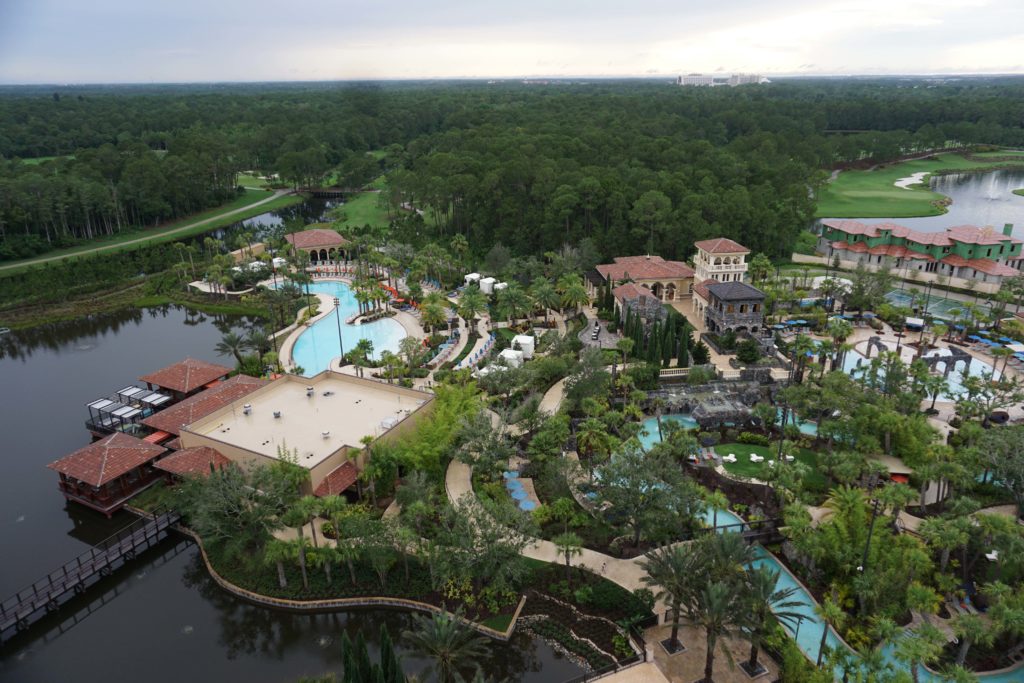 Located about 6 miles from Disney's Magic Kingdom in the beautiful Golden Oaks area of Orlando, Four Seasons Resorts Orlando fills the Walt Disney World's Luxury Lodging void. The resort is part of the Theme Park but a little removed from hustle and bustle associated with a theme park resort since it occupies one of the most secluded areas of Walt Disney World Resort. It is located by a natural Everglades sanctuary that's home to indigenous wildlife.
A Review of Four Seasons Resort Orlando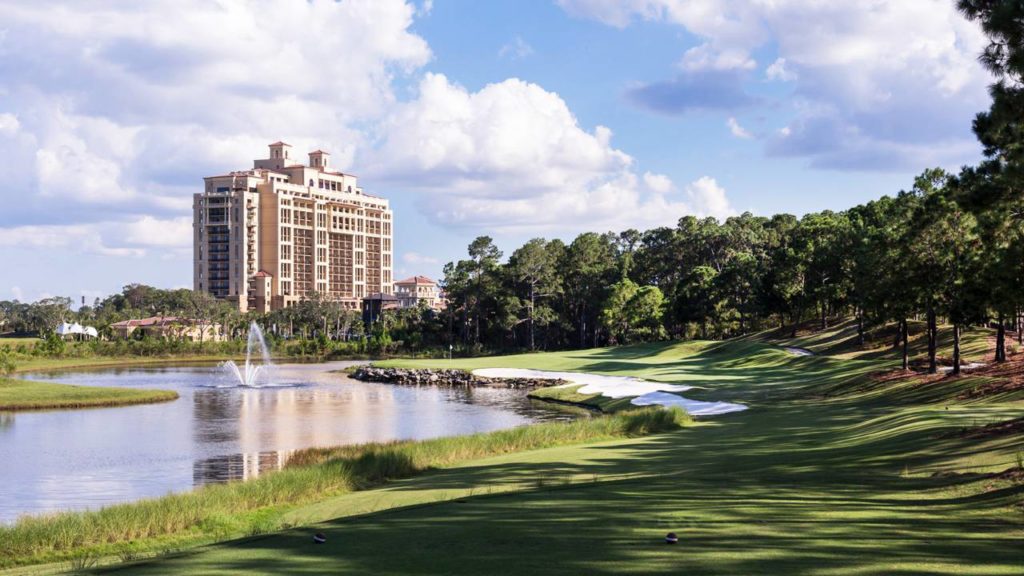 Checking In at Four Seasons Resort Orlando
Like you would expect in any luxe property, as soon as we checked-in, our bags were whisked away to be delivered in the room. The kids were handed colorful pool bags and resort scavenger hunt passports to fill up with stamps that they can turn in for some treats later. Once we made our way up to our room, the littlest one screamed in delight at the colorful little tutu skirt, her own little sparkly magic wand and little tiara. Kids as usually argued over who sleeps, rather who will not sleep in the sofabed, till they figured out the sofa-bed was just as comfy as the regular Queen bed and a little closer to the TV.
The rooms were furnished beautiful and opened up to a lovely balcony with views of the pool, the lake, and the Everglade. Since we were in one of the higher floors we were told that we can catch the Magic Kingdom's fireworks from our balcony! Which had me scheming on how I can talk the kids to coming back to the resort before 5 pm, so we can spend more time at the hotel!! We had a couple of extra kids on this trip so we had 2 connecting rooms, but a family of four can easily share a room.
The Grounds and Golf course at Four Seasons Resort Orlando
The grounds at Four Seasons Orlando Resort at Walt Disney World Resort were grand, set on a lake among gardens and pools, a world of water and natural beauty. The Resort's Spanish Revival architecture, a style also known as Florida Revival, features terracotta tiled rooftops, square towers, arched windows, and colonnades. Terraces with classical balustrades overlook the golf course and beautiful gardens planted with mature oak trees, palms and pillars of cypress. The kids loved running through the trees to the pool. Just around the lake from Four Seasons Resort Orlando is the Tom Fazio-designed championship golf course, an Audubon-certified course managed by Four Seasons. One regret I have is – wish we had made time for golf at the 18-hole golf course!
Pool, Lazy river, Slides at the Explorer Island
The resort also boasts a 250-foot-long waterslide, an 12,000-square-foot lazy river and a complimentary Kids For All Seasons kids camp. A water play heaven – Splash Zone part of the Explorer Island keeps the younger kids entertained in shallow water. We stopped to play here after a visit to the theme park, I wasn't exactly sure how they still had energy after a long day at the park. Steps from the lazy river base, there is a sports-themed pool area where kids can play a little volleyball. There is always complimentary sunscreen and plenty of towels available. The Hideout, a supervised indoor area where kids can simply hang out with friends.
Not interested in water activities, you can also mix it up at The Mansion, a family hangout spot with outdoor table tennis, pool tables, bocce ball, a fireplace and an observation deck that lets you take in the excitement. Kids can slide down from The Mansion's main tower in two 242-foot (74-metre) water slides. One slide is enclosed for a thrilling ride with a big splash at the end, and the other is made from see-through fiberglass so you can watch all the fun, inside and out. Regardless of what you decide to do, there is plenty to keep the family occupied and entertained at the resort, so plan a No Theme park day and just relax at the resort! Although I didn't get to visit – there is also an adults-only pool, featuring a wide array of sophisticated elements designed to heighten relaxation including underwater audio.
Restaurants including one that has a Disney Character Breakfast
The resort had six vibrant restaurants including a rooftop Spanish-style steakhouse Capa specializing in expert cuts, tapas and fresh Florida seafood, a Italian restaurant in an indoor-outdoor setting; a lively, southern-inspired poolside restaurant; Plancha, a golf clubhouse restaurant serving Cuban-American cuisine, a lovely lobby bar with a full menu overlooking the lake, as well as Lickety-Split, a colorful coffee bar. If we didn't have time for some room service breakfast, we stopped at Lickety Split, located in the lobby, to pick up coffee and freshly made breakfast items.
Four Seasons Resort Orlando at Walt Disney World Resort also has a Disney Character Breakfast on certain days when Goofy comes to visit. Good Morning Breakfast with Goofy & His Pals character breakfast is served twice weekly at Ravello restaurant. You can catch the Magic Kingdom's fireworks from the balcony of Capa, the steakhouse.
Spa and Stores at Four Seasons Resort Orlando
The 13,000-square-foot Spa offers advanced aesthetic services, beautiful body therapies, and fitness programs all designed to help you look and feel your best. In the Salon, expert hair and nail care are available and Magical Moments is sure to delight little princesses and knights alike.
The Magical Moments experience at Four Seasons Resort Orlando at Walt Disney World Resort is where every little visitor's dream becomes a reality through a magical princess or prince makeover in the glamorous Salon. If the little princess or prince forgot their outfits at home, they can purchase them at the Fable boutique on site.
I saw some Mickey ears by Missoni, some Four Seasons logo apparel as well as gifts and memorable treasures and trinkets at the boutique.
Disney Planning Services at Four Seasons Resort Orlando
Disney Cast Members are onsite at Four Seasons Resort Orlando at Walt Disney World Resort to help guests plan the perfect Disney itinerary. We bought our Disney tickets online in advance of our stay but picked them up here. Based on their recommendation we downloaded the My Disney Experience App, made some Fastpass reservations online before our visit. This made getting to some of the popular rides so much easier! They can make dining reservations and also have Magic Bands.
While located on Disney property, Four Seasons is not an official Walt Disney World Resort property. Therefore, guests do not enjoy Magic Hour privileges (one-hour early access to select parks opening to the general public). But thanks to them my little nieces thought I was like a mini fairy godmother! And that magic wand kept my niece so entertained and her little eyes were sparkling with delight every time someone addressed her as 'Princess'!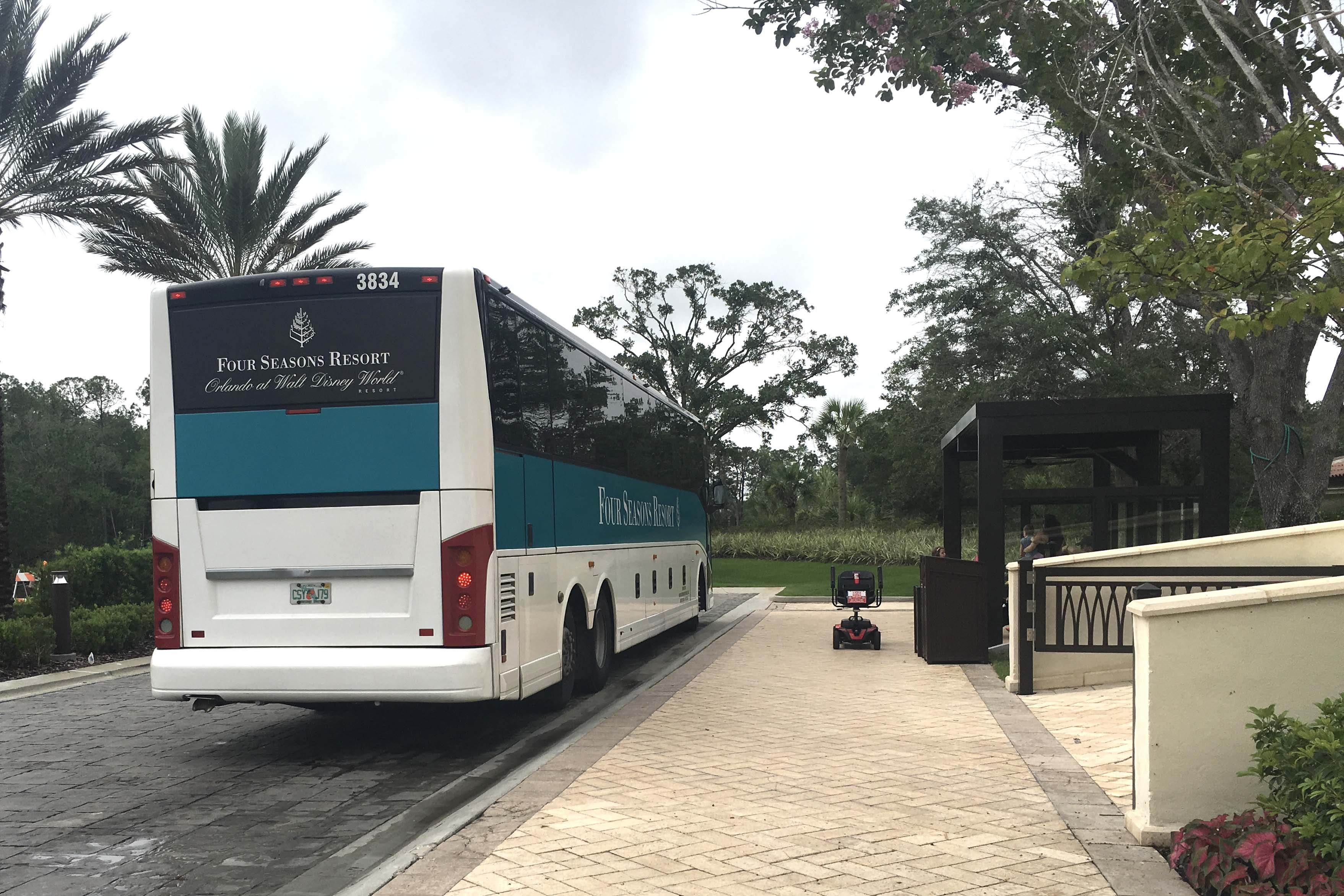 Visit the Magic Kingdom
The first day we took the Four seasons complimentary shuttle bus to Magic Kingdom and did Dumbo, Mad Tea Party, It's a small world, The Barnstormer, The Many Adventures of Winnie the Pooh(a family favorite), Under the Sea – Journey of Little Mermaid, Space Mountain, Tomorrowland Indy Speedway, Astro Orbiter and PeopleMover within the a few hours. Having the fast passes helped – once you get through the first 3, you can keep adding one more FastPass. We then headed down Main Street U.S.A. and then left into Adventureland. We rode Aladdin's Magic Carpet and then Pirate's of the Caribbean, another favorite movie.
Here is a great itinerary for a perfect day in Magic Kingdom.
Visiting the Disney theme Parks also involves eating foods shaped like a mouse, you can find waffles, pretzels, and sugar cookies, but the best is ice cream. Perfect treat after all that walking and waiting in line for the rides. Quickly take pictures for the 'gram and eat it quickly before it becomes a melty mess. We stayed for the fireworks and made our way back after a quick stop to see Mickey Mouse. We took the bus back to the hotel exhausted and ordered room service. The next day we woke up early and we went to Disney's Animal kingdom to visit Pandora, the World of Avatar.
Universal and the Wizarding World of Harry Potter
We had originally planned to do VIP tour at Universal Studios theme park, but kids were a little exhausted from the first two days, so we decided to take it easy and visit just the Harry Potter areas of the Park, which still required us to get the Park to Park tickets so that you can take the Hogwarts Express between Diagon Alley and Hogsmeade. The front desk arranged for a cab, who promptly picked us up to take us to Universal, I heard Uber works fine as well but there is no complimentary shuttle. We took the train, tried out some spells, went on a few rides and made it back in time for some pool time, dinner at Ravello and to catch the fireworks while enjoying some cookies.
Other things to do in Orlando
While we didn't get around to anything other than the theme parks and resort pool, there is plenty to do in the area from Kennedy Space Center, kayaking tour in Blue Springs State Park, the winter home of one of Florida's largest manatee populations, a 2-Hour Airboat Everglades Tour and more. See the tours and things to do in Orlando including great rates on Universal and Disney Theme Parks.
Photos from the magic at Four Seasons Orlando Resort
What we loved: Four Seasons Orlando Resort Review
We loved our stay here, the resort brings together Four Seasons luxury and Disney's magic for families who don't mind splurging a little on a magical vacation. I can't recommend the Four Seasons Resort Orlando at Walt Disney World highly enough. We loved watching fireworks from our balcony. The Amenities that were in the room when we checked in for that extra dose of magic, was my favorite part here. My niece held on to the wand when she wandered around the theme park, sprinkling her fairy dust. When we lost one, the staff didn't hesitate to find her another one, when she got tired after all that walking she would still hold that wand tight and fall asleep in the stroller.
Discount on Theme Park Tickets in Orlando
Here are some ways to save on your tickets to the Theme Parks in Orlando
Walt Disney World
Universal Orlando
I hope you found this review of Four Seasons Resort at Orlando helpful in planning your trip to Walt Disney World!
This trip had me dreaming of a visit to Aulani Disney Resort in Hawaii. Are you a Disney Fan?
Note: Thank you to Four Seasons Resort Orlando at Walt Disney World Resort for providing us with a media room rates and enough magic to make it a fun and memorable trip. This, however, did not impact my review.
PIN IT FOR LATER
Note: This post may contain affiliate links, partnership or sponsored content. If you purchase an item via one of these links, we may receive a small commission at no extra charge to you. But as always images and opinions are our own. For more information on our affiliates and privacy policy at Outside Suburbia see here.
CONNECT WITH US