As I stood there hugging a Rudraksha tree on the grounds of the Kauai Hindu temple and monastery as if to pass on the year and a half's worth of stress into this sacred tree, something in me seemed to shift. And to think we had not even planned a trip to this island in the first place— a divine hand was guiding us to this secret sanctuary near Wailua River in Kapaa.
Hinduism can be a passive religion for some and I myself am not an active follower, but this visit to the Shiva Temple in Hawaii awakened something in me, a spirituality that I had not known before. I had not even had heard about this Hindu temple or a Rudraksha forest in Hawaii two weeks prior. Yet, it turned out to be the most special part of our journey.
Pranic healers and Taoist masters have long known that trees are powerful. While I believe in the power of Forest bathing (a fancy way of saying spending time outdoors in nature), this was new. I have never really hugged a tree. Seemed a little silly when the sannyasin Saravananathaswami, the monk at the Kauai Monastery said trees absorb your stress.
"Not only do the trees absorb carbon dioxide and change it into oxygen, but they can also absorb negative energy and them turn it into positive ones," the sannyasin says with a grin. Deciding to give it a try, I stepped over the protruding roots, trying my best to avoid stepping on the sacred deep blue berries on the ground, to hug the tree. I let out a sigh, inhaled the smell of damp earth, and closed my eyes.
The world seemed to have slowed down a bit, I could hear the river that we just passed on the way here, I can remember the smell of ginger blossom and the veins on the orchids we just saw… all of them flashed in front of me in slow motion. I must have stood there for a few minutes… till Mr. Suburbia said "Sathya, let's go…"
My mom, an avid Siva worshiper would have loved visiting here.
Whether you call it Prana, Chi, or Mana, trees have them. Special life energy. Rooted deep in the earth and rising to the sky, trees absorb universal life force energy from both the soil and the sky. In Hawaiian, Polynesian and Tahitian culture, Mana is a spiritual energy and healing power that exists in places, people, and objects.
Mana was believed to be stronger and saturated in certain places—like the top rim of the Haleakalā volcano on the island of Maui and the Taputapuatea marae on the island of Raiatea in the Tahiti.
Ancient Indians have worshipped plants and trees and regarded them sacred. Fruits and flowers were offered to Gods. We protect only what we value, hence we were taught to regard the trees as sacred. So that we will strive to protect them. We were told by scriptures and elders to use parts of the plants only as much as is needed for food, fuel, and shelter. We were warned that we might incur soona, a specific sin if we cut down a tree. Were the Vedas and ancient texts teaching us about Sustainability?
Even today, certain plants like Tulsi, Rudraksha, Banyan, Peeplal (also known as the Bodhi tree, it is believed that Gautam Buddha attained enlightenment under this tree), are worshipped in Hinduism. Trees serve without expectation and sacrifice themselves to sustain us. They are worthy of our worship, and protection!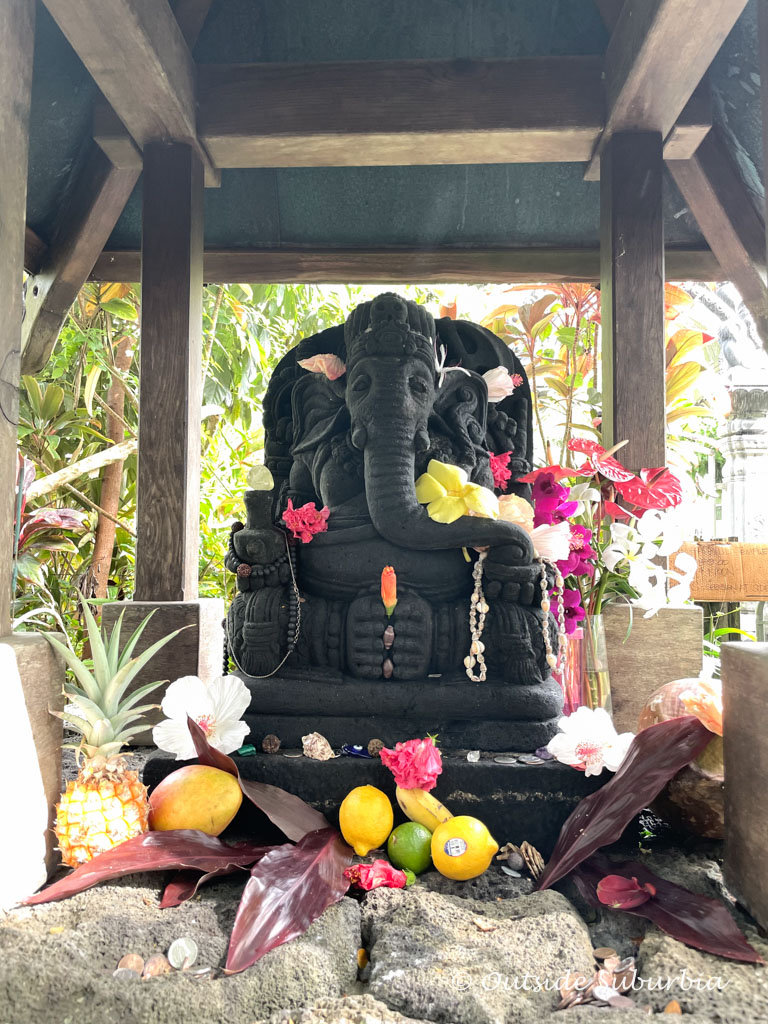 Hindu Dharma or the basic belief system of Hinduism is very simple: Do the right thing, according to your duty and abilities, at all times. Strive to be a better version of what you were yesterday, last month, last birth. Continue working on yourself till you atain Moksha, the soul's release from the cycle of death and rebirth.
Here are a few glimpses from the beautiful gardens, grounds, sacred forest, and Iraivan (God's) temple that is currently under construction.
Kadavul Hindu Temple in Hawaii
Beyond the gates, a short walk leads to a small temple and a massive statue of Nandi, who always stands guard in front of Shiva. Inside the temple, at the center, there is a shrine for the Divine Dancer, God Siva. To the left is the elephant-faced Ganesha, whom we greet first and pray to before every important task. To the right is Lord Karttikeya, the God of Yoga and spirituality.
The inner walls of the temple display 108 bronze statues of Lord Siva, in different poses. No photos were allowed inside. We sat for an hour-long pooja with our legs crisis crossed on the ground. There was a 39-inch-tall crystal Sivalingam with a fascinating origin story, in front of us. It will one day be the central icon in the new Iraivan Temple that is currently under construction.
After the puja, we meet up with sannyasin Saravananathaswami for our tour. He points at different plants and has us collecting flowers to offer to the shrine we are about to visit. It starts to drizzle as we make our way.
Over the decades, the land here has been transformed from an overgrown jungle to a tropical paradise with bamboo groves, ginger plants, blossoming trees, flowering shrubs, sweet-scented plumerias, begonias, and ponds filled with water lilies. We sampled betel leaves, nuts and learned about a few of the 250 kinds of plants in the temple gardens including the only Rudraksha forest in the Western Hemisphere.
Iraivan Temple, a Shiva Temple in Hawaii
We reach a temple being built on a bed of lava rock. The temple structure looked very familiar. Much like a famous Asian temple, 10,000 miles away that I grew up around when I was just 5 or 6 years old. For a moment I felt as if I was back in India. It felt like I had come full circle.
The Iraivan Temple is a Chola-style Hindu temple dedicated to Lord Shiva being built on the Kauai island in Hawaii. "Iraivan" means "He who is worshipped," and is one of the oldest words for God in the Tamil language. The monastery was founded in 1970 by Satguru Sivaya Subramuniyaswami, and identified as one of the world's most important Hindu religious sites rooted in traditions of Sri Lanka and South India.
As we approach the temple we could hear the silpis and stonemasons at work. The silpis follow well-thought-out designs based on centuries of temple building and carve their works using chisels and hammers. Some designs were laid out on the floor.
Located in the heart of a traditional Hindu monastery complex in Kauai, in one of the most beautiful places in the state of Hawaii, surrounded by rivers and rainforests, reminiscent of ancient mathas and aadheenams of India, Iraivan is more than a temple; it is a pilgrimage destination and a place of spiritual rejuvenation.
Indian Temples are not just dwelling places for deities, they are structures designed to bring human beings and gods together according to the Hindu faith. They were constructed in a way so that the community can congregate and revitalize their spiritual energies.
The Gurudeva who founded the monastery and the temple complex says: "When you begin the pilgrimage to Iraivan Temple, you drop off and dissolve the karmas of the past. Then, because of the direction the temple is facing, the temple gives a new start, a new impetus for a wonderful future. It is a boon-giving temple, a gift-giving temple, a life-giving temple, a wish-fulfilling temple."
Hinduism is not an organized religion, much is left open-ended and up to an individual's interpretation. Having immigrated to the US, daily pujas or weekly temple visits are not the norm for us. But watching the kids walk quietly with reverence, makes me hopeful. Hopeful that even if so slightly, I have shown them a path to find spirituality, when they are ready for it.
Sacred Rudraksha Forest
There are countless legends about Rudraksha (also called Rudraksh or Rudraksa) and why the beads are sacred. One such legend says that God Siva looked down upon the Earth and, seeing the sorrowful plight we humans had created for ourselves, wept a single tear. The tear fell from Siva's cheek and upon hitting the ground created the first Rudraksha tree (the word rudraksha means the eye or tear of Siva).
You might have seen Sadhus or Hindus wear these beads as necklaces. They remind us of God's compassion for our predicament. It is also worn for protection. Botanically known as Elaeocarpus Ganitrus, the dried beads are known to be supportive in maintaining physical and mental balance. It also enhances spiritual growth, if you are on that path.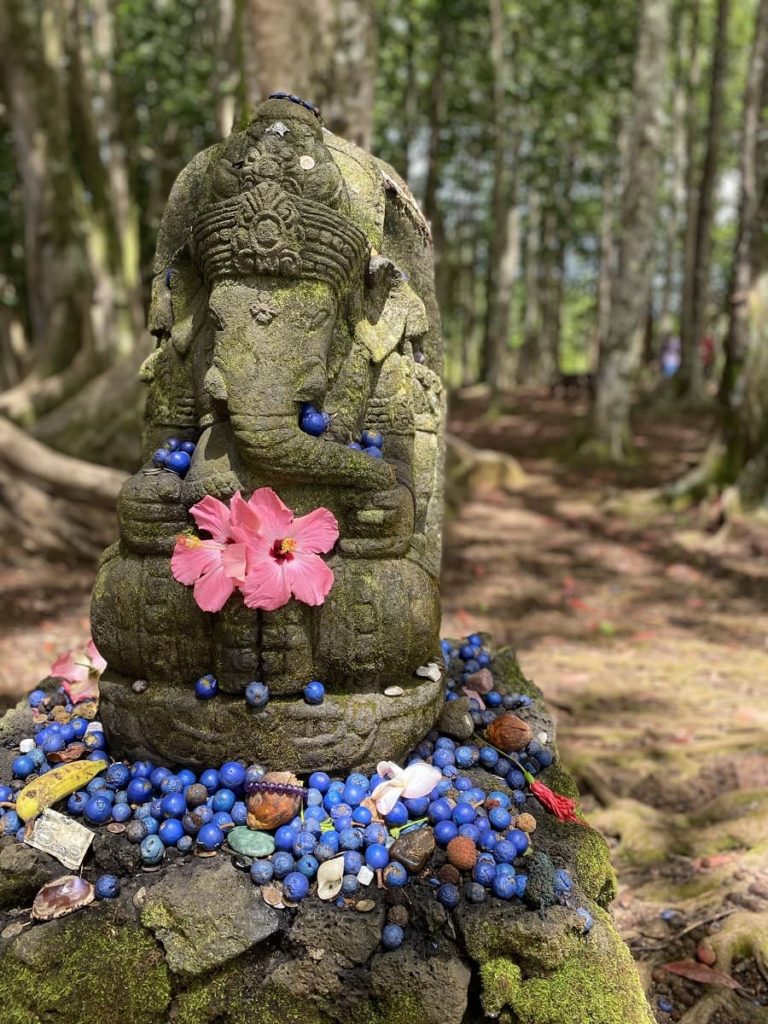 The Rudraksha grove in Kauai is rare. It is the only one of its kind in the Western world. Over 108 trees were planted in 1984 by the Gurudeva who started the Hindu Monastery in Hawaii.
Today the trees stand over fifty feet tall and produce thousands of cobalt blue berries every year. Also known as the Blue Marble tree, because of the unusual color of one-inch diameter fruits. A Scientific American article notes that only two, living species on the Earth create color using refraction and not reflection: a deep-sea crustacean and the Rudraksha tree.
A few things to know about visiting Kauai Hindu Temple
The temple is open to everyone not just to people following Hinduism.
Entry to our Kadavul Hindu Temple building for worship, meditation, or puja must be reserved through their website.
Wear some modest clothing when visiting the temple. Like a kurta or long dress. No shorts, short dresses, tight-fitting yoga pants, t-shirts or tank tops.
Inside the temple, you should ideally sit cross-legged, but never with legs stretched out towards the Deity.
Buy your Rudraksha beads, bracelets at the Mini-Mela shop/visitor center. You can't drill holes into the ones you collect at the Rudraksha Forest. Don't try to take the whole berries home. You will be stopped at the agriculture checkpoint at the airport.
When not wearing them it is best to store Rudraksha in a silk cloth, preferably in a pooja room. The Rudraksha adapts to the wearer, so it is best that you don't share your Rudraksha bracelet or necklace.
Bring an umbrella as it rains often in Kauai, the Garden Isle.
While you can take photos of the gardens and grounds, no video or photography is allowed inside the temple.
The Kauai Shiva Temple Address & Directions
To get to the temple, driving north from the LIHUE airport (LIH) on Kuhio Highway toward Kapaa town. At one-quarter mile past the 4-mile marker, turn left at the second cross street, Kaholalele Road, and go one block to the end of the road on the right side where you'll see 107 address number. There is a small parking lot where you can park.
If you do not turn left onto Kaholalele Road you will end up at the Rudraksha grove. The Temple Address is 107 Kaholalele RD Kapaa, Hawaii, 96746.
CONNECT WITH US