Maui is perhaps the most popular tourist destination in Hawaii and is home to many incredible attractions, adventures, scenic drives, and offers countless things to do. Our thrilling drive up Haleakala to catch a sunset above the clouds was one of my favorites this time around. Our kids might argue, trying to control the surfboard – let alone stand up on it while learning to catch a wave in Maui was the most fun they have ever had.
Sitting pretty between two mountains, Maui often referred to as "The Valley Isle," is the second-largest Hawaiian island and one of the best islands vacations in the US.
Maui was a destination I visited with Mr. Suburbia a few years ago, in fact, it was our first trip together! 20 years later, we finally made it back with the kids. Most of Maui felt like just how it was years ago, except for the new outcrop of fancy resorts. I'm not complaining. I do love nice hotels and Wailea has some of the best resorts on the island!
TIP: Maui and O'ahu (Called the Safe Access O'ahu program) will begin requiring health passes next week to certify that individuals are vaccinated before they are permitted to enter certain venues. The passes can also indicate that the holder has tested negative for the virus if they are unvaccinated.
Maui nō ka 'oi: Maui is the best
Maui nō ka 'oi, Hawaiian for "Maui is the best," is a saying that dates back centuries. island's people. It is a chant that the islanders have used for years and songwriters seem to have incorporated this phrase when writing about the island, praising Haleakalā or the Roselani, Maui's favorite flower. I hope you agree with me by the time you get to the end of the post.
The island of Maui is world-famous for its beaches, the sacred Iao Valley, views of migrating humpback whales (during winter months), golden pineapples, farm-to-table cuisine, and the magnificent sunrise and sunset from Haleakala. It was my and Mr. Suburbia's first trip together several years and most recently we made the trip back to Maui with our kids who had just graduated from high school and college. Much has changed since that first trip but yet some parts were just as I remember it…
What to pack for the Islands
As with any island adventure, you would need a little preparation to find that nice swimsuit and some essentials to take before you go. Here are some things you should be taking on your trip to any beach vacation including beautiful Maui.
Maui and the islands of Hawaii are a great option for winter sun this year since the Caribbean and other international travel is so limited and volatile.
While this is a bucket list of Maui attractions, you don't want to do too much while on your island holiday in Hawaii (the temptation is real, I know) but pick 3 or 4 things to do based on your lifestyle. My recommendation:
One new activity like learning to surf
A scenic drive (either Road to Hana to Haleakala)
A Lomi Lomi massage
Pick a beach town based on your budget and what activities you want to be close to and as with any island holiday, don't miss those sunsets 🙂
Beach Towns: Where to Stay in Maui
What is the best area to stay in Maui? Most travelers stay in West or South Maui. Maui is divided into 6 areas: West Maui, South Maui, Upcountry, Central Maui, North Shore & East Maui. If you want to stay close to most of Maui attractions and activities you will want to stay in West or South Maui.
West Maui (Olowalu, Lahaina, Ka'anapali, Napili, Kahana, Kapalua)
South Maui (Kihei, Wailea, Makena)
Wailea (South Maui)
Located 35 minutes from Maui Kahului Airport (OGG), Wailea is known for its five beautiful, crescent-shaped beaches, luxury resorts and stunning golf courses. This is where our Maui resort was located. This beach community also includes nice resorts like Andaz, Grand Wailea, condominiums and some gorgeous private homes. If you don't manage to get out of the resort area much, at least make it to Ulua Beach Park for morning walks, jogs or evening sunsets.
The beaches, and corresponding parking, along this stretch of coastline, are also a lot less crowded than the beaches in West Maui. A few beaches near Wailea you will want to check out if you choose to leave the resort:
Makena Beach State Park is one of Maui's signature beaches. With white sands extending nearly 2/3 of a mile long, it is one of the largest, undeveloped beaches in Maui. Makena (also called Big Beach) offers protection from the trade winds and provides great views of the islands of Molokini and Kahoolawe.
Kihei Beach in the town of the same name is one of the sunniest places on the island and is another great spot for sunsets in Maui. While it is best for beachcombing and surf lessons, it is also a great place for whale watching, because of its proximity to the main humpback migration route (visit from October to April if you are interested in seeing the whales).
See here for other Maui Beaches
Lahaina (West Maui)
Once the original seat of Hawaiian monarch and King Kamehameha the Great's royal playground, this beach town is full of history – and natural beauty. It's about a 35-40 minute drive (25 miles) from Kahului Airport to Lahaina town and a 45-minute drive to Kaanapali (30 miles) from Kahului.
Front Street, located in the old whaling village offers visitors a variety of shops, restaurants, and more. One of the best things to do in Lahaina is to park on Front Street and explore the town's surf shops and art galleries or hang out in Banyon Tree Court.
Ka'anapali Beach (Most Popular Beach in Maui)
Once the vacation retreat of choice for Hawaiian royalty, today Kaanapali Beach is one of the island's most popular expanses of white sands, surrounded by luxury hotels and resorts. Resorts like Sheraton, Westin, Hyatt Regency can be found here.
There's a lot to do in Kaanapali: from snorkeling to jumping off Black Rock, a 16-foot cliff on Ka'anapali's northern end. Keep an eye out for green sea turtles when swimming. You can also catch a breathtaking sunset over the Pacific Ocean from the popular Ka'anapali Beach.
Maui Attractions & Things to do
From towering mountain peaks and lush valleys to cascading waterfalls and breathtaking beaches, this epic road trip takes you to ten of the island's most magnificent attractions.
How to Use This Map: Use your fingers or computer mouse to zoom in on the details. Click the tab in the top left-hand corner of the map to view the layers (places and the driving route). You can click the icons on the map to get more information about each point of interest.

If you click the star next to the title of the map, this map will be added to your Google Maps account. To view it on your phone or computer, open Google Maps, click the menu button, go to "Your Places," click Maps, and you will see this map on the list.
Molokini
One of only three volcanic calderas in the world, a trip to Molokini is a must when visiting Maui. Molokini rises from 300 feet below the ocean's surface and is just under a half-mile wide and peaks at about 160 feet above sea level with half of it being hidden under the surface of the ocean. Divers and snorkelers flock from all around the world to experience the incredible underwater marine life here.
Located just a few miles off Maui's shore, Molokini is Hawaii's only island marine sanctuary. Scientists believe Molokini Crater formed about 150 thousand years ago. A tour to Molokini is one of the top things to do in Maui. We have not done this yet and it is high on my Maui bucket list.
A road trip to Haleakala National Park
An epic Maui road trip gets you to see a magnificent sunrise over the iconic Mount Haleakala. Mount Haleakala, a dormant volcano has inspired those who make the journey to its summit for centuries. Translating to "House of the Sun," Haleakala rises more than 10,000 feet above sea level, comprises 75 percent of Maui Island, and is home to desert-like conditions, rainforests, and everything in between.
If you are like us and can't manage a 2 am wake up call, you can visit Haleakala National Park later in the day. We decided to do the sunset at Haleakala and let me tell you it was just as spectacular! Plus we had time and energy for some nice hikes in the National Park before the sunset.
Visit Kula Ali'i Lavender Farm
When you are visiting Mount Haleakala, plant a little detour to see the lush, green scenery and visit a lavender farm. You will also be rewarded with panoramic views of the entire western half of the island. Since the area gets a great deal of rain, farms flourish here. Kula Lavender Farm is beautiful, and lavender isn't the only thing to see at this gorgeous farm.
Learn to Surf
Maui is a great place to learn to surf. Both Kaanapali and Kihei have places that offer group and private surf lessons. These classes are designed for beginner and first-time surfers and focus on surfing rules and etiquette and wave riding fundamentals. Classes usually last 2 hours with a maximum group size of 6.
We opted for the private lessons at a surf school in Kihei and loved the instructors there. D's instructor was this cool dude from Brazil and Ms. Peachy's instructor was a girl from Australia who came to Hawaii for surf competitions, fell in love with the islands, and decided to stay longer.
Drive the scenic Hana Highway
Maui's famous Hana Highway or Maui's Road to Hana is perhaps the most popular scenic drive on the island – and possibly all of Hawaii. This infamous 64.4-mile highway stretches from Kahului to Hana is popular not for the destination but for the incredible journey, it takes to get there.
The highway passes over 59 narrow bridges and features a whopping 620 turns. Road to Hana is considered the #1 Best Sights in Maui. While there are a lot of things to see on road to Hana, keep in mind that locals live here. Be respectful and considerate when driving this narrow road.
A few popular Hana Highway Sights:

Oheo Gulch at Kipahulu
Keanae Peninsula
Waimoku Falls
Garden of Eden Botanical Arboretum
Wailua Falls
Waikamoi Forest Ridge Trail
Waianapanapa State Park
Kaumahina State Wayside Park
Twin Falls
Puaa Kaa State Wayside Park
Honomanu Bay Lookout
Wailua Valley Wayside Park
Hana Highway Lookouts
Ke'anae Arboretum
Hana Town
Pa'ia Town
PRO TIP: We got this super helpful Audio Tour App that navigated us through Road to Hana and our other Maui adventures, all the while giving out entertaining and informative information about Maui.
Don't miss the colorful grove of rainbow eucalyptus trees, which look as though they have materialized here from the pages of a storybook. You can see them at the Ke'anae Arboretum and a few spots just before Hana town.
While Twin Falls is another popular spot on Road to Hana, it is located on private land, like so many other places. Stop at Keanae Peninsula and at Aunt Sandy's Famous Banana Bread for some warm and yummy banana bread. Coconut Glen's has some excellent ice cream including vegan ones made with coconut milk.
Watch surfers near Paia
Just four miles from Kahalui on Maui's famous Road to Hana is Paia (), sits a small beach town big on charm. The town is known for its epic surfing and windsurfing waves and is also the epicenter of Maui's north shore. It is full of artsy, bohemian vibes. Make time for a couple of photos here 🙂
We stop to watch the surfers in action here. Ho'okipa is one of the most renowned windsurfing/kiteboarding sites in the world. Hookipa lookout is where you will want to stop. You can sometimes spot Hawaiian Green Sea Turtles (Honu) sunning here.
While the adorable seaside town is gaining traction with tourists, it is still often seen as merely a spot to refuel, grab some food, and head out on the Hana Highway. Have lunch at Flat Bread or Café des Amis, better yet pick up your picnic here before you head out on the road to Hana drive.
Wailua Falls
You can stop at as many places as your time allows when you are on road to Hana drive but don't miss a stop off at Wailua Falls and the Bamboo Forest. Right at the very top of the Road to Hana is Wailua Falls, a gorgeous spot that's actually right next to the road and doesn't require anything more than a few minutes of walk.
Hike to Seven Sacred Pools (Oheo Gulch) & Waimoku
Located past Hana in the Kipahulu District of Haleakala National Park and near the Pipiwai Trailhead is an idyllic valley full of cascading waterfalls. This is where you will find the picturesque pools known as the Seven Sacred Pools.
Officially known as Oheo Gulch, these breathtaking swimming holes aren't actually sacred, and there are far more than seven pools. The nickname was coined by the owner of what is now the Travaasa Hana – previously the Hotel Hana Maui – as a way to market this then-unknown, remote location to tourists. And the publicity stunt worked – the "Seven Sacred Pools" are now one of Maui's most popular tourist destinations. They are absolutely gorgeous are worth the road trip and small hike to get there.
For a view of the Seven Sacred Pools and ocean views, the half-mile Kuloa Point Trail is an easy option. For a bigger waterfall and a bamboo forest, take the Pipiwai Trail which is about 4 miles long. You will hike through Oheo Gulch and see several smaller waterfalls before you come up to the massive 400-foot waterfall, Waimoku. Allow at least three hours to complete this four-mile round-trip journey.
Kaihalulu Red Sand Beach
Located almost in the heart of Hana town, on the eastern coast of Maui, is a special beach: one of the few red sand beaches in the world. Kaihalulu Red Sand Beach is an absolute must-visit in Maui, as long as you can navigate some cliff edges and are accustomed to some scrambling. It is an adventure getting there but that is only half the fun!
Explore Hana Lava Tube
Just like Big Island's Thurston Lava Tube, the Hana Lava Tube is magical. Also known as Ka'eleku Cave, the lava tube is the most accessible formation of its kind on Maui, and visitors are able to explore approximately ⅓ mile of the large cave. While on the Road to Hana, bring along your headlamps and go on this half-mile self-guided tour through 1,000 year-old lava tubes. It is a fun experience especially if you're visiting Maui with kids. They will enjoy the variety of wild cave formations.
Garden of Eden Arboretum
Another great spot to check out, especially if you like learning about native plants is the Garden of Eden Arboretum. These lush botanical gardens are set on 26 acres full of trails and picnic spots. You can see the Puohokamoa Waterfall and enjoy coastal views. Plan to spend 30 to 45 minutes or longer if you stop for a lot of photos.
Black Sand Beach in Maui
A black sand beach in Maui is truly a magnificent sight. Formed by lava flow that has cooled, hardened, and broken down into tiny pieces by the ocean waves it is unique and not something you see often.
The Waiʻānapanapa State Park can be easily reached from the scenic Road to Hana Highway and is one of the most popular stops along the Hana Highway. We visited this beach years ago when we first visited Maui but missed it this time! We didn't plan ahead!!
These days in order to visit Wai'anapanapa State Park, you must make a reservation in advance. Tickets sell out in advance, so I recommend making your reservation when the reservation system opens. At the time that I am writing this, you can reserve your tickets 2 weeks in advance. You will pay a $10 parking fee plus $5 per person. The park is free for Hawaii residents. See here for Maui Black Sand Beach reservation.
We had a picnic at Hāna Bay Beach Park which was also had black sand beach by the way but more grayish-black than full black. Koki Beach is another nice one to stop and linger and watch the waves.
Nakalele Blowhole
If you plan to go on a road trip in Maui, make a stop at the easterly edge of Maui, beyond Kapalua. You will come across the Nakalele Blowhole that's around a 15-minute walk from the road itself. You will be going down the mountainside and the route isn't paved. Wear proper shoes and not just sandals. Just be sure to stand a safe distance from the blowhole. It is very dangerous to stand close as you can be sucked in.
Iao Valley & Iao Needle
Last but not the least, located just south of the West Maui Forest Reserve and near Wailuku is Iao Valley State Park. A lush, 4,000-acre valley with miles of hiking trails, stunning vistas, and the famous Iao Needle. The fern-covered lava formation rising 1,200 feet from the valley's floor was formed from millennia of erosion of the softer rock surrounding the peak. This place is deeply rooted in Hawaiian culture.
Enjoy a Lomi Lomi Massage
After all those Maui activities you will want to get a Lomi Lomi massage to relax the sore muscles. This ancient Hawaiian tradition symbolizes transformation and helps let go of old ways. The long rhythmic strokes of the gentle Lomi Lomi massage enhance circulation, release blockages and help to restore balance. You must experience it when visiting Hawaii!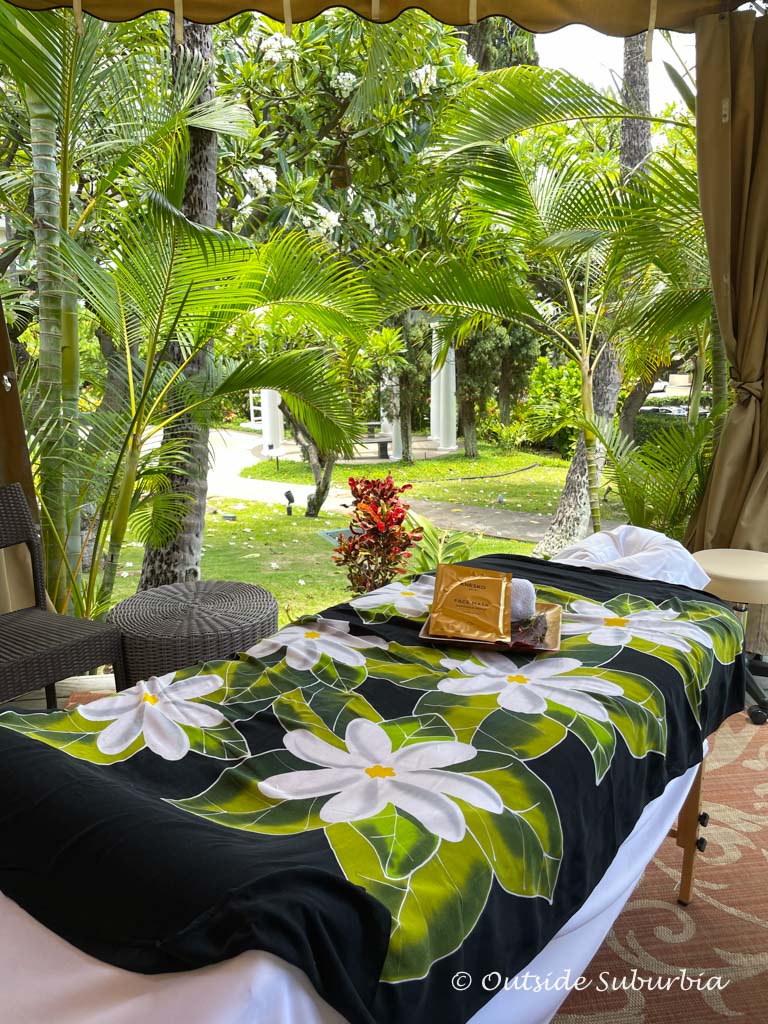 Where to eat in Maui
Our first meal in Maui was in Kihei at Ohana Seafood and Bar by the village market. Two of our best meals were at our resort (don't miss Nick's Fishmarket). We also enjoyed: Maui Thai Bistro, Threes Bar and Grill.

We had planned for these restaurants in Maui, but ran out of time:
Hali'imaile General Store
Mama's Fish House
Maui Tropical Plantation
Maui Tropical Plantation offers visitors a good overview of Hawaii's famous fruits and plants. You can go on a 40-minute tour which is ideal if you are visiting Maui with your families and kids. The tour loops around the lagoon and cruises through parts of the Plantation accessible only to passengers aboard the Tropical Express. The tour also includes a 15-20 minute coconut husking demonstration.
One of the most refreshing things to do in Maui is shave ice, try it and you will understand the addiction, especially after a day on the beach. You have to try some pineapples as well, Maui Gold Pineapples are delicious!
Popular Maui Tours
Finish with a Luau celebration
Attending a luau feast is one of the things to do in Maui if you want to learn a little about Hawaii's heritage and enjoy some local cuisine. Most luau happens at some of the larger hotels and they tend to book up fast. We have been to a couple in the past and the kids loved it, especially the fire-dance performances and ceremonious kālua pig which is roasted underground in an imu among hot stones.
Old Lahaina Luau is the oldest one of the best luau in Maui and Te Au Moana Luau at Wailea Beach Resort is interactive and family-friendly. Both lu'au has a lovely backdrop of the ocean where you can see a stunning sunset. Feast at Lele is a little more intimate and romantic. It is a five-course gourmet dinner with table service with performances presented between each course.
I hope this Maui Guide of things to do helps you plan your next adventure to the Garden Isle.
Featured Photo by James Wheeler from Pexels
Note: This post may contain affiliate links, partnership or sponsored content. If you purchase an item via one of these links, we may receive a small commission at no extra charge to you. But as always images and opinions are our own. For more information on our affiliates and privacy policy at Outside Suburbia see here.
CONNECT WITH US