Spring is the best time for a road trip since the sides and medians of the highways are blooming with bluebonnets and other wildflowers. This year we opted for a stay at the Hyatt Lost Pines resort nestled between Austin and Bastrop in the Hillcountry adjacent to McKinney Roughs Nature Park, a 1,100 acre wilderness area.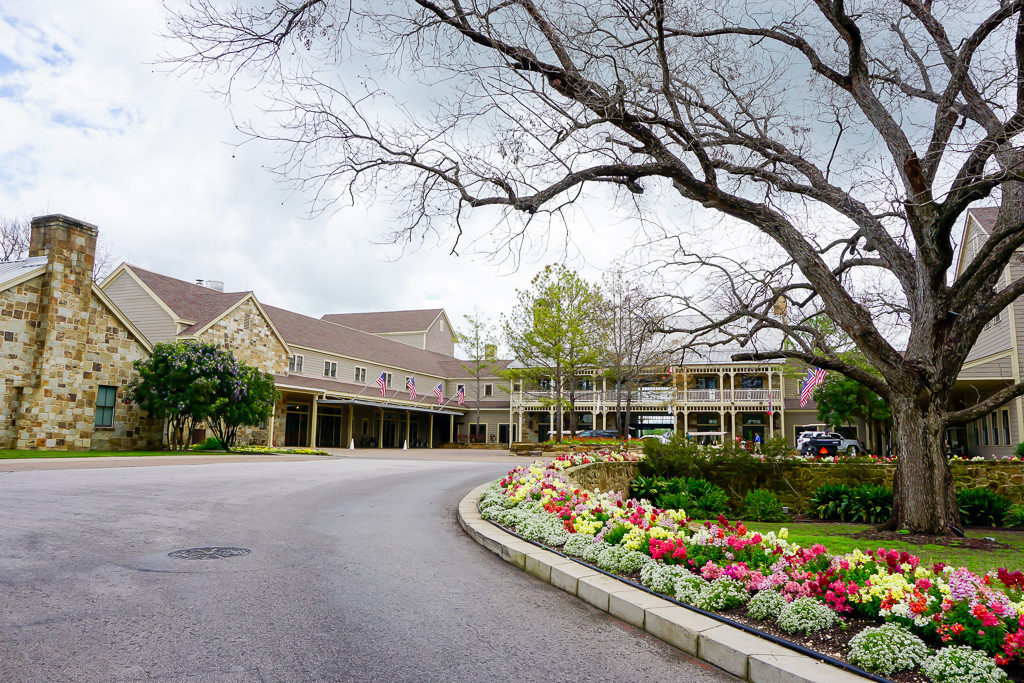 Spring break means a quick getaway to the Hillcountry in Texas for us, we have done a few over the years where we went climbing the enchanted rock or a stay in Wimberley and visit wineries around the area or a visit to the Riverwalk in San Antonio. Our recent stay at the Hyatt Lost Pines Resort was the best one yet!
Hyatt Lost Pines Resort, a Review
Hyatt Lost Pines Resort is a beautiful resort that has perfected blending wilderness and luxury. The hotel featured comfortable rooms, luxurious amenities, and on-site recreation, activities and entertainment that would keep the kiddos engaged. It rained a little while we were there but that didn't stop us from exploring the green grounds on the bike or on foot.  I loved that there was a hummingbird garden and a butterfly meadow.
The Hyatt Lost Pines resort had a Rustic Lodge vibe to it with a lot of natural cowhide chairs around that grabs the attention of all eyes and begs to be caressed by all who walk by, a few rocking chairs around the fireplaces, drinks served in mason jars.
The property was gorgeous with a big lazy river pool, a championship-level golf course and a Texas sized Spa. They organize pony and horseback riding and river kayaking excursions both on our grounds and at the nature preserve, so you can enjoy exciting activities with the safety of trained and highly qualified guides. They even had archery and trap shooting, and at the end of the day you can go stargazing or make s'mores by the fire pits.  If a more leisurely sport is your kind of thing, they even have organized bird watching or you can try out the horseshoe pit.
The resort is also pet-friendly, we saw a lot of cute dogs around and wished we had taken Bruno our ShihTzu too.   The resort charges a dog fee of $150 that applies for stays up to six nights and you have to book a patio room.  You can bring up to 2 dogs and must be kept on a leash at all times.  And of course, all pets staying at Hyatt Lost Pines must be properly licensed and up-to-date on their vaccines. Your canine companions will love hanging out with the resort mascot Boots.
We ate mostly in the resort – drinks and dinner at the Barrel house, D vouches for their onion rings. One night we ate Fire Wheel, they had a good buffet of all kinds of meat, veggies and a big selection of deserts.
We had a Texas sized breakfast at the Firewheel cafe one morning
We got breakfast from McDade's, the cafe in the property which had a really nice selection of pastries, coffee, local honey and other Texas gift items.
We made some new friends at the resort : T-Bone and Ribeye the Texas Longhorns, Apache Dancer and Little feather the miniature horses and the cutest but little dirty because of all the rain alpacas Yogi and Boo Boo. Watch out for the brown alpacas he spit every once in a while.
We enjoyed our stay at the Hyatt Lost Pines Resort and Spa, which gave us a new appreciation of the Austin area from the quiet of the resort.
You might also like these family friendly hotels and resorts.
PIN IT FOR LATER
Note: This post may contain affiliate links, partnership or sponsored content. If you purchase an item via one of these links, we may receive a small commission at no extra charge to you. But as always images and opinions are our own. For more information on our affiliates and privacy policy at Outside Suburbia see here.
CONNECT WITH US