My phone showed 6 am but I was still in Dallas time, I got up from my under the cloud-like comfy covers at Four Seasons Hotel San Francisco and glanced at my daughter who was still sleeping soundly. Trying not to make too much noise I changed into my pants and t-shirt and headed out the door. I made my way downstairs and tiptoed through the hallway from the lobby to the terrace where all the meeting rooms and conference suites were to catch a glimpse of the sunrise. Downstairs the city was barely waking up and the Yerba Buena gardens were in view. The terrace with its potted lemon trees and relaxed seating though quiet this morning was a nice place gathering place for drinks and chitchat.
The doorman opened the door with a friendly smile and when I asked for the park, pointed me to the walkway that leads to the little urban oasis I was looking for. I made a quick stop at Peet's coffee, a San Fransico staple before heading in the direction of where he had pointed.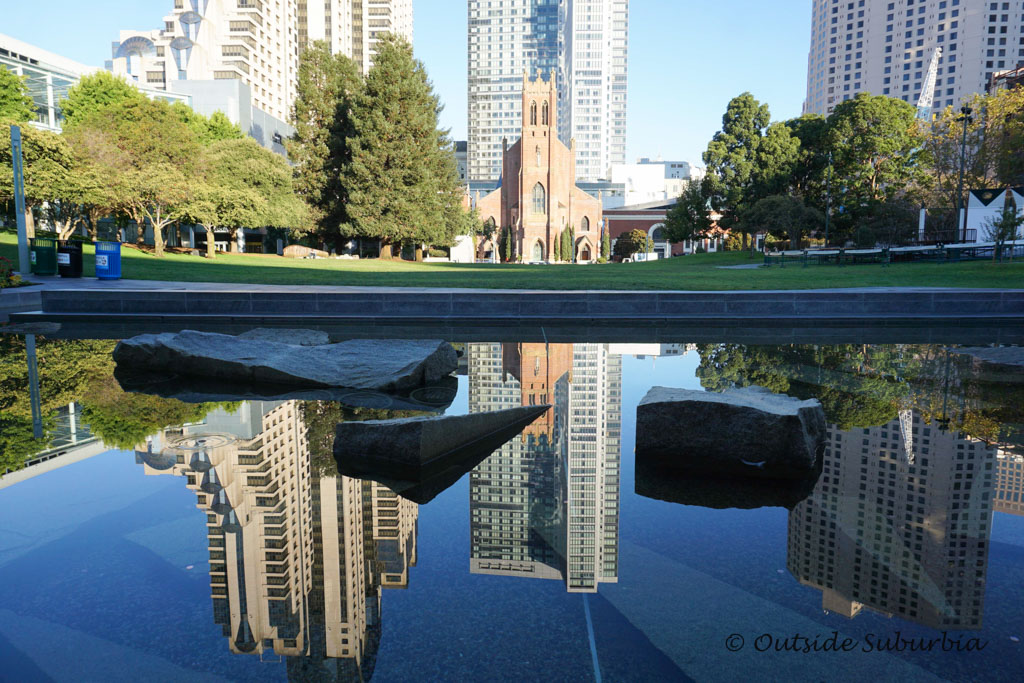 Yerba Buena was the original name of the settlement that later became San Francisco, California. Located near the northeastern end of the San Francisco Peninsula, between the Presidio of San Francisco and the Mission San Francisco de Asís, it was originally intended as a trading post for ships visiting San Francisco Bay.
The settlement was arranged in the Spanish style around a plaza that remains as the present day Portsmouth Square which today is a part of Chinatown. Yerba Buena Garden, is a little urban oasis, much like Central Park but on a much smaller scale. It was steps away from Four Seasons Hotel San Francisco and this morning I had it to myself except for a couple of people practicing taichi, a jogger and a lone man meditating.
Guest Rooms and Suites at Four Seasons Hotel San Francisco
Back at the hotel, I joined the rest of the family as they were getting ready for breakfast. Four Seasons San Francisco is going through some renovation and will unveil new guest rooms and suites in 2018, but our room was so well-appointed and furnished that I couldn't really see what renovation was needed.
We had an executive suite that had a king bed with expansive windows that opened up to city views. There was a living area with a sofa that converted into a bed, a huge flat-screen TV and all the necessary modern amenities. The marble bathroom was clean and ultra-spacious with L'occitane bath minis that reminded me of our trip to Provence a few years ago. We made ourselves coffee in the Keruig while everyone got ready.
MKT Restaurant-Bar
Downstairs the MKT Restaurant is the place for breakfast, a few cocktails or dinner- the atmosphere and clientele are classy while the staff is attentive and friendly. The bar team at MKT Restaurant-Bar, led by Michael Baldonado puts together two monthly events for both the cocktail and wine enthusiasts.
The Den features live music and craft cocktails every third Thursday from 5:30 to 8:30pm. The event pays homage to San Francisco's original speakeasies and parlors. Food, Wine & Friends are intimate wine dinners with the best wineries in the region. Held every fourth Thursday, they incorporate a wine-pairing dinner from the culinary team at MKT along with the winemaker as the host.
Why our kids love Four Seasons
There is no doubt adults appreciate the luxuries at Four Seasons Hotels and Resorts but the kids love it too. There is no additional charge for children 18 years old and under occupying the same guest room with parents or guardians as along as space permits. If you provide the hotel staff with the names and ages of the children in your party, they have complimentary amenities waiting for them like child-size bathrobes, children's toiletries, pool bags, they sometimes even have little scavenger hunts planned for the little travelers. Our kids love these little amenities!
My little niece till this day cherishes the little wand and magic skirt from the Four Seasons Orlando at Disney World (she called her tutu skirt that was left for her at check-in a magic skirt since everyone she encountered called her a princess when she wore it around the resort and at the theme park ).
Our favorite things to do in the San Francisco
Set on Market Street across from Yerba Buena Gardens and just blocks from Union Square, the Hotel Four Seasons San Francisco puts you within easy reach of all the attractions in the City by the Bay. While is impossible to see everything on a weekend, it's best to have a plan based on your interests, see this post for a few things we love to do in San Francisco.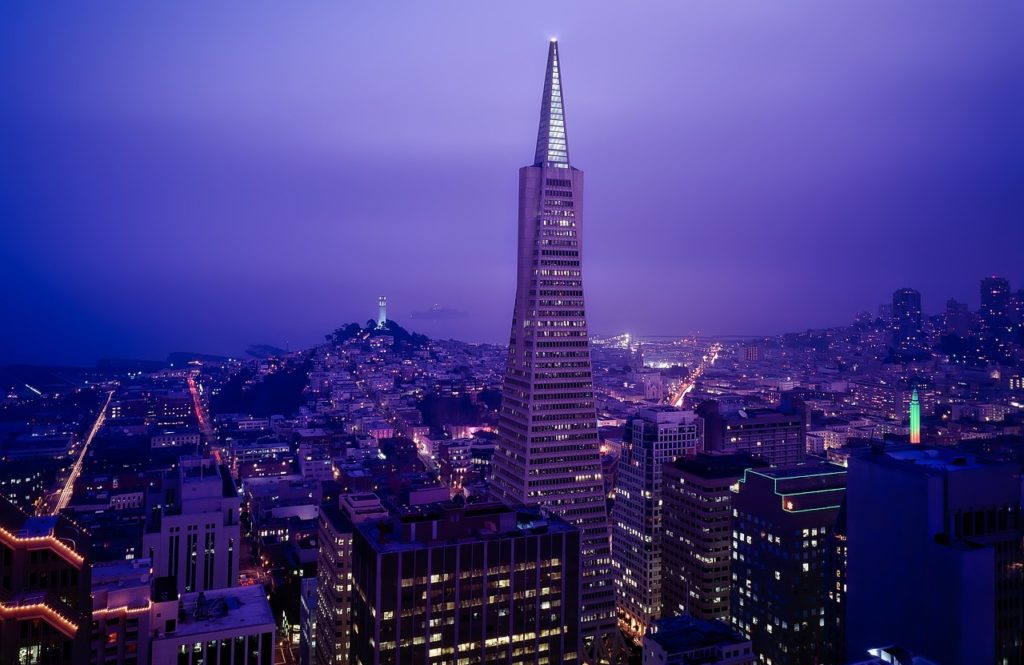 See also: The BEST Places to take a postcard shot of the Golden Gate Bridge
Where to eat in San Francisco
We like to start our day with a fabulous breakfast at MKT Restaurant and Bar at the Hotel with views of the city and plane trees. As we wait for our order of lemon ricotta pancakes, custom made omelet and egg benedict, we plan our short but sweet visit to the city. San Francisco Chinatown is the largest Chinatown outside of Asia as well as the oldest Chinatown in North America. It is one of the top tourist attractions in San Francisco.
Don't miss to stop for some dim sum in Chinatown or try the seafood at Fisherman's Wharf. There's also a charming Japanese tea house for refreshments with a Pacific flavor at Golden Gate Park. Kids will love to end the day with some ice cream or treats at Ghirardelli Square with a chocolate factory at its center.
Also don't leave San Francisco without trying the famous sourdough bread, we love getting some world-famous New England-style clam chowder served in a sourdough bread bowl at Boudin Bakery by the wharf, they have vegetarian options as well. We also love Villion, Dumpling house and driving across the Golden Gate Bridge to Sausalito for catching sunset and dinner at Scoma's.
Where to go if you have a few more days
There is plenty to do within the city of San Francisco but if you have a few extra days, a trip to the wine country in Napa or Sonoma can be done in a day. We love visiting the Point Reyes National Seashore, a vast expanse of protected coastline in Northern California's Marin County – it is one of the windiest places so go prepared with some jackets. On the way to Point Reyes, you can spend some time on the trails at Muir Woods National Monument. It is part of California's Golden Gate National Recreation Area, just north of San Francisco and known for its towering redwood trees.
You can explore more of Northern California's charming towns on a road trip, or rent a motor home from San Francisco RV rental and explore more of this beautiful part of the country with the freedom to choose where you stay for the night.
More Photos from our SFO trip
Dutch artist Lin Utzon designed the walls which flank the Martin Luther King Jr. Memorial and Waterfall as sculpted and silvered forms to reflect the surrounding nuances of water, sky, and landscape. These fluted granite walls, emblazoned with immense silvered fissures, adjust to changes in sunlight and weather. YBG's granite paving pattern also designed by Utzon, creates a sense of movement and guides visitors walking through the gardens.
John Roloff's, 18-foot-high sculpture "Green Glass Ship – Deep Gradient/Suspect Terrain," rises above the East Garden terrace accompanied by portholes that allow a hint of activity to be seen in the Moscone Center, located below the gardens. Roloff said, "At the site, land is an illusion with the gardens above and convention space below – a metaphor for the ocean, a different world, and the surface of the sea."
Bay Wheels (formerly Ford GoBike) is a bike-share system in Bay Area's, with thousands of public bikes for use across San Francisco. You can get a Single Ride or Day Pass to use the system or sign up for an annual program. You simply use their mobile app or a card to unlock any bike in the system, ride around the city and dock it back when you are done. That simple! They had a few bikes right outside the Four Seasons Hotel.
The Four Seasons Hotel offers the best location from which to enjoy all that San Francisco has to offer, plus they wow you with their signature warm and genuine service every single time.
Thanks to Four Seasons Hotel San Francisco for hosting us, but as always all opinions are our own.
PIN IT FOR LATER
Note: This post may contain affiliate links, partnership or sponsored content. If you purchase an item via one of these links, we may receive a small commission at no extra charge to you. But as always images and opinions are our own. For more information on our affiliates and privacy policy at Outside Suburbia see here.
CONNECT WITH US