When we were in Scottsdale for Girl's trip we drove to Sedona in the northern Verde Valley one day to see the beautiful red sandstone formations. We stopped at different vantage points on the way to look at the brilliant oranges and reds. A Pink Jeep tour we had arranged for took us further into the stunning terrain. It was as though we had set foot on Mars!
Red Rock Landscape of Sedona, Arizona
Sedona is listed as 10 Most Sacred Spots on Earth since the area is famous for its vortexes, powerful centers of kinetic energy that can have a deep effect on those who visit them. Mother Nature's red-rock temples are a perfect place for the spiritual and personal enrichment of the body and the soul.
It is believed a vortex intensifies everything and that makes Sedona an enormous amplifier. Everything you are feeling will be amplified a thousandfold. If you are happy in Sedona, you will border on euphoria. If you are feeling love, you will be ecstatic. The 3 of us left energized and enriched after our trip to Sedona, not sure if it was due to the vortex or due to catching up on our friendship!
Explore vortex sites in Sedona
Sedona has many vortex sites and Bell Rock is one of them. To some, Bell Rock in Sedona AZ looks like a church bell. To others, it is a kaleidoscope of red and pink and orange layered one by one out of the sandstone. However you envision the beautiful Bell Rock, the landscape will not disappoint you. Located off the Flat Loop Trail that encircles nearby Courthouse Butte.
While Bell Rock is one of the most interesting of the and popular Sedona Vortex Sites, there are four major other Sedona vortex sites. The others are Airport, Boynton Canyon and Cathedral Rock. The magnetic vortexes are supposed to be very nurturing and embracing.
Situated between spectacular, statuesque natural stone columns 3 miles south of town, The Chapel of the Holy Cross a modern 1956 Roman Catholic chapel soars from the rock like a slice of the land itself. Architect Marguerite Brunwig Staude followed the tradition of Frank Lloyd Wright – its wall of glass and the perch it occupies offers a dramatic perspective on the landscape, and the architecture is stunning. Though there are no traditional services, the church offers a 'Taize prayer service' on Mondays at 5 pm.
Pink Jeep tour in Sedona
We loved the Pink Jeep tour in Sedona especially the customized Bubblegum Pink Jeep Wranglers. These neon pink jeeps have cushioned seats in the back that accommodated about eight people. The seats are configured to give a great vantage point of the scenic surroundings. The seat belts and straps on top were much needed as the ride was pretty bumpy when we were off-roading. Our guide was entertaining and helped us learn more about Sedona's history and geology.
The National Forest Service protects this whole area of Sedona. Tour operators like the Pink Jeep tours in Sedona must have permits to enter this area and the much needed 4-wheel drive. Though, hikers and mountain bikers are allowed here too – we saw a few mountain bikes on the narrow trails. Part of the tour fees goes to the National Parks to help preserve this area. The trail turns from pavement to red dirt road as the division between public and protected land. We stopped at a few places where we saw the twisted trees and other flora and got to walk up some boulders and admire the red outer-worldly landscape.
Tlaquepaque
Another lovely thing to do in Sedona is spending an afternoon in Tlaquepaque. Nestled beneath the shade of the sycamores on the banks of beautiful Oak Creek in Sedona, Tlaquepaque is a unique shopping experience to be found in the area. Tlaquepaque (pronounced T-la-keh-pah-keh), is an Arts & Crafts Village fashioned after a traditional Mexican village. Tlaquepaque, means the "best of everything," and you can find art, jewelry, Southwestern ceramics, textiles, and woven items.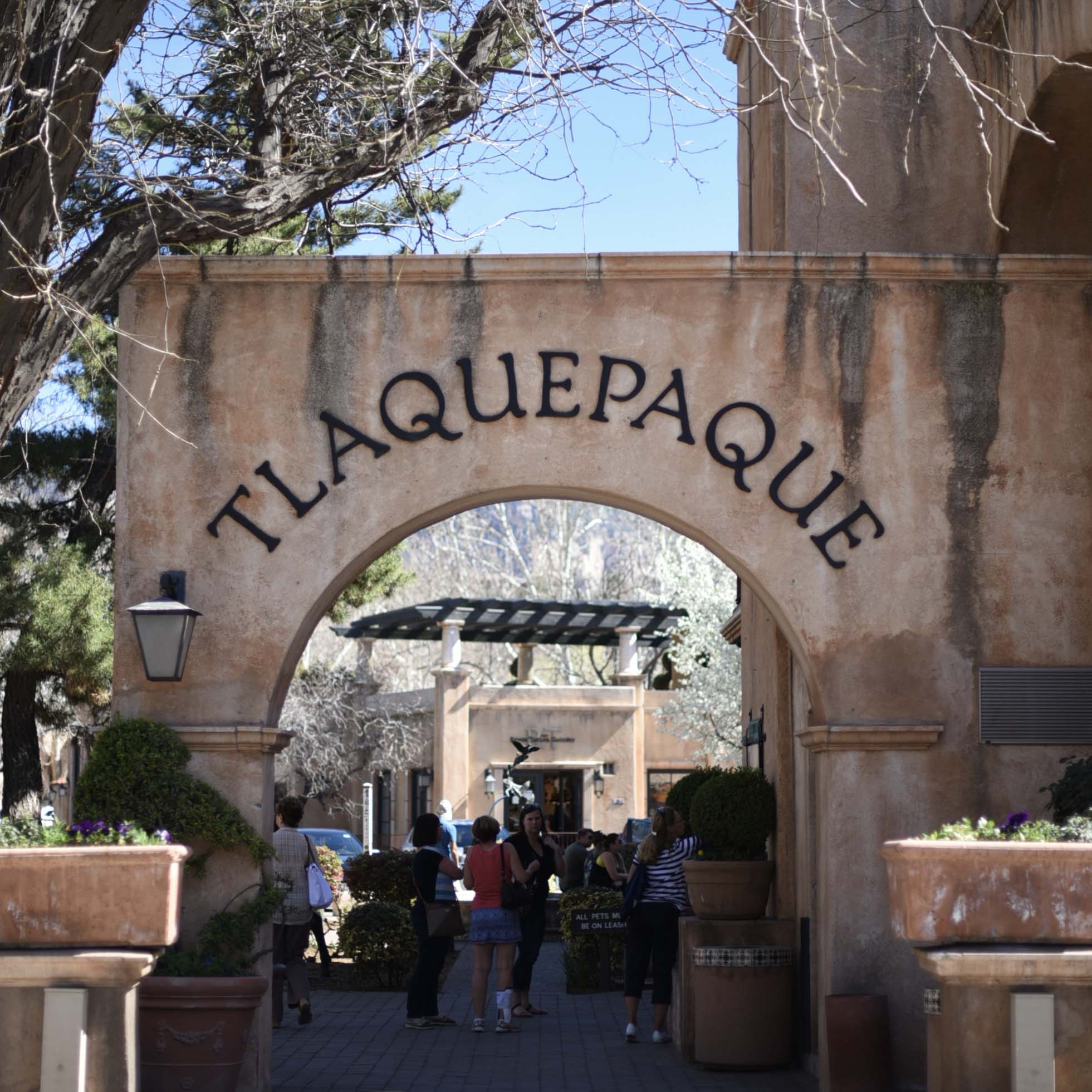 Sedona Hotels & Resorts
We stayed at a beautiful resort by Camelback Mountain in Scottsdale and drove up to Sedona for the day. If you are looking for places to stay in Sedona, here are a few recommendations.
On another trip to Scottsdale, we stayed in Four Seasons Scottsdale for a week during Spring training in March and drove to Sedona as a day trip. We didn't go on a Pink Jeep Tour in Sedona during this trip though. I have this beautiful L'Auberge de Sedona on my wishlist to stay at, next time we visit. It is located right in the center of Uptown Sedona and is walking distance to Main Street, which is full of shops and restaurants. L'Auberge has two of Sedona's best restaurants on property and about 80 rooms and cottages all with stunning views of the red rocks or Oak Creek.
Surrounded by stunning views of red rock Boynton Canyon and the Coconino National Forest, Enchantment Resort delivers a luxury escape along with views of the rugged Southwest landscape. There is a Hilton nearby as well. You can go on hot air balloon rides, visit the sacred vortexes and go on hikes and horseback rides through streams, desert landscape, and canyon walls.
Have you visited any of the sacred Spots on Earth listed by Budget Travel here?
PIN IT FOR LATER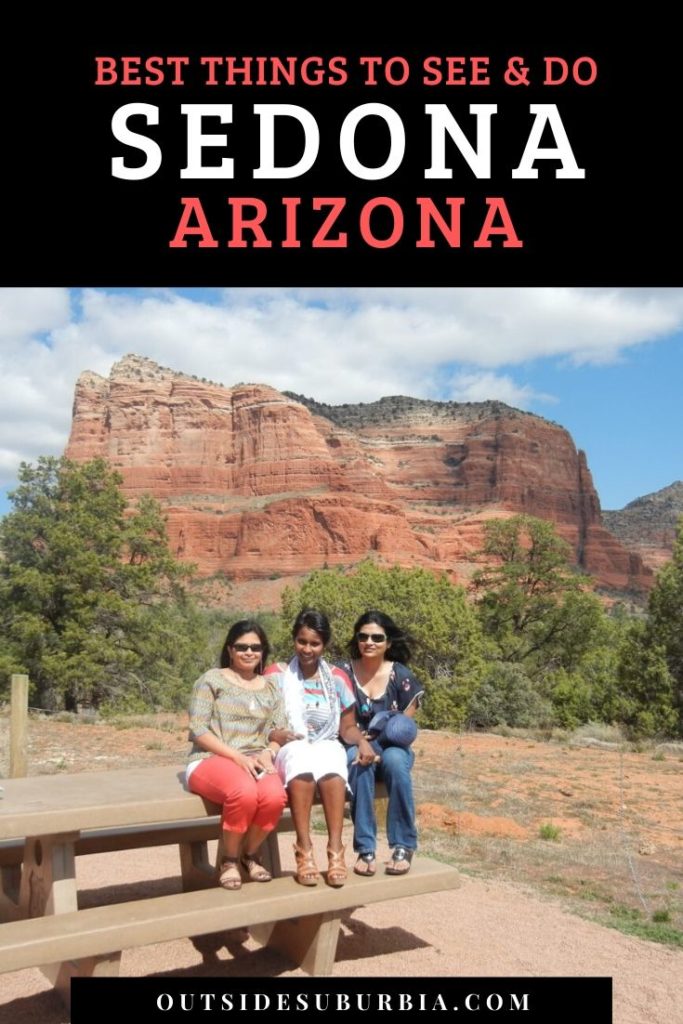 Note: This post may contain affiliate links, partnership or sponsored content. If you purchase an item via one of these links, we may receive a small commission at no extra charge to you. But as always images and opinions are our own. For more information on our affiliates and privacy policy at Outside Suburbia see here.
CONNECT WITH US