On our last trip to LA we thought we would indulge our star struck teenager and let her plan the itinerary to immerse herself in the celebrity sightings. The rich and famous go great lengths to protect their privacy but the paparazzi – amateur ones like our Teen and the more serious ones find a way to find them. Southern California is renowned for its many celebrity estates, and driving through Beverly Hills looking for the stars' homes is something that was on our teen's wish list. So we went on a trip spotting stars in Los Angeles.
Spotting Stars on the Movie Star Tour
Miss Teen wanted to go on a Movie Star home tour, so we boarded a small van and toured the celebrity homes around Beverly hills, we saw David Beckham playing with his kids. We saw Lady Gaga's house, George Clooney's and other celebrity mansions… You can either take the readily available van tours or buy the celebrity maps, yes there is such a thing that you can buy in the stores or download from the web.
Since we didn't really spot any stars on the home tour, we decided to go look for them in the Hollywood Walk of Fame. We went on a search for her favorite star – Marilyn Monroe.  Of course we had to stop at Tom Cruise since all of us were fans and we even got a photo op with Elvis.
We saw the Hollywood Roosevelt where suites carry the names of film legends who resided in them.  Celebrities past and present have made this hotel a favorite stomping ground.
Spotting cars on Rodeo Drive 
Then for some window shopping around at Rodeo drive for some high-end retail therapy.  Spanning three blocks this is shopping bliss where stores like Prada, Louis Vuitton and Armani and other star sighting worthy stores.  D was excited to see the fancy cars parked around.
Everyone has probably seen Pretty Woman, we saw the Hotel and also the motel where Pretty Woman was filmed. And of course we had to find the iconic Hollywood sign! The sign was first erected in 1923 and originally read "HOLLYWOODLAND". Its purpose was to advertise the name of a new housing development in the hills above the Hollywood district of Los Angeles and later became to symbolize the American Cinema.
 The iconic Hollywood sign
LA City lights against a pretty candy sky
Beverly Hills 90210, a drive around celebrity homes in Beverly hills and movie locations
The motel where Pretty Woman was filmed
Beverly Wilshire, Beverly Hills (A Four Seasons Hotel), where the hit movie Pretty Woman was filmed. Can you believe Pretty woman celebrates its 25th year anniversary this year!?
A little shopping on Rodeo drive
Porsche fans in front of a Porsche Flagship store
Fancy cars parked around in Rodeo drive
 The only star spotting we did!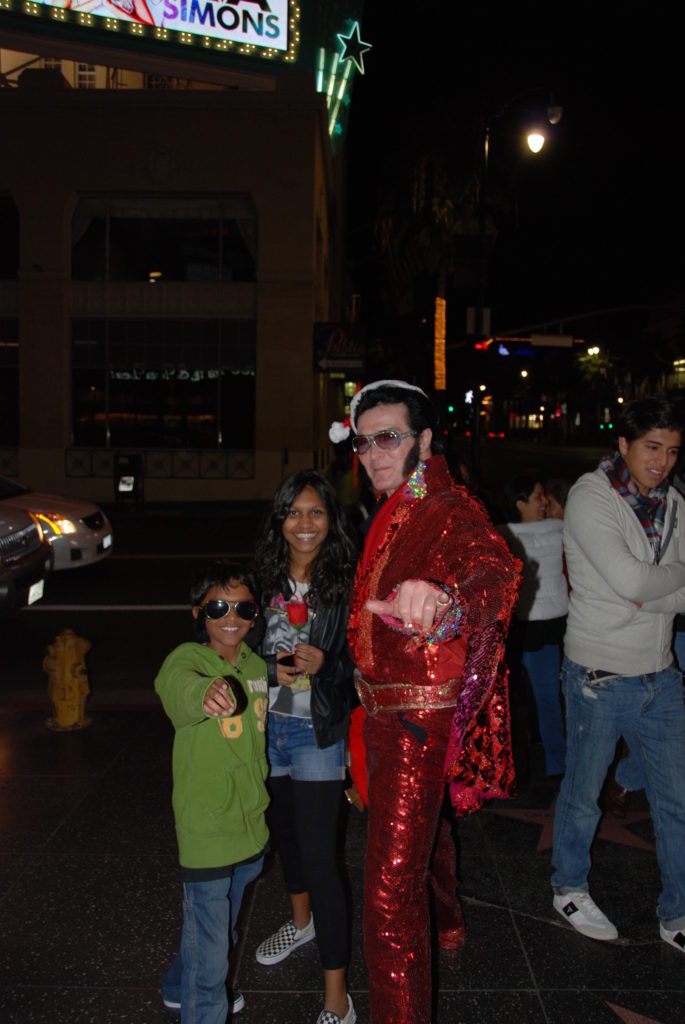 A photo op with Elvis
Have you seen any celebrities, do you every go celebrity sightings like a paparazzi ?  Here are a couple of other tours in LA that you might enjoy including a Segway tour.