Looking for fun things to do in Austin, Texas? Austin is not just the state capital of Texas, it is also the Live Music Capital of the World! It has more live music venues per capita than anywhere else in the nation. The city has a huge creative community that is innovative and a hub for designers, writers, and artists. Austin is the birthplace of companies like Whole Foods Market, Outdoor Voices… my favorite, Tito's Vodka 🙂 From food trucks to fancy sit-down restaurants, Austin has an amazing food scene as well.
With our son attending UT Austin, I will be getting to know this city intimately over the next four years. Here are some things we have loved so far… and a few on the to-do list. Whether you have 3 days in Austin, a long weekend, or a week, (or planning a girls trip) you will want to read our suggestions on what to do on your trip. Enjoy!
Go mural hunting in Austin
First on my Austin itinerary was a drive to look for the city's best murals. Did you know there is a reproduction of Banksy's Girl with a Balloon? Austin is known for its street art, which can be found anywhere and everywhere. See this post for some of the most iconic murals in Austin I have seen so far.
One of the most popular murals can be found on a wall in South Congress. "I love you so much" is painted on the wall of Jo's Coffee. (Featured Photo and one of my favorites) Start there with a cup of cold turbo coffee.
See this post for all the best murals in Austin and a map to find them.
Visit the Texas State Capital
If you're visiting Austin, you absolutely have to see the Texas State Capitol. The red granite building is the seat of the Texas state government and home to some incredible architecture in the city. Unfortunately, it was closed for a visit when we were there.
Capitol Tours are free, you can sign up for a guided tour. Self-guided tours of the Capitol and Grounds are also allowed daily.
Shop and Eat in SoCo
The city's unofficial slogan, "Keep Austin Weird," stemmed from a campaign back in 2000 to protect local businesses against larger, national chains.
South Congress Avenue still bears proof of that! It is one of Austin's trendiest areas, full of independent boutiques, vintage shops, beautiful restaurants with patios for people watching, and street performers.
A few favorites stores are:
Outdoor Voices
Allen Boots
South Congress Books
Amy's Ice cream
Joann's Fine food
Ada
Looking for some upscale shopping? Go to The Domain, a multi-phase development with over 100 luxury and mainstream retail stores (such as Neiman Marcus, J.Crew, Madewell). While you are there, visit the Instagrammy Museum of ice cream which has officially opened its iconic pink doors at The Domain!
At the Museum of Icecream, you walk through 12 colorful installation rooms, dip your toes in the famous sprinkle pool and marvel at the wonderful world of ice cream. Tickets are being released in limited quantities, so make reservations.
Enjoy Austin Restaurants & Patio Dining
Austin's food scene is top-notch and I can't fit them all in one post. The Food Trucks in Austin alone deserve a separate post! During our week in Austin, we got to try Uchiko (the BEST sushi spot especially for vegetarians IMHO), Jo's, Amy's Joann's Fine Food, Patrizi's (one of the best Italian food trucks ever!), Guero's Taco Bar, Ada among others. Yes! all in 5 days or so!
Neighborhood Sushi and Lucky Robot (also have many choices for vegetarians) are great spots for sushi in South Congress.
Perla's patio bar is one of Austin's best and looked very inviting but we didn't have time. With plenty of oak trees and umbrellas supplying shade and ambiance on the wooden patio, it's a relaxing way to enjoy a few cocktails and some seafood.
There is no shortage of BBQ, Tex-Mex and Damn Good Tacos when in Austin.
Coffee culture in Austin
Austin coffee scene is not to be missed. Houndstooth Coffee changed the landscape of Texas coffee. It is heaven for coffee enthusiasts, they serve cold brews, iced coffees, and hot coffees along with the espresso that they are famous for.
Summer Moon's coffee is another great coffee spot in Austin. They served wood-fired coffee crafted over custom coffee roasts that are truly unique. Try their most popular drink, the Half Moon, a latte with just enough Moon Milk to make it sweet. Wondering what Moon Milk is? It is their signature sweet cream, a family recipe made of 7 top-secret ingredients.
Located in the heart of East Austin, Revival is a cute coffee shop that is very Instagrammy and serves good coffee and fresh-baked pastries. I loved the lavender latte here.
Party at Sixth Street & Rainey Street
If you are looking for party spots during your weekend in Austin, then Sixth Street is a must. This lively bar street is where all the college kids and local Austinites go! Sixth Streets comes to life every night with neon signs and bands. But don't worry if that's not your scene, there are also plenty of more upscale establishments and some speakeasies if you are looking for a less rowdy night.
More about that soon. So far I only know of Pete's Dueling Piano Bar and The Parish, which many University of Texas alums and kids say is the best live music venue in Austin.
I have been told to head to upscale Rainey Street which is more adult-friendly 🙂 Historic buildings and several shipping containers have been converted to bars, with at least one wall retaining its original roots.
Music Venues & Events in Austin
Remember we said Austin had more live music venues per capita than anywhere else in the nation? From larger arenas like the Moody Theater to smaller spots such as The Continental Club on South Congress, Austin has an endless, and diverse selection of music festivals and live-music venues. Thanks in large part to the live-music television program Austin City Limits, a show that was the first broadcast from the University of Texas campus in 1976, the show is the namesake of the Austin City Limits Festival, Austin's second-largest music festival, after South by Southwest (SXSW).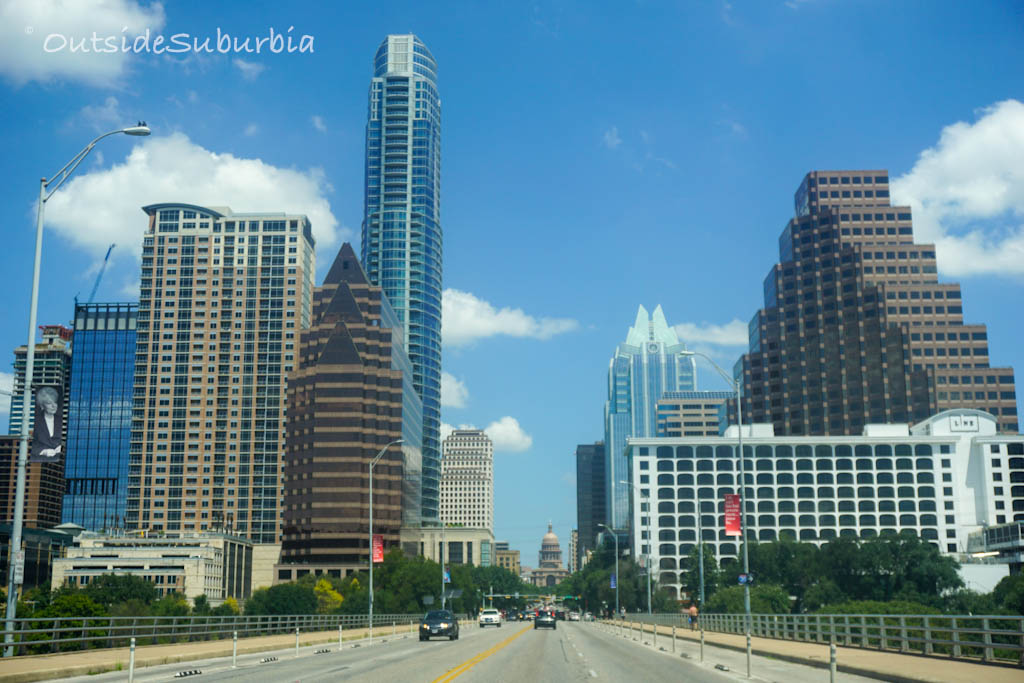 Get outside and explore the Lakes & Parks in Austin
Central Park of Austin – Zilker Park, stretches for over 350 acres and has something for everyone. We saw kids playing volleyball, people with picnic blankets enjoying the evening and dogs running free.
The Umlauf Sculpture Garden & Museum, also known as the UMLAUF, is a museum and outdoor sculpture garden centered on the artistic works of American sculptor Charles Umlauf. Located at 605 Azie Morton Road in the Zilker neighborhood of Austin, Texas, the garden is adjacent to Austin's Zilker Park. Don't miss it if you like art and beautiful outdoor spaces.
Lady Bird Lake looks like a river but it is a section of the Colorado River that runs through downtown Austin was created by the building of the Longhorn Dam in 1960. From kayaking, standup paddleboarding to retro boat rentals, there are plenty of activities to do at Lady Bird Lake in Austin. If you are looking for something more mellow, go on a dinner or lunch cruise with Capital Cruises or Lone Star Riverboat.
You can go for a dip in Barton Springs Pool, a refreshing natural swimming hole that stays the same temperature all year round. Or go for stroll on The Boardwalk at Lady Bird Lake which has stunning views of downtown Austin. It is a great place to walk, run or bike.
Street parking is available along S. Lakeshore Blvd. between Pleasant Valley Road and Riverside. Or if you are trying to get to the Ann and Roy Butler Hike-and-Bike Trail loop, you can park at Festival Beach across the river. Ann and Roy Butler Hike-and-Bike Trail is over 10 miles long and makes a complete circuit around Lady Bird Lake. It is one of the oldest urban hike and bike paths in Texas and top places to visit in Austin.
While walking down the boardwalk on the Ann and Roy Butler Hike and Bike Trail and look for the railings. Belting It Out is an installation of 36 bronze belts embellished with song lyrics from Texas musicians. Many of the melodies perfectly match the essence of the boardwalk, which opened in 2014. The belts, a permanent public art project perfectly captures the culture of Austin. See a map of the Boardwalk trail here.
Zilker Botanical Gardens features a rose garden, koi ponds, and even a prehistoric area that recreates the habitat of dinosaurs that used to live in the region. (It was unfortunately closed the weekend we were in Austin).
Zilker Hillside Theater regularly hosts a range of concerts – everything from jazz, country, and more, as well as summer musicals and Shakespeare in the Park.
If you looking for a quiet spot to study, the Austin Central Library is a beautiful building located on Cesar Chavez Street. Sunset views are great from the balcony here!
Photo spots: Best sunset views in Austin
For the best sunset view get to Covert Park at Mt. Bonnell. You will be rewarded with views of the Colorado River and a pretty Texas sunset. This short hike of about 100 steps(106 steps to be exact) takes you to one of the most beautiful views in Austin. 3800 Mount Bonnell Rd, Austin, TX
360 Bridge (Pennybacker Bridge) is another great spot to see sunsets in Austin. You can watch the sun go down, the lights come on, and a view of the Austin skyline 5000 Plaza on the Lk, Austin, TX
For a lovely view of the Austin skyline and Lady Bird Lake head to the Pfluger Pedestrian Bridge. 1250 W. Riverside Dr. (at S. Lamar Blvd.), Austin, TX
Austin is home to the largest urban bat colony in North America. More than 1.5 million bats fly out near dusk from the Ann Richards Congress Avenue Bridge. The best viewing dates are from April to early October. Go for the sunset and stay for the bats.
Brazilian or Mexican free-tailed bats, nearly one and a half million of them call the South Congress Bridge in Austin home during this time period. People usually gather below the bridge at the Statesman Bat Observation Center in the grass area along the adjacent hike and bike trail.
This coffee shop in Austin not only has great desserts (get their chocolate cheesecake)and coffee, but it also boasts beautiful scenery. You will always find kids studying, working, or just hanging out with friends. Mozarts, 3825 Lake Austin Blvd (at Enfield Rd.), Austin, TX
Called the Sunset Capital of Texas, Oasis is an outdoor restaurant in Austin boasting some killer sunset views. Located on a cliff 450 feet above Lake Travis, it serves up Tex-Mex, salads and cocktails.
Visit a few Museums
The Contemporary Austin Jones Center is actually made up of two museums that showcase modern art from around the world. You will find an outdoor sculpture garden, exhibitions, lots of special events and art classes. I'm looking forward to getting to know this museum more and participating in some art lessons by the lake.
For something different try the Museum of the Weird, which really takes the city's "Keep Austin Weird" motto to heart. Here you can browse all kinds of oddities, from shrunken heads to strange animals.
Blanton Museum of Art has world masterpieces, including European and Latin American Art.
Meanwhile, the Mexic-Arte Museum highlights Mexican and Latino art and culture, with both traditional and contemporary displays.
Lastly, history buffs will want to visit the Bullock Texas State History Museum, where you can learn about the local culture and all things Texas history– the Civil War, Reconstruction, the oil boom, and so much more.
Where to Stay in Austin? Boutique hotels
From stylish to swanky, there is no shortage of hotels in Austin. A compound-like hideaway on a leafy street a block from the trendy South Congress Avenue, Hotel Saint Cecilia is a retro-glam that you might like.
Having stayed at San Francisco Proper, the art-filled Austin Proper is another favorite I recommend if you are looking for a unique spot to stay in Austin.
Located on Music Lane in South Congress, you will love Magdalena, where you have great views from the 89 rooms and are surrounded by Texas trees including Bigtooth Maples, Redbuds, Meyer Lemon Trees.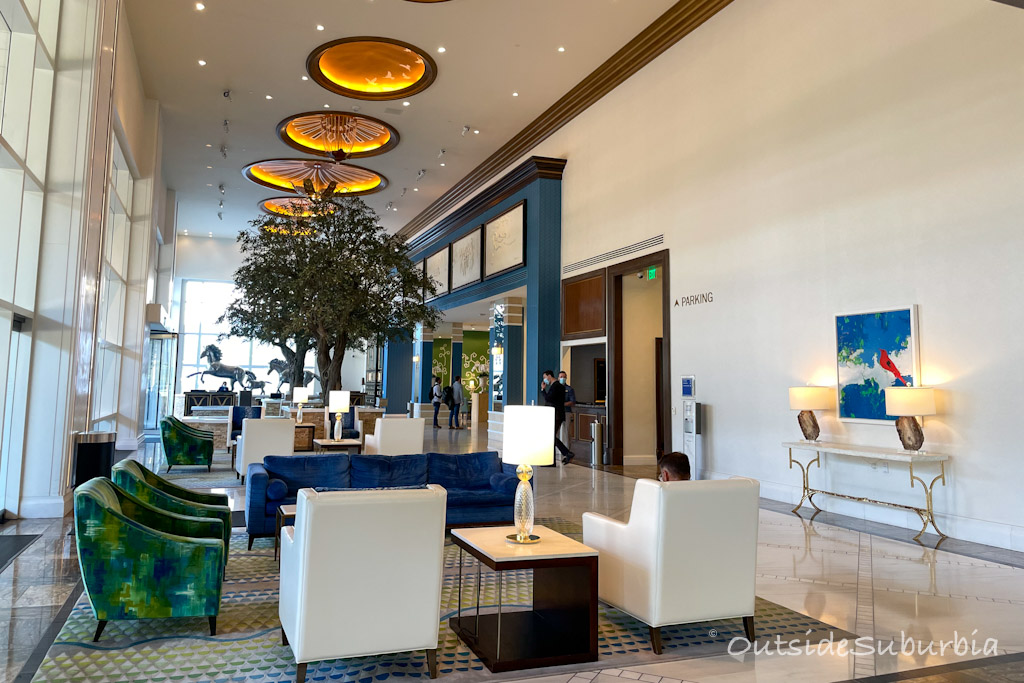 Our home away from home has been this hotel. The staff is super nice and the bath products are divine! While they might know your name (there are over 1000 rooms in the two towers that rise up to 37 floors), you are always greeted with a warm smile. The best part is, it is close to everything including UT Austin and has a rooftop pool.
A few other hotels in downtown Austin:
If you looking for a hotel close to the UT Austin campus and within walking distance then AT&T Hotel and Otis are your best bets. Otis has boutique style guest rooms that are a nod to Austin's history as The Live Music Capital of the World as well as the historic university with in-room vinyl record players and vintage schoolroom touches.
Go on a few day trips from Austin
Texas has many incredible towns and places to visit, so you have a wide range of day trips from Austin to choose from. Some of our favorite places are Fredericksburg (the Texas Wine Country), San Antonio and this family-friendly resort located just 25 miles away from Austin. It has is a 1,000-foot lazy river, horseback riding, a world-class golf course and a
The historic district in Fredericksburg is home to 700 historically significant structures, many of which are museums, restaurants, shops, lodging options, and churches. You can take a tour of the historic district and after your tour, enjoy some of 100+ wineries and vineyards in the area.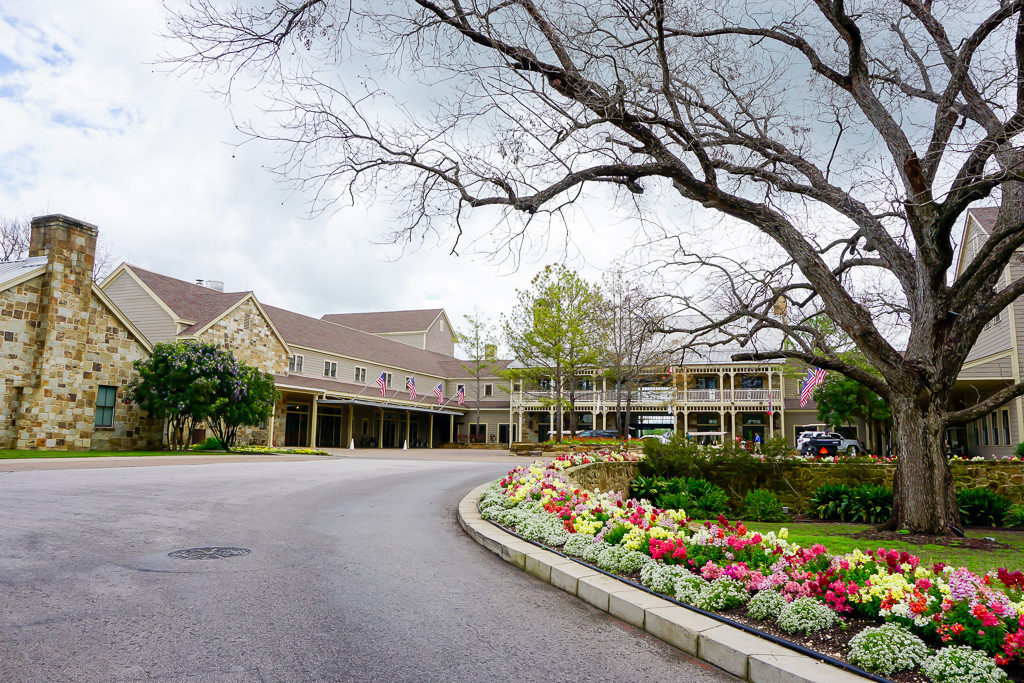 Just 25 minutes west of Austin in Dripping Springs where you can see some natural wonders, discover historic treasures, unique shopping, wineries, craft breweries, and local distilleries. Then have lunch at Texas Hill Country Olive Co. — a spot that looks like Tuscany rather than Texas.
Barton Creek Resort and Spa is another resort kids will love — you can enjoy hill country views, go on nature hikes, play mini-golf, relax in two pools.
PIN IT FOR LATER
Note: This post may contain affiliate links, partnership or sponsored content. If you purchase an item via one of these links, we may receive a small commission at no extra charge to you. But as always images and opinions are our own. For more information on our affiliates and privacy policy at Outside Suburbia see here.
CONNECT WITH US