Grand Canyon is about 200 miles long, about a mile deep gash in the earth and known around the world for its beautiful colors, incredible geology and vast vistas. But it's a lot more than just a big hole in the ground! People have been living in and exploring Grand Canyon for thousands of years from Native Americans to European American explorers, miners, and pioneers. From day hikes to helicopter tours, mule treks and skywalks here some of the best things to do in Grand Canyon with (or without) kids.
Grand Canyon is located in the northwest corner of Arizona. It was formed during 6 million years of geological activity and erosion by the Colorado River. Visiting the Grand Canyon is like stepping into the Jurassic period, Jagged limestone formations in colors of pink to salmon to red make you forget that you are only a few miles from the jarring neon lights of Las Vegas. Do you know that more than 6 million people visit the park yearly? Wondering what to do and which region of Grand Canyon to visit, here is the rundown.
A few facts about the Grand Canyon
Grand Canyon National Park became a national park in 1919
The Grand Canyon National Park is a World Heritage Site and encompasses 1,218,375 acres
The Grand Canyon is 277 river miles (446 km) long, up to 18 miles (29 km) wide, and runs to a depth of over a mile (1.6km)
Grand Canyon National Park attracts over five million visitors per year
While forests are found at higher elevations and the lower elevations are comprised of a series of desert basins, the scenery, the climate varies.
Grand Canyon is so huge that it takes 4 and half hours to drive between the popular South Rim and the less-visited North Rim there. Grand Canyon South Rim receives 90% of the park's visitors.
Visiting Grand Canyon North Rim
The Grand Canyon North Rim is very close to the Utah Border and requires a little more effort to get to than the South Rim. It is remote and less visitors make it to the Northside of the Grand Canyon. It is further from any highways. Keep in mind it is ONLY open seasonally from May 15th through October 15th each year. There is no airport at Grand Canyon North Rim. The closest airport is Kanab, UT, which is approximately a 2 hour drive away.
For first-time visitors, it's best to visit the Grand Canyon South Rim first! But if it is not your first time to Grand Canyon, I would recommend the North Rim. When visiting the North Rim in Grand Canyon National Park, you can also plan a visit to Zion National Park and Bryce Canyon National Park. The North Rim is known for its incredible views and some great day hikes.
Few other places you can add to your Northern Rim road trip are The Monument Valley Navajo Tribal Park where you can do a self-guided drive along the main road through the park to see the most famous buttes and mesas. The orange sandstone rock formations are the iconic images of the American Southwest. Monument Valley sits along the Arizona Utah border. You also visit Horseshoe Bend and Antelope Canyon near Page, Arizona.
Visiting the Northern Rim and Utah National Parks is still on our bucket list.
Visiting Grand Canyon West Rim
Grand Canyon West is the closest Grand Canyon experience to the Las Vegas area. You can visit the West Rim as a day trip from Vegas and still get to do some awesome things in Grand Canyon. The Grand Canyon Skywalk is located at Grand Canyon West on the Hualapai Tribal lands. If you look up directions in Google, the directions on how to drive to Grand Canyon Skywalk from Las Vegas – it is straight forward. It takes about 2 hour and 30 and approximately 125 Miles or 201 Kilometers to the Skywalk.
You take Highway 95 out of Vegas, which becomes Highway 93 just before Boulder City, Nevada, this Highway then takes you through Boulder City and over the Colorado River Bridge to Arizona.
Grand Canyon West Activities
Since private cars are not allowed in the Park, there is a free shuttle service to the various viewpoints and activities in the Grand Canyon West Rim. Here are some of the viewpoints and Activities.
Eagle Point Viewpoint & Hualapai Ranch
At Eagle Point, there is a Native American Village walking tour with replicas of authentic dwellings from various American Indian Tribes. The amphitheater hosts live Native American performances representing many different tribes throughout the day. Don't miss this, it was one of the best things to do in Grand Canyon with kids. The Hualapai, the "People of the Tall Pines," have lived in and around the Grand Canyon for hundreds of years. In the past, the Hualapai were hunter-gatherers inhabiting an expanse of more than 5 million acres stretching from the Grand Canyon south to the Santa Maria River and from the Black Mountains east to the San Francisco peaks.
The western-style Hualapai Ranch has cowboy entertainment, with roping and quick draw and wagon rides. Today the tribe lives on the Hualapai Indian Reservation. Established in 1883 and covering roughly 1 million acres, the reservation includes 108 miles of the Colorado River and Grand Canyon. Many of the tribe's approximately 2,100 members live in Peach Springs, the capital of the Hualapai Nation, on Historic Route 66. In 1988 the Hualapai opened their land up to the public. Stop at the art and gift store featuring handmade, authentic Native American jewelry and crafts.
Guano Point
Guano Point is a pyramid point made of rock that has the most beautiful views of Grand Canyon West and the Colorado River. The Highpoint Hike has slightly rough terrain, but the views are worth the walk. At Guano Point, there are remnants of a historic tram that stretched 8,800 feet across the canyon to a guano mine. Enjoy the Hualapai Market selling jewelry and crafts.
Helicopter Flights & Pontoon Boat tours
A Heli-tour combined with a pontoon boat ride to get some bird's eye and up-close view of the canyon is one of the popular activities on the Grand Canyon West Rim. Helicopter flights are available from the Grand Canyon West Airport located right at the rim of the 4,000-foot cliff to the floor of the Canyon. The Descend from the Grand Canyon West Rim into the Canyon was an amazing experience. Standing on the canyon floor with the sheer cliffs towering above you is awesome! One of my absolute favorite things to do in Grand Canyon!
The Rim-to-Floor experience is even more amazing if you add the pontoon boat tour. Cruising down the famous Colorado River inside the Grand Canyon gives you a true perspective of the magnitude and magnificence of the Grand Canyon, a wonder of the natural world. The pontoon boat ride at the bottom of the rim, along the canyon on the river Colorado, was perfect with the gentle breeze caressing you while you stare at the jagged canyon in awe. There are several companies that provide tours from Grand Canyon West including Papillon Helicopters, Maverick and Sundance.
Tip: We booked our heli tour with Sundance Helicopters through Viator, there are several options available where there even pick up in a limo from Vegas and fly you to the Grand Canyon. We opted for the Self-drive Quest – where you descend from the Grand Canyon West Rim into the Canyon for a River Boat Ride, Tour Eagle Point, Guano Point and Hualapai Ranch. It was about $200 per person for the ride. You can choose to sit next to the pilot if you want to, and enjoy the panoramic views!
Grand Canyon Skywalk Glass Bridge
Walking on the Grand Canyon Skywalk Glass Bridge is a unique experience. The horseshoe-shaped ledge with a glass floor and extends over the edge of a 4,000 foot drop to the floor of Grand Canyon West. Walking onto the bridge is both exciting and a little scary. The glass is actually constructed of five layers of glass measuring approximately 2 ½ inches thick and the bridge can hold up to 71 million pounds. In order to protect the glass, there are no personal items allowed on the bridge including cameras. But there are photographers there that can take your photos for a charge. Another must-do activity in Grand Canyon West Rim!
Other photo spots & things to do near Grand Canyon
Here are a few other places to visit, photo spots and things to do near Grand Canyon
Monument Valley is a classic location at the border of Arizona and Utah. The cluster of sandstone buttes which reach over 300 meters in height makes a frequent appearance in Arizona Road trip photos.

Wave, Arizona is a unique sandstone formation with colorful and undulating forms of rocks. It is a popular photo spot for photographers.

Horseshoe bend is another epic sight which is often referred to as the "East Rim of the Grand Canyon". The steep, dramatic bend of the Colorado River is one of the most featured and photographed spots near the Grand Canyon.

Antelope Valley is a slot canyon with beams of lights passing through the cracks that form unforgettable shapes. It is close to the Wave and a favorite photo spot. Make sure to have permits ready when visiting this location in Navajo.

Lake Powell is a man-made reservoir that is an excellent location for many family outdoor activities like fishing, camping, or rafting. You can also rent houseboats here.
Popular Grand Canyon Tours
Visiting Grand Canyon South Rim
The South Rim of the Grand Canyon is the most visited location at Grand Canyon National Park. The Scenic views and activities available in Grand Canyon South Rim are what you see on postcards and photographs. South Rim is accessible from a few places. You can fly into either Las Vegas or Phoenix and then rent a car and drive which makes for a great road trip, especially through Sedona. There are lots of things to do in Sedona before you get to the Grand Canyon. Plan to stay in Sedona for a couple of nights.
If you can splurge on flights, fly int Flagstaff, Arizona which is just an hour and a half south of Grand Canyon Village. The main hub for exploring the park. If you don't want to rent a car, or prefer not to drive, you can take the Arizona Shuttle that runs vans from Flagstaff to the village three times a day from May 15 to October 16. This is a great option for first-time visitors to Grand Canyon.
Below are driving distances and approximate driving times to South Rim:
Las Vegas, NV – 279 miles and 4.5 hours
Los Angeles, CA – 490 miles and 8.5 hours
Phoenix, AZ – 231 miles and 3.45 hours
Sedona, AZ – 119 miles and 2.15 hours
Flagstaff, AZ – 80 miles and 1.5 hours
Ranger Programs run by National Park Service include topics such as geology, animals and birds, fossils and cultural history at the Grand Canyon South Rim. It is one of the most educational and fun things to do when visiting Grand Canyon with kids. There are a variety of lectures or hikes guided by experienced rangers that will enhance your visit to the Grand Canyon. There is also a Junior Ranger Program for kids 6-14 years old.
Hiking at the Grand Canyon South Rim with kids
When visiting the Grand Canyon with kids you only need a few hours to explore the South Rim. If you are a family of serious hikers you might want to spend a night in the park or two to hike in Grand Canyon. There are about 358 miles of established trails. Just a fraction of visitors descends into the canyon itself, all the way down the canyon and back. It takes about 4 hours to descend to the bottom of the Grand Canyon and another six to eight to climb back up, and of course longer if hiking with young children or people with limited abilities.
The Rim Trail is the only trail we have hiked in the Grand Canyon with our kids. It is about 12 miles long on level, mostly paved road and is one of the easiest trails at the South Rim. As its name indicates, this trail follows the rim and offers beautiful, panoramic views of the Canyon. You can access the trail from different viewpoints in Grand Canyon Village or along the Hermit
Road. You can access the trail from many of the shuttle bus stops.
Bright Angel Trail is a popular hiking trail in Grand Canyon South Rim and said to be a beautiful desert trail. But it is also a very strenuous trail that requires some training and preparation. The trail is 9.2 roundtrip to Indian Garden, a natural spring in the midst of harsh terrain or you can hike another 3 miles further to Plateau Point. The trail begins just west of Bright Angel Lodge. Follow the path along the rim trail which starts by mule corral. You can hike part of the trail just for the experience.
South Kaibab Trail is not as popular as Bright Angel because there is no water source and very little shade. This trail is steep, difficult and demanding but it does have the Ooh-Aah Point which is so-named because of the hiker's response to its magnificent view.
Even if you don't get all the way to the end of the trail, one of the great things to do in Grand Canyon is seeing the Canyon from below the Rim. Hike down a little if not all the way for a unique perspective.
Mule Rides at the South Rim
If you would like to go on a mule ride from the South Rim, you must plan at least a year in advance! Mule rides are booked up to 13 months in advance and it is a popular activity at the Grand Canyon South Rim. There are 2 mule trips. A three hours trek along a four-mile trail close to the South Kaibab trailhead. Mule riders will be in the saddle for approximately two hours with stops and lectures by the guide about the surrounding area and history. Only 10 riders per day are allowed to descend all of the way to the bottom of the Canyon for an overnight at Phantom Ranch before ascending to the rim the next day. Riders must be aged 9+.
Horseback rides at Grand Canyon
A distinctive way to see the Grand Canyon is by horseback. From the Grand Canyon Apache Stables, you can travel along the trails to the rim of the Canyon with guided horseback tours and even stop for a campfire meal for a truly Western experience.
Havasupai Falls
One of the most breath-taking and remote areas of the Grand Canyon is Havasupai Falls. Only a limited number of people are allowed to visit this stunning location on the Havasupai Native American Reservation. There are five gorgeous waterfalls located here with Havasu Falls being the most popular. Reservations book up very quickly each year (usually in about 30 minutes after opening on February 1). Mark your calendar and register soon. It is like winning the lottery and probably on a lot of people's wishlist of things to do in Grand Canyon!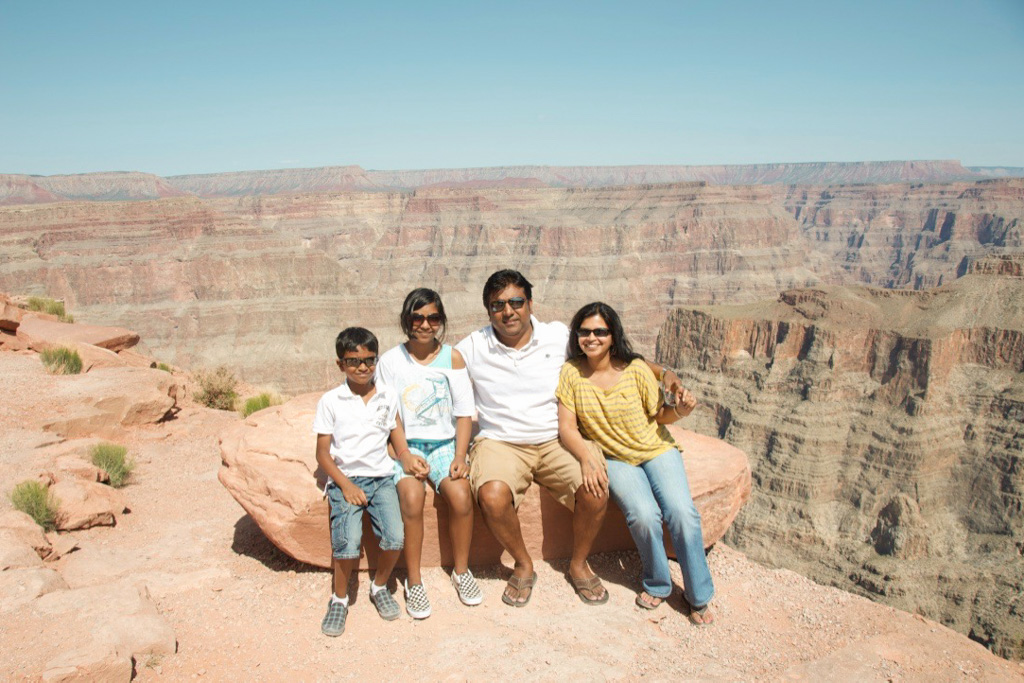 Grand Canyon Lodging
Staying inside the Grand Canyon National Park is one of the best ways to see the Canyon at sunrise and sunset since you are right there close to the Rim. Some rooms even have stunning canyon views. Park lodges are also convenient if you are going on day hikes or nature walks around the Canyon. The Lodges are popular but do book your lodge far in advance of your vacation dates, some of them get booked a year ahead. Most of them are run by Xanterra, a company we love. (See here for their Yellowstone lodges we stayed at). A disadvantage of staying inside the Park is limited restaurants and evening entertainment, so bring some snacks if you are visiting Grand Canyon with kids. Here are a few popular Grand Canyon Village Lodges.
Kachina Lodge
Thunderbird Lodge
Bright Angel Lodge & Restaurant
Maswik Lodge & Cafe
Yavapai Lodge & Cafe
Grand Canyon Railway Train & Hotel
Williams, Arizona is another option to stay when visiting Grand Canyon. It is a charming town 60 miles to South Rim. It is surrounded by ponderosa pine forest and pristine clear lakes. You can go golfing, fishing, ATV rides and hiking and the town has plenty of shopping and dining options. Williams is also home to the Grand Canyon Railway, a great way to visit the Grand Canyon. This is one of those things that I have in my wishlist of to do in Grand Canyon!
The Grand Canyon Railway departs each day from the Williams Depot which is 30 miles west of Flagstaff at 9:30 a.m and arrives at Grand Canyon Depot at 11:45 a.m. The train departs Grand Canyon at 3:30 p.m, returning to Williams at 5:45 p.m. During peak times, a second train departs from Williams at 10:30 a.m. You can ride the train and return in one day, which only allows for a few hours of exploring Grand Canyon. You can stay at the Grand Canyon Railway Hotel.
Pink Jeep Tours in Grand Canyon
We have done a few Pink Jeep tours, one from Vegas to Red Rock Canyon and another Pink Jeep tour in Sedona and it is a great way to experience the landscape without a lot of hiking. The Pink Jeep runs a few tours to Grand Canyon in their custom, heated bright neon Pink Jeeps.
On the popular Grand Canyon South Rim Tour, you can visit some sweeping canyon views. Learn about the history, geology, fossils and plants of the canyon. You get to visit Yavapai Point for views of rock layers and trails. Hike the Hermit Trail below the South Rim to see marine fossil beds and majestic landmarks. IMAX movie is included as well in this 3 hour tour.
Best time of year to visit the Grand Canyon
The Grand Canyon South Rim is open 24 hours a day, 365 days a year. This includes the Grand Canyon Village and Desert View. All services at South Rim are available year-round, but reservations are strongly recommended well for spring, summer and fall. Grand Canyon south rim gets a lot of visitors year-round. Check the National Park Service before planning a visit to the North Rim, it is closed during winter.
You might also like: Best things to see and do in Yellowstone NP, Grand Teton NP, Big Bend NP, Short & Easy Hikes in US National Parks
PIN IT FOR LATER
Note: This post may contain affiliate links, partnership or sponsored content. If you purchase an item via one of these links, we may receive a small commission at no extra charge to you. But as always images and opinions are our own. For more information on our affiliates and privacy policy at Outside Suburbia see here.
Follow Outside Suburbia on
Instagram | Facebook | Twitter | Pinterest | Tripadvisor