Planning a weekend or a few days away from routine? There is plenty to do in historic Seattle, making it a great destination for a Girls Weekend Getaway trip.
I have been wanting to visit the century-old public market houses, stalls, farmer's shops, and flower markets at Pike Place Market and check out the colorful Chihuly Glass and Garden for some time now. So when the opportunity to celebrate a friend's milestone birthday in Seattle came about, I couldn't refuse.
A little disclaimer: It was not a 100% Girls Trip, we did have our other friends from college for some parts of the week, but we stayed in DT Seattle and spent most of the time exploring the city on our own.
What to do in Seattle
Like most major cities, Seattle is comprised of many neighborhoods and has many things to do, here are the must-do's for your Girls' weekend getaway! We had 5 days but you can easily spend a weekend in Seattle and get to see some of the highlights. A week in Seattle would be ideal!
Our Seattle Girls Getaway Trip Itinerary
Day 1: Pike Place | Gum Wall | Aquarium | Waterfront Wheel & Cruise
Day 2: Seattle Space Needle | Chihuly Glass & Garden
Day 3: Day trip to Mt. Rainier
Day 4: Snoqualmie Falls | Lavender Field | Olympic Sculpture Park
Day 5: Japanese Garden | Pioneer Square | Fremont | Kerry Park
Optional: Leavenworth, Bainbridge Island, or San Juan Islands
9 Best things to do in Seattle
1. Wander the Pike Place Market & Gum Wall
Our first day was spent exploring the farmers market and flower stall at Pike Place. We ate at restaurants, spent some time catching up and goofing around the waterfront overlooking Elliott Bay. The bustle is non-stop here.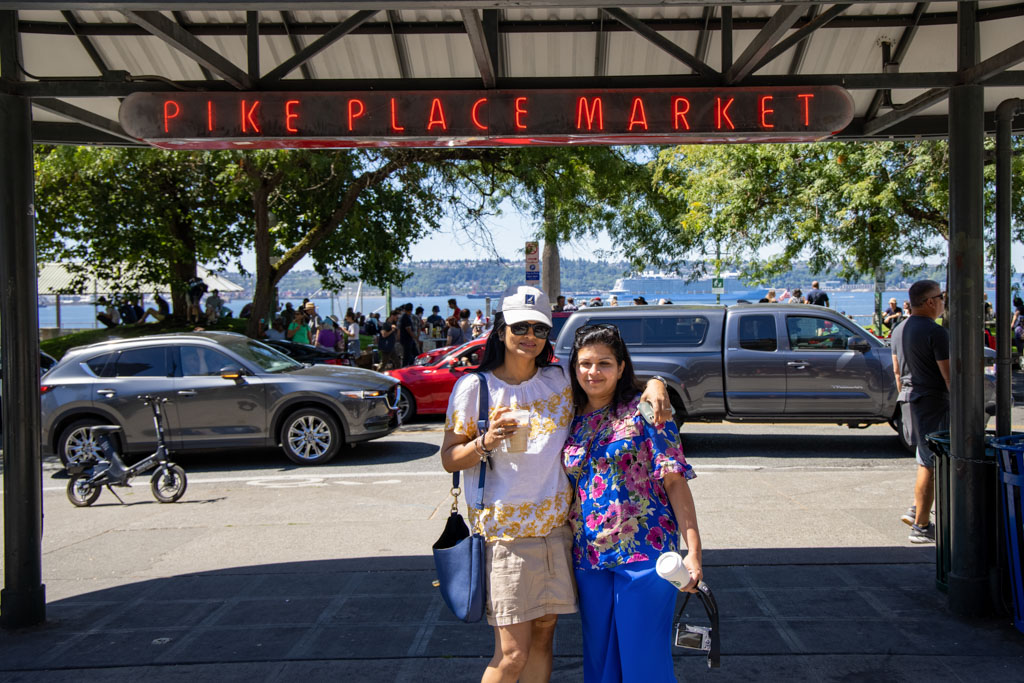 From fresh flowers, locals buying fresh seafood, and visitors eating their way through the different gourmet food stalls, there is so much movement here. It can get somewhat overwhelming, use this self-guided walking tour pocket guide on the market's website to put forth a plan before you visit.
I like the Greek stall here where we got falafels and we stopped at the "famous" Gum Wall for some photos. Who thought gum on a wall would become an artistic attraction?! I thought my flowers from the market looked great against the colors of the used chewing gums left on the walls.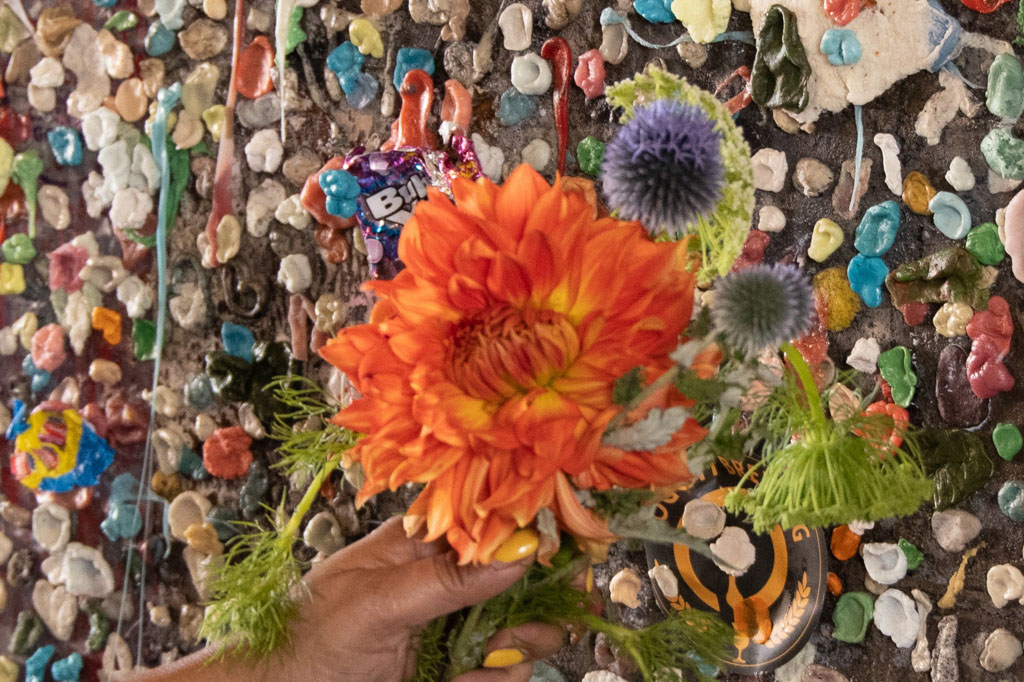 Stop by Ellenos Real Greek Yogurt for an amazingly creamy concoction in flavors like passion fruit or marionberry pie and key lime pie, or grab a drink at Rachel's Ginger Beer. My friends suggest the spicy pineapple.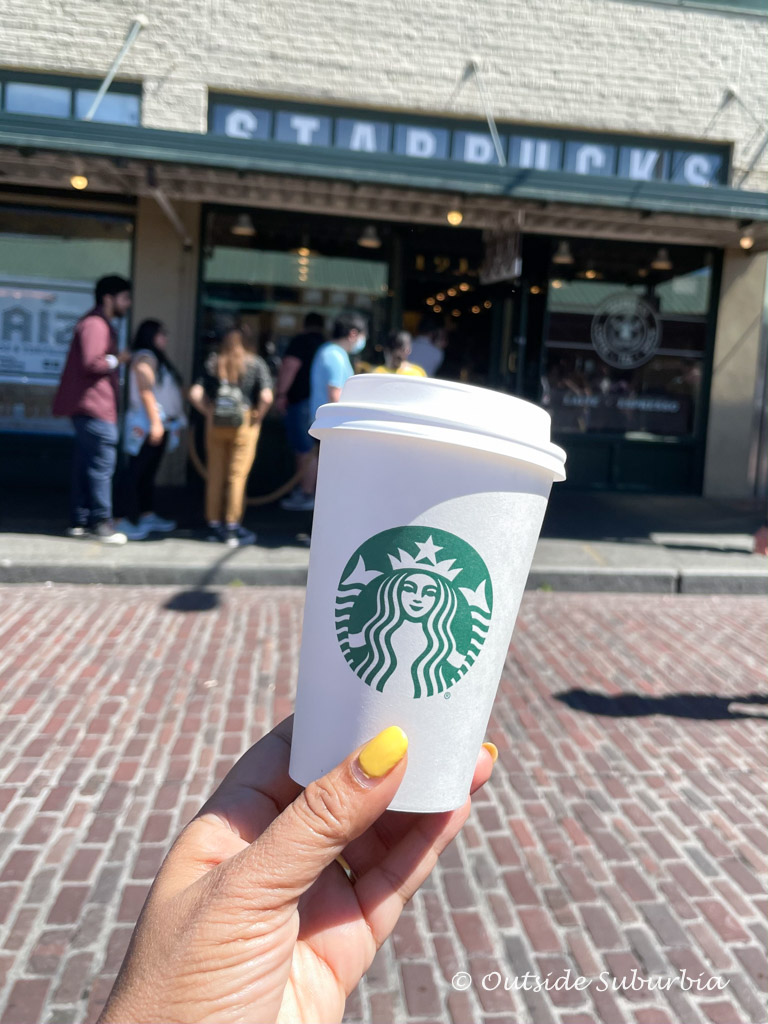 The original Starbuck store at 1912 Pike Place is smaller than you might expect, but it attracts thousands of tourists and locals. There is always a line outside. Get closer and snap a photo of the original Starbucks Coffee Tea Spices sign in front of the Pike Place store.
2. Learn the History in Pioneer Square
Pioneer Square is known as Seattle's first neighborhood. Can you imagine that you are walking almost 3-stories above what used to be the original streets of Seattle? Take Seattle Underground Tour, a 75-minute tour offering entertaining and interesting lessons on Seattle's history.
You can go on the First Thursday Artwalk, shop for antiques and gifts at Pioneer Square. Beneath the Streets, offers small group tours daily.
3. Stroll Around Downtown
Downtown Seattle has a ton of things to do that will keep you entertained. Bring some comfy shoes and stroll around. It is walkable and friendly. Seattle is known for its rain, so bring an umbrella or raincoat. Thankfully, we were blessed with sunny skies during our Girls trip to Seattle 🙂
4. Admire the views from the Space Needle
Travel to the top and see the city from high above, you can see all the way up to Mt. Rainier. Space Needle is the tallest building in Seattle and iconic to the cities skyline. If this is your first time in Seattle, you probably want this on your itinerary.
The Space Needle features an observation deck 520 ft (160 m) above ground from which you can admire the views of the downtown Seattle skyline, the Olympic and Cascade Mountains, Mount Rainier, Mount Baker, Elliott Bay, and various islands in Puget Sound.
Located one level below the observation deck is the rotating restaurant aptly named The Loupe. Just like the Willis Tower in Chicago, there is a glass floor that you can stand on – if you dare and your legs let you! There is also a gift shop at the lower level.
5. Visit Museums
Two museums to see in Seattle are MoPOP and Seattle Art Museum (SAM). Museum of Pop Culture (MoPOP) is housed in a building designed by architect Frank Gehry and features rotating exhibits dedicated to all things pop culture, including film, music and comic books.
My favorite of course was the colorful, whimsical glass sculptures of renowned artist Dale Chihuly in his Seattle Center exhibit. Ever since I saw his massive works of glass exhibited at the Dallas Arboretum, I have wanting to see this museum and garden.
See more photos from our visit to the Chihuly Glass and Garden.
6. See the Troll in Fremont
Fremont is a smaller and quieter and residential neighborhood in Seattle. Go on a sunny day for a walk along the river. Another photo-worthy spot to check out here is the Fremont Troll. This giant sculpture attracts the masses. You can climb up the troll and make a mean troll face for photos.
You can't leave Fremont without dropping by Theo Chocolate, the first organic and fair trade bean-to-bar chocolate factory in all of North America.
7. Have some fun at the Seattle Waterfront
There are lots of fun to be had at Seattle's scenic waterfront. The harbor is peppered with seafood restaurants, shops, and the Seattle Great Wheel. You can even take a ride in a flying theatre (in simulated seaplanes) at Wings over Washington for an aerial adventure above the state of Washington.
We rode the Ferris wheel for some nice panoramic views from the top. Another thing to do in Seattle during your Girls weekend is a cruise with Argosy. Enjoy a different view of the cityscape while learning some interesting tidbits about Seattle.
Onboard, the open-topped boat from Pier 55, the one-hour sail around Seattle's harbor navigates around Eliot Bay and Puget Sound. You can see the cargo ships line the harbor and see right over to the Olympian and Cascade mountain ranges. Just stunning!
8. See a Seattle sunset: Photo spots & Skyline
One of the best places to see a Seattle sunset is Kerry Park. It is a small park as far as the green space goes but offers one of the city's best views. You can see a beautiful view of the Seattle Skyline here.
This was my favorite spot! Can you spot Mt. Rainier in the distance?
Another great photo location in Seattle is Olympic Sculpture Park. It has one of Seattle's largest green spaces and is home to outdoor sculptures, native gardens, and plenty of room to relax and enjoy views of the Olympic Mountains and Puget Sound. Plus it has an Alexander Calder sculpture called Eagle framing the Seattle Space Needle.
9. Get out of the city and go on a few day trips
See a webstory here
Day trips from Seattle
The day trip to Mt. Rainier National Park was the highlight of our Seattle trip! We spent the day hiking among wildflowers and snowfields. Saw a prairie dog scurry by and watched the sunset over the mountain range. We ended the day at a Tacobell parking lot celebrating our friend's birthday, but that's a story we have to talk about at another time!
See all the best things to do in Mt. Rainier National Park
Snoqualmie Falls and a lavender field near Seattle was one of the other day trips we got to do during our Girls weekend Getaway trip! Located 30 miles away (we ubered) this 268-foot waterfall that cascades down into the Snoqualmie River, draws more than 1.5 million visitors.
Plan to spend a couple of hours in Snoqualmie Park if you want to hike to the lower falls lookout area or spend time in the river. If not, you can see the falls in under 30 mins and then head to the Snofalls Lavender field nearby.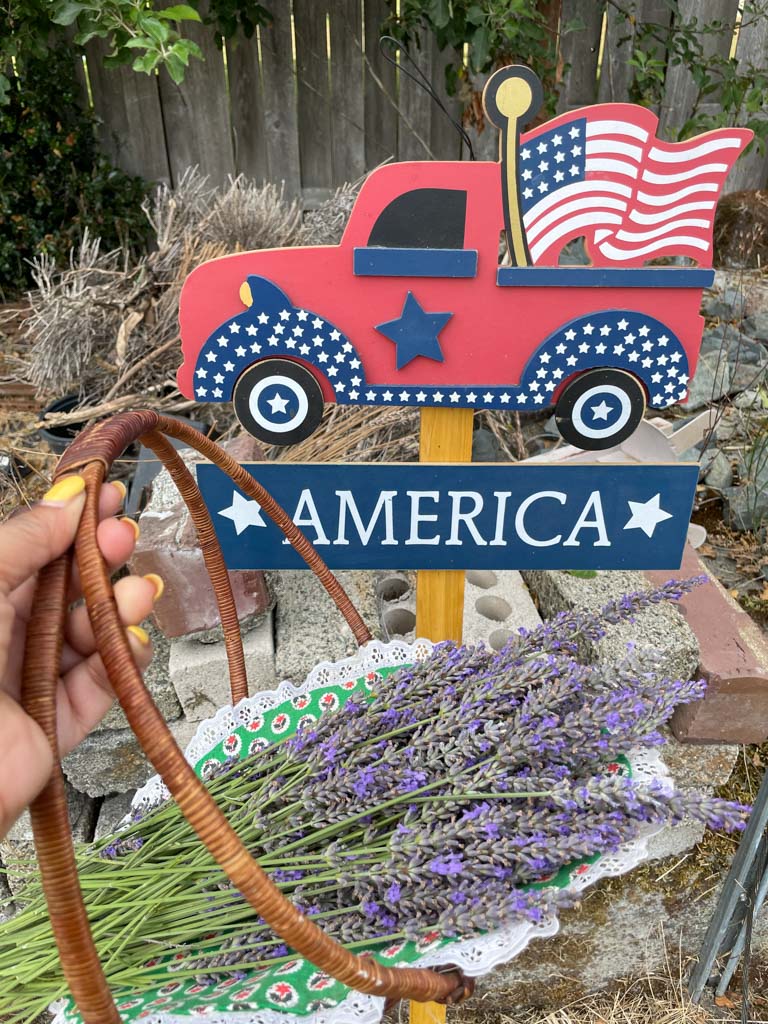 If you have time plan a trip to the San Juan Islands. Another place I wanted to visit was Leavenworth, an American town that looks and feels like Europe. But ran out of time. Perhaps on the next trip!
How to save on tickets to Seattle Attractions
You can get the most out of your trip to Seattle plus enjoy access to five of the city's top attractions with the Seattle CityPASS. A great way to save money and see more of Seattle's best attractions without paying for separate admission every time.
The booklet grants you free entry into sights including the Chihuly Garden and Glass or Pacific Science Center, the Space Needle, the Seattle Aquarium, the Argosy Cruises Harbor Tour, and either the Museum of Pop Culture or the Woodland Park Zoo. Plus you can enjoy a wealth of useful Seattle tips and savings at other venues and retailers.
Chihuly Garden and Glass was my absolute favorite! Check their website for seasonal hours, and to purchase tickets in advance. The Chihuly Garden and Glass also offer package deals that include admission to the Space Needle. Make sure to make a reservation in advance.
Other things to do in Seattle
Stop at the Seattle Central Public Library – a modern architectural marvel of glass grids, unusual shapes, and a book spiral that climbs four stories. See their hours and a few photos here.
Shop at the Amazon Go store for some futuristic shopping. Nearby is the Amazon Sphere. The Spheres are three enormous glass globes at the Amazon HQ building on 7th Avenue in Downtown Seattle. It is a living jungle in the middle of DT Seattle and home to more than 40,000 plants from the cloud forest regions of over 30 countries. It is a cool structure and workspace. But you need to know someone who works at Amazon to go inside.
A little off the beaten track is the Seattle Japanese Garden. But my friend who has lived in Seattle for over 20 years suggested I go visit, and I loved it!
We went early one morning and it was so serene and calming to walk through the lush garden with its stone lanterns, and lily pads and koi filled pond. If you love Japanese temples and gardens, add this to your itinerary.
Seattle Restaurants
Most mornings started at Mr. West Cafe & Bar with some Lavender Honey Latte and Avocado Toast. It was located next to our hotel and easy to spend time sipping coffee, chatting, and watching people.
Don't miss coffee at the Starbucks Reserve and Roastery. You can get fancy coffee flights or your regular cuppa with some nice pastries. Be prepared for the long lines to get in.
We have just a few good meals in Seattle. Most places were closed by the time we got done with our day. I was actually surprised that the Seattle bars and restaurants close that early.
But we managed to end our trip on a high note 🙂 we had some craft cocktails at a rooftop bar with one of the best views in Seattle – The Nest at The Thompson Seattle was hopping, make reservations ahead.
A few other must try places in downtown Seattle are:
Rachel Ginger Beer
Zaika located at border of downtown Seattle and Capitol Hill offers Indian Fusion
Local 360, where everything is sourced from within 360 miles of Seattle
Din Tai Fung Pacific Place, a Taiwanese Asian Fusion
Have brunch at Portage Bay Café in South Lake Union
Seattle Tours
Best Times to Visit Seattle
Summer in Seattle was perfect, but it is also high season (June to August). Early fall is the best time to visit Seattle, from September to October Early fall. Spring offers lower lodging rates and while you might see some rain and cooler temperatures, warmer temps are possible as well. Just remember to pack the appropriate clothing layers, an umbrella and a raincoat.
Where to Stay in Seattle
You will find Four Seasons Seattle, Fairmont, and the likes closer to Pike Place and the waterfront. Thompson Seattle is another great choice.
We stayed at The Hyatt, a centrally located hotel with good views and within walking distance to Starbucks Reserve, Pike Place Market, and Capitol Hill. Clean, safe, friendly staff, it was the perfect place to stay for a Girls' trip in Seattle if you ask me!
Thanks, Panneer, for the photos from the Space Needle & Pike Place.
PIN IT FOR LATER
Note: This post may contain affiliate links, partnership or sponsored content. If you purchase an item via one of these links, we may receive a small commission at no extra charge to you. But as always images and opinions are our own. For more information on our affiliates and privacy policy at Outside Suburbia see here.
CONNECT WITH US