Carmel by the Sea is probably the most charming little coastal town in California. Tucked away in California's Monterey Peninsula it has fairytale cottages, quaint shops, art galleries and a pretty sliver of sandy beach. You will find the historic Carmel Mission museums and library here and if you go a little South you can see the sea animals and whaling museum in Point Lobos State Natural Reserve and further down Highway 1 is the famous Bixby Bridge. We spend a weekend in Carmel last summer wandering along the lovely little streets hidden, courtyards and gardens filled with flowers. Here is our family-friendly guide to a weekend in Carmel by the Sea, California!
A Guide to a Weekend in Carmel by the Sea, California
A little history and some cute facts about the city of Carmel
Carmel-by-the-Sea was founded in the early part of the 20th century. It was founded by artists and writers like Jack London, George Sterling, Mary Austin, and Robinson Jeffers.
It was incorporated as a City in 1916 but its history goes way back. It was inhabited by Native Americans and then colonized by the Spanish. When Mexico got independence from Spain in 1820, Carmel became a territory of Mexico. In 1848, the town was ceded by Mexico to the United States of America and became a part of California.
Carmel-by-the-Sea's village is about one square mile but packed with loads of European charm! Did you know Clint Eastwood was once the mayor of this town and you need a permit to wear heels in town?!
For real, the municipal code of Carmel bans wearing shoes having heels more than 2 inches in height or with a base of less than one square inch unless the wearer has obtained a permit for them. This seemingly peculiar law was authored by the city attorney to defend the city from lawsuits resulting from wearers of high-heeled shoes tripping over irregular pavement distorted by tree roots. Permits are available without any charge at City Hall.
Yes, Carmel has more than its share of cute cottages but the buildings, homes, cottages don't have numbers and there are no street addresses. Everyone goes to the post office to collect their mail since the mailman can't deliver the mail without a building number! The cottages and buildings have adorable names instead, like "Hansel & Gretel" or "Ocean's End." It is believed to bring bad luck if the owner changes the name on a Carmel cottage.
And there are no chain restaurants or fast food restaurants in the City of Carmel-by-the-Sea. But the city's charming eateries and tasting rooms offer a full range of cuisine and wine tasting all within walking distance from the over 40 hotels and inns.
What to do on your weekend getaway in Carmel by the Sea, California
Whether you have two or three days, there is plenty to do Carmel-by-the-Sea on a weekend break.  With its prime location (just an hour and a half from San Francisco) and rich natural beauty, the town prides itself on its quaint village, white sand beach, landscaped bluffs, urban forest, and natural parklands.  Wake up early and walk to the beach, stroll around the village, go on a couple of scenic drives and be back to catch the sunset. Here are some of the best things to do in Carmel.
Walk around the village
We walked around the quaint village, through the narrow streets and flower-filled courtyards, peeped into gardens, admired all the pretty tiles and cottages. The whole village was so photogenic that I stopped every few minutes to capture it all. You can pick up a brochure from the Carmel Visitor Center on Ocean Avenue located between Mission and Junipero and go on a self-guided walk.
See some art
Since the turn of the century, Carmel has been a haven for artists and a refuge for writers and intellectuals who shaped this unique artist colony.  There are about 100 art galleries in this little town that is only a square mile in size. This town reminded me of Aix-en-Provence in France where so many artists lived and loved because of the wonderful light.
Since the turn of the century, Carmel has been a haven for artists and a refuge for writers and intellectuals who shaped this unique artist colony. From visiting the many art galleries, art walks that are held every month to art workshops with one of the Carmel artists in residence, there is plenty to do if you are an art lover.
Spend some time on the beach at Carmel Beach
If you walk down on Ocean Avenue from the village you will get to the white sand beach of Carmel. Perfect for a morning walk and for catching the evening sunsets. We saw kids playing, people enjoying picnics and dogs running around – did I mention Carmel is very dog-friendly! We saw so many cute dogs splashing in the beach. The water was a little cold for me, I enjoyed just walking along the beach and admiring the Cypress trees and their peculiar trunks.
Visit the Carmel Mission
Carmel Mission is the only one of the California Missions to have its original bell tower dome. The mission was the headquarters of the Alta California missions headed by Father Junípero Serra from 1770 until his death in 1784. It was also the seat of the second president, Father Fermin Francisco de Lasuen. The mission buildings had fallen into disrepair by the mid-19th century but were restored beginning in 1884. It remains a parish church today.
What to do near Carmel California
After exploring the village, plan for a couple of scenic drives, you can catch Highway 1 not too far from the town and even make your way up to Big Sur. We drove on along this rugged coastline, with its many twists and turns, and countless viewpoints, stopping every few minutes till we got up to up to Ventana. The drive and the scenery were spectacular but the lunch and the views from The Sur House in Ventana are still etched in my brain.
Drive the scenic 17-Mile Drive
Whether it's your first or 10th time visiting the area, the scenery along the 17-Mile Drive never disappoints. Hugging the rugged Pacific coastline, the 17-Mile Drive offers breathtaking views of the ocean, as it weaves through the Del Monte Forest. You can experience the natural wonders of Monterey and marvel at the multi-million-dollar homes along the coast.
I highly recommend getting out of your vehicle and parking at the marked points of interest along the 17-Mile Drive. Don't miss getting a picture of the Lone Cypress, or taking a short stroll along the wooden paths that line the shores of Spanish Bay. Stop at the Pebble Beach Resorts, home of the world-renowned Pebble Beach Golf Links for lunch or drinks on the terrace, the view is truly unforgettable. The resort complex also features multiple restaurants, you will also find The Lodge at Pebble Beach, Casa Palmero and The Inn at Spanish Bay here.
Explore Point Lobos State Natural Reserve
The beaches and coastal terrain found in Point Lobos State Natural Reserve are also worth exploring, plan for an afternoon if possible a whole day. We drove up Highway 1 had lunch at Ventana and then spent the afternoon in Point Lobos following a couple of the hiking trails. The reserve's 13 trails offer hikers both easy and challenging opportunities.
The Cypress Grove Trail is especially popular due to its views of the rugged coast and the gnarled Monterey cypress trees that perch precariously on the seaside cliffs. If you like to dive, Point Lobos has 10 diving spots where you can swim through 70-foot-high kelp forests and various coral reefs. While on the trail there was plenty to see, we saw some harbor seals on the beach and a large sea bird colony on Bird Island. We wish we had brought our binoculars, sure made for some memorable views.
If all this is not enough to keep you and the family entertained for a weekend in Carmel, California nearby is the town of Monterey. You can go whale watching. It has an old fisherman's wharf and an aquatic display at the Monterey Bay Aquarium that is popular with families – we didn't make it there, maybe the next trip we will make it there.
Tours near Carmel and Monterey you might like
If you rather go on organized tours instead of self-driving, here are some nice tours that cover some of the places I mentioned above.
Where to Stay in Carmel by the Sea
We stayed at the Coachman's Inn, part of the Four Sisters Inn Collection. It was more of a hotel than an Inn and was centrally located. We had 2 Queen beds in the room and it was nice and spacious. We were walking distance to pretty much everything. Stepping out the front door of Coachman's Inn and the charm of Carmel-by-the-Sea was in every direction. The white sand beach was a short stroll, we went there every morning and came back to a continental breakfast at the Inn. The Sunset Center, Monterey's premier arts venue was a block away. We were surrounded by boutiques, restaurants, galleries and wine tasting rooms. Coachman's also does a wine reception in the evenings.
L'Auberge Carmel has beautiful courtyards and superb service that you would expect from a Relais & Chateaux property. The rooms are exquisite with antiques and custom linens.
The Hideaway and the Cypress Inn, are other great places to stay if you are spending a weekend in Carmel, California.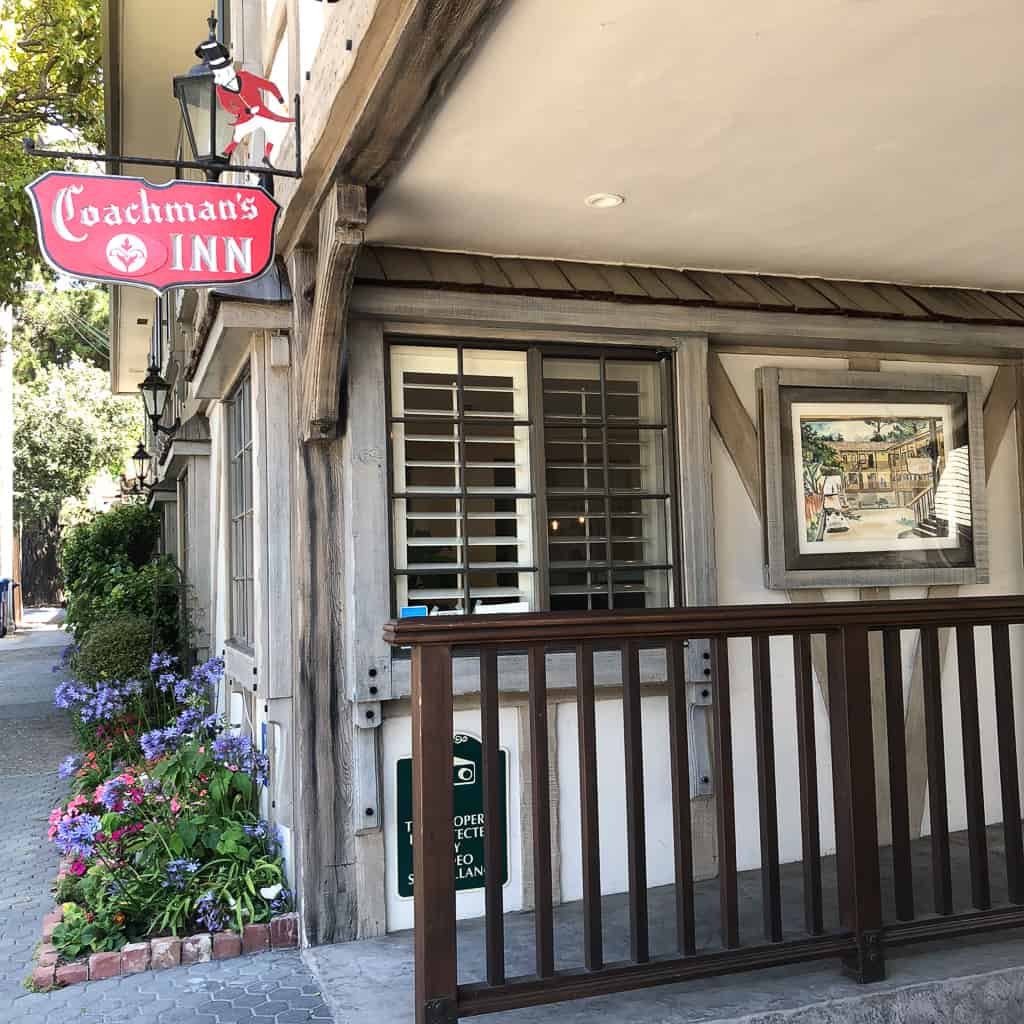 Where to eat in Carmel by the Sea
The restaurants in Carmel feature a wide variety of cuisine ranging from international to local Californian Farm to Table meals. We loved the rustic La Bicyclette that serves French Italian fare. The pizzas and pasta were delicious – I had the Champignons with mushrooms, caramelized onion puree, and truffle oil and the boys shared a Classic Pepperoni Pizza and the girl had some pasta. The girl had a great wine selection and the desserts were yummy.
We stopped at the Carmel Bakery for coffee and pastries. Little Napoli seemed another local favorite, the courtyard with the tiles, a little Vespa scooter transported me to Italy. Dametra Cafe is another place everyone recommended. With a daily changing eight-course Tasting Menu ($150 per person) and an impressive 2,500-bottle wine cellar the award-winning restaurant Aubergine which is located at L'Auberge Carmel, a Relais & Châteaux property and is the place to celebrate special occasions.
Another famous place to eat at is Hog's Breath Inn, which was formerly owned by Clint Eastwood. The Tuck Box is a tea room housed in an adorable cottage that also serves breakfast and lunch. You can see a list of other Carmel restaurants here.
How to get to Carmel by the Sea
Fifteen minutes from Carmel is the Monterey Peninsula Airport (MRY), which serves most large carriers. Recently American Airlines has added a direct flight from Dallas to Monterey. San Jose International Airport is about 90 minutes away, while San Francisco International Airport is about 2 hours away. Like us, if you are driving, Carmel is 120 miles south of San Francisco, 190 miles from Sacramento and 350 miles north Los Angeles.
I hope this guide inspired you to plan a weekend trip to visit Carmel by the Sea, California. Since we have a daughter going to school in Northern California, we find ourselves there at least a couple of times a year. Do you have other little towns you like to visit in the area, let us know?
PIN IT FOR LATER
Note: This post may contain affiliate links, partnership or sponsored content. If you purchase an item via one of these links, we may receive a small commission at no extra charge to you. But as always images and opinions are our own. For more information on our affiliates and privacy policy at Outside Suburbia see here.
CONNECT WITH US