Undoubtedly the most celebrated island in the South Pacific, Bora Bora is French Polynesia's leading lady. Her beauty is unrivaled! We are here for a familymoon and love-struck with Bora Bora. It is one of those few places on earth that everyone hopes to witness in their lifetime — and once you see it, you are forever in love.
Wonder why I'm calling this Bora Bora trip our familymoon? Bora Bora is touted as the most romantic place in the world and everyone's dream honeymoon destination. We could never have afforded to come here for our honeymoon but we worked hard, saved and here we are for our — familymoon! Before you ask, no it is not our anniversary! Just celebrating life, love, and family!
What is a familymoon?
Typically a familymoon is a honeymoon in which a newlywed couple bring along their children but it can really be any celebratory trip that you bring your kids to!
Our French Polynesian Familymoon in Bora Bora
Pink dawn and enough shades of blue from sapphire, moon blue, a blue so pure that it looks like emerald! It is so unreal that the Polynesia man considers this blue a God-given gift. Blue in Tahitian is the same as the wild ocean on earth Moana.
With the well-appointed overwater and garden bungalows with luxurious amenities, powdery white sandy beaches, crystal clear shallow waters where you can see the tropical fishes from without ruining your flower-crowned hair and soothing sunshine — there is no reason to save this just for your honeymoon, we saw several families with children and teenagers — some multigenerational families as well.
The staff at the resort are so sweet, friendly and there to pamper you and make your holiday memorable – whether you are on your honeymoon, babymoon or familymoon!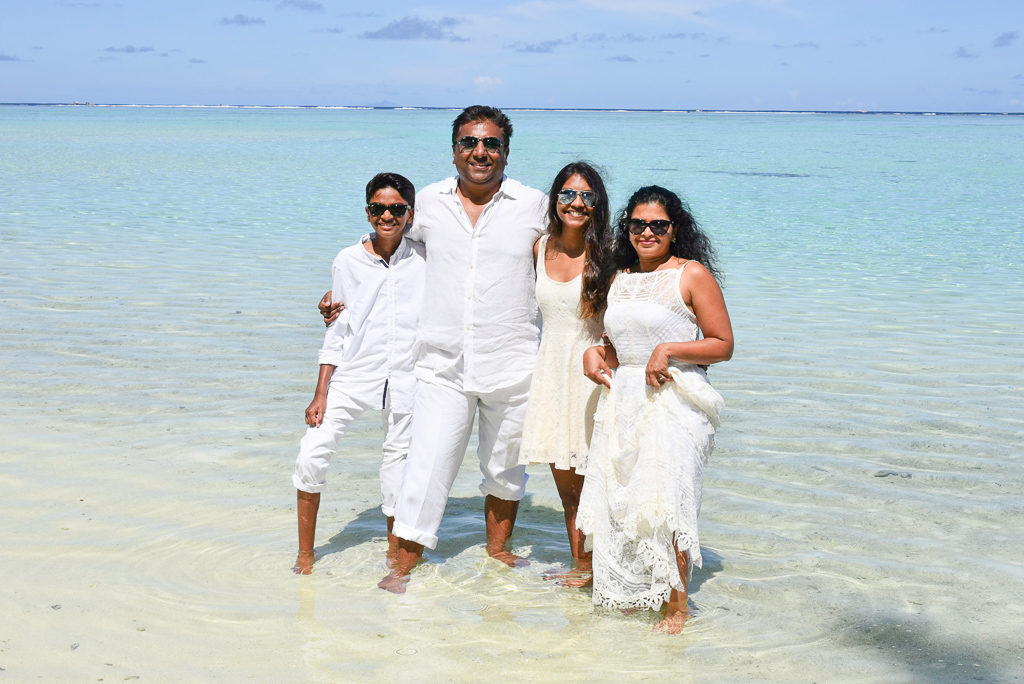 Nestled on a white beach and blue lagoon, the Bora Bora Nui Resort & Spa is an idyllic retreat perfect for families and familymoons. Located on the French Polynesia group of islands on the Pacific Ocean, the resort is ten minutes from Vaitape village. We took a scenic flight to Bora Bora then arrived at the resort by a private hotel boat.
Set over the water, we savored panoramic views over the lagoon and absorbed the tropical landscape. We soaked up paradise in the privacy of a suite perfect for our family of four …
We watched the sunset with cocktails from a Polynesian-style beach bar. Dined on local and Mediterranean cuisine in a relaxed island setting. Unwind and recharge by the pool and on the beach were the only things on the agenda!
I write this from the resort with my toes buried in the sand watching the kids as they find their balance on the paddleboard…
Surrounded by a blue lagoon and barrier reef, the island is a magical destination for water sports. Create lasting memories snorkeling with tropical fish in the barrier reef … windsurfing, jet skiing and scuba diving in the lagoon. Snorkeling equipment, paddleboards or pedalos were available at no cost at the Hilton Bora Bora Nui Resort & Spa. We are Enjoying lazy days relaxing on the sandy beach and absorbing paradise island life while the kids are learning to paddleboard and perusing the water activities.
Here are a few Polynesian words that we have learnt so far:
hello: ia orana (yo-rah-nah)
goodbye: nana (nah-nah)
welcome: maeva (mah-ay-vah)
thank you: mauruuru (mah-roo-roo)
cheers: manuia (mah-new-yah)
Will share more details soon! If you have not tried a familymoon yet, I urge you to look into it 🙂 Nana!!
Note: This post may contain affiliate links, partnership or sponsored content. If you purchase an item via one of these links, we may receive a small commission at no extra charge to you. But as always images and opinions are our own. For more information on our affiliates and privacy policy at Outside Suburbia see here.
CONNECT WITH US