This heart-shaped island with its verdant mountains, turquoise waters and friendly Polynesian people was our last stop in French Polynesia after spending a few days in Tahiti and Bora Bora. The island is a true reflection of the laid back Tahitian lifestyle and the warm, welcoming character of French Polynesia and its people. The island actually looks like a heart from above and is one the most dreamed about honeymoon destinations, we thought it was perfect for a familymoon as well. Moorea Island may be considered Tahiti's little sister, but she steals the spotlight every time. We rented a car and drove around this little island for the shortest road trip. From driving on the Amalfi coast to the highest Alpine road in Austria we have embarked on quite a few road trips over the years and yet it this Moorea Island drive, stole our heart.
While we were in Bora Bora, we didn't leave the resort much, we just couldn't take our eyes off that water, which was a shade of blue we had never seen before. So by the time we got to Moorea, we were ready to go exploring and doing more than just beach activities. We went on ATV rides one day and rented a car on another for a drive around the island. We started from our resort at Hilton Moorea and stopped at a couple of beaches along the way, had lunch at the Intercontinental Resort and make it back for sunset at the resort. It was a slow, relaxing day that is etched in our memory.
Photo Blog of Moorea Island Drive, our shortest road trip ever!
Called 'Yellow lizard' island, Moorea is only 50 miles or 70 kilometers along a single main road. You don't need directions or maps really, it is difficult to get lost here. We did a circle tour of the island in 6 hours with a lot of stops along the way.
We picked up our small car and drove along …. there was nothing much to see as you drive along the road that hugs the coast… just mountains and lush landscapes that make you stop every few minutes in awe!
Boating just bobbing in the water.. love how everything is yellow here. Works perfectly against the green backdrop.
We loved the fishing outrigger boats docked by the lagoon waters – they are called vaa and used for fishing and sport. Tahiti is the world champion in outrigger boat races we were told.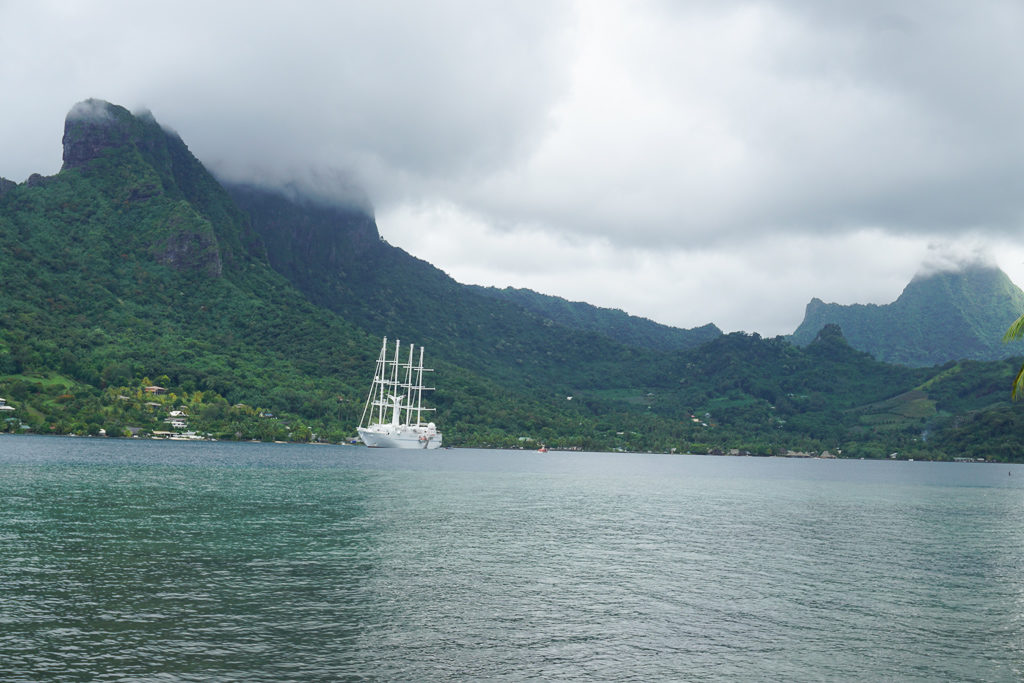 We saw the Windstar Cruises which was recently voted the World's Best Small-Ship Cruise Line by Conde Nast Travelers Readers' Choice Awards. Windstar Cruises' small ships are exactly the right size — large enough to pamper and entertain you, yet small enough to tuck into the tiny harbors – it gets to Huahine, BoraBora, Tahaa, Raiatea and Moorea from Papeete in Tahiti. Hoping to make it back here on one of these cruises! Dreams become reality if you work on them, right?!
Moorea has two public beaches – Taahiamanu and Temae Beach. We stopped at Taahiamanu for a bit. There were many trees near the water, as well as some palms. The sand is white but there were a lot of rocks. The water was pretty clear and suitable for snorkeling than for swimming. The beach has a shower and picnic tables, but no toilets.
We drove to a lookout point where you could see the twin bays of Cook and Opunohu, the view during the ATV ride the previous day gave us a view from a higher elevation but this view from the coast was just as picturesque.
Toasting to a great day and a beautiful view at Intercontinental Moorea Resort & Spa
We stopped for lunch at the Intercontinental Moorea Resort & Spa located in a verdant tropical area sheltered by lush mountains and facing turquoise lagoons teeming with marine life. We walked around for a bit enjoying the modern yet island luxury vibe of the resort. The overwater bungalows perfectly complement the blue waters.  Cocktails and lunch were delicious!
We then walked over to Sea Turtle Care Center located onsite at Intercontinental Moorea Resort & Spa. Te Mana o Te Moana is a marine conservation and rehabilitation organization established in partnership with French Polynesia's Ministry of the Environment.
The Sea Turtle Care Center has worked in conserving four of the five species of sea turtles found in French Polynesia – the green turtle, the hawksbill turtle, the Loggerhead sea turtle and the Olive Ridley turtle. All of which are endangered species and remain at extreme risk of extinction worldwide.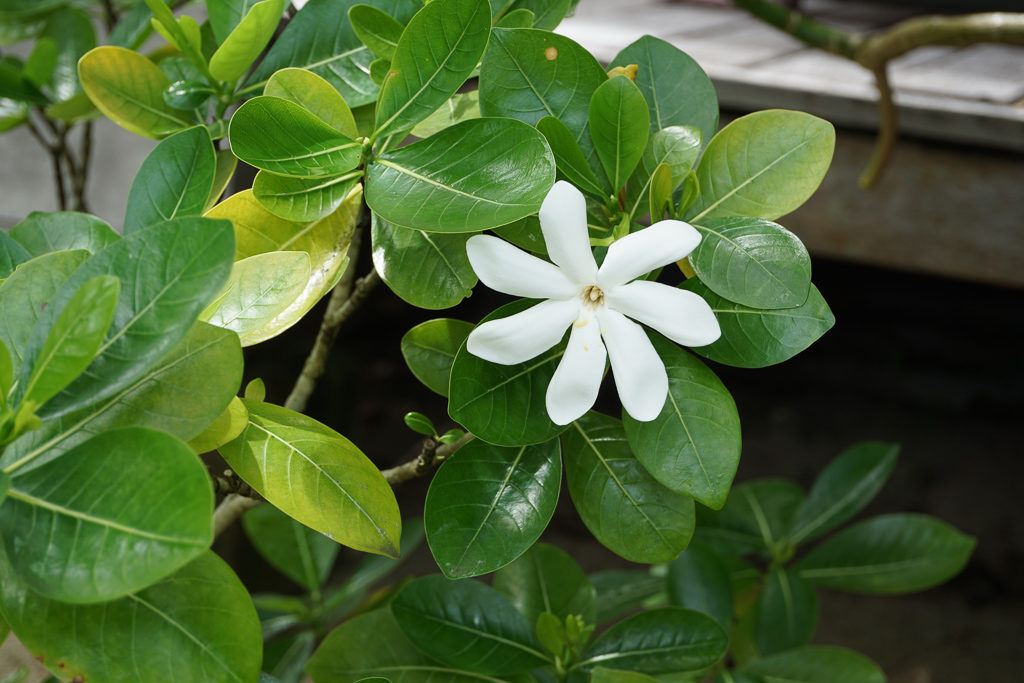 Our next stop was Moorea's Tiki Village, a place to go for a Polynesian feast and dance show. The current area is a reconstruction of a traditional Polynesian village that includes their marae for worshiping and the various 'Fare' or traditional houses.  The village offers various cultural workshops from learning how to make a colorful pareo or sarong to the basics of a Tahitian Dance.
A lone dog has the whole road to himself, we barely saw anyone on the road, just an occasional kid or two…
Compared to Bora Bora, Moorea is less expensive and easy to get to. With easy ferry access from Tahiti, where the international airport is, you can't miss visiting Moorea in French Polynesia. While it is marketed as a honeymoon destination, Tahiti and her islands are perfect for family holidays as well. Bliss knows no bounds here and there is plenty to do if you like water sports and beach activities. Or just enjoy the slow island life, walk barefoot and let the sand massage your feet, crystal clear blue water hugs you like an old friend, watch the sun paint the sky.
Moorea is easy to love but difficult to leave!
I hope you enjoyed our photo blog of Moorea Island Drive, our shortest road trip ever!
Additional information
We rented our car for the day from Albert Transport, the only car rental we found in the island. They picked us from the resort and picked the car back the next day as well.
PIN IT FOR LATER
Note: This post may contain affiliate links, partnership or sponsored content. If you purchase an item via one of these links, we may receive a small commission at no extra charge to you. But as always images and opinions are our own. For more information on our affiliates and privacy policy at Outside Suburbia see here.
CONNECT WITH US