Forty-two years ago Jussi Eiramo stopped on the site of what would become Kakslauttanen Arctic Resort famous for its Glass Igloos. Fate played its hand as he ran out of fuel while returning from a fishing trip in Finland's northernmost village, Utsjoki. Camping on the roadside in the middle of the wilderness, Eiramo felt at home. He spent his first summer there in a tent before building a cabin the following year. Then he converted his modest hut into a café, serving those en route to the North Cape. Today, at the same location, Eiramo owns and runs a 400-hectare resort that welcomes thousands of visitors to Lapland annually.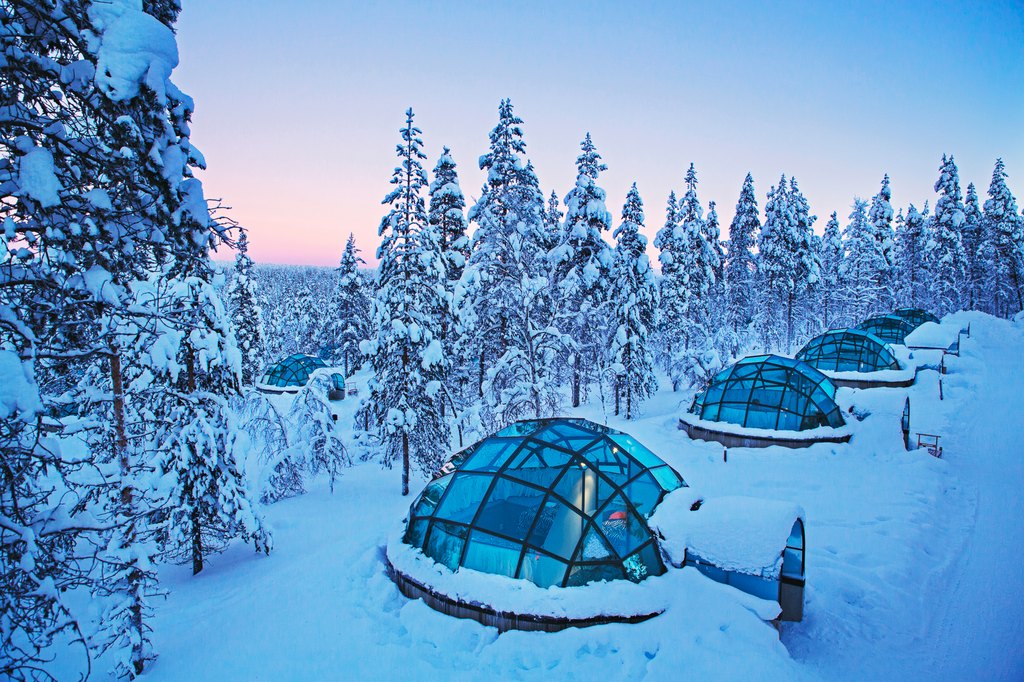 A bucket list Lapland Experience
Lapland comprises the northernmost part of Sweden and Finland. Owing to its location above the Arctic Circle, this region is best known for its magical winter landscapes and northern lights as well as activities like dog-sledging, snowmobiling, ice fishing, reindeer safari & sleigh rides and Aurora hunting.
Combine the trip to visit Rovaniemi which is considered the capital of Finnish Lapland. This town is best known as the hometown of Santa Claus and home to Santa Claus Village, a year-round amusement park. Visitors can send postcards — with Santa's special postmark from the Santa Claus Post Office, shop for souvenirs and also learn about Finnish Christmas traditions. A Christmas like no other! How often can you say you went to see Santa Claus in his hometown!
Kakslauttanen Arctic Resort
The Kakslauttanen Arctic Resort is the most famous glass igloo hotel in Finland, and it is the one that started the glass igloos trend. These igloos are located near Ivalo, about 250 kilometers north of the arctic circle.
The Kakslauttanen Arctic Resort is located between two huge forest parks, the Hammastunturi Wilderness Area to the west and Urho Kekkonen National Park to the east. The winter night sky here is free of light pollution and perfect for watching the northern lights.
Guest cabins at the Kakslauttanen Resort come in a variety of sizes, accommodating from one to as many as 10 guests. In addition to cabins, the Log Restaurant, romantic Wedding Chamber, a charming Traditional House, smoke saunas and an array of other buildings, the East Village is home to a couple of incredible engineering feats: the Snow Chapel and Ice Igloos.
Sculpted from snice (a mix of snow and ice) when temperatures drop low enough, the wedding venue has elegant gabled interior walls, ice altar, sculptures and atmospheric lighting. I imagine it looks like something straight out of the pages of a fairytale (or Disney's Frozen).
A little downstream on the banks of the icy river is a block of really chilly accommodations where adventurous guests can sleep on a snice sculpted bed – with the luxuries of thermal and down sleeping bags of course. The frozen interiors are accented with rustic reindeer skins and rugs in traditional Sámi designs. Temperatures are -2ºC to -6ºC inside these snow igloos. Brrr!
Glass Igloos at Kakslauttanen Resort
If you want the igloo experience but not the conditions, stay instead in one of more than 50 incredible Glass Igloos. Located in East and West villages, these innovative domes are designed and custom built by Jussi Eiramo. Unlike the Ice Igloos, the comfortable modern accommodations are heated to a cozy 20ºC+. The dual-paneled glass employs a technology devised by Eiramo to heat and melt any fallen snow that may obscure Mother Nature's fascinating show: the Aurora Borealis.
Travelers come to the igloo hotel Kakslauttanen from all corners of the globe for a night under the Northern Lights (typically seen from late August to late April) and the Glass Igloos give you every chance of witnessing this elusive magical display!
The Glass Igloos at Kakslauttanen Arctic Resort Hotel come in double or twin configurations with the option to add an extra bed. They are minimally decorated with homely Nordic touches. Low curtains provide privacy and there is also a concealed, compact bathroom featuring a toilet and basin. For other amenities, you will have to get to the log-cabin complex that is nearby.

Newly built accommodations, Kelo-Glass Igloos, combine the comforting warmth of cozy log cabins with the stunning views of the world-famous Glass Igloos. Taking their name from Lapland's unique Kelo Pine wood from which they are made, the 16 self-contained cabins each sleep six guests and include a kitchenette, private sauna and open fireplace. That's where you will find me when we make it to Kakslauttanen Arctic Resort 🙂
Cabins at Kakslauttanen Resort
If the Glass Igloos are not your cup of tea, Log Chalets at Kakslauttanen are another option. With an inviting combination of rustic and minimalist modern décor, traditional rugs, and bedding in rich red, purple and navy featuring quintessential Nordic motifs, they are comfortable and cozy. The rooms are appointed with custom-made furniture and antler chandeliers that are created from fallen horns that the animals shed annually. Everything has a natural charm and Finnish finesse.
The chalets, like most of the other wooden structures in the resort, are constructed in the traditional cabin style with a pitched roof. Gableboards and other decorative additions are respectful of traditional Lappish architecture and also the charming Christmas theme.
In keeping with Finland's trailblazing environmental conservationism, no live trees were cut down in the making of the log cabin buildings. Only naturally dead pines, aged from between 500 to 800 years old have been used. Those used in the East Village have come from around the resort's grounds, while those in the West Village, were sourced from forests in East Finland.
Best time to visit Lapland
Winter, from December to March is the best time for a winter holiday in Lapland. Both snow conditions and northern lights displays are at their peak. Also during this time, the various ice and snow hotels are open and many snowmobile and husky tours are operated daily.
Christmas and New Year's are the busiest times to visit Lapland. While February and March are generally more reasonable and relaxed. If you go between June and October, you can enjoy the magic of the Midnight sun.
Most attractions in Stockholm and Helsinki are open all year round. Plan a trip to one of these cities for a perfect addition to your stay in Lapland.
How to get there
Although the resort is located 250-kilometres north of the Arctic Circle, Kakslauttanen Arctic Resort is surprisingly accessible. Many airlines including American, British Airways, and Turkish Airlines(via its hub Istanbul) fly daily to Helsinki.
From the Finnish capital, you can connect to Ivalo with Finnair or Norwegian airlines. This airport is only a scenic 30-minute drive from Kakslauttanen.
With such unique accommodations, Kakslauttanen provides the perfect winter escape to immerse yourself in nature and explore the wonderful culture of Lapland. Visiting and staying at this remote destination is a once-in-a-lifetime bucket list experience!
Check Kakslauttanen Arctic Resort for the current rate and availability.
*Photos provided by Kakslauttanen Arctic Resort
Note: This post may contain affiliate links, partnership or sponsored content. If you purchase an item via one of these links, we may receive a small commission at no extra charge to you. But as always images and opinions are our own. For more information on our affiliates and privacy policy at Outside Suburbia see here.
CONNECT WITH US