On a recent trip to California, we were in LA for a couple of days before our trip to Tahiti. We went on a drive on the legendary PCH or Pacific coastal Highway and stopped for dinner at Nobu, Malibu.
While we didn't drive the entire length of PCH, we loved the segment of the scenic highway we got to experience. Our first stop was at Santa Monica Pier, for a quick stroll among the chaos of the mini amusement park.  This probably is the cutest park with breathtaking views, we did want to hop on the Ferris wheel for the amazing views from the top, but we were anxious to get on the road to see the other spots so we headed out on the drive along the Pacific Coast Highway.  
We enjoyed the relaxing views en route and stopped at Zuma Beach, which is a favorite of surfers.  We were a little disappointed that we didn't see any surfers in action that day.  We then drove back heading towards LA and stopped at Nobu's beachfront property at Malibu for dinner. We had many stops planned to visit but sometimes it's about the journey, not the destination! Needless to say, we need to make another trip and drive up to Santa Barbara next time… or even all the way to Big Sur, the charming town of Carmel by the Sea and San Francisco!
Nobu Malibu, It's all about the Location…
Its all about the location here at Nobu Malibu,  views of the ocean are available from nearly every seat, with outdoor patio seating, an exterior lounge and floor-to-ceiling windows bordering their fourteen seat bar from the beautiful Pacific Ocean. The Sushi Bar and Bar area offers full menu dining and are on a first come first serve basis. The restaurant space is stunning, thanks to the Pacific Ocean roiling up almost against it!
The modern design contrasts with its oceanfront position and melds with it. The restaurant is basically a long, low, wooden box that hovers on the coastline and opens out toward it. The views reminded us of the Mediterranean view at Eden Roc in Cap d'Antibes.  
The bar area, patio and dining room face the waves- one section of the dining room is darkened to better emphasize the room's relationship to what's beyond its windows, with the only other feature a beautifully illuminated tree in the room's center. Most days, this beautiful restaurant is packed to the gills with beautiful people. You might not see an actual celebrity, but you'll surely see a number of people who look like they could be a celebrity.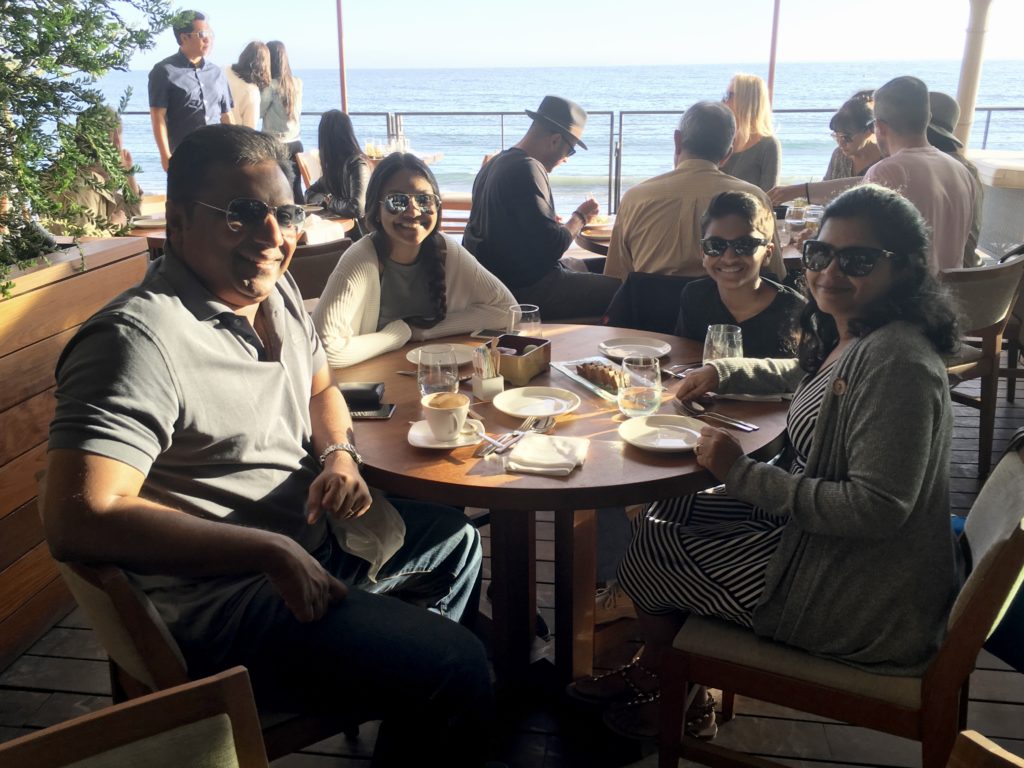 About the food at Nobu Malibu
We started with some cocktails – our Lychee & Elderflower Martini and Cucumber Martini made with Krome Vodka, St. Germain Elderflower Liqueur & Lychee Juice hit the spot. Hubby being a sushi fan, ordered Nobu Matsuhisa's signature dishes Yellowtail Sashimi with Jalapeño, a few other rolls and some mini tacos.  
I went with the vegetarian house specialties at Nobu – Eggplant Spicy Miso, Vegetable Roll, Roasted Cauliflower and also their Jidori Chicken and Waffles! Everything was perfect including our Bento box dessert that came with Valrhona Dark Chocolate Fondant, berries and served with Macha ice cream.  We also ordered some coffee and a Hazelnut Cookie that was a super delicious finish to our world-class meal.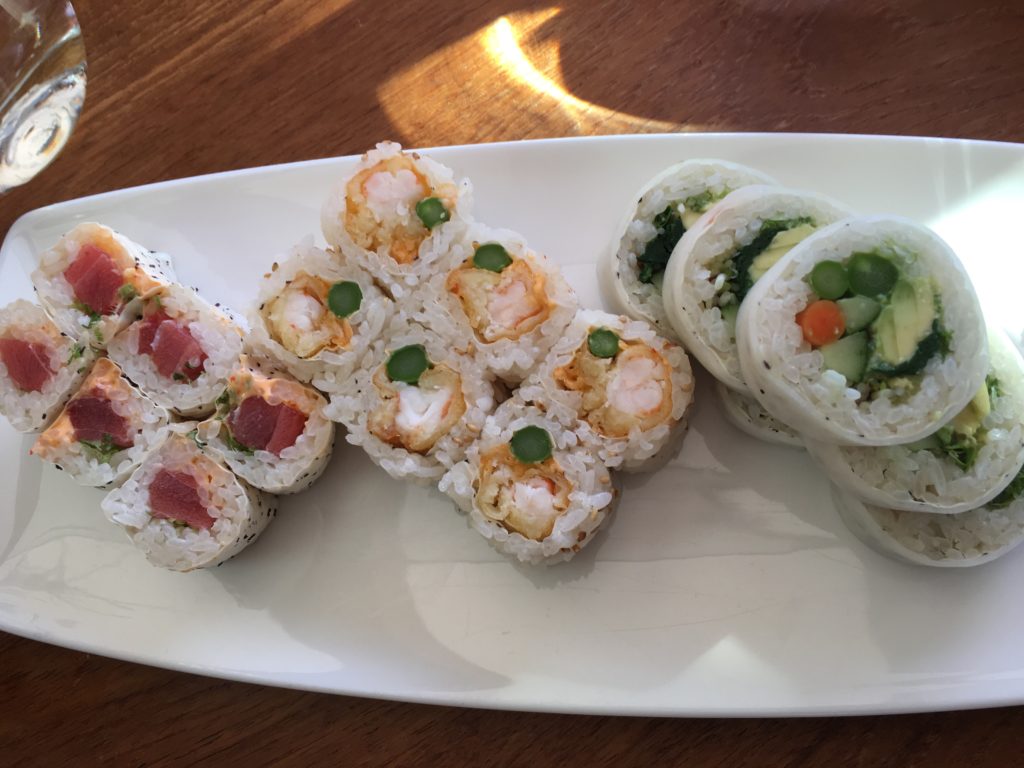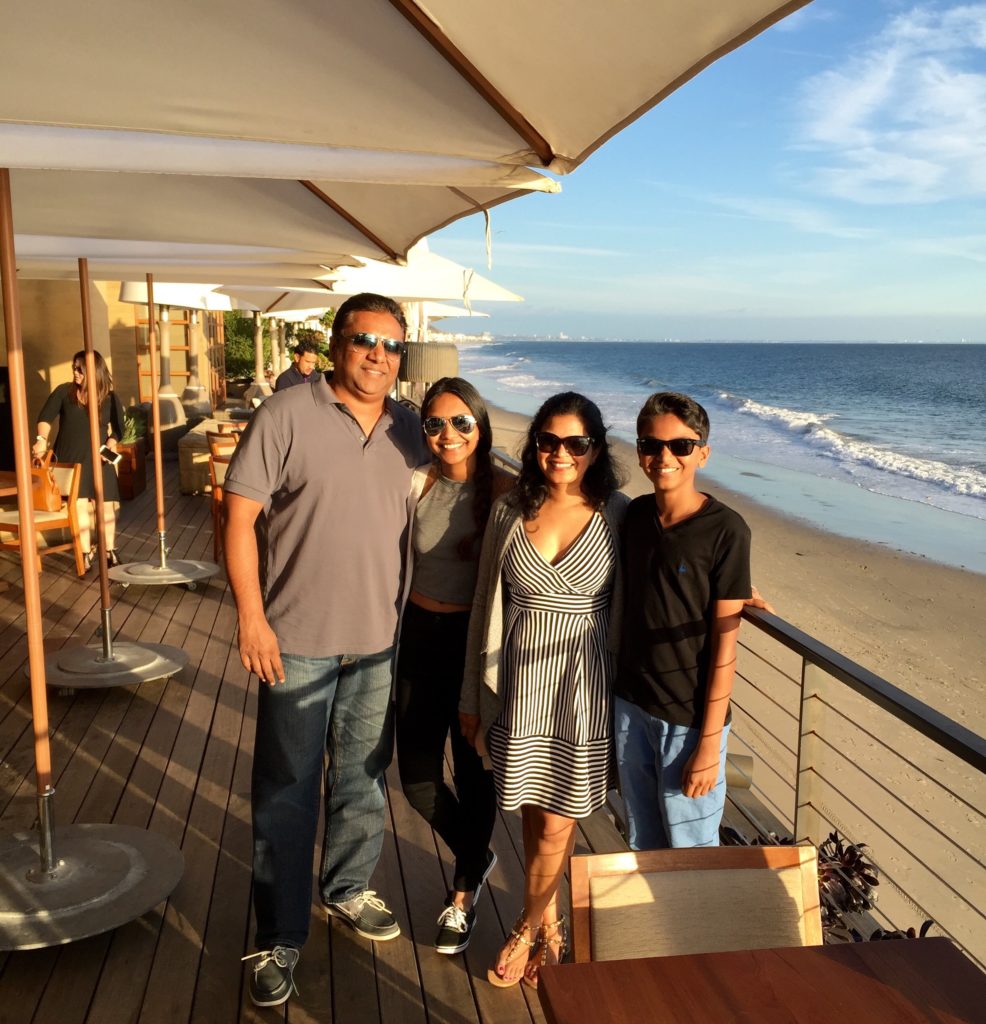 After our dinner, we stopped to catch some sunsets view before heading back to LA.
Additional Information
You can find Nobu Malibu at 22706 Pacific Coast Highway, Malibu, CA 90265 Make sure to have a reservation before you. Reservations are strongly encouraged and can be made up to one month in advance. You can find more information on their website.
CONNECT WITH US