I'm a sucker for anything Italian, pastas, pizzas .. wine .. vespas..trips to Italy.. Tiramisu.. who isn't. We have been seeing the sign for this new Italian Street Food place in Frisco – Piada and have been waiting for it to open.  Piada is a flatbread of ancient traditions, thin and crumbly, obtained from a dough of flour, water, lard and salt, and baked on a scorching "testo" of terracotta or cast iron. It is often accompanied by grilled meats or fishes, sausages, gratinée vegetables, salami, prosciutto, fresh cheeses and country herbs.
"Piada Italian Street Food Started As An Idea  scribbled on a napkin during a visit to Rimini, Italy. Our Chefs found distinct charm in the family operated food carts and corner markets scattered throughout the streets of the city where the aroma of fresh basil, hand crafted cured meats and homemade cheeses saturated the air" says their website. 
Top left: View of Adriatic Sea and backyard in Rimini, top right: View of Rimini Beach in Lungomare area, bottom left: Malatesta Temple, Bottom middle:Arch of Augustus, Bottom upper right:Rimini City Museum and Pope Paul V in Cavour Square, Bottom lower right:Tiberius Bridge. Image:Wiki
Rimini, often referred to as the capital of Italian seaside tourism and nightlife, is one of Italy's most popular beach resorts and one of the largest in Europe. It has 15km of fine sandy beach along the Adriatic Sea and of course yummy food!
On a crisp fall afternoon we made it to Piada….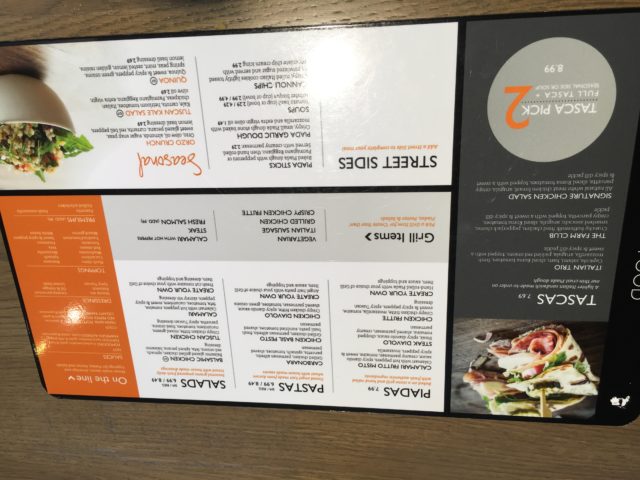 Piada Grill Image by Piada.com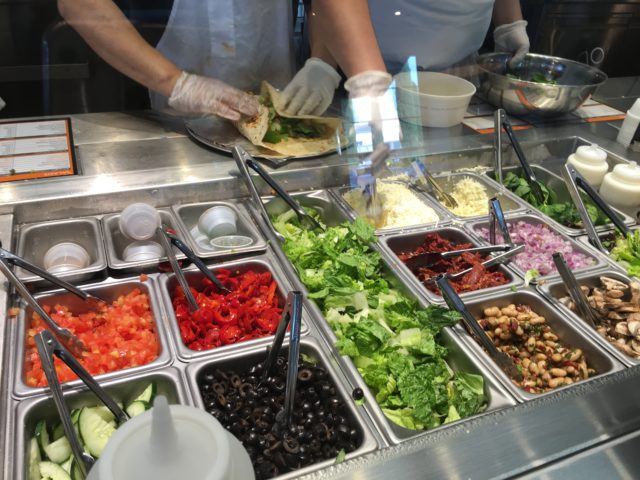 I haven't had a Piada yet or seen any other restaurants carry it.  So wanted to share it with you all. I was so impressed right when we entered…  The décor was crisp and modern with gray and white with a touch of orange.. As we lined up to order looking at the menu trying to figure out what in the world a Tasca is, a chef came out to explain it to us.  Tascas is basically small sandwiches baked on a stone grill and wrapped to order.  They have some suggestions on the menu like the Chicken fritte, Steak Diavolo and Calamari Fritto Misto. You can custom order with the ingredients of your choice, fresh farm to table ingredients like Sundried tomatoes, Arugula, Romaine, Sweet & spicy peppers, grilled chicken, pancetta to name a few. If you are a Vegetarian or Vegan you can have them make a custom Tasca, with so many fresh ingredient choices I'm sure you can find one that tickles your taste buds. I had a grilled chicken Piada with sweet and spicy peppers drizzled with spicy Tuscan sauce, it was delish!
Hubby had the Tasca which is a smaller version of the Piada with some Lobster bisque and a Piada Stick which is basically Baked Piada dough with pepperoni or Parmigiano Reggiano, then hand rolled. The piada stick was like a cheese stick but better and was served with creamy parmesan dipping sauce.
 Tasca with Lobster Bisque
Everything we had was super fresh and tasty .We brought back some Piada Sticks for the kids.  They have a good selection of salads and pastas as well, the kale detox salad looked really fresh and healthy. They also Italian sodas and San Pellegrino Sparkling Water  And for desert cannoli chips which D is going to love. Till we make it out to Rimini, Italy for some street side Piadas, we will be frequenting this place for sure, Go try it, you will you surely fall in love with the street food of Italy!
How cute is the Piada Fiat?!