"Beyond painting and gardening, I'm good for nothing…" Claude Monet is known to have said. Although these words may bring a smile today, the Water Lilies, almost 250 paintings that the Impressionist painter produced from life in his garden in Giverny is proof that he was in fact not only a genius in painting but also a garden lover. He was an excellent gardener and the garden that he had created at his home in Giverny is a testament to it. Here is a close look at some of Claude Monet and his paintings and his techniques.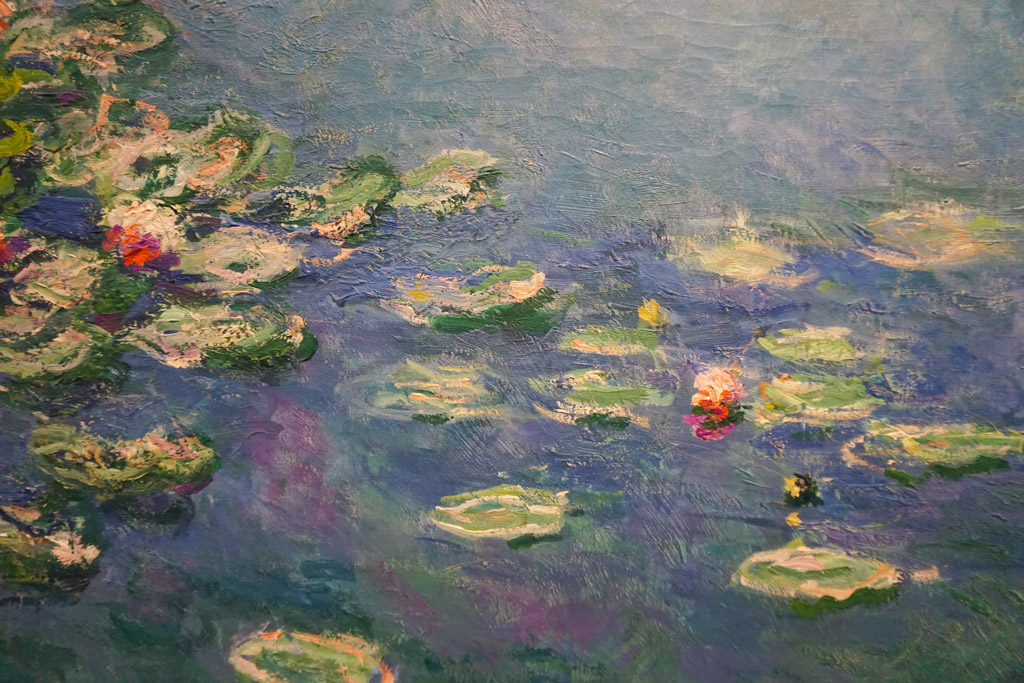 It was in Giverny, for almost 30 years until his death, that he returned, again and again, to paint this theme as the seasons changed, producing gigantic panels now mounted on the walls of the Musée de l'Orangerie and won the heart of millions of art lovers in France and around the world. Some of the artist's paintings – 52 of them were on display at the Kimbell Art Museum in Fort Worth for a special exhibition – Monet: The Late Years. Never before had I seen so much of his work in one room, it was such a treat.
The exhibition traced the evolution of Monet's practice from 1913, when he embarked on a reinvention of his painting style that led to increasingly bold and abstract works, up to his death in 1926. Assembled from major public and private collections in Europe, the United States, and Asia, including holdings from the Kimbell Art Museum and the Fine Arts Museums of San Francisco, it included twenty of Monet's beloved Water Lily paintings.
Claude Monets Water Lilies & paintings from his Late Years
In addition to the popular water lilies, the exhibition at Kimbell Art Museum in Fort Worth had some extraordinary and unfamiliar works from the artist's final years, several of which were seen for the first time in the United States. The Late Years collection focused on the period when the artist, his life marked by personal loss, deteriorating eyesight, and the threat of surrounding war. He remained close to home to paint the varied elements of his garden at Giverny.
His worsening vision and a new ambition to paint on a large scale stimulated fundamental changes in the tonality and intensity of his palette, toward vivid color combinations and broader brushstrokes, more apparent, application of paint. The surfaces of his canvases reveal layers of activity spread out over the course of days, months, and years. The result was a remarkable new body of work!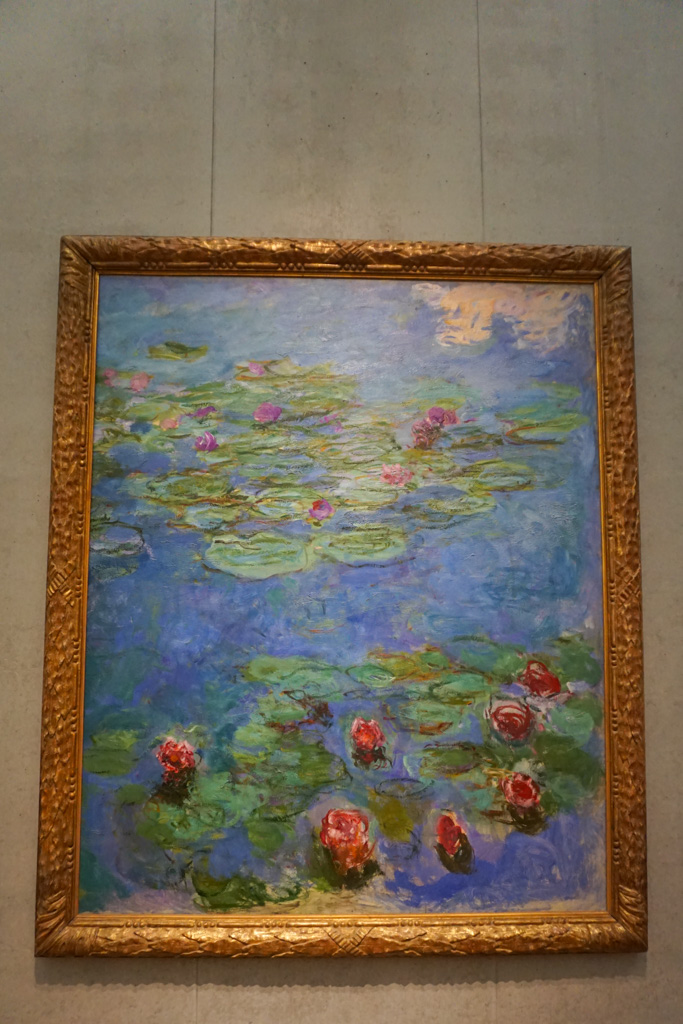 In addition to water lilies, Monet focused on elements from his garden, such as Roses, Wisteria, Day Lilies, Agapanthus, and Yellow Iris.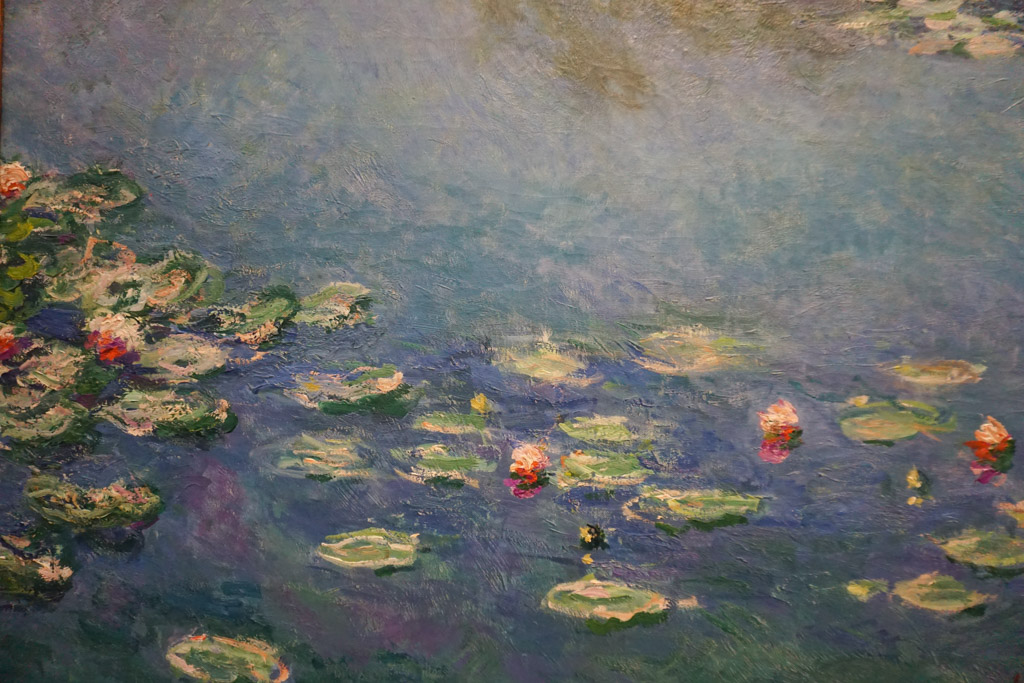 Far removed from his earlier, more representational production, the Claude Monet's late paintings lean into abstraction.
Monet undertook significantly larger canvases, some measuring between 14 and 20 feet wide, forming a series of mural-style paintings now known as the Grandes Décorations. See here for his huge Water Lily paintings housed in the Oval Infinity rooms in a Paris Museum.
How to paint like Claude Monet
Claude Monet used small, flirtatious brush strokes to make his Impressionism paintings. He is known to have used a large flat filbert tipped brush. The intent of the brush strokes was to capture light, and not necessarily the objects. The compositions were open.
Colors were applied side by side without attempts to mix them which gives a vibrant surface texture. It also allows for the optical mixing of colors that happen within the viewer's eye at a distance from the painting. These were impasto, heavy strokes of paint.
Monet used black in his paintings early on but abandoned as the technique was better developed. Grays and dark tones are created by mixing complementary colors. He strove to depict "Light" and it's vibrating and changing qualities that changed throughout the day during his painting sessions.
Claude Monet's Palette, Paintings & Techniques
In 1905, Monet was asked about his color palette. He said "The point is to know how to use the colors, the choice of which is when all's said and done, a matter of habit. Anyway, I use flake white, cadmium yellow, vermilion, deep madder, cobalt blue, emerald green, and that's all."
James Heard in his book Paint Like Monet, analysis of Monets paintings show Monet used these nine colors:
• Lead white (modern equivalent is titanium white)
• Chrome yellow (modern equivalent is cadmium yellow light)
• Cadmium yellow
• Viridian green
• Emerald green
• French ultramarine
• Cobalt blue
• Madder red (modern equivalent = alizarin crimson)
• Vermilion
• Ivory black (but only if you're copying a Monet from before 1886)

So basically, you will need six or nine colors, not a large number of paints and some canvases, I like these canvas papers that come in a bound book. Below I included links to some paints and basic supplies to make your impressionistic paintings inspired by Claude Monet and his techniques.
Simple instructions on How to Paint water lilies like Monet
Follow this 10-minute instructional video to paint your own water lily painting by Claude Monet.
Visit the gardens & studio in Giverny
While we have been to Paris a few times I haven't been to Giverny (hopeful will get to go soon) where Claude Monet founded the Impressionist school and lived for 43 years. His home and his garden, the village and its people, were his subject matters and muses for many of Claude Monet's paintings. The small village attracts half a million visitors each year. While visiting the exhibition I felt like I transported to Giverny, France!
If you want to visit Giverny from Paris, the best way to travel is by booking either a private small group tour or and travel by air-conditioned coach on a half a day tour. As there is no direct public transport to Giverny, this is the best way to get there. The drive will take you through the western districts of Paris and the Normandy motorway as far as Bonnières. After crossing the River Seine at Vernon, continue to Giverny through the wooded plateaus of Eure. It is on my wishlist!
I hope you enjoyed this collection of Claude Monet's works and an insight into his painting technique and you are inspired to try out your own version of water lilies. His art always motivates and inspires me!
Note: All photos are my own taken at the Monet: Later Years Exhibition at Kimbell Art Museum please do not use without prior permission.
You might also like: Inspiring Quotes about Art by Artist and Great Masters.
PIN IT FOR LATER
Note: This post may contain affiliate links, partnership or sponsored content. If you purchase an item via one of these links, we may receive a small commission at no extra charge to you. But as always images and opinions are our own. For more information on our affiliates and privacy policy at Outside Suburbia see here.
CONNECT WITH US