Jackson Pollock is one of the most influential and provocative American artists of the twentieth century.  Pollock perfected his revolutionary drip technique somewhere between 1947 and 1950.  Hovering over a large piece of canvas stretched out on his studio floor, he poured, dripped and flicked paint from the end of a brush or a stick creating compositions in which space, form, color and depth of field combined to create and landscape like masterpieces.  We have seen one of his work at the Fort Worth Modern. The Dallas Museum of Art was having an exhibition with a selection of works from this iconic period and I have been dying to go see.  Here is a little preview of Jackson Pollock at the DMA.
Jackson Pollock at the DMA in Dallas
My Teen and her friend made it to the Late nights at the DMA, held on the third Friday of each month when the Museum is open until midnight. They stopped at the Pollock exhibition and brought home some photos that I was excited to see and share.  The exhibition titled Blind Spots explores the artist's extensive and expansive practice encompassing not only painting but also other media.  Juxtaposing works from the now most recognizable phase of the artists' career with his lesser know works ranging from the black paintings to drawings, printing making and sculpture – this was indeed a rare opportunity to see these masterpieces.
Blind Spots by Jackson Pollock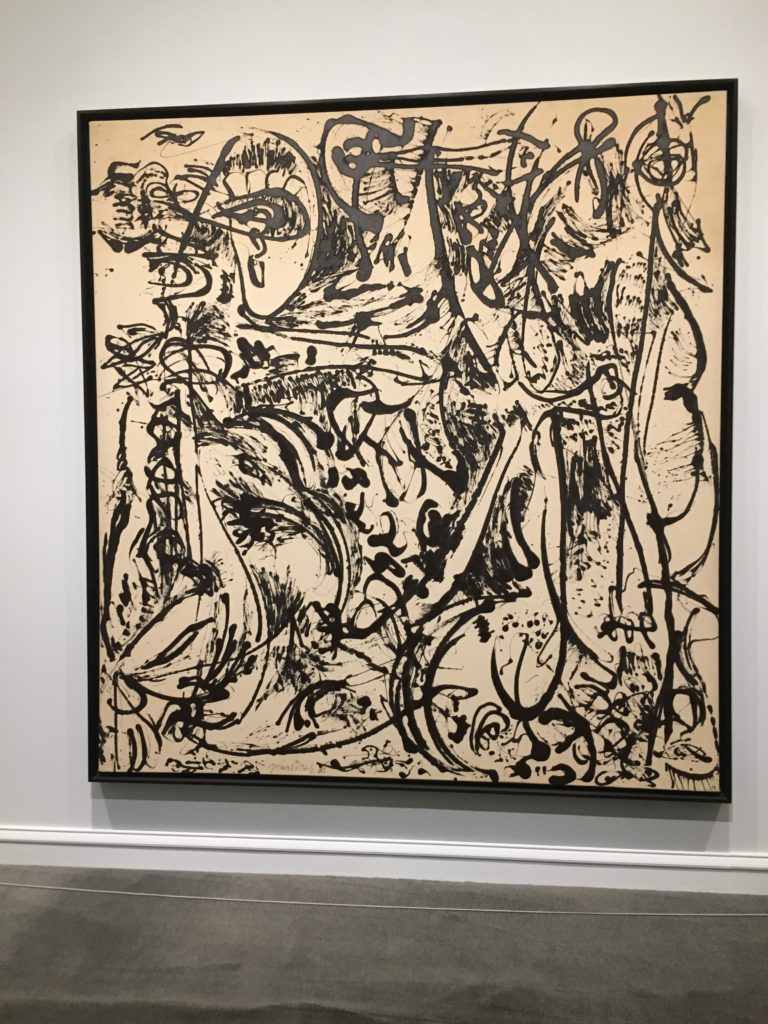 They stopped to capture admire the classics by Monet and Picasso… and pay homage to my favorite lady Frida.
… and some fun installations and artwork!
Teenagers love the bright colors and neon lights, I think they did well capturing these images – don't you agree?! You can find more information about the DMA and the late-night dates on their website. 
I hope you enjoyed the little preview of Pollocks great work.
Dallas Museum of Art
1717 North Harwood
Dallas, Texas 75201
214-922-1200
Late Night tickets are $15 public, $10 students (with valid ID)and FREE for DMA Members and children 11 and under. Special exhibition admission like the Jackson Pollock Blindspots was $16.
You might also like: 
Paul Gauguin: The artist who went to Tahiti and never came back
Gustav Klimt: The Golden Kiss and more at the Belvedere, Vienna
Paul Cezzane: The man and his mountain
CONNECT WITH US