Walking into the courtyard at the Isabella Stewart Gardner Museum you might think you were in a Venetian palace. It is a hidden gem in Boston! We had 24 hours in Boston while on a stopover en-route to Iceland. While the boys went to go pay homage to the Baseball legends and see the Green Monster at Fenway Park, I and my daughter opted to spend our morning at the beautiful museum. The grounds around the museum was beautiful as well, with geese merrily running around mature trees!
The museum's old courtyard and the palace is juxtaposed against a modernist glass extension designed by America's favorite museum architect, Renzo Piano. The glass structure is said to compliment the sunroof in the courtyard. Natural light floods the interior, creating an open and welcoming entrance for visitors as they enjoy uninterrupted views of the original building and gardens.
My favorite Gardner quote is "Don't spoil a good story by telling the truth." She was truly a unique woman and an incredible patron of the arts. If you are in or around Boston, make sure to visit this beautiful Museum and the lovely gardens.
The Renzo Piano stairs and the walkway to the Venetian Palace
At the 300-seat performance hall, where everyone gets a front-row seat, we learned about the life and collection of Isabella Stewart Gardner. The museum also had a restaurant, gift shop, landscape classroom, expanded outdoor garden spaces, two artist apartments, conservation labs and a hands-on art workshop designed by Renzo Piano.
Isabella Stewart Gardner was one of America's greatest gilded age art patrons and collectors, and particularly noteworthy for having done so in a time when very few women managed to play the old-boy's game. Gardner and her husband Jack traveled extensively and their particular love of Venice is reflected in the home she built to serve as a museum in 1898 following her husband's death, just a block from Boston's Museum of Fine Art (MFA).
The core of the structure is a richly planted, glass-roofed courtyard (you can enjoy the view, but visitors are not allowed to enter the gardens!) which illuminates three floors of displays and a fourth-floor where Gardner herself lived following the Museum's opening in 1903 and now serves as offices. Gardner's collecting included both contemporary artists, as well as European masters of five centuries, many of whose works she acquired in consultation with the legendary scholar-dealer Bernard Berenson, as well as Asian arts. Collection highlights include fine and decorative arts, among them Roman antiquities and oils by Titian, Botticelli, Raphael, Piero della Francesca, Velazquez and Rembrandt.
In 1990 the Gardner museum was the victim of a major theft, clearly carefully planned, during which 13 works including oils on canvas by Manet, Vermeer and no less than three by Rembrandt were stolen. In 1990, two thieves dressed as police officers made their way inside Boston's Isabella Stewart Gardner Museum, incapacitated the guards, and made off with 13 pieces of art that are now valued at around $500 million. Despite many leads, none have yet been recovered; the empty frames from which they were cut still hang on Gardner's walls, empty to this day.
25 works have been moved from the second floor of the historic palace to the state-of-the-art Hostetter Gallery on the second floor of Gardner's new wing. Gardner arranged things in a rather clumsy and erratic manner, and willed that nothing ever be changed. Thus works are hung too high or too low, illuminated poorly or not at all, works on paper are stuffed into cases in which they can barely if at all be viewed. There are almost no labels or minimal information on most of the items. So it was a rare treat to get a glimpse of her remarkable collection at the "Off the Wall" exhibit, where the works of the masters are exhibited in controlled lighting and accompanied by wall texts. Here are some paintings from the Off the Wall exhibit and from the beautiful Venetian courtyard.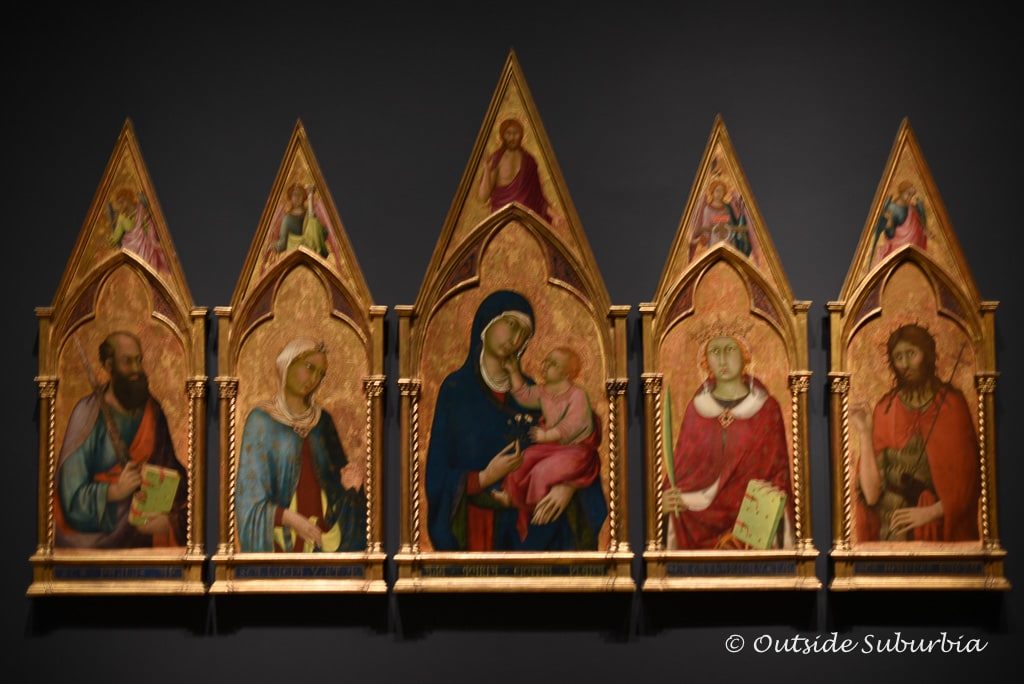 Isabella Stewart Gardner Museum Address
Isabella Stewart Gardner Museum
25 Evans Way
Boston, MA 02115
Website
Admissions
Adults: $15
Seniors 65 and up: $12
College Students: $5 with current ID
Free to kids under 18 and everyone named Isabella
There is so much to do in Boston, Massachusetts' capital and largest city. Founded in 1630, it's one of the oldest cities in the U.S. and played a key role in the American Revolution is highlighted on the Freedom Trail, a 2.5-mile walking route of historic sites that tells the story of the nation's founding. Here is a great 2-day itinerary to see Boston. We didn't make it to any of it but went to visit a couple of colleges, hopefully, will make a visit to Boston again soon!
PIN IT FOR LATER
CONNECT WITH US